[Editor's note: This article was originally published on July 26, 2016.]
The Seattle Seahawks have been perennial contenders in the NFL over the past four seasons, making it as least as far as the divisional round every season, including hoisting the Lombardi trophy once, and coming within one pass of repeating as Super Bowl champions the following year. They'll be expected to contend once again this season, even with the Arizona Cardinals proving to be the best team in the NFC West in 2015. With a roster loaded with talent on offense and defense, the Seahawks will be confident that they can push the Cardinals harder in 2016 and reclaim their throne at the top of the division.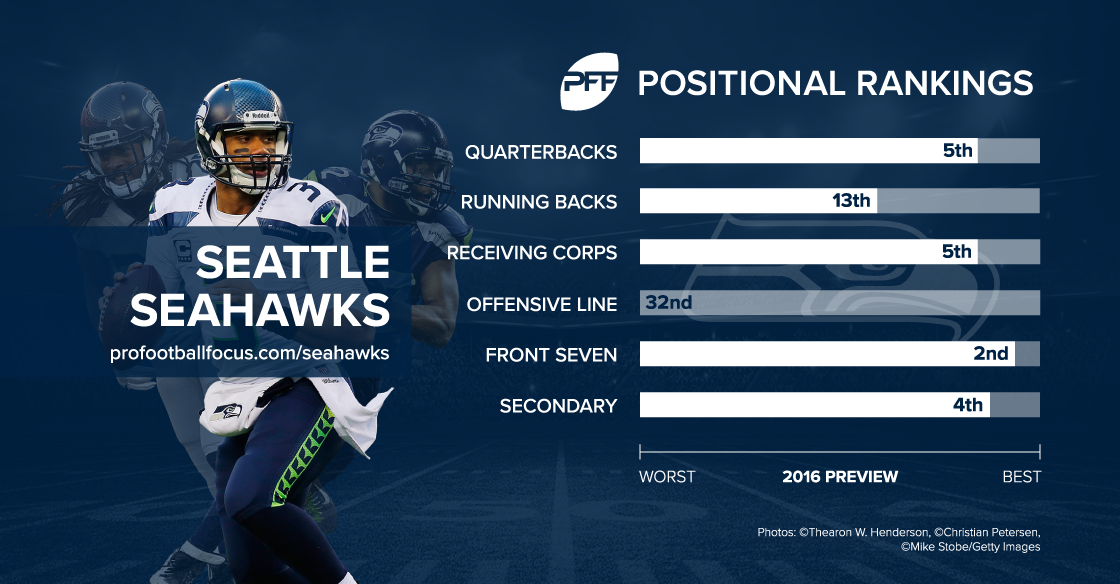 [More: Be sure to check out PFF's ranking of all 32 NFL QB situations, offensive lines, running back units, receiving corps, secondaries, and defensive front-sevens. Catch up on all the team previews here.]
Russell Wilson a top-five NFL QB entering 2016
Quarterbacks: Fifth in PFF's season preview rankings
Russell Wilson earned the sixth-highest passing grade among NFL QBs in 2015, at 85.5. He struggled somewhat in that regard in the playoffs, but over the full regular season and postseason, he threw 38 touchdowns to just 11 interceptions. He was incredibly dangerous when opposing defenses blitzed him, completing 111 of the 181 passes he attempted for 1,633 yards, 21 touchdowns, and three interceptions on such snaps. He did a lot of damage with his legs, too, racking up 644 yards on the ground (including the playoffs), second-most on the team. 445 of those yards came on 63 quarterback scrambles, but he was tough to handle of designed runs, too, averaging 8.1 yards per carry on 19 runs off right end.
Young, unproven talent fills Seattle's backfield
Running backs: 13th
It's a statement of the overall strength of the roster, but this is the Seahawks' second-weakest unit heading into the 2016 season. Potential future Hall-of-Famer Marshawn Lynch has retired, leaving the talented—but relatively untested—Thomas Rawls as the team's top running back heading. Rawls' 81.1 overall grade was 12th among running backs in the NFL last season, as he forced 26 missed tackles on 147 carries (including the playoffs). Despite this impressive rookie production, it's important to consider that he's still inexperienced, with less than 150 NFL carries under his belt. The Seahawks added three rookie in the draft in Notre Dame's C.J. Prosise, Arkansas' Alex Collins, and Clemson running back Zac Brooks, so they obviously believed they needed to bolster the position following Lynch's retirement.
Seahawks' receiving corps continuing to rise
Receiving corps: Fifth
Once referred to as "pedestrian," Seattle's group of wide receivers and tight ends are now among the best in the NFL. Tight end Jimmy Graham didn't produce his best season in 2015, but still earned the seventh-best receiving grade among tight ends. The Seahawks will be hoping to utilize him better in the red zone in 2016, though, with his two touchdowns in 2016 the lowest output of his career. At 91.1, Doug Baldwin earned the seventh-best overall grade among wide receivers, and has really grown as a player the last few seasons. In 2015, he forced 18 missed tackles on 78 receptions, and scored 14 touchdowns in the regular season. Tyler Lockett was one of the best rookies in the league last year, and is poised to be one of the top big-play threats in the NFL next year, both on offense and as a returner, after forcing eight missed tackles on 51 receptions as a rookie.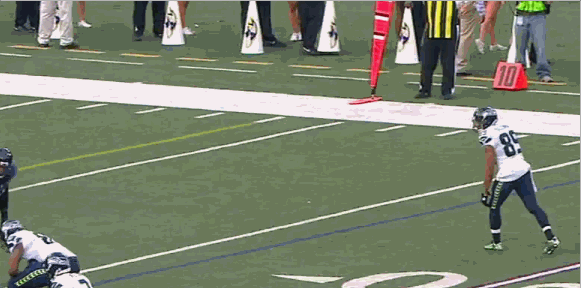 (PFF Fantasy Insight: Lockett is one of Brandon Marianne Lee's top breakout candidates at WR this season. That said, Baldwin was maybe the league's most efficient fantasy receiver in 2015, and isn't going anywhere, offering extra value in best-ball formats.)
Despite spending first-round pick on Ifedi, Seattle owns NFL's worst O-line
Offensive line: 32nd
As talented as the Seahawks are as a team, their offensive line is the worst in the league. Four of their five projected starters had an overall grade of 49.9 or lower last season, with the only player who didn't grade so poorly a year ago being rookie first-round draft pick Germain Ifedi (Texas A&M). Quarterback Russell Wilson graded positively on throws under pressure in 2015, and he'll likely to need to do the same again in 2016 unless this unit can improve massively in a very short span of time.
Defensive front-seven the biggest strength for Seahawks entering season
Front-seven: Second
While their offensive line is the worst in the league on paper, their defensive line and linebackers are up there with the very best. DE Michael Bennett plays across the defensive line depending on the defensive package, and has emerged as one of the premier pass-rushers in the NFL, registering 11 sacks, 17 hits, and 63 hurries across the regular season and postseason. He's joined on the D-line by Cliff Avril, who recorded 12 sacks, 17 hits, and 44 hurries himself last season. At linebacker, K.J.Wright earned the sixth-highest overall grade at the position in 2015, racking up 65 tackles resulting in a defensive stop (including the playoffs).
Richard Sherman, Earl Thomas continue to shine as perennial defensive stars
Secondary: Fourth
The star here is obviously Richard Sherman, third-highest graded cornerback in the league. He allowed just 48.4 percent of the passes thrown into his coverage to be caught in 2015 for 433 yards and two touchdowns, breaking up nine passes and picking off two more. At safety, Earl Thomas ranked third at the position in terms of overall grade last year, with only Minnesota's Harrison Smith and Philadelphia's Malcolm Jenkins earning higher marks. Thomas is coming off the highest-graded year of his career, tying his career-high of five interceptions in the regular season.