Every Tuesday, PFF will be releasing its Team of the Week, representing the highest-graded players at each NFL position for that week. But Senior Analyst Sam Monson gets a jump on that by picking out the 10 most impressive individual performances from Sunday's games.
Here are the 10 best players from Sunday's Week 4 action:
[Check out the 10 worst performances from Sunday of Week 4 right here, or access our Player Grades tool to see how every NFL player measures up through three weeks of the season.]
1. Julio Jones, WR, Atlanta Falcons
A few days ago I named Jones as the league's most uncoverable receiver one-on-one, only to see the Carolina Panthers leave him in one-on-one coverage for most of the game. It led to rather predictable – albeit spectacular – results. Jones caught 12 passes for 300 yards and a touchdown. He gained 9.1 yards for every route he ran in the game, topping any other receiver this week by more than 3.5 yards. Jones has been getting open all season, but Falcons QB Matt Ryan hadn't been able to make the connection until this week. When he did we saw fireworks.
2. Jimmy Graham, TE, Seattle Seahawks
The Graham situation hasn't exactly gone to plan in Seattle since the team traded with the Saints for him during the 2015 offseason for center Max Unger. He was an awkward fit initially within the offense, and then suffered a major injury that further derailed his progress. But this week we were reminded that he was once one of the league's best receiving weapons. Graham caught six of the eight passes thrown his way for 113 yards, and he also did this: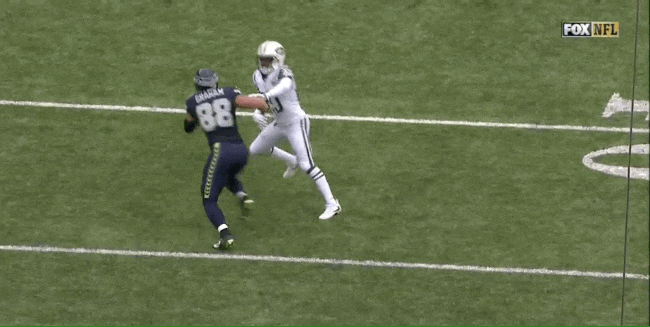 3. Aqib Talib, CB, Denver Broncos
Playing against your former team is always likely to bring the best out of players with a little extra motivation, and Talib was a force for Denver against the Bucs. He picked off a Jameis Winston pass early in the game and took it back for the opening score, and also remained pretty much perfect thereafter. Talib was targeted four times, and caught more passes himself (two) than he allowed Bucs receivers to catch (one). In total he allowed just six yards through the air.
4. Chandler Jones, OLB, Arizona Cardinals
The Patriots decided they could live without Jones, trading him to Arizona this offseason for a second-round pick, but the Cardinals are pretty happy that they did, because he has made a big difference to the team's pass rush so far, even amid their surprising 1-3 start. Against Los Angeles, Jones notched a sack, a hit and four hurries as well as playing the run pretty well, with a defensive stop on every tackle he made (four). Jones has been the team's best pass-rusher this season and is grading better than he ever did in New England.
5. Aaron Donald, DT, Los Angeles Rams
The sacks finally came this week for Donald, who had been generating huge pressure over the first three weeks of the season without converting any of them into sacks. This week he got to the QB twice in the Rams' upset of Arizona, and added four more hits as well as two hurries to his tally. He now leads the entire league with 25 total pressures and is grading better than any other player in football. Donald is the league's most dominant force right now.
6. Russell Wilson, QB, Seattle Seahawks
Hobbled with injury and facing a New York Jets defensive front that was able to pressure him on 15 of his 35 dropbacks, Wilson was close to perfect this week. His passer rating when kept clean was 125.6 and he completed 85 percent of his passes. Though his numbers dropped when pressured, his passer rating was still a ludicrous 119.8 thanks to a couple of big-time throws under duress.

7. Shaq Thompson, LB, Carolina Panthers
It's tough to look at a 48-point performance from a defense and find positives, but Panthers LB Thompson was excellent in the game, and he wasn't alone — it's just that the weak links in the Carolina defense were exposed badly and repeatedly in its loss to Atlanta (see the Julio Jones section above). Thompson notched five defensive stops and in coverage allowed just one pass for four yards on plays where he was the primary coverage defender, doing a good job of limiting TEs and RBs when covering them.
8. Rashard Robinson, CB, San Francisco 49ers
Robinson drew Cowboys backup WR Brice Butler for most of the game, which certainly helps his grade, but this was an accomplished performance from the rookie corner, who allowed just three catches for 20 yards on six targets, breaking up the three passes that fell incomplete. Robinson has impressive physical tools, and based on this performance it appears he could be a real find for the 49ers.
9. Justin Britt, C, Seattle Seahawks
We spend enough time being critical of the Seattle offensive line that it's worth pointing out when one of its members plays well. Britt stood out against a tough Jets defensive front, while the rest of the Seattle line was struggling. He allowed no pressure in 35 pass-blocking snaps and run blocked well, allowing the Seahawks to average 4.3 yards per carry on either side of his block.
10. Martellus Bennett, TE, New England Patriots
Another standout from a unit that on the whole was embarrassed, Martellus Bennett had an excellent game despite the Patriots being shut out entirely by Buffalo, 16-0. Bennett had another strong game run-blocking, and was Jacoby Brissett's primary target in the passing game, catching all five passes thrown his way for 109 yards, 79 of which came after the catch.