The 2020 season was a down year for defense, as the NFL further leaned into favorable rules for scoring and high-octane passing attacks. Offenses set the record for points per drive at 2.2 in 2020, blowing past the previous record of 2.0 points per drive set in 2018. Offenses also set the record for yards per drive at 32.9 and scored on a record 39.8% of possessions. We could go on with countless offensive records broken in 2020, but the point is clear: Playing defense in the NFL has become exceedingly difficult.
With that said, these young rising stars on defense are swimming against the current and contributing at a high level in a game made more challenging for them each and every year. 
Off-ball Linebackers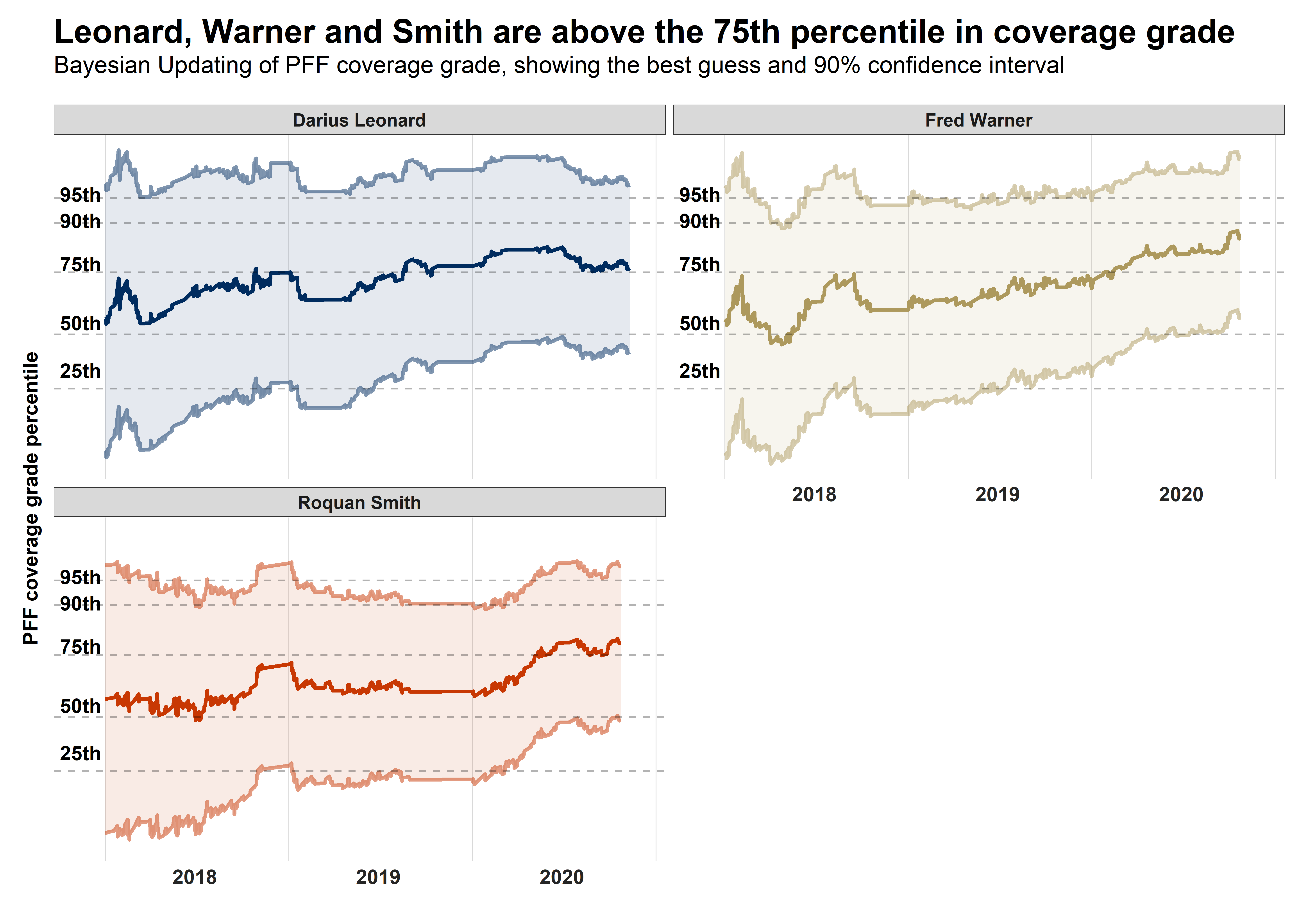 Colts star left guard Quenton Nelson was featured in our offensive players early extension piece, and Darius Leonard leads the way on defense. The Colts' 2018 draft began even before the first team was on the clock, as the New York Jets traded up with Indy for the No. 3 pick to land QB Sam Darnold. 
After taking Nelson at No. 6, the Colts had their sights set on a punishing middle linebacker out of South Carolina State — Darius Leonard. Leonard was named a First-Team All Pro right out of the gate in his rookie season, and he hasn't slowed down, earning his second First-Team All Pro honors in 2020. He's finished top-15 in wins above replacement among off-ball linebackers in each of his three seasons — a very high floor that should make the Colts feel comfortable extending him for the foreseeable future.
Contract Projection: Five years, $80 million ($16M APY), $47.5 million total guaranteed.
Roquan Smith took a big leap in 2020 after an up and down 2019, displaying the elite range and athleticism that made him the No. 8 overall pick out of Georgia. His jump in play, particularly in coverage where he earned a career-high 84.0 grade — the fourth-best mark among off-ball linebackers — earned him a Second-Team All Pro nomination. 
Smith excels at the more valuable components of modern linebacker, and his speed makes him a splash player. Smith ranked 14th in pressures among off-ball linebackers with 14 on just 48 pass rush snaps — his pressure percentage of 29.17% ranked fourth. He also had the second-most defensive stops with 66, one of two players to eclipse 60 on the season. Smith is a playmaker all over the field, and if he can take another step and round out his game, he could become one of the best linebackers in the NFL. 
Contract Projection: Five years, $74 million ($14.8M APY), $36 million total guaranteed.
Always a strong coverage linebacker, Fred Warner took a big step in 2020 and became one of the best off-ball linebackers in the NFL on all three downs. His 2020 overall grade of 88.6 is more than five points ahead of the pack, in large part due to a league-leading 91.1 coverage grade. 
As offenses around the NFL mimic Kyle Shanahan's outside zone, play-action scheme that puts a tremendous amount of stress on linebackers, Warner is the sideline-to-sideline antidote. He covers so much of the field, including getting after the passer to the tune of 18 pressures in 2020 — 10th among off-ball linebackers. Warner can do it all, and he's currently doing it better than anyone else.
Contract Projection: Five years, $75 million ($15M APY), $40 million total guaranteed.
Cornerbacks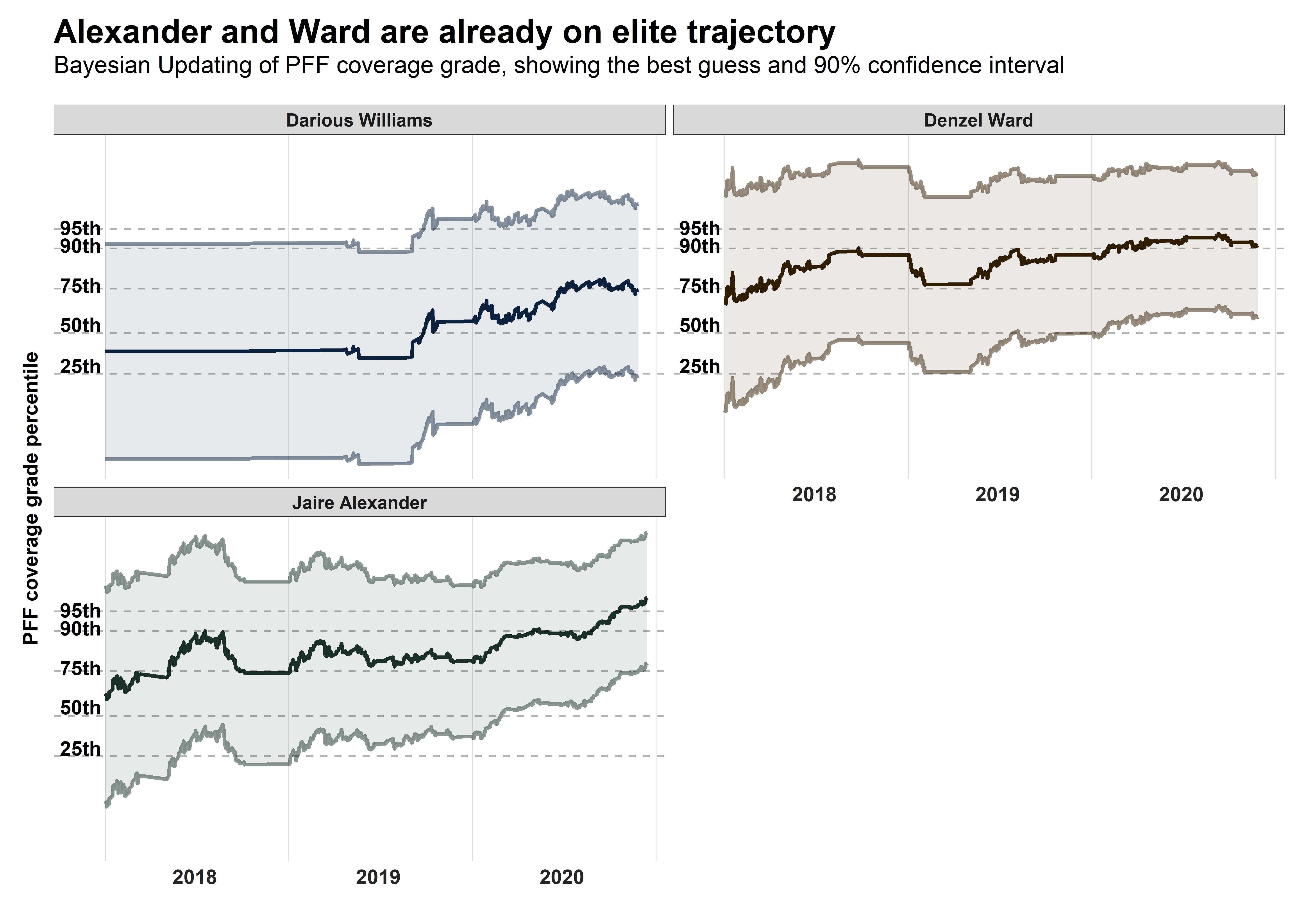 Packers general manager Brian Gutekunst had quite an eventful first draft as the man in charge in 2018. He traded the No. 14 overall pick to the New Orleans Saints for No. 27 and a future first-rounder and then moved back up to No. 18 to select Jaire Alexander. The Louisville product has blossomed into one of the best cornerbacks in the NFL, earning a position-best 90.5 overall grade in 2020 and registering the most wins above replacement among all non-quarterbacks, at 1.127.
Alexander graded above 70.0 in each of his first two seasons, which is no small feat at a volatile position like cornerback, but he became far more consistent this season on a week-to-week basis. Alexander had nine games in 2019 grading below 65.0, but he put together only four such outings in 2020. He was always capable of locking down elite receivers, and now he's doing it almost every single week. His six games of 10 or fewer yards allowed in 2020 was second only to the Rams' Jalen Ramsey. 
Contract Projection: Five years, $100 million ($20 million APY), $40 million total guaranteed. (The Packers generally do not guarantee money outside of signing bonuses.)
Denzel Ward demonstrated why he was a top-five pick in the 2018 NFL Draft immediately, making the Pro Bowl in his rookie season and finishing 11th in wins above replacement among cornerbacks. Ward is a true lockdown corner on the outside, playing roughly 40% of snaps in press-man coverage. Since 2018, he has allowed a 31% completion when in single coverage — the only cornerback below 40% over the span. 
Ward's absences this season resembled those of Dak Prescott in that his value was just as obvious when he was missing games as when he was playing. That's how badly the Browns' secondary missed him. Ward finished 10th in wins above replacement for the 2020 season despite missing four games. He has sat out four games in each of his first three seasons, and the Browns allowed .137 expected points added per play to outside wide receivers in those twelve outings. In the 36 games Ward has suited up for, that number drops to .052 expected points added per play.
Contract Projection: Five years, $101.25 million ($20.25 million APY), $75 million fully guaranteed.
Darious Williams went undrafted in 2018 and, as a result, is set to be a restricted free agent this offseason. But that doesn't mean he can't be extended. Los Angeles will most likely have to place a second-round tender on Williams, which carries a value of $3.384 million for 2021. 
Top-end cornerback play is immensely valuable in the NFL, and while Williams has only 666 regular-season coverage snaps in his career, he's performed at an elite level. Over the 2019-20 seasons, Williams' 83.9 coverage grade ranks 11th in the NFL. Just 53.6% of passes into his coverage have gone for completions, tied for ninth with Jaire Alexander and Stephon Gilmore. Williams' height (5-foot-9) is a concern, but his 17.9% forced incompletion rate ranks fourth over the same span, suggesting he has little issue battling wide receivers and breaking up passes.
He ranked seventh in wins above replacement at cornerback in 2020, his first full season starting. He'll be 28 years old in 2021 and is just reaching restricted free agency, so perhaps he and the Rams explore a well-deserved extension, enabling him to cash in and remain under contract for the duration of this Super Bowl window they've now created with the acquisition of Matthew Stafford from the Detroit Lions.
Contract Projection: Three years, $27 million ($9 million APY), $16.5 million total guaranteed.
Defensive line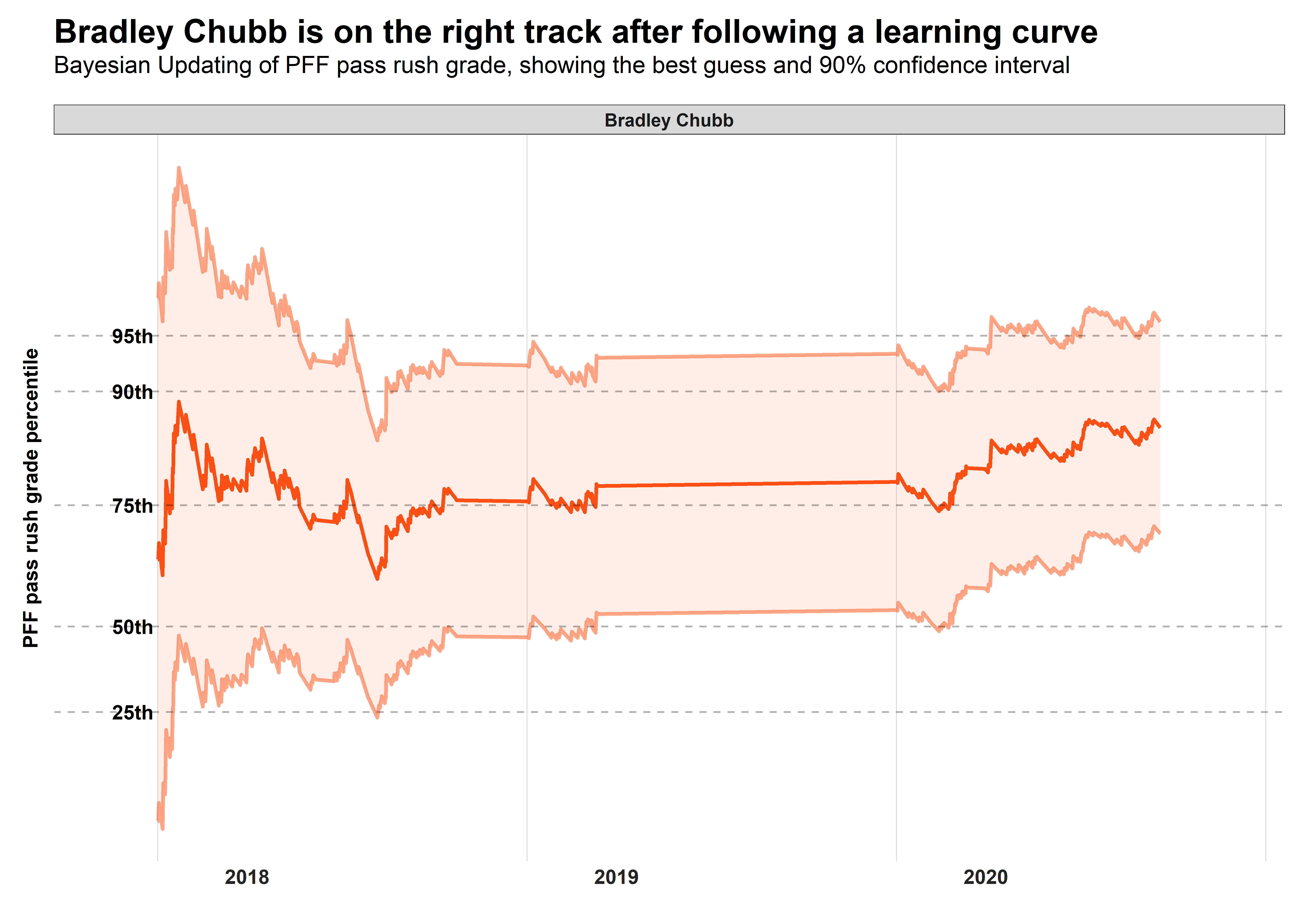 The fifth overall pick of the 2018 NFL Draft, Chubb got off to a blazing start playing opposite future Hall of Fame edge rusher Von Miller. The then-rookie recorded 12 sacks on 57 pressures. But he suffered a setback in 2019, tearing his ACL in Week 4 and missing the remainder of the season. His performance in 2020 after recovering, in addition to Miller suffering his own season-ending injury, was impressive.
Chubb returned to form and earned a career-best 79.4 pass-rushing grade, generating 57 pressures and an 18.4% pass-rush win rate, with the latter ranking 10th among edge rushers. He also put together a 14.2% pressure rate, which ranked 13th. Given he had extra attention this season with Miller off the field and showed good bend from the edge a year removed from a major knee injury, the arrow is definitely pointing up for Chubb after making his first Pro Bowl in 2020.
Contract Projection: Five years, $95 million ($19 million APY), $60 million total guaranteed.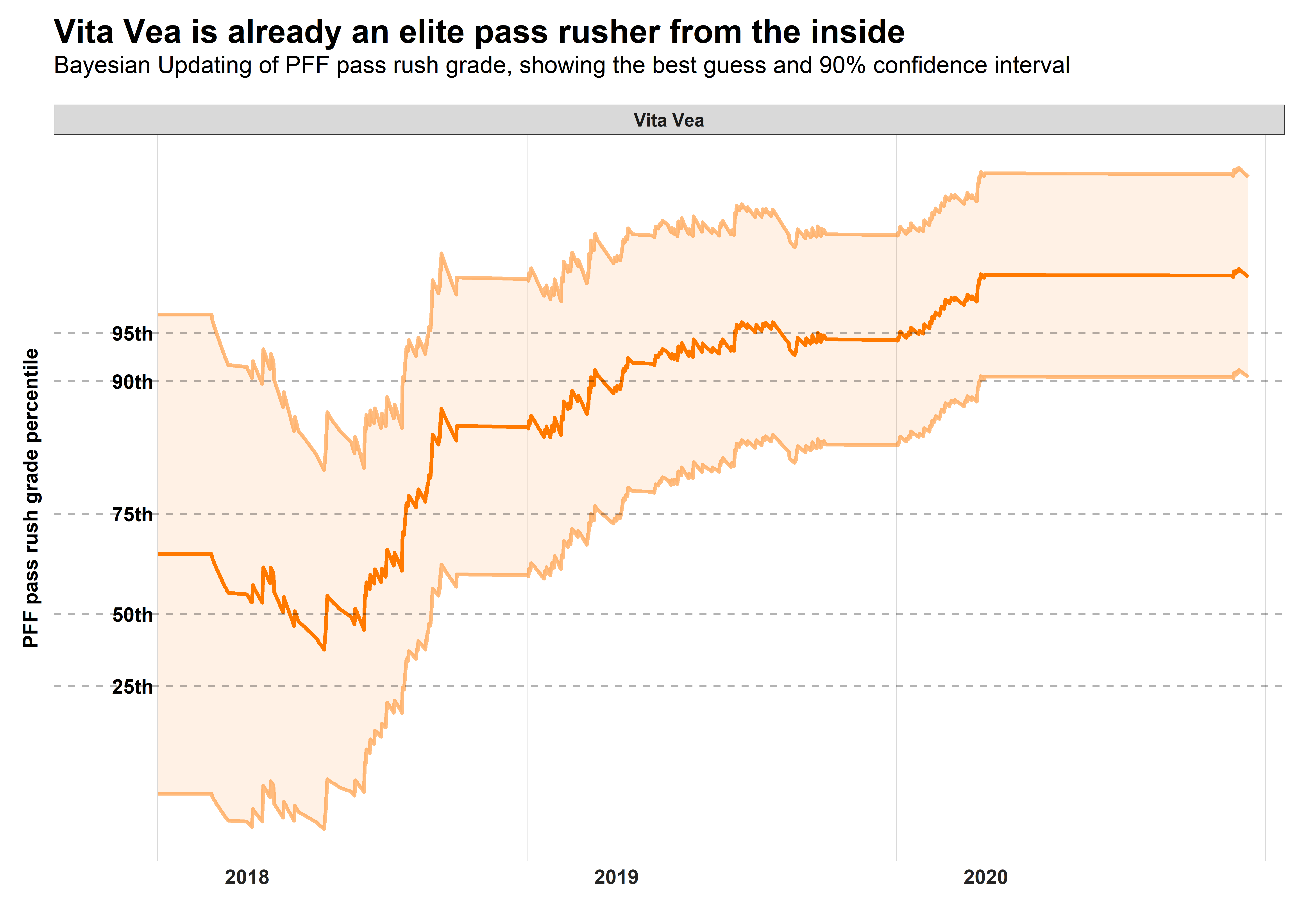 Tevita Tuli'aki'ono Tuipulotu Mosese Va'hae Fehoko Faletau Vea was the talk of the 2018 NFL Draft because of his incredible movement abilities at 6-foot-4 and nearly 350 pounds. The nose tackle always gave it his all in pursuit, routinely chasing guys down 20-plus yards downfield — and even making the occasional special teams tackle. Vea is a physical specimen, and that's still true with a step up in competition at the NFL level. 
While Vea may be known as a two-gapper who can clog up the middle and command serious attention from offensive linemen, enabling the Buccaneers' defensive playmakers around him to thrive, he can also get after the passer with the best of them. He has kicked off his career with three straight pass-rushing grades of 75.4 or better, including an 89.6 mark in the six contests he's played in this season. 
A fractured ankle suffered in Week 5 seemed to derail Vea's season, and if the Buccaneers hadn't made the NFC Championship game, then that would have proven true. But Vea has had a remarkable recovery — both in general and for a player of his stature — and now gets to play in the Super Bowl. With extra time to recover and prepare, he will surely be wreaking havoc against a Chiefs interior offensive line that has dealt with a handful of injuries this season.
Contract Projection: Five years, $90 million ($18 million APY), $57.5 million total guaranteed.