When it comes to looking for insights into the 2021 NFL season, one of the best sources of information is what happened a year ago.
Of course, we can't just take what we saw last season and project it forward — the NFL isn't quite that simple. What we can do is look back to identify the players who deserved a greater opportunity or suffered an injury that shouldn't strike twice.
Most of the players on this list earned an increase in playing time or role as the 2020 season passed, paving the way for greater opportunities in 2021. But there are other players on this list, the sleepers, whose potential breakout years would seem far-fetched to those unacquainted with the advanced data.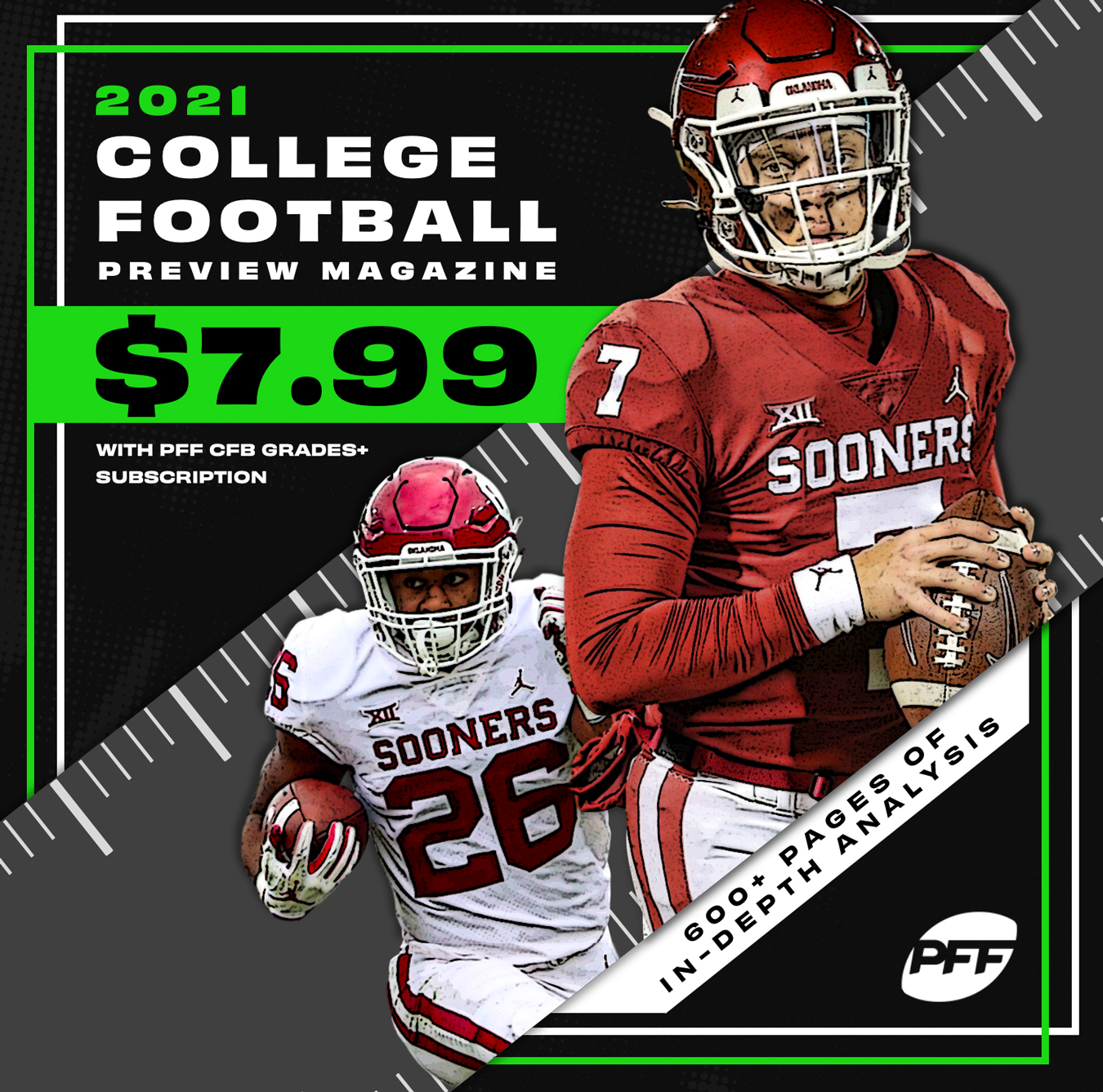 Based on last year's performance, few players are more obviously deserving of a bigger role in 2021 than the former undrafted wide receiver out of Oklahoma State.
Even though Johnson was receiving the first real playing time of his career, he was still the target of several of Justin Herbert's most impressive throws. He grasped his chance with the Chargers with both hands, finishing the year with an 81.2 PFF receiving grade.
The 6-foot-1, 193-pound receiver also fit well within the Chargers offense, averaging almost 20 yards a catch as a big-play threat and generating 2.44 yards per route run, a figure tied with Calvin Ridley as one of the best in the league. Throwing the ball his way last season resulted in a passer rating of 156.7, dramatically higher than any other Chargers receiver.
Most receiving yards per route run (YPRR) in 2020 | Among WRs with 100 or more snaps in route, regular season only)
| | | |
| --- | --- | --- |
| Rank | Name | YPRR |
| 1 | Davante Adams | 2.96 |
| 2 | Justin Jefferson | 2.66 |
| 3 | A.J. Brown | 2.65 |
| 4 | Julio Jones | 2.60 |
| 5 | Corey Davis | 2.58 |
| 6 | Stefon Diggs | 2.51 |
| 7 | Kenny Golladay | 2.47 |
| 8 | Tyron Johnson | 2.44 |
| 8 | Calvin Ridley | 2.44 |
| 10 | Donovan Peoples-Jones | 2.34 |
With Keenan Allen and Mike Williams already established as weapons in the Chargers' receiving arsenal, greater opportunity may be tough to come by for Johnson. Still, the connection he forged with Herbert was so potent that Los Angeles would be crazy not to at least explore how to get him the ball more often.
Lost in all the hysteria about Odell Beckham Jr. and whether the Browns can find a way of resurrecting him is that they actually found a pretty well-rounded receiving corps in his absence.
Baker Mayfield has always held an unusually productive connection with Rashard Higgins, combining with the 2016 fifth-round pick for a passer rating of 124.6 since 2018. But last season, Peoples-Jones joined the party as a big-play threat, as well.
The first-year receiver only saw 20 targets — 23 including the playoffs — though all but one of them came from Week 7 on. And those targets resulted in 15.2 yards per attempt and over 20 yards per reception.
Beckham still represents a superstar receiver just waiting to be correctly integrated into an offense that began to cook down the stretch last season. But Peoples-Jones played well enough as a rookie that the team owes it to itself to get him more involved this year, particularly if the marriage with Beckham doesn't ever harmonize the way it is supposed to.
It might seem counterintuitive to suggest that Meyers is due a larger role in 2021 now that the Patriots have added not one but two of the highest-paid tight ends in the game. Still, the shift in approach toward a less conventional offensive system might even help Meyers, the most consistent separator among the Patriots' group of wide receivers.
Meyers finished last season with an 80.1 PFF receiving grade, a grade more than 10 points higher than any other Patriots receiver. He caught 75.6% of the targets sent his way from a quarterback who completed just 65.8% of his passes overall. Meyers has the skills to separate and run routes well, even if he isn't the most imposing physical specimen or devastating athlete.
One further wrinkle to Meyers' future outlook will be if and when the Patriots transition to Mac Jones at quarterback. Jones may struggle to match the overall level of play he managed in college, but he is a vastly more accurate quarterback than Cam Newton and is used to connecting with route-runners who can consistently generate separation, which is Meyers' best trait.
Injuries have robbed fans of seeing what a fully-fledged Samuel is really capable of within the 49ers offense, but the addition of Brandon Aiyuk last offseason will only help, as will George Kittle's return to fitness.
Samuel was only targeted 44 times last year, but he turned those looks into a PFF receiving grade of 81.1, the best among 49ers wide receivers. He was the only one of those receivers to average more than 2.00 yards per route run, and he was a full half-yard per route clear of the next-closest player.
Of course, Samuel also takes designed carries and poses a serious rushing threat on top of the work he can do as a receiver. In total, he broke 11 tackles on 41 touches across the healthy snaps he was able to play, but that represented just 305 snaps of offense. There is no reason why a healthy Samuel won't come out of this season with at least twice that volume of playing time, and that means fireworks both for him and the 49ers offense.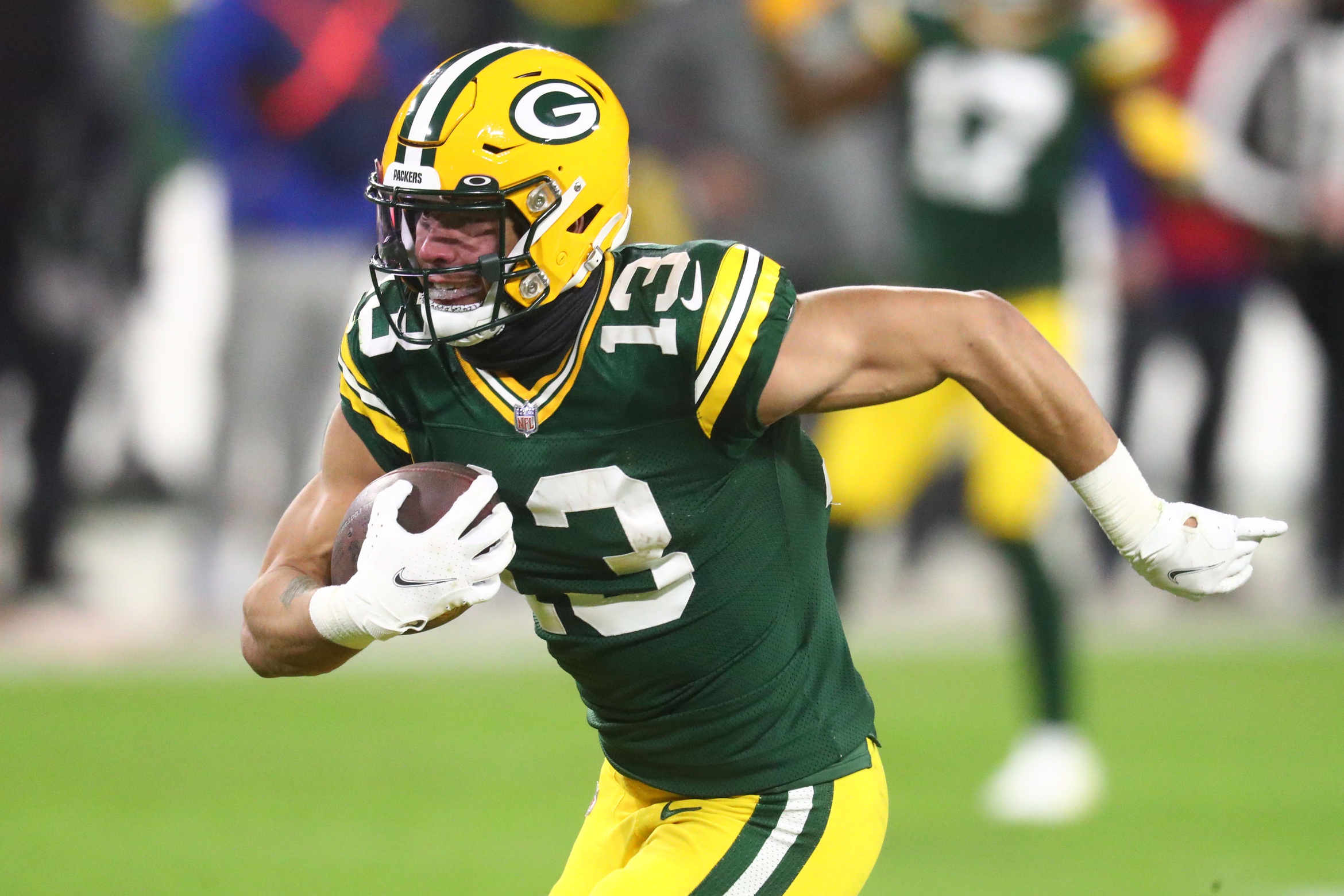 It's important to preface this with the simple fact that this analysis evaporates in a puff of "what-if" smoke if Aaron Rodgers isn't the Packers' starting quarterback this season.
Outside of Davante Adams, Lazard is the one receiver on the Packers roster Rodgers seems to have the most confidence in and will give opportunities to even when he looks covered.
The 2020 season was supposed to bring a significant breakout year for Lazard based on what we had seen the previous season, but injuries limited him to six fewer targets than the season before (45 to 51 in the regular season).
The Packers can likely expect a lot of regression in key areas, even with Rodgers at quarterback. And Lazard's ability to take a step forward and provide a bigger boost to the offense this season could be a critical component to offsetting some of that regression and keeping the Packers in good shape.
I'm not sure where the targets are coming from, but any cursory analysis of Brown's 2020 season would show a player who needs a bigger role within the offense. Brown was once arguably the best wideout in the game, before his attitude and off-field problems derailed the career of a pass-catcher who had gone toe-to-toe with Julio Jones for years.
Brown was a shot to nothing for the Bucs last season, but he panned out and showed he can still play like one of the best receivers in the game. He earned a PFF overall grade of 85.8, the best among Tampa Bay's stacked receiving group and a top-15 figure among all NFL wide receivers. Brown also generated 2.07 yards per route run, putting him inside the top 20 league-wide, and he dropped one pass all season long.
Buccaneers wide receivers: PFF overall grade and rank among WRs in 2020
| | | |
| --- | --- | --- |
| Name | PFF Overall Grade | Rank |
| Antonio Brown | 85.8 | 11th of 112 |
| Chris Godwin | 80.3 | 22nd of 112 |
| Mike Evans | 74.1 | 46th of 112 |
| Scotty Miller | 66.9 | 76th of 112 |
With Chris Godwin and Mike Evans also on the roster, not to mention tight ends and young receivers lower down the depth chart, it's tough to make a case for whose targets Brown should take. But that doesn't change the fact that the Bucs still have one of the very best receivers in the game on their roster, and he proved as much from the 74 targets he did see in his first season with the team.
His 2020 numbers aren't necessarily the greatest indicator of an increased role moving forward, but Ruggs III can still be the player he was drafted to be in Las Vegas.
Ruggs' early-season role was much different from the one he ultimately ended up in, and that's when we saw flashes of the devastating speed and big-play ability. Over the first five weeks of the season, Ruggs saw three times as many deep targets as Nelson Agholor (six to two), but then he got injured and Derek Carr began to connect with Agholor on those deep passes.
By the time Ruggs was back to full fitness, his specialty within the offense was being executed by Agholor and the Raiders were naturally reluctant to go away from what was working. The concerning thing was that they failed to craft a secondary plan for Ruggs. Instead, they effectively left him out there as a very fast decoy for most of the rest of the year.
Ruggs is a good decoy, but he can still be an excellent deep threat now that it is a new season and Agholor has left. There is little in Ruggs' numbers as a rookie to suggest he had a good year, but a look into the tape and the opportunities he was afforded shows that much of that wasn't his fault.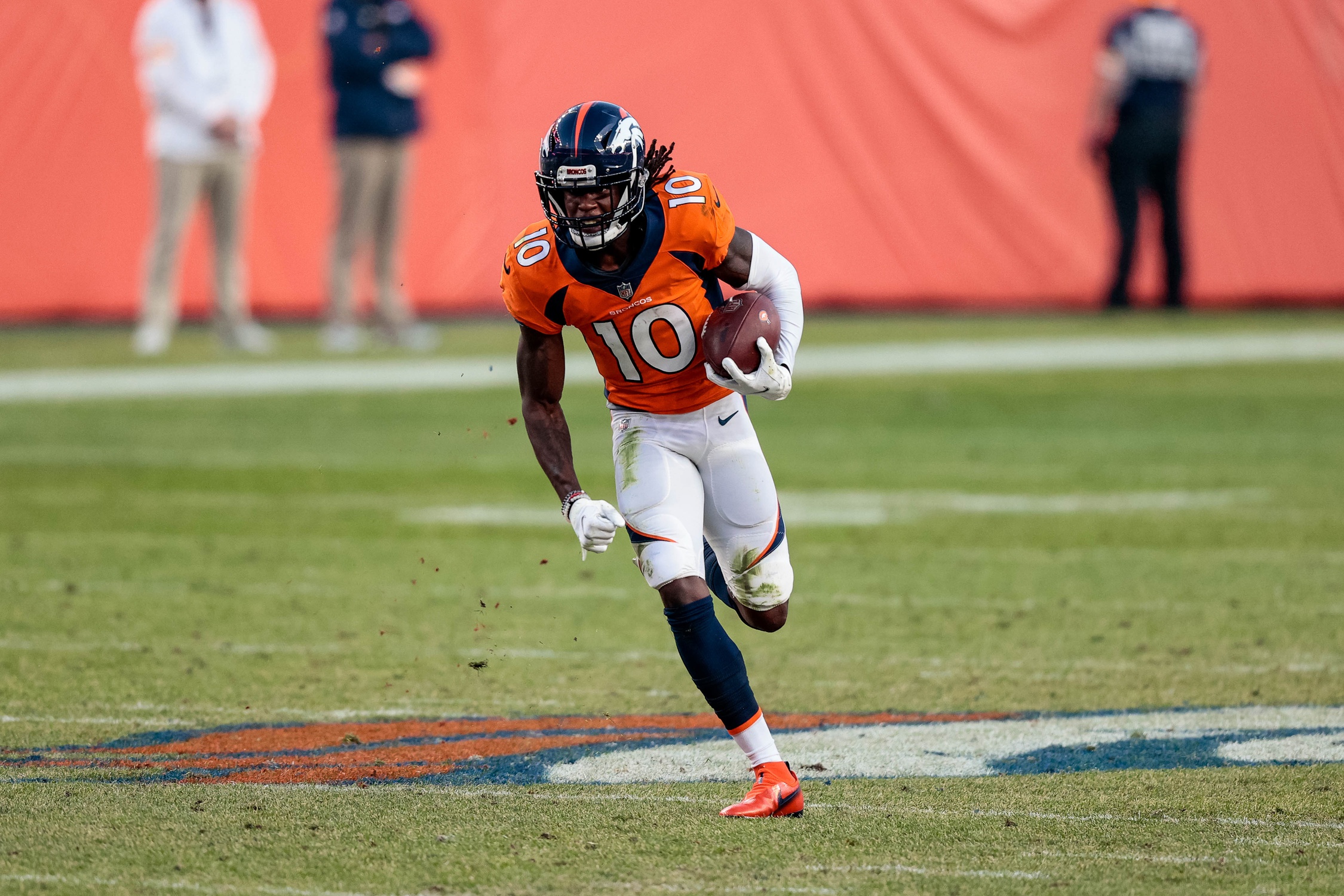 If there's one thing that reliably translates from the college game to the NFL, it's route-running savvy and the ability to separate. We saw that last season with the record-breaking performance from Justin Jefferson, and we saw glimpses of how successful it can be for Jeudy in Denver. Jeudy was the best route-runner in his draft class and one of the best to enter the league in years. There are plays on his rookie tape where he embarrasses established NFL veterans.
Jeudy's biggest issues in Year 1 were his quarterback and the fact that he had one of the worst drop rates in the league. He dropped 12 passes in total, just two behind Diontae Johnson for the most in the NFL. You could certainly argue that the drops are at least related to the poor quarterback play from Drew Lock (fellow rookie K.J. Hamler was the only player with a worse drop rate), but perhaps more importantly, we know drops are an extremely volatile data point and typically fluctuate year to year.
Amari Cooper dropped 18 passes as a rookie but has only 16 over the last three seasons combined. Jeudy doesn't have bad hands, so we should expect that drop rate to improve markedly as a sophomore, even if the quarterback play doesn't. The return of Courtland Sutton as a true No.1 receiver in Denver should also generate even more favorable matchups and some even better opportunities against corners who just can't live with the Alabama product's route-running skills.
Mims showed very little as a rookie, but there has been a strong collective willingness to just throw out almost all the data on the Jets over the last couple of years, rendering it meaningless because of the environment. The Panthers were willing to trade significant picks to acquire Sam Darnold at quarterback — as well as pick up his fifth-year option — using that exact logic.
So, for Mims, we need to look back at his college career and his performance during the Senior Bowl week of practice, where he earned the highest PFF grade ever given to a receiver during the one-on-one drills over the week.
Mims was unstoppable that week and showed a degree of route-running sophistication that wasn't really evident in his college tape because of the spartan nature of the route tree he was running at Baylor. There is little point in showcasing fakes and nuance within the route if everybody knows you're running a go-route on the play.
If the Panthers can throw out all prior evidence on Darnold, believing him to be a victim of the circumstances around him, we can do the same with Mims. He remains an elite athlete, and we saw that he has high-end route-running skills. Now, he has a different quarterback throwing him the football and a new offense that should be significantly more capable of production at this level. Mims could be primed for a much bigger season than we saw from him a year ago.