No one would have thought we would be having this conversation heading into Week 11 of the 2019 NFL season.
After trading away the perennially excellent pass-rusher Khalil Mack, finishing the 2018 season 4-12, being in the same division as MVP Patrick Mahomes, being the "lucky" team to be featured on HBO's Hard Knocks and being caught up in the trade that wasn't with the whole Antonio Brown saga, the playoffs seemed to be a pipe dream for the Oakland Raiders.

But here we are. Through Week 10, the Raiders are sitting at 5-4; they are just a half-game back from the Kansas City Chiefs for first place in the AFC West, and they are square in the wild card race.
People were beginning to doubt both the 10-year contract that was handed to head coach Jon Gruden and the future of the Raiders franchise, yet he has proved everyone wrong and is showing how his offensive mind is one of the best in the game by turning his squad into a legit threat in the AFC. Most may think the Raiders still have no shot at the division crown with Patrick Mahomes playing for their division rival. However, Oakland is more than capable of making a postseason run, and here's why.
Derek Carr is playing like a top 5 quarterback
One could've made the argument that Raiders quarterback Derek Carr was firmly on the hot seat entering 2019 and was one of the quarterbacks with the most to prove this season. So far, Carr has proved he is far removed from the hot seat and is safely on the cool throne, as he is currently the fifth highest-graded quarterback from a passing perspective.
Jon Gruden is known for his meticulous West Coast Offense, and quarterback Derek Carr is executing it to perfection. The great thing about the PFF database is the advanced metrics we have at our disposal—especially when it comes to quarterbacks—as we collect every piece of information one could possibly think of on a given passing play. With that being said, when we filter to all of Carr's passes that were a horizontal lead throw (passes intended to lead the receiver horizontally across the field), we can see just how great he is in Gruden's scheme. On those horizontal lead passes, Carr ranks sixth in PFF grade, fourth in yards per attempt, fourth in adjusted completion percentage and fifth in passer rating. Not to mention, the offense as a whole is third in EPA per pass on those horizontal leads. Moreover, Carr throwing to crossing routes has been precise – recording the third-highest passing grade at 93.2 and best adjusted completion percentage at 93.9%.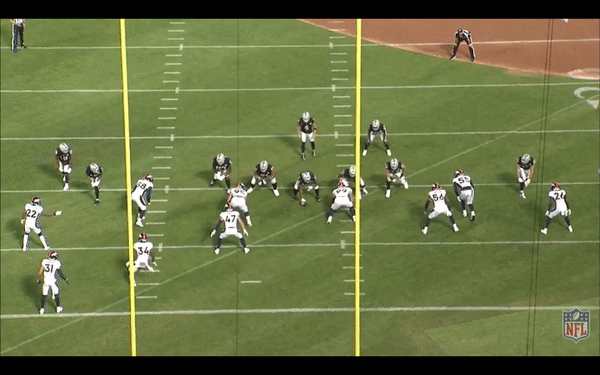 Carr has the league's third-lowest average depth of target at 7.0, but again, this isn't a surprise given this west coast offense that is built upon short/intermediate passes to obtain chunk yardage and move the chains as opposed to risking it to put up an explosive play. However, this does not mean Carr can't air it out, quite the contrary, in fact. When Carr catches the defense on their heels and opts to throw 10 or more yards downfield, his PFF grade is the second-best in the league, and he has recorded the fifth-best passer rating and ninth-best adjusted completion percentage.
The poise we have seen from Carr when under duress has been superb, as well. On dropbacks when the defense has applied pressure, Carr has overcome it to put up the second-highest PFF grade and passer rating, as well as the best adjusted completion percentage by over eight percent. Granted, pressure performance is volatile and far from predictive, but it can certainly tell who isn't giving up on a play and creating when others are not.
The skill position players are exceeding expectations
The Oakland Raiders swung for the fences this past offseason by trading for one of the most explosive wide receivers the NFL has ever seen in Antonio Brown, and it ended quite badly. Brown was cut days before the start of the 2019 season and the receiving corps was left high and dry as one of the worst in the NFL. Once again, the Raiders proved us all wrong.
Combining the wide receivers and tight ends into one, the group ranks 12th among offenses in PFF receiving grade and sixth in total drops with just eight. With the horizontal attack, it's vital for the Gruden Grinders to get yards after the catch, and they have been doing just that, averaging 5.5 yards after the catch on horizontal lead passes that ranks fourth among offenses.
The star of this receiving unit, though, is their tight end, Darren Waller. After battles with injuries and substance abuse that caused him to miss significant time in each of his first three seasons, Waller overcame the lows and is finally breaking out in his fourth career season in the NFL. On his 65 targets in 2019, Waller has earned an 83.9 receiving grade that ranks sixth among qualifying tight ends.
It's almost disrespectful to call him a tight end as he carries athleticism and speed that most wide receivers don't touch. Consequently, he can play anywhere on the field: inline, in the slot or out wide. He's at his best, though, when lined up inline, as he is PFF's second highest-grade tight end from that alignment (91.3) and ranks first in yards per route run at 3.06.
With a 70.6 receiving grade and 127.1 passer rating generated, free-agent acquisition Tyrell Williams has done his job quite well, and he is proving to be a good friend of Derek Carr's. However, the most impressive wide receiver on the roster has been rookie Hunter Renfrow, who has been heating up over the last few weeks. Since Week 7, Renfrow is PFF's 10th-highest-graded wide receiver; he ranks second in catch rate at 84.2%, third in passer rating generated at 145.2 and 10th in yards per route run at 2.48.
While running backs don't necessarily move the needle and aren't the reason why the Raiders are in the playoff hunt, first-round rookie Josh Jacobs has been doing everything in his power to garner some value, as he is PFF's highest-graded running back through 10 weeks of the season. Jacobs has checked every box from a rushing perspective — he's picking up yards after contact (ranks sixth with 3.61 per attempt), and he is breaking tackles left and right (ranks second in missed tackles forced, with 46). 
The offensive line is the most improved line from 2018 to 2019
It's quite remarkable how much this offensive line has improved from last year to this. After posting the 25th worst pressure rate in 2018, the Raiders' offensive line is now allowing the third-lowest pressure rate in the 2019 season. Yes, we know Derek Carr is releasing the ball quicker than average (2.55-second average time to throw is the NFL's 12th quickest), but this offensive line has allowed the fifth-fewest pressures in 2.0 seconds or less, and you have to give credit to every single one of their starters.
In his rookie campaign in 2018, first-round left tackle Kolton Miller had a less than ideal experience, earning a poor 48.2 PFF grade (fourth-worst) and allowing 65 total pressures (second-worst). Though in 2019, Miller is creeping back towards average with a 64.3 overall grade and 19 pressures allowed. Miller still has room for improvement, but the progress made in a year's time is a reason for hope.
After having a rough few years off the field, Richie Incognito made the return to the gridiron after taking a year off. So far, it's been a decision that has paid off for both parties, as he is the second-highest-graded left guard both overall and in pass-blocking through Week 10. By not allowing a single sack or hit across his 243 pass-block snaps, Incognito has done the improbable and returned back to his top-tier form.
Once again, the veteran center Rodney Hudson is mauling interior defensive lineman trying to get by him in the pass-rush, ranking second at his position in PFF pass-blocking grade. Like Incognito, he is just one of two players at his position to not allow a single sack or hit in 2019.
After being out six weeks due to injury, right guard Gabe Jackson has returned to the Oakland starting lineup and has once again shined as a pass-blocker,  ranking fifth at his position in his time back. In his time out, Jackson was replaced with both Denzelle Good and Jordan Devey – both of which recorded poor pass-blocking grades (Good at 50.8 and Devey at 41.2).
Once general manager Mike Mayock got into town, it was clear the offensive line was one of the first priorities they needed to address in free agency, and that they did by signing the 2018 Super Bowl champion tackle Trent Brown. While the contract was record-setting and preposterously high, Brown isn't underwhelming, as he's currently our seventh-ranked right tackle in terms of PFF pass-blocking grade.
What may get in their way of a postseason spot?
Through the use of machine learning, PFF data scientists were able to objectively say which teams have the hardest and easiest schedules to finish off the 2019 season. Looking at the 5-4 Oakland Raiders, they are fortunate enough to have the sixth-easiest schedule from Weeks 11-17. Their next two opponents may be the easiest of the stretch, as they'll go up against the winless Cincinnati Bengals and the 2-7 New York Jets. They will then go up against the Kansas City Chiefs in Week 13, bringing us to our next point.
The Chiefs aren't as fortunate, as they'll play the seventh-most-difficult schedule to close out the year. After getting the Chargers in Mexico City in Week 11, Kansas City will get a bye before the matchup against Oakland at home in Week 13. Assuming Oakland wins against two of the NFL's worst teams in the Bengals and Jets and assuming the Chiefs beat the Chargers in Week 11, the two rivals will both be sitting at 7-4 and playing for first place in the AFC West in Week 13.
The Chiefs have had their fair share of struggles in 2019. Their MVP Patrick Mahomes has suffered a couple of injuries that left him sidelined a few weeks, then the game he comes back they lose what was thought to be a fairly easy game for them against the Ryan Tannehill-led Titans. Oh, and let's not forget about them trading away edge rusher Dee Ford—who has an 85.2 grade in 2019—or them cutting Justin Houston—who has an 86.7 grade with the Colts—or them trading away a first and second-round pick to the Seattle Seahawks for Frank Clark, who has just a 58.0 grade so far this year. Nonetheless, this pass-rush went from first in PFF grade in 2018, to 28th so far in 2019.
Mahomes hasn't been bad in 2019, and he currently sits 12th in PFF grade at 80.0, but he has been nowhere near the MVP form we saw from him at this time last season. His greatest strength has been his ability to create outside of the pocket, and he has still been great in that regard, ranking second in PFF grade on those dropbacks. The decline, though, has been his clean pocket play. From a clean pocket, Mahomes ranks 19th in PFF passing grade and 22nd in adjusted completion percentage. When he's throwing downfield when clean, his accuracy has taken a massive dip. On throws of 10-plus yards when clean, Mahomes is second to last in catchable-pass rate.
Now, don't us wrong – Oakland's defense hasn't been better than Kansas City's, and if anything is going to stop them from a postseason berth, it'll be just that. 
The Raiders' pass-rush has been suffering mightily, ranking 25th of the 32 defenses in both team pass-rush grade and pressures generated. It does, however, go without saying that the Raiders' pass-rush is coming off their best performance of the season, as they recorded 27 pressures against a Los Angeles Chargers team that fields that the second-worst pass-blocking unit in the NFL. As far as coverage goes, the Raiders haven't fared much better,  ranking 26th in PFF coverage grade and dead last in EPA per pass play allowed. 
Overall, Oakland is the seventh-best offense in regard to PFF's EPA per play. In terms of passing, they are eighth, and on running back carries they are fifth. However, this doesn't mean they are better off rushing the ball instead of throwing the ball, as the Raiders are still generating negative expected points per rush attempt, they are just doing it better than 27 other teams.
In conclusion, the Oakland Raiders' offense is among the NFL's best, Derek Carr is a top-five quarterback at this moment, Jon Gruden has one of the best offensive schemes in football and their remaining schedule is one of the easiest. Should the Kansas City Chiefs be feeling the heat from the Black Hole in Oakland? Yes, they very well should be.