Now double-digit weeks into the 2019 NFL season, it's time to check back in on the first-round rookies and see how they're faring in their first year in the league. Through 10 weeks of action, here is how each of the 32 first-round picks has graded so far.

2019 overall grade: 71.6
Murray matched a career-high by throwing for three touchdowns in his Week 10 game against the Buccaneers. He completed 27-of-44 attempts for 324 yards and 13 total conversions, and even his interception was a good throw that was, unfortunately for Murray, hauled in by a defender after his receiver had gotten his legs tangled and fell down. The first overall pick notched three big-time throws in the game, as well as zero turnover-worthy plays, and he added 38 rushing yards from his three designed rushing attempts on the day, capping a decent all-around performance.
2019 overall grade: 89.7
Bosa's six quarterback pressures on Monday Night Football now take him to 44 on the year, just 20 pressures shy of the PFF record for a rookie edge defender. He added a hit and five hurries across his 36 pass-rushing snaps in Week 10, and he tallied another five stops against the run just for good measure.
2019 overall grade: 68.5
Williams produced a career-best three-pressure game against the Giants in Week 10, as he managed to generate a hit and two hurries from his 37 pass-rushing snaps on the day. It's still not the level of destruction we saw from him at Alabama, but the third overall pick did end the game with a career-best single-game pass-rushing grade of 64.6, which is a step in the right direction.
2019 overall grade: 49.2
Ferrell made his mark all over the stat sheet in Week 10 by generating three sacks from 27 pass-rushing snaps and adding a further three defensive stops from his 28 snaps against the run. Unfortunately, that good was accompanied by some bad, as he missed one of his five tackle attempts against the run, and he was called for two defensive offside penalties. He ended the game with a career-best pass-rush grade (68.5), but the miscues dragged his overall grade down to 56.9 for the game, his sixth sub-60.0 single-game grade this year.
2019 overall grade: 49.8
There were a lot of things to like about Devin White's Week 10 performance against the Cardinals: He managed to produce a hurry on his lone blitzing snap, he made two big tackles for loss against the run, and he allowed just one reception for two yards from three targets in pass coverage. However, despite all of that, this will be a game that White will want to forget, as he whiffed on three of his six tackle attempts against the pass. There was some good, granted, but he'll need to clean up the tackling work that has earned a 38.0 tackling grade and caused him to miss five tackle attempts across the last two games.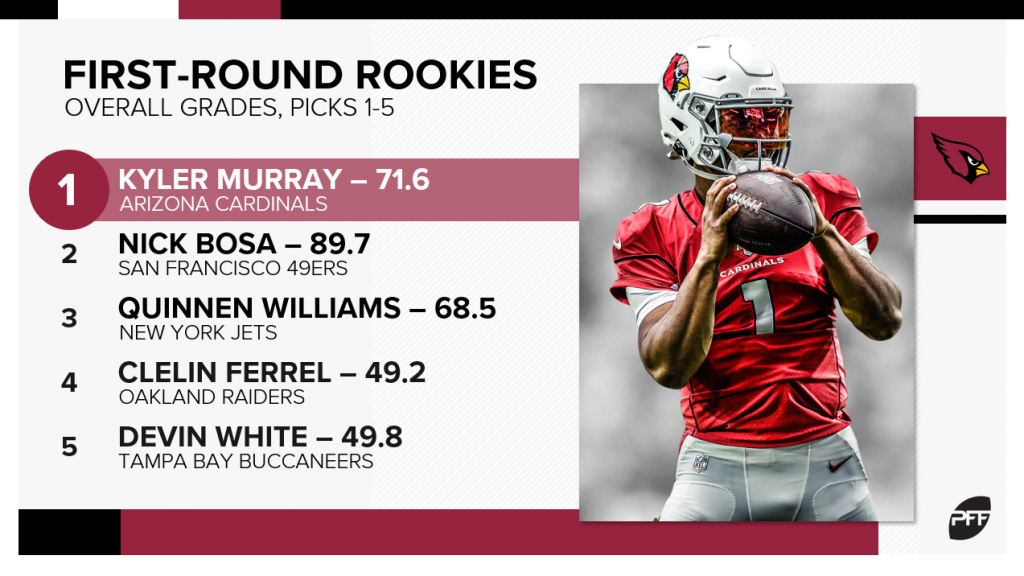 2019 overall grade: 63.5
Week 10 proved to be another Daniel Jones-esque game, where the first-round signal-caller put up a number of good throws — but no big-time throws — yet still let rip another three turnover-worthy plays on the day, the worst of which was getting the ball flat-out stolen from him by Jets' safety Jamal Adams on a play that ended up being a deciding factor in the game. Now 10 weeks into the season and eight games deep into Jones' tenure as the Giants' franchise guy, the first-rounder has almost twice as many turnover-worthy plays (22) as big-time throws (12) — only Jameis Winston (23) has more turnover-worthy plays so far this season.
2019 overall grade: 64.3
Allen added another three total pressures to his season total in Week 9, but one of those was charted as a clean-up/pursuit pressure and another came as a result of an unblocked path to Deshaun Watson. That said, through nine weeks, Nick Bosa was the only rookie edge defender who had more pressures to his name than Josh Allen (29), though Allen's pass-rush win rate (14.4%) ranked tied for fifth among qualifying first-year players. Allen will look to add to his resume when he returns from his team's Week 10 bye.
2019 overall grade: 63.8
Just like last week, Hockenson was targeted a healthy amount in Week 10, but the end result was nearly the same, as only three of his six targets were deemed to be catchable. Still, he caught all three of those passes for 47 yards and three first downs, with 33 of his yards coming after the catch. Through 10 weeks, Hockenson has averaged 7.4 yards after the catch per reception, a mark that ranks third among the 40 tight ends who've seen at least 20 targets so far this year.
Subscribe to PFF Edge to continue reading
Already have a subscription? Sign In