Football weather is finally here in the north, and the playoff picture is heating up alongside the race for rookie of the year. Using PFF's unique grades and advanced database, we give you the 10 rookies who have performed the best through Week 10 of 2019, in descending order.

Kyler Murray is beginning to play like the highly touted No. 1-overall pick we all knew he was, ranking 11th among quarterbacks in PFF grade since Week 5. Murray has been one of few quarterbacks in 2019 to have success through both the air and on the ground. From a rushing perspective, Murray has the second-most rushes of 10 or more yards, trailing only Lamar Jackson, with 12. As a passer, Murray has recorded the ninth most big-time throws (PFF's highest-graded throws), with 16. Perhaps the most interesting and impressive data of Murray's through NFL Week 10, is that of his over-the-shoulder passing (throws that are just as they say — passes in which the quarterback is trying to drop the ball over a receiver's shoulder with touch like on go-routes). On these passes, Murray ranks third in PFF grade at 92.0, first in yards per attempt at 16.9 and has recorded a clean, and league-best, big-time throw to turnover-worthy play ratio of 10 to zero.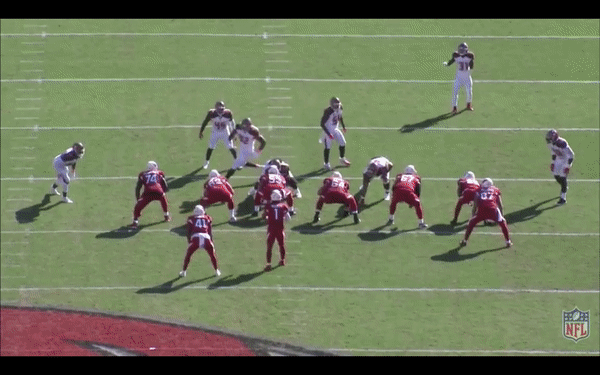 Coming into Week 11, McCoy is stamping his name as arguably one of the best all-around centers in the National Football League, being the only one to rank in the top five in both PFF's pass-block grade and run-block grade. Overall, McCoy's 71.7 overall grade is the second best at his position, and he is allowing the fourth-lowest pressure rate at 1.9%. With facing the Buccaneers this week, one may say the most interesting thing to watch in the game will be great skill position players like Drew Brees, Michael Thomas, Mike Evans or Chris Godwin. But the most intriguing thing to watch really is McCoy against Bucs' interior defensive lineman Vita Vea, who has generated the second most pressures lined up at nose tackle and is PFF's second highest-graded pass rusher from that alignment.
With wide receiver Adam Thielen nursing an injury over the last few weeks, former Alabama tight end Irv Smith Jr. has become a reliable target for quarterback Kirk Cousins. Since Week 7, Smith Jr. has been the recipient of the second-most targets on the Vikings, with 21 — trailing only wide receiver Stefon Diggs. As a tight end who spends more time inline as opposed to lined up as a slot or wide receiver, Smith Jr. has thrived on in-breaking routes, ranking seventh at his position on those targets with an 86.7 PFF grade.
Malik Reed may have had his worst showing as the replacement to Bradley Chubb in his last game against the Browns in Week 9. But overall, he has been a reliable outside linebacker for the Denver Broncos, posting a 73.2 overall grade (29th among edge defenders). Reed's bread and butter has been his run defense, as he is 15th at his position in run-defense grade, at 76.5. His explosiveness off the line in the pass-rush could use some work, but he's been able to generate 17 pressures and a win rate of 15.9%.
After being signed as an undrafted free agent in May, then waived in August, then being signed back on to the practice squad and finally being activated prior to Week 6, Needham has played his way onto a starting role in this Miami Dolphins defense as well as a spot on PFF's latest rookie rankings. In his five weeks of play, Needham has recorded a solid PFF grade of 74.2 and has impressed in all phases — with five pressures on eight pass-rushes, just one missed tackle on 22 attempts and allowing just 54.2% of his targets in coverage to be caught. Needham is coming off the best game of his career in Miami's upset win over Indianapolis in Week 10, allowing just three catches on eight targets in coverage with two combined pass breakups and interceptions and a passer rating of 11.5.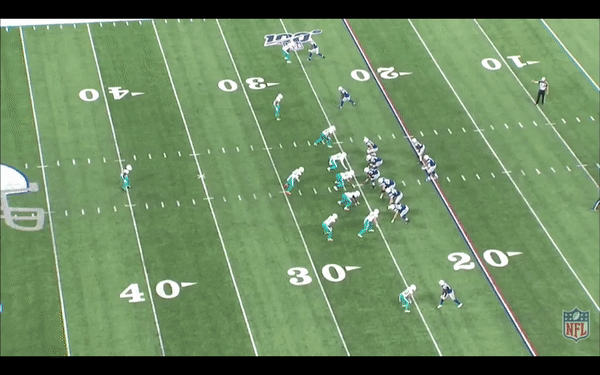 Nicknamed Hollywood, the 25th overall pick from the 2019 draft Marquise Brown has been lighting up defenses despite having an injury-riddled start to his NFL career. In just seven games played with the Ravens, Brown has already posted two elite PFF game grades (90-plus). With a PFF overall grade of 77.6 (21st), passer rating generated of 134.4 (sixth) and 2.62 yards per route run (sixth), Brown is creeping up on his fellow rookies and making his mark as one of the best offensive first-year players of 2019.
While reports are circulating as to whether or not Washington should go the Arizona Cardinals route and draft another quarterback in the first round in back-to-back drafts — whoever ends up as Washington's quarterback of the future will at least have one of the top premier wide receivers in the NFL in Terry McLaurin. The former Ohio State Buckeye has been one of the most reliable and dangerous downfield threats, as he is tied for fifth in PFF grade on targets past the sticks (for what it's worth, the rest of the top 10 includes receivers like Tyreek Hill, Michael Thomas, Amari Cooper, Davante Adams, Julio Jones, DeAndre Hopkins, et al.). Nonetheless, it's safe to say McLaurin is a certified deep threat.
The 340-pound unit Dexter Lawrence has been feasting in his rookie season with the Giants, ranking ninth at his position in overall grade at 82.8 and fifth in run-defense grade, at 88.0. Not to mention, he's also bringing guys down with ease, with just one missed tackle on his 25 attempts. Lawrence has been a good, not great pass-rusher collectively in 2019, but is coming off one of his best pass-rushing performances by posting a career-high in win rate at 17.9% and in pressures generated with four.
San Francisco 49er Nick Bosa is closing in as PFF's top rookie and best edge rusher overall, with a PFF grade of 89.7 ranking second at his position. What Bosa has been doing in the pass-rush from a production standpoint is far better than anything we have ever seen from a rookie — through Week 10 Bosa has put up the fourth-highest win rate, at 22.5%, and highest pressure rate, at 19.9%. Fresh off their first loss of the season, Bosa and the 'Niners will go up against Kyler Murray and the Cardinals in Week 11. In other words, get your popcorn and get ready to see some rookie-on-rookie crime between the first and second overall picks.
Week after week, rookie running back Josh Jacobs is putting up solid rushing performances for the Oakland Raiders, paving his way to a 90.5 PFF rushing grade, leading his position through Week 10. Jacobs has checked every box from a rushing perspective — he's picking up yards after contact (ranks sixth with 3.61 per attempt), breaking tackles left and right (ranks second with 46), handling the football with care (one of seven running backs with 100-plus carries and zero fumbles) and busting off explosive runs (18 runs of 10-plus yards are eighth most). We here at PFF say it time and time again — what separates replaceable running backs from ones with marginal value is their performance in the receiving game. Leading up to Week 10, Jacobs wasn't getting the job done in this facet. However, last week Jacobs had a career-high four targets and a nice 77.1 receiving grade. If this continues, we may see Jacobs join the handful of small value running backs.