There is only one week left in the 2021 NFL season, and barring an unimaginable Indianapolis Colts loss to the Jacksonville Jaguars, there is only one spot left up for grabs for the AFC playoff race. It all comes down to the Los Angeles Chargers and Las Vegas Raiders, who will face off in the final game of the regular season on Sunday Night Football in Week 18. 
Click here for more PFF tools:
Rankings & Projections | WR/CB Matchup Chart | NFL & NCAA Betting Dashboards | NFL Player Props Tool | NFL & NCAA Power Rankings
Best Bets Tool
---
An old rivalry will determine the tail end of the AFC playoff standings. Here is how the 6th and 7th seeds will shape out depending on who wins:
Colts & Raiders win: Raiders take the 6-seed and play the Bengals, Colts take the 7-seed and play the Chiefs.
Chiefs & Chargers win: Colts take the 6-seed and play the Bengals, Chargers take the 7-seed and face the Chiefs for the third time this season.
There are a couple of other scenarios that involve the Colts losing to the Jaguars, which could potentially allow the Steelers or Ravens to sneak into the playoffs with help elsewhere. However, Vegas opened the line at Colts -15.5, and the Jaguars just lost 50-10 to the Patriots. For the sake of this article, we will assume the Colts take care of business in Jacksonville, meaning the final playoff spot comes down to the Chargers or Raiders.
Let's dig into these two 9-7 teams to determine which one is a more dangerous final addition to the AFC playoff picture.
The Chargers Have Slowed After a Fast Start
The Chargers have been the most puzzling team to follow all year. They took the Chiefs to overtime in a Thursday night thriller, then somehow lost by 12 to the 3-11 Texans. However, they seemed to have turned things around with a resounding 34-13 win over the Broncos in Week 17. 
The Chargers' offensive inconsistencies, coupled with a horrendous run defense, have left them sitting at 9-7 after starting the season 4-1. At one point, they occupied the No. 1 spot in the AFC.
If we want to measure offensive inconsistencies on a weekly basis by using every offense's standard deviation from their mean EPA/play, the Chargers rank second this year behind only the Cincinnati Bengals.
In their last matchup, the Chargers beat the Raiders 28-14 on Monday Night Football after leading 21-0 at halftime. Justin Herbert produced an 82.6 PFF passing grade and threw three touchdowns in that game. The defense, which has struggled this year, had its second-best performance of the year per EPA/play. They forced 21 total pressures, added four sacks and forced 10 run stops on 16 rushing attempts.

Why the Chargers Are Dangerous
Two words: Justin Herbert. As long as he is healthy, the Chargers have a chance to beat any team in the league. 
The second-year stud has quieted any talk about regression in Year 2. Herbert broke Philip Rivers' single-season Chargers passing TD record and already has seven games with above an 80.0 PFF passing grade after only producing three such grades last year.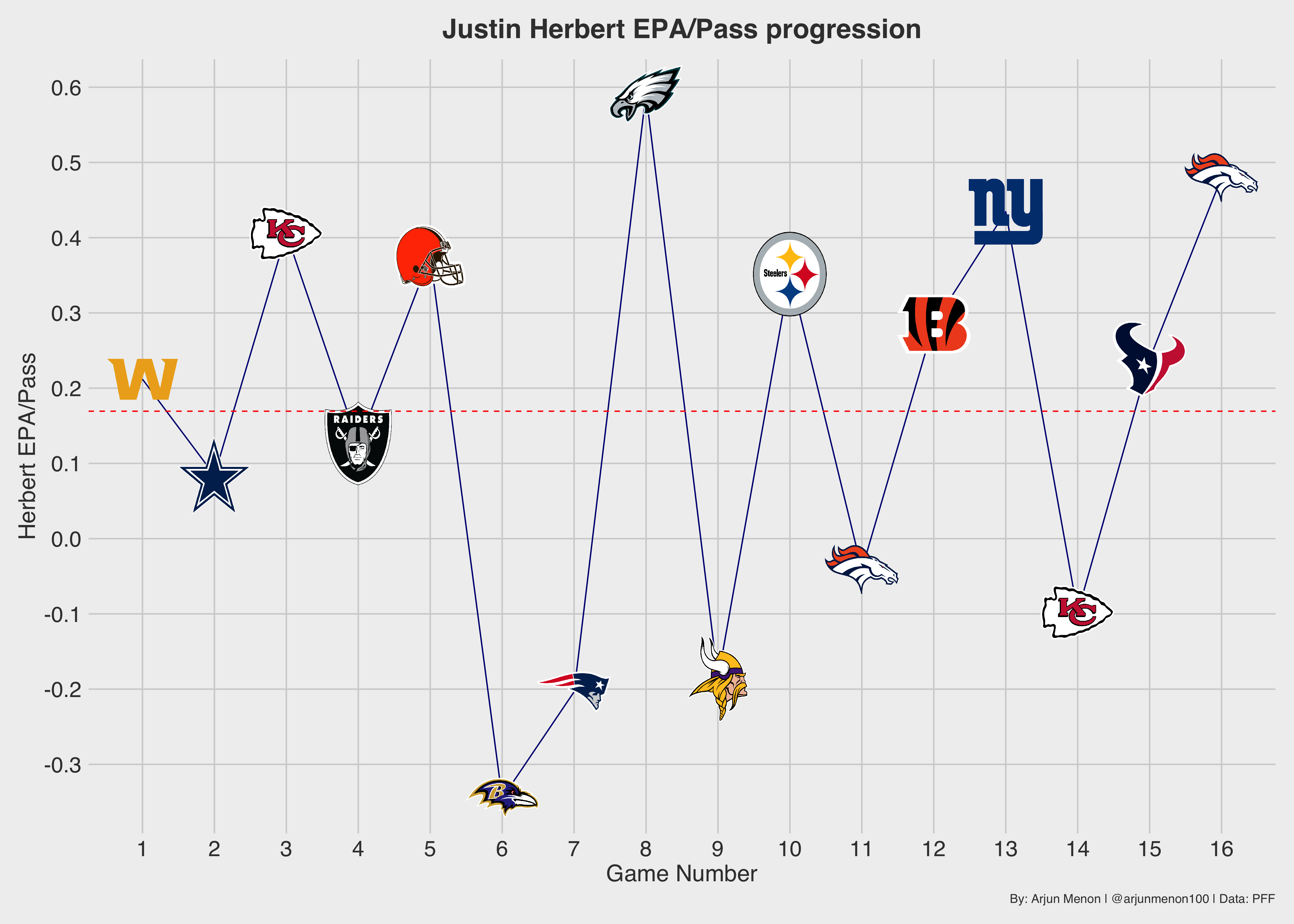 This graph shows how inconsistent the Chargers offense has been, but also how good Herbert can be. His bad games are pretty bad, but his above-average games have been up there with the best quarterback performances of the year. In fact, he led the Chargers offense to the highest offensive success rate in any game since 2018 versus the Texans despite the loss.
Herbert has been playing some of the best ball of his career over the last five games, with three games above his season average EPA/play. Additionally, the reason his EPA/play was so low against the Chiefs is because of three failed fourth-down attempts and a tipped interception, which decreased his total EPA for that game by 15.73.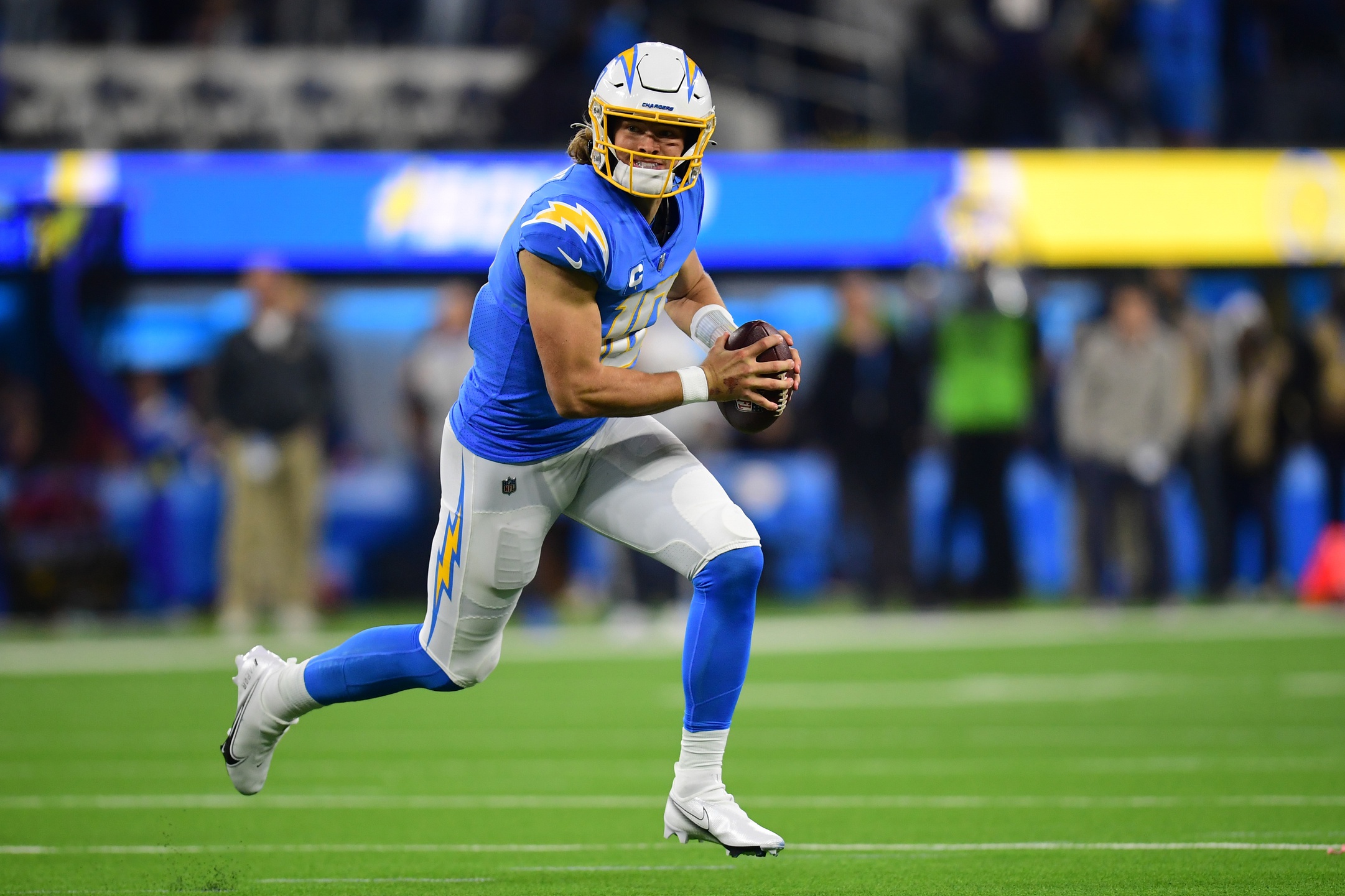 On the flip side, if you look at his EPA/play versus the Chiefs in Week 3, it was one of his best games of the year, buoyed by his successful plays on fourth down.
Herbert has been able to put up big numbers despite his receivers dropping 33 balls — fifth-most in the NFL this year. While the discourse on Twitter has been about Joe Lombardi not putting Herbert in a situation to succeed, he's actually done a good job giving him the reins to the offense. Only four teams (Kansas City, Tampa Bay, Buffalo, Los Angeles Rams) have had a higher pass rate over expected on early downs.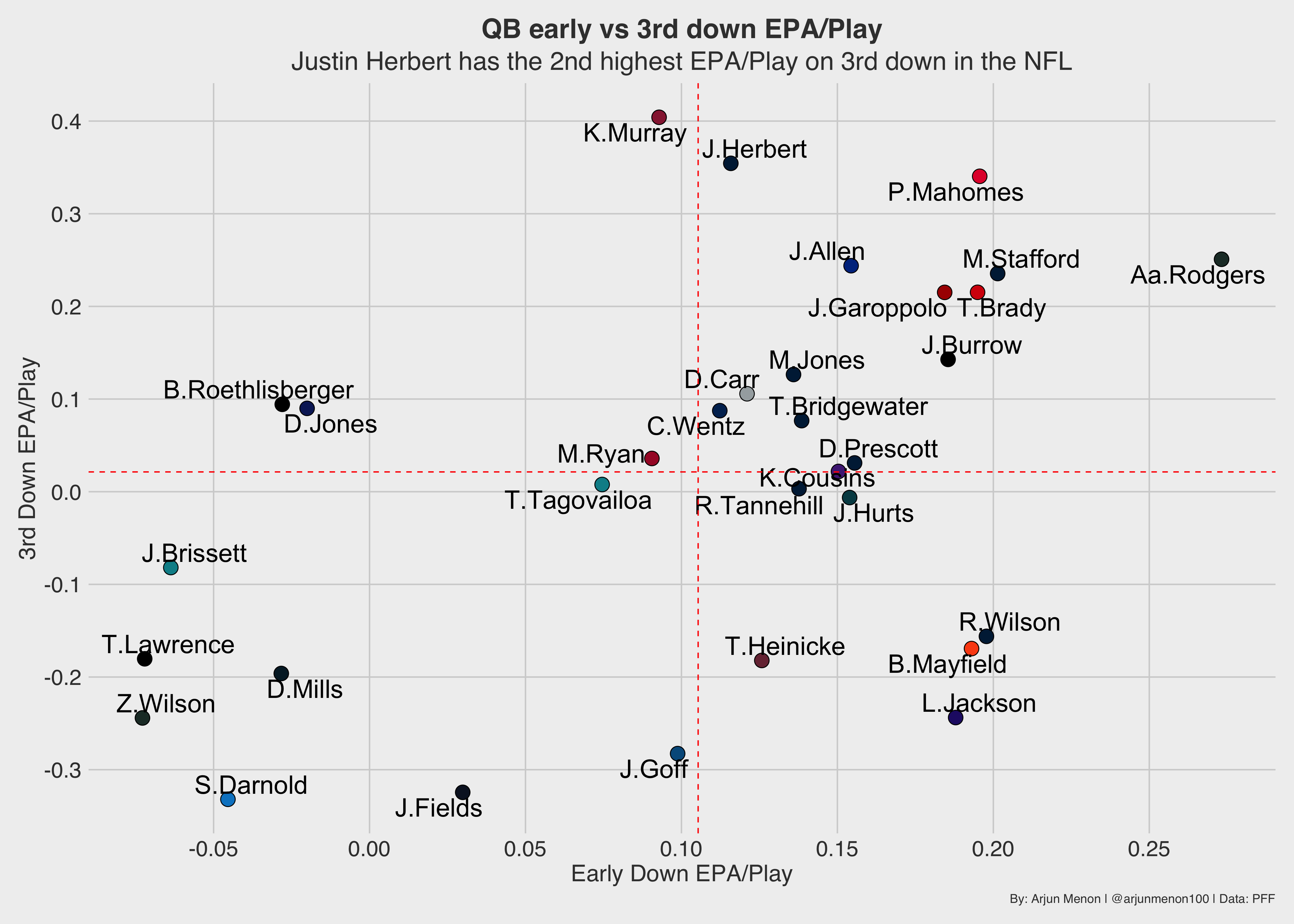 Where Herbert is the most dangerous is on third downs. While defenses may celebrate getting to third downs or third and long, that doesn't faze Herbert — he has the second-best EPA/play on third down this year, behind only Kyler Murray. For a normal quarterback, this is a data regression point to look out for. But Herbert isn't normal, and we may just have to give it up and say he won't see regression in unstable metrics like other quarterbacks do.
Why the Chargers Are Not Dangerous
For all the praise Brandon Staley gets for his aggressive mentality on fourth downs and his ability to convey his thoughts at press conferences, it has been slightly disappointing to see his defense rank in the bottom 10 in EPA/play. The Chargers have two of the best players at their position in Derwin James and Joey Bosa, yet the unit has struggled all year.
Early in the season, the run defense was on pace to be one of the worst historically. Staley made a switch and slightly increased the number of men in the box on early downs to try and counter this trend. Then the Chargers suffered injuries to secondary players, and their defense was carved up by Davis Mills, Patrick Mahomes, Ben Roethlisberger and Kirk Cousins.
Every AFC playoff team will counter with a quarterback who has been playing well this year or has a history of success, so it will be a struggle for the Chargers to win if Herbert isn't playing at an elite level. The defense has gotten healthier and had one of its better performances of the year against the Broncos. But that squad was missing Jerry Jeudy and Tim Patrick in their WR corps, along with tackle Bobby Massie and their starting QB in Teddy Bridgewater.
Here are the Chargers pressures generated in the last four weeks:
| | |
| --- | --- |
| Week 17 vs. Broncos | 7 Pressures |
| Week 16 @ Texans | 3 Pressures |
| Week 15 vs. Chiefs | 25 Pressures |
| Week 14 vs. Giants | 12 Pressures |
If the Charges can't generate pressure consistently in the playoffs, they're going to have trouble stopping high-powered offenses like the Chiefs, Bengals and Bills.
Staley's defensive philosophy has made its way around the league, and his idea of preventing explosive passes and allowing teams to run the ball is great in theory. However, he doesn't have an Aaron Donald on his defensive line, and the Chargers have been gashed this year in the run game. This is especially worrisome if the Chargers have to face the Titans, Colts or Patriots, as all three teams sport top-10 rushing attacks (once Derrick Henry returns).
The Raiders Haven't Impressed
Despite all the drama surrounding the Raiders, they somehow have found themselves in a position to secure a wildcard spot with one more win. They're winners of three straight games including a road win against the Colts this past Sunday.
Similar to the Chargers, the Raiders have had some confusing losses, like those to Washington and the Giants. While winning three straight games seems good on the surface, there isn't much to be excited about. They beat a Nick Mullens-led Browns squad missing half their players due to COVID by 2 and topped the Drew Lock-led Broncos team by 4 before edging out an admittedly good Colts team by 3.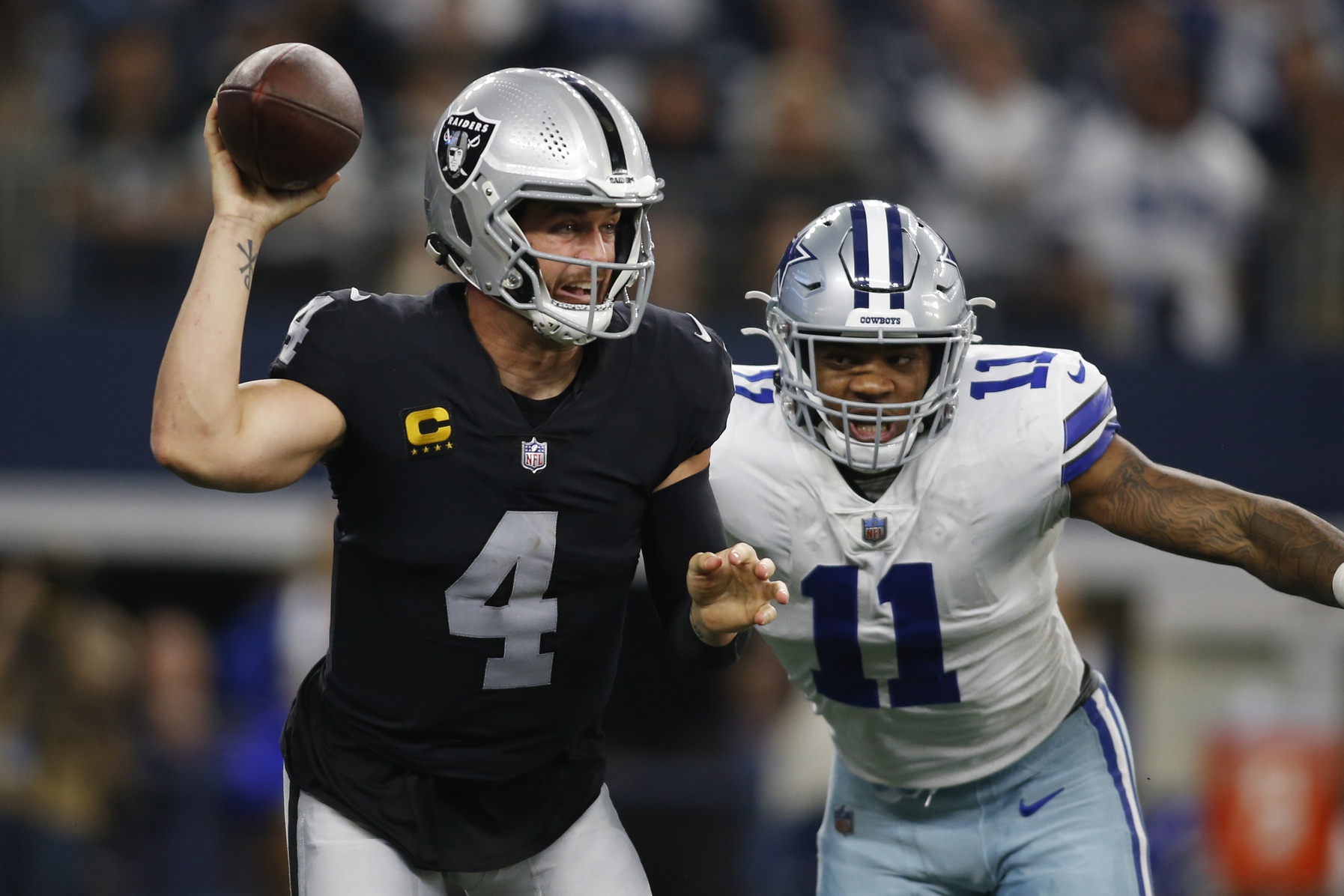 Why the Raiders Are Dangerous
To be frank: There isn't actually anything that screams wildcard sleeper about the Raiders. Their offense has scored over 24 points just once since their bye in Week 8. Without Henry Ruggs and Darren Waller, this offense has looked stagnant and has no juice. They aren't that great defensively, either, ranking 27th in EPA/play (0.038).
If there's one area where the Raiders hold an advantage, it's their pass rush. Here are some of the metrics where the Raiders pass rush has fared well this year.
| | |
| --- | --- |
| Total Pressures Forced | 332 (7th) |
| Pressure Rate Forced | 35.2% (8th) |
| Pass Rush Win Rate | 60.6% (3rd) |
| QB Hits | 72 (2nd) |
Maxx Crosby is going to get a big extension for how well he's played this year, and the rest of the Raiders defensive line has played well, too. Las Vegas overhauled that unit in the offseason, and some of the free-agent acquisitions have paid off. Yannick Ngakoue (58 pressures), Quinton Jefferson (38 pressures) and Solomon Thomas (29 pressures) were all brought in during the offseason to revitalize a dormant Raiders pass rush, and they've done just that.
Why the Raiders Are Not Dangerous
Simply put, this Raiders offense isn't very good. Since Ruggs was released, the Raiders simply do not have the vertical threat they could show early in the season.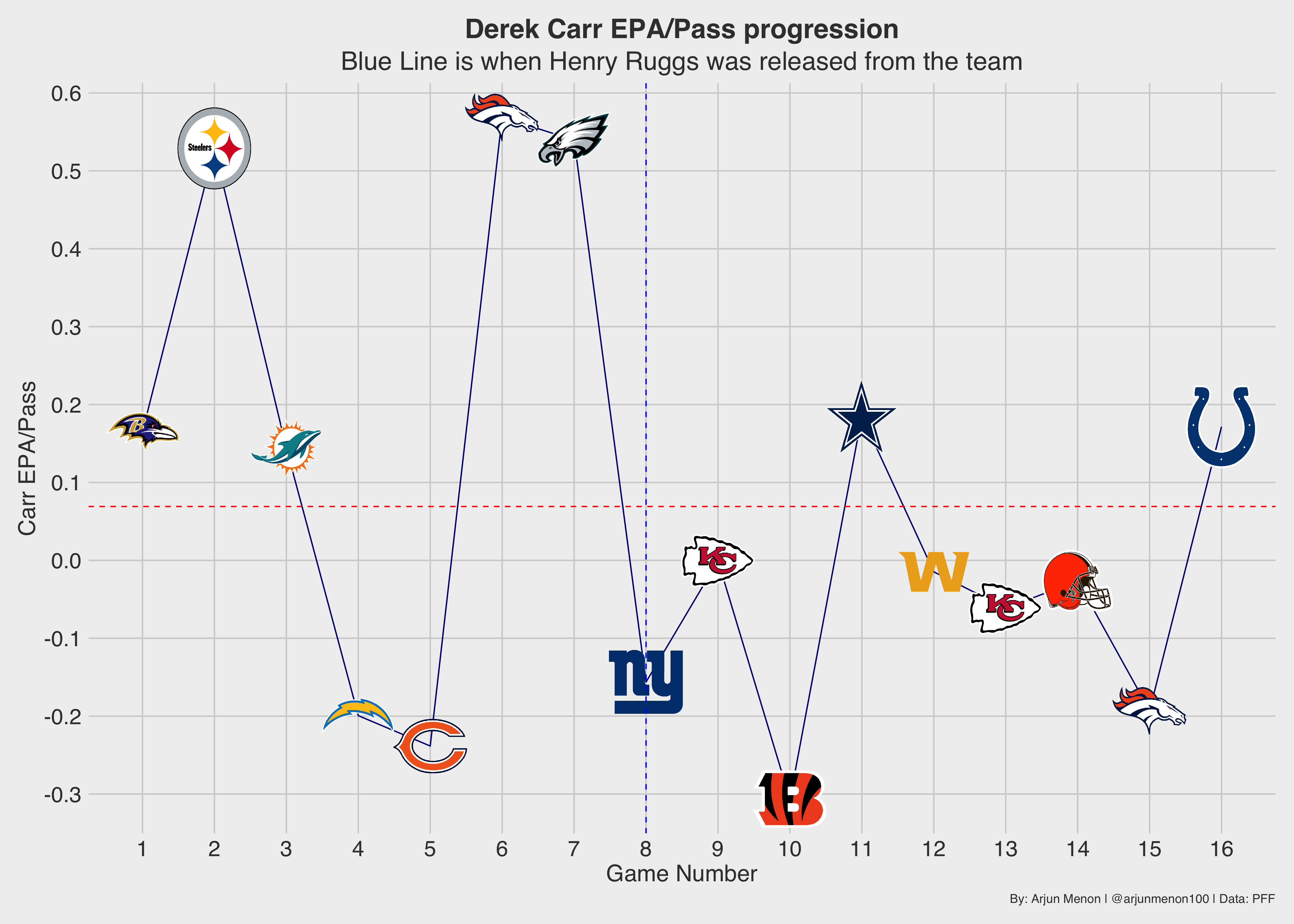 Signing Desean Jackson was supposed to help Derek Carr open up the field vertically. This hasn't happened, as Carr has only made 12 big-time throws since Jackson was signed in Week 10 compared to 26 such throws in weeks prior. Losing Waller to injury and COVID has not helped matters. Prior to the Colts game, Carr had four straight games with a negative EPA/play.
The rush attack, which had been a strength in years prior, has not been up to par. The Raiders average a putrid -0.200 EPA/Rush, which ranks 30th in the NFL. While we can joke about how the Raiders spent one of their three first-round picks in 2019 on a running back, the bigger issue is that their offensive line is not good.
They have four offensive line starters giving up over 30 pressures on the year, including Brandon Parker (55), who didn't move into the starting role at right tackle fulltime until Week 5. Just imagine Alex Leatherwood (68 pressures allowed) matched up against AFC playoff interior linemen like Chris Jones, Jeffery Simmons, Deforest Buckner or D.J. Reader.
Even if Waller comes back at full strength, what receiving weapons do the Raiders have that strike fear into a defensive coordinator? Hunter Renfrow, and that's it. The Raiders won't be able to get away with scoring less than 20 points in the playoffs like they have the last couple of weeks.
Prediction
The Chargers have been the better team all year and by far have the better offense. Gus Bradley is known for not changing his scheme, regardless of the quarterback he's facing. We saw this with Patrick Mahomes. Bradley will likely continue his high rate of Cover 3 vs Herbert on Sunday night, which will not spell a good outcome for the Raiders. Herbert's Cover 3 EPA/pass this year is 0.19, and he has an 81.9 PFF passing grade vs. that specific coverage.
In a game that is pretty much a playoff game in itself, the team with the better quarterback has the advantage. The Chargers should beat the Raiders and roll into a matchup with the Chiefs looking to get revenge for their heartbreaking Thursday night loss.