The Buffalo Bills walked all over the Seattle Seahawks, Tom Brady and the Tampa Bay Buccaneers had about as bad of an offensive showing as possible and the Pittsburgh Steelers scored 15 unanswered points in the fourth quarter to secure a comeback win over Garrett Gilbert and the Dallas Cowboys.
Just as we all expected.
PFF is here to break down NFL Week 9 in greater detail using advanced data and our unique play-by-play grading. Here, we present to you the PFF Team of the Week, a couple of big takeaways and player awards from Week 9 of the 2020 NFL season.
PFF TEAM OF THE WEEK
Offense
QB: Aaron Rodgers, Green Bay Packers
RB: Dalvin Cook, Minnesota Vikings
WR: Davante Adams, Green Bay Packers
WR: Jakobi Meyers, New England Patriots
TE: Travis Kelce, Kansas City Chiefs
FLEX: A.J. Brown, Tennessee Titans
LT: Cornelius Lucas, Washington Football Team
LG: Ereck Flowers, Miami Dolphins
C: Corey Linsley, Green Bay Packers
RG: Damien Lewis, Seattle Seahawks
RT: Braden Smith, Indianapolis Colts
Defense
DI: Jeffery Simmons, Tennessee Titans
DI: Folorunso Fatukasi, New York Jets
EDGE: Shaquil Barrett, Tampa Bay Buccaneers
EDGE: Trey Hendrickson, New Orleans Saints
LB: Jayon Brown, Tennessee Titans
LB: A.J. Klein, Buffalo Bills
CB: Marcus Peters, Baltimore Ravens
CB: Jeff Gladney, Minnesota Vikings
S: Minkah Fitzpatrick, Pittsburgh Steelers
S: Kareem Jackson, Denver Broncos
FLEX D: Breon Borders, Tennessee Titans
TAKEAWAYS FROM WEEK 9
Don't count out the Buccaneers after their horrid offensive showing. It just goes to show it's anyone's game this year.
This week's Sunday Night Football game between the Tampa Bay Buccaneers and the New Orleans Saints was supposed to be one of the best contests on the slate. Tom Brady versus Drew Brees, the race to the top in the NFC South, Antonio Brown making his Buccaneers debut, Mike Evans versus Marshon Lattimore — there were a lot of intriguing storylines to watch. But instead of a competitive shootout, we saw a certified thrashing as the Saints won 38-3 over an incredibly poor Buccaneers offense.
No offense generated fewer expected points added per play this week than the Buccaneers at -0.47. It was the third-worst mark we have seen in 2020 and the worst by a Tampa Bay offense since 2015. Yes, that's right — not even Jameis Winston led a more dreadful offense in a single game than Brady in Week 9 against New Orleans.
Still, do not fall victim to recency bias and count out the Tampa Bay Buccaneers in 2020. It was quite easily Brady's worst game of the season from a passing perspective, but we mustn't forget what he did in his previous eight outings, racking up the most big-time throws while producing the fewest turnover-worthy plays at the position.
Brady wasn't as finely tuned in Week 9, but he was under pressure at an extraordinary rate (56%, second-highest of the week), and over half of his throws of 10-plus yards downfield were into a tight window. From Brady to his receivers to the play calling to the offensive line, it was just a bad night for the Buccaneers' offense. This game is one of many examples across the league that shows this year could really be anyone's for the taking.
If Kyler Murray can limit mistakes outside the pocket, Arizona's offense could be even more lethal
The Arizona Cardinals may have lost to the Miami Dolphins by a mere field goal in Week 9, but their offense continued to roll as it has in the past few weeks. Since Week 5, the Cardinals have the league's most efficient offense in terms of expected points added per play generated, just edging out Patrick Mahomes and the Kansas City Chiefs. They generated positive expected points added on 62% of their pass plays against Miami, tying for the highest rate of Week 9.
When filtering to just plays in which quarterback Kyler Murray passes from inside the pocket, Arizona had the clear-cut most efficient passing offense of the week — and it's not particularly close. Murray earned a 90.3 passing grade inside the pocket, the second-best of Week 9. On such throws, he completed 17 of his 19 attempts for 243 yards with two big-time throws and no turnover-worthy plays.
When outside the pocket — whether it be designed or Murray creating off structure — things went south for the second-year quarterback. He was the lowest-graded signal-caller of the week on such plays, two of which were turnover-worthy. One was a strip-sack fumble that Miami returned for a touchdown, and the other was a touchdown that Darrell Daniels wrestled away from Byron Jones on an easy interceptable throw.
This has really been the story of Murray's 2020 season — he ranks sixth in passing grade from inside the pocket and second-to-last from outside the pocket. His running ability is among the best we have seen at the position and is a big reason why Arizona's offense has been as good as it is. His passing while on the run, however, is a different story. If he can reduce the mistakes in that facet, this Arizona offense can take an even bigger step forward.
OFFENSIVE PLAYER OF THE WEEK
Following the Packers' 34-17 win over the 49ers on Thursday Night Football, Adams said he believes it's fair to say he is the best wide receiver in the NFL. And after the performance he had that night as well as what he did leading up to that point, we think it's fair to call Adams the best receiver in the league at this very moment. After all, he is the league's highest-graded wide receiver at 91.9.
He and Aaron Rodgers connected on three deep balls against San Francisco for 119 yards — one being a back-shoulder touchdown and another being this crisp stop-and-go: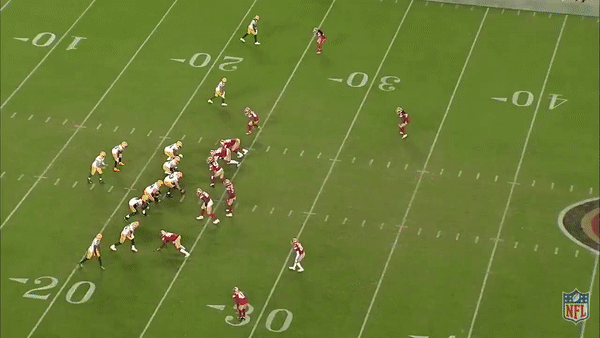 That route and pump fake made it too easy for the Rodgers-Adams connection that is arguably the best QB-WR tandem in the NFL. Over the last three weeks now, Adams has the highest passer rating when targeted at 153.8, highest yards per route run at 4.02 and most deep receiving yards at 192.
DEFENSIVE PLAYER OF THE WEEK
Simmons was a certified monster in the second half for the Titans defense. After being largely ineffective in the first half by recording just a 57.5 PFF grade, Simmons came out for the final two quarters and consistently wreaked havoc. In the second half, Simmons put up a 96.6 PFF grade that featured a couple of run stops, a 17.4% pass-rush win rate, a batted pass and most importantly a forced fumble on David Montgomery that new Titan Desmond King II scooped up and took to the house.
Welcome to Tennessee, Desmond King ????
pic.twitter.com/dDJDsWtwVM

— PFF (@PFF) November 8, 2020
We have seen flashes of dominant play like this from Simmons in the past like back in Week 3 against Minnesota when he had earned a 92.8 PFF grade. Performances like these have helped make Simmons the fourth-highest-graded interior defensive lineman in the NFL through Week 9. At this rate, it's looking like Simmons will end up being one of the five best players to come out of the 2019 draft class.
ROOKIE OF THE WEEK
Lewis has no doubt exceeded expectations in his 2020 rookie campaign, but it has been defined by great run blocking, but poor pass protection. This week, though, we got the best of both worlds. Lewis finished second and first at his position in pass-block and run-block grade in Week 9. The former LSU standout didn't lose a single one of his 48 snaps in pass protection, and 15 of those were true pass sets. He matched up with second-year interior defensive lineman Ed Oliver, who entered the week coming off two standout performances as a pass-rusher with 11 pressures and two grades above 83.0, numerous times and shut him down. Lewis earned a 92.2 PFF grade — the best by a rookie guard to play at least 30 snaps in a single game over the last five years. Going back to 2010, this is just the second time we have seen a rookie guard put up grades north of 88.0 as both a run- and pass-blocker.
OFFENSIVE LINE OF THE WEEK
No offensive line was truly outstanding in Week 9 and while Jon Runyan and Lucas Patrick lost a few quick reps in pass protection for the Packers, Green Bay had the top unit of the week for three reasons — they limited pressure despite a few losses, were nearly perfect on their true pass sets and had one of the top run-blocking units of the week. Aaron Rodgers' quick time-to-throw aided the offensive line some in pass protection and helped them allow the fewest amount of total pressures of any unit of the week, but even on their true pass sets where they weren't helped out, they were superb. Green Bay was the only offensive line to not allow a single pressure on true pass sets this past week. The Packers' run game didn't have much success at all, but it was far from the offensive line's fault, as they were one of the five highest-graded run-blocking units of the week. This performance, among many others, has helped this unit rank top three in both pass protection and run blocking so far this season, and they have done this the last few weeks without their star left tackle David Bakhtiari.
SECRET SUPERSTAR OF THE WEEK
It's no secret at this point that the Vikings have had arguably the worst cornerback play in the NFL this season. They've had to rely on young, inexperienced players, and they have gotten exposed week after week. One of those young corners is Jeff Gladney, whom Minnesota selected at the end of the first round in the 2020 NFL Draft. He started at outside corner in Week 2 and has since spent most of his time in the slot where he found minimal success. Entering Week 9, Gladney allowed the second-highest passer rating in the slot at 131.2 and ranked in the bottom half of the league in slot coverage grade at 21st. However, against the Lions in Week 9, Gladney no longer looked like a liability in the slot for Minnesota. He, in fact, was easily the best slot corner of the week. The rookie ranked first in slot coverage grade at 84.9 by over six grading points and allowed just 13 yards in the slot with a couple of defensive stops. Gladney may not have won rookie of the week, but he played a key part in Minnesota shutting down Detroit's passing offense.
PLAY OF THE WEEK
In this day and age, one would expect the best throw of the week to come from a guy like Patrick Mahomes or Russell Wilson or Aaron Rodgers, but in Week 9 this was not the case. This past week, the play of the week was courtesy of none other than Atlanta Falcons quarterback Matt Ryan for this 50-yard nuke that could not have been any better placed than it was:
MATT RYAN BOMB ????
pic.twitter.com/TYjLViLqvO

— PFF (@PFF) November 8, 2020
This could be considered one of the best throws of his NFL career. It was just his seventh completion on a throw over 50 yards downfield in his time as a Falcon and the seventh such touchdown we have seen in 2020.
AN EARLY LOOK AHEAD TO WEEK 10…
This next week, we actually get a can't miss Thursday Night Football matchup as Indianapolis takes on Tennessee. This is the first of their two matchups within the next three weeks and has huge AFC South division title and playoff implications. With a win, the Colts will find themselves at the top of the division. With a loss, they'll find themselves two games back from the Titans. And each of these two teams will be looking to bounce back on the offensive side of the ball after lowly performances in Week 9 — among the 26 teams to play entering MNF, Tennessee ranked 21st and Indy ranked 25th in EPA per pass play generated.
Throughout the 2020 NFL Draft process, it was clear that Joe Burrow was the No. 1 overall pick, but the second quarterback off the board was in question to some. Ultimately, the Dolphins took Tua Tagovailoa over Justin Herbert, and this week we get to see those two rookies clash. Herbert has those highlight-reel throws, tying for fourth in the NFL in big-time throws since taking over as the starter, but there have been some consistency issues, as he ranks tied for the third-most quarterback-fault incompletions. Tagovailoa wasn't effective at all in his first career start by posting a 45.3 PFF grade and just one completion over 10 yards downfield, but that wasn't the case in his second career one in Week 9 as he completed eight of his 11 throws over 10 yards downfield for 140 yards and a score.
The NFC West title is likely going to come down to the final weeks of the season, but this week there is an important game that could help decide who has the leverage as the Seahawks take on the Rams. Russell Wilson had been cooking all year long entering Week 9 — his grade ahead of Seattle's showdown against Buffalo sat at 95.2, the best in the NFL. The wheels, however, fell off against the Bills as he had his lowest-graded game of the year by over 20 grading points. And he will be vying to get back on track against a Rams defense that ranks No. 1 in EPA per play allowed.