The No. 1 overall pick of the 2020 NFL Draft was one of the most coveted picks in NFL draft history, but 2021's first overall pick could blow that right out of the water.
When all is said and done, Clemson's Trevor Lawrence will go down as one of the best quarterback prospects in college football history, and whichever team is lucky enough to land in that No. 1 spot will have their franchise changed forever. Lawrence produced 90.0-plus PFF grades as a true freshman and sophomore, and he once again showed that he's worth tanking after his start to the 2020 college season. Through three games, Lawrence has earned a 94.5 PFF grade — the best in college football. For perspective, Joe Burrow had a 93.0 PFF grade through the first three games of his record-setting 2019 season.
"College football has never seen a QB career quite like Lawrence's. Every tool that's needed to succeed at the position is in his toolbox." — PFF Lead Draft Analyst Mike Renner in the Preseason 2021 NFL Draft Guide
After simulating the NFL season 10,000 times from its current point, we now have a preliminary idea of this year's Super Bowl winner, playoff teams, division champions and, conversely, the recipient of the first overall pick of the draft. Nonetheless, here are the teams with the highest probability of securing the first overall pick in the 2021 NFL Draft heading into Week 5, according to those simulations.
The Jets are on pace to have one of the worst passing offenses of the past decade. Led by Sam Darnold, they have generated -0.2 expected points added per pass in 2020, which is currently the ninth-worst mark among 352 offenses since 2010. The supporting cast has never been ideal for Darnold, but even in favorable situations, he hasn't performed up to snuff.
From a clean pocket this year, Darnold has produced the third-worst passing grade in the league (60.3). And when filtering that to just his true clean dropbacks — that is, passes from a clean pocket with no play action, screen, RPO or quick throw — it gets even worse. He has thrown a quarterback-fault incompletion on 30.6% of those throws in 2020, the worst rate in the NFL and more than double the NFL average (13.5%). It looks more and more like Darnold is a bust after each week.
However, the starting signal-caller is out in the Jets' Week 5 matchup against the Arizona Cardinals and is week-to-week, according to head coach Adam Gase, which means Joe Flacco gets the start. Given Flacco's inability to do anything under pressure and how bad this offensive line is, I wouldn't be worried about him pulling out a win to hurt the Jets' chances at securing the No. 1 overall pick.
It's also worth noting that the Jets' secondary is currently third-to-last in EPA allowed per pass on defense and has surrendered a league-high 68.5% catch rate on throws of 10 or more yards (worst by nearly 5 percentage points).
Week 1 gave hope to Giants fans and the franchise as a whole that quarterback Daniel Jones would be taking a Year 2 leap. He earned a respectable 79.5 passing grade against the Steelers in that outing, making a couple of big-time throws in the process and posting one of the lowest negatively graded throw rates of the week. But in the following three weeks, Jones looked like his normal self and the Giants' offensive efficiency plummeted. He earned a 62.2 passing grade in that span, and the Giants dropped to second-to-last in expected points added per pass (-0.18) — barely ahead of the Jets.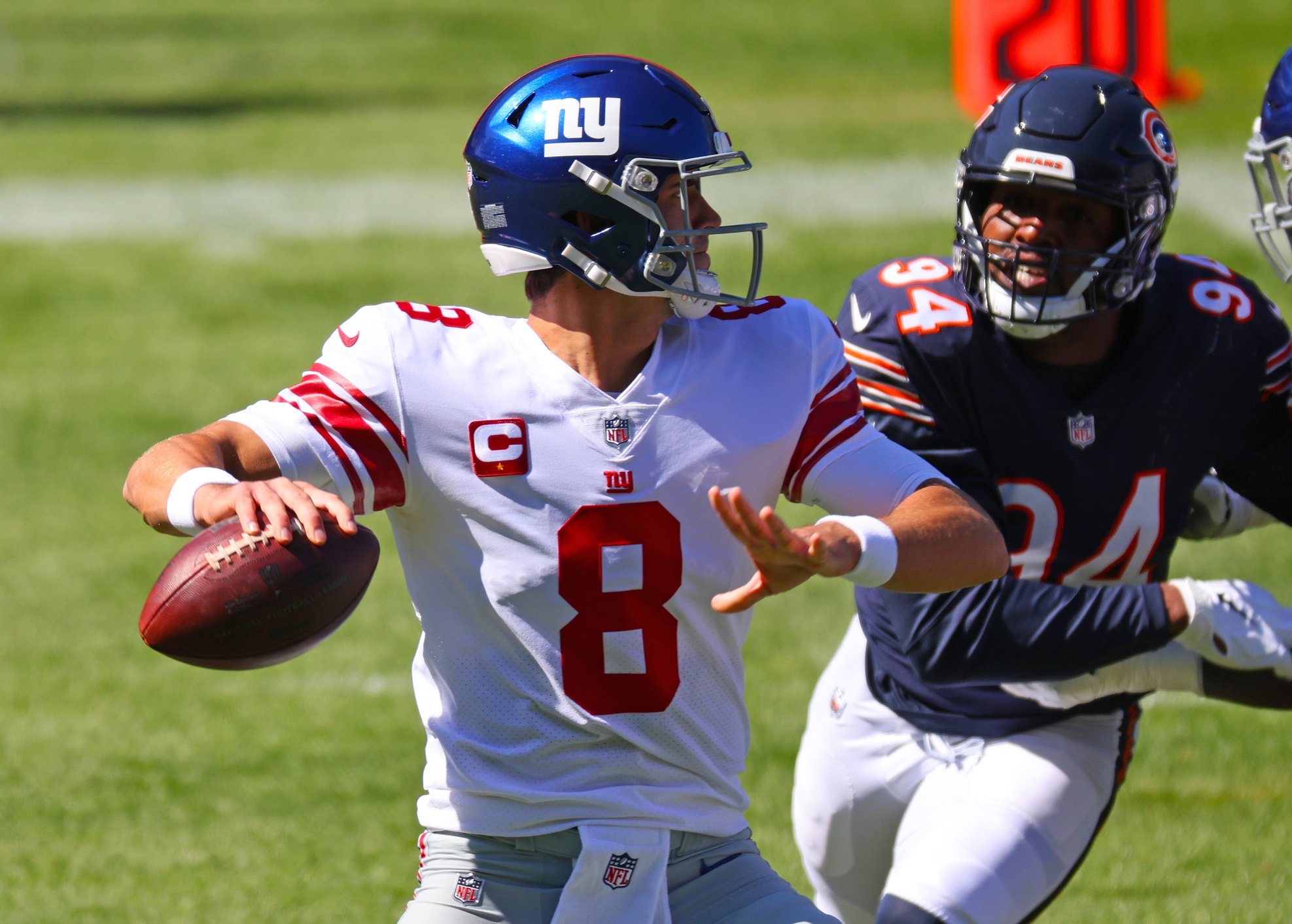 Jones still has time to turn things back around, but if he continues this lowly play throughout the season and the Giants find themselves at the No. 1 overall pick, it should be an easy decision to cut ties and snag Lawrence. I say this because 1) Lawrence is that good, and 2) according to our findings, we can project with more certainty a quarterback's career following their performance in Year 2.
Of all the teams on this list, none are sitting in a better position than the 0-4 Atlanta Falcons. They are the only squad here with a quarterback that other teams would be willing to trade a decent package for if he was made available. And at this point, Atlanta should do exactly that.
Matt Ryan hasn't been completely terrible, but he has failed to lead this offense to the success it needs to make up for defensive deficiencies. His 72.1 PFF grade ranks 17th at the position and Atlanta's 0.07 expected points added per pass ranks 21st among 32 offenses in 2020. That expected points added per pass mark is also on pace to be the worst of Ryan's career.
That's not going to cut it for a team with a defense that has allowed the highest rate of drives to end in a touchdown (38%) and the second-most expected points added per pass (0.32). While the defense (and special teams) have been the most responsible for their choke losses to the Dallas Cowboys and Chicago Bears, the offense clearly played a part in that as well.
Nonetheless, it's time for Atlanta to cut ties with the future Hall of Famer Ryan and start thinking about the future. By the time this roster is ready to compete, Ryan will be at a point where he is no longer an average quarterback. Trading him away to a team with a bad quarterback situation but a contending roster (e.g., the Chicago Bears) is the best bet.
It'd give them an early-round pick from the trade and would likely result in them putting up a blank in the win column this season. And it would subsequently give Atlanta the No. 1 overall pick (Lawrence), putting them a step ahead of division rivals New Orleans and Tampa Bay, which have quarterbacks with a year or two left.
Ron Rivera and company have seemingly given up on 2019 first-round pick Dwayne Haskins, whom they inherited from the old regime. And I can't say I blame them for doing so. Haskins has earned the lowest PFF grade among quarterbacks through the first quarter of the NFL season (47.2) and was ineffective throwing downfield. On attempts of 10 or more yards, he threw only 22.5% of his passes accurately — 7 percentage points worse than any other quarterback.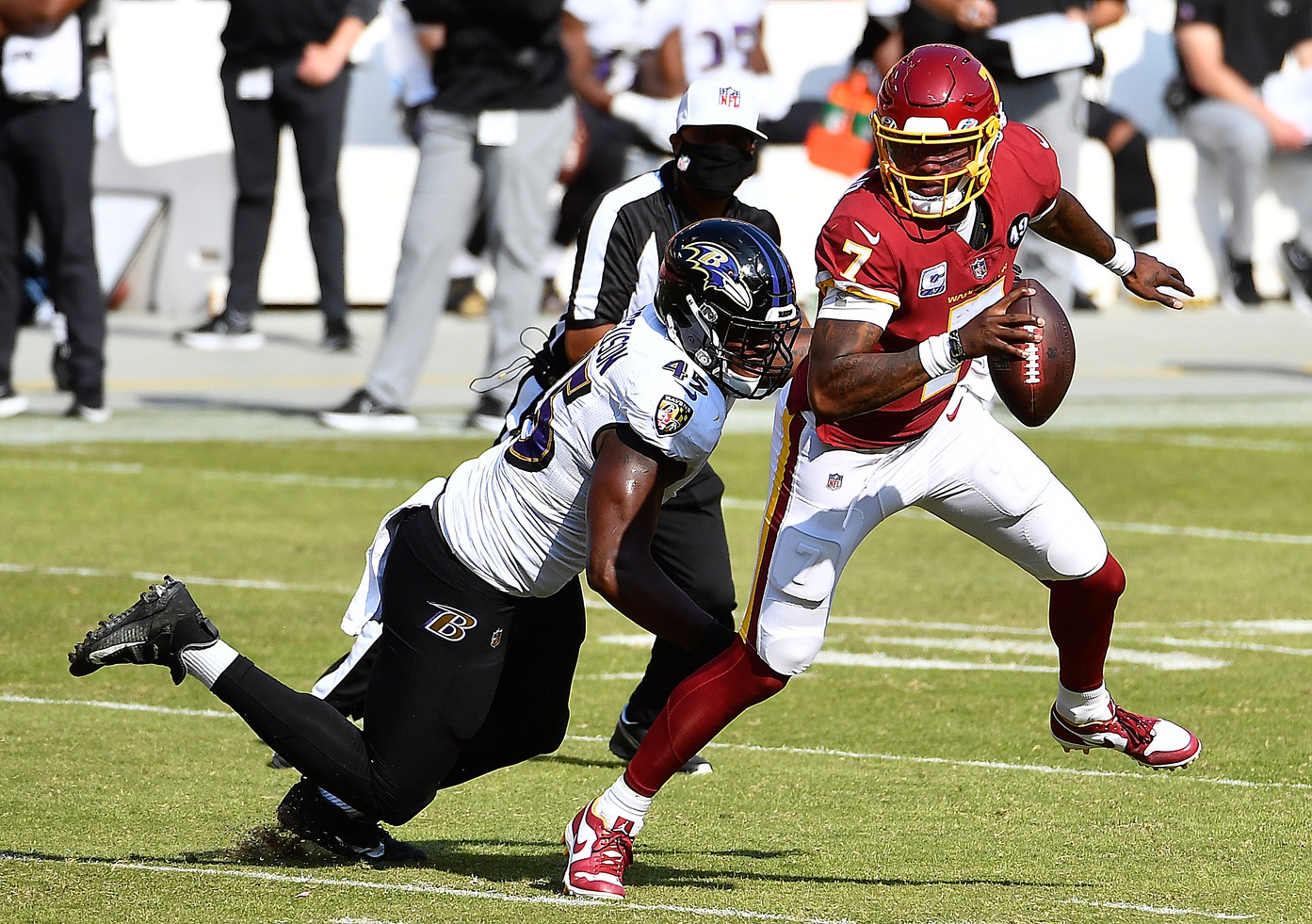 That sounds like a great situation if Washington wanted to purposely tank, but the team went ahead and benched him in favor of Kyle Allen, who Rivera coached at Carolina in 2019. And in all honesty, it's not much of an upgrade.
Allen was the lowest-graded quarterback of the 2019 season (49.7) and led the league in turnover-worthy play rate (5.9%). He had 16 interceptions in the box score (tied for fourth-most), but it should have been even more, as he tied for the second-most turnover-worthy plays that didn't result in a pick (12).
Whether it's Allen or Haskins under center, it's going to be difficult for the Football Team to pull off a victory with their current offense. Their best chances to come away with a win are against the Giants in Week 6 and/or Week 8, and those two games will end up being pivotal for draft order tiebreaker implications.
To start out the 2020 season, it looked like the Jaguars — the team we all pegged as the one most likely to land the No. 1 overall pick in 2021 after they traded away most of their top talent this past offseason — may not be in the running for worst team in the NFL after all. They looked better on both sides of the ball than expected and ended up upsetting the Indianapolis Colts. Yet, they looked as expected in their next three games. The coverage unit has been a huge liability since then, allowing a whopping 0.43 expected points added per pass to the Titans, the Dolphins and the Bengals.
The Gardner Minshew-led passing attack hasn't been as bad, but it has been inconsistent. Minshew has led the Jaguars passing attack to ranks of 12th, 29th and 10th in each of the past three weeks in regard to expected points added per pass. Inconsistency was a common theme for him and his offense in 2019, and it's not looking much more different in 2020.
For that reason, it seems likely the Jaguars will win a few one-off games this season that may keep them stuck in quarterback purgatory.