• Bet Chargers -5.5 at Browns + Over 47.5 (+330): Chargers offense with Keenan Allen explodes on already-questionable Browns 'D' likely down Myles Garrett.
• Despite all their injuries, the Chargers' offense ranks 7th in Drive Quality, while Browns are ninth-worst in drive quality, seventh-worst in EPA. 
• New users who bet $10 or more at BetMGM will receive a free year's subscription to PFF+ — a $79.99 value.
Last updated: 4:19 p.m. Tuesday Oct. 4
Estimated reading time: 4 min
---
I want to start by sharing the intro note we wrote when we first inaugurated this column:
"Most bettors place wagers in multiple markets — spreads, totals, teasers, props, etc. — where they generally get oriented by following a bottom-up approach: "Which spreads do I like?" "Which totals stand out this week?"
"But the goal in this space is to articulate my process for bets by following a top-down approach. We will consider how a specific thesis on a team, player, or trend is best applied and capitalized on the proper market. Some bets will track more traditional markets, but more often we will look to maximize our upside in the multitude of different markets offered by sportsbooks — dependent on finding the right market for the thesis! Let's dive in."
In this space we've grown accustomed to betting on alternate spreads (a favorite of mine), but sometimes the right thesis calls for maximizing upside in a particular market(s). The bet here is that the Chargers offense will dominate the Browns defense. 
Angle 1: We can still project the Chargers for elite offensive output going forward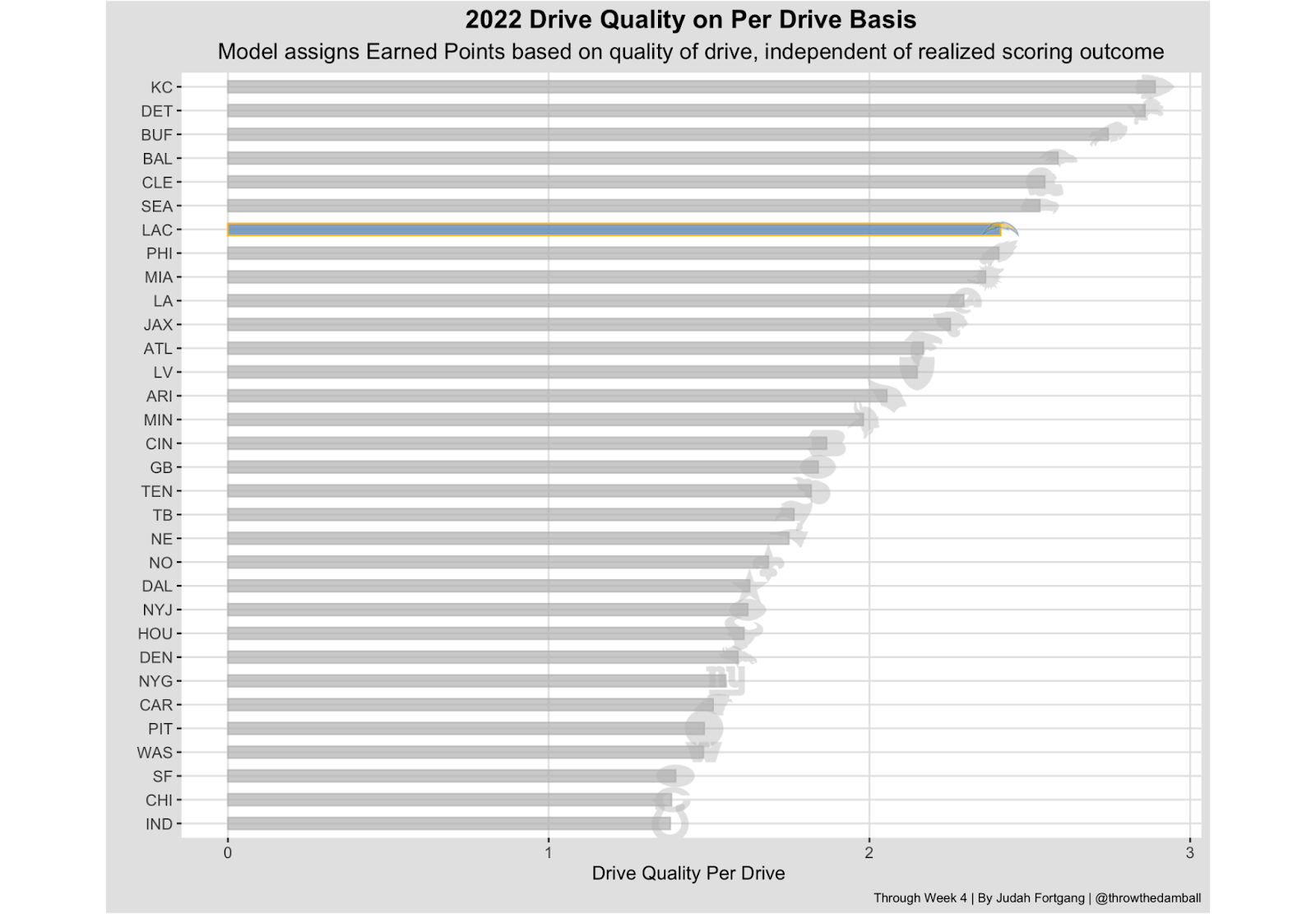 • Despite all their injuries, the Chargers' offense ranks 7th in Drive Quality so far this season. And with WR Keenan Allen returning alongside so many of the same pieces on last year's offense, this is a spot I'm willing to lean a bit more into offseason priors.
• How much has truly changed fundamentally from last season? Their offense was No. 1 in drive quality, No. 5 in EPA, and No. 6 in Success rate. With such high retention on offense and with Allen back, I'd trust the larger sample of 2021 over the — still good, mind you — short-term outputs of 2022. 
Angle 2: Browns edge injuries decimate already-questionable defense
• Cleveland has struggled to prevent teams from moving the ball, allowing the ninth-worst drive quality mark and seventh-worst EPA. 
• The defense has a bottom-10 profile despite facing an incredibly easy schedule of offenses: 
· Opponents Drive Quality ranks: 12, 23, 27, 28 
· Opponents offensive EPA ranks: 9,26, 27, 32
• Perhaps more worrisome: The expected absence of Myles Garett and perhaps Jadeveon Clowney. Despite missing a game, Garrett has accounted for nearly one-fourth of all the Browns pressures and 3 of their 8 sacks. 

• The front shown above does not inspire confidence in Cleveland's ability to generate pressure nor stop the run (already third-worst EPA per Rush). With a solid run game and little pressure to show, the Chargers should have their way on offense. 
Angle 3: Favorable matchup for Chargers explosive attacks
• Los Angeles is already one of the best teams at generating quality drives marching up and down the field. But in this matchup, we can also project that this offense will get a boost in its explosive output: Cleveland has been attacked most deep, with the highest depth of target against and seventh-highest explosive play rate allowed.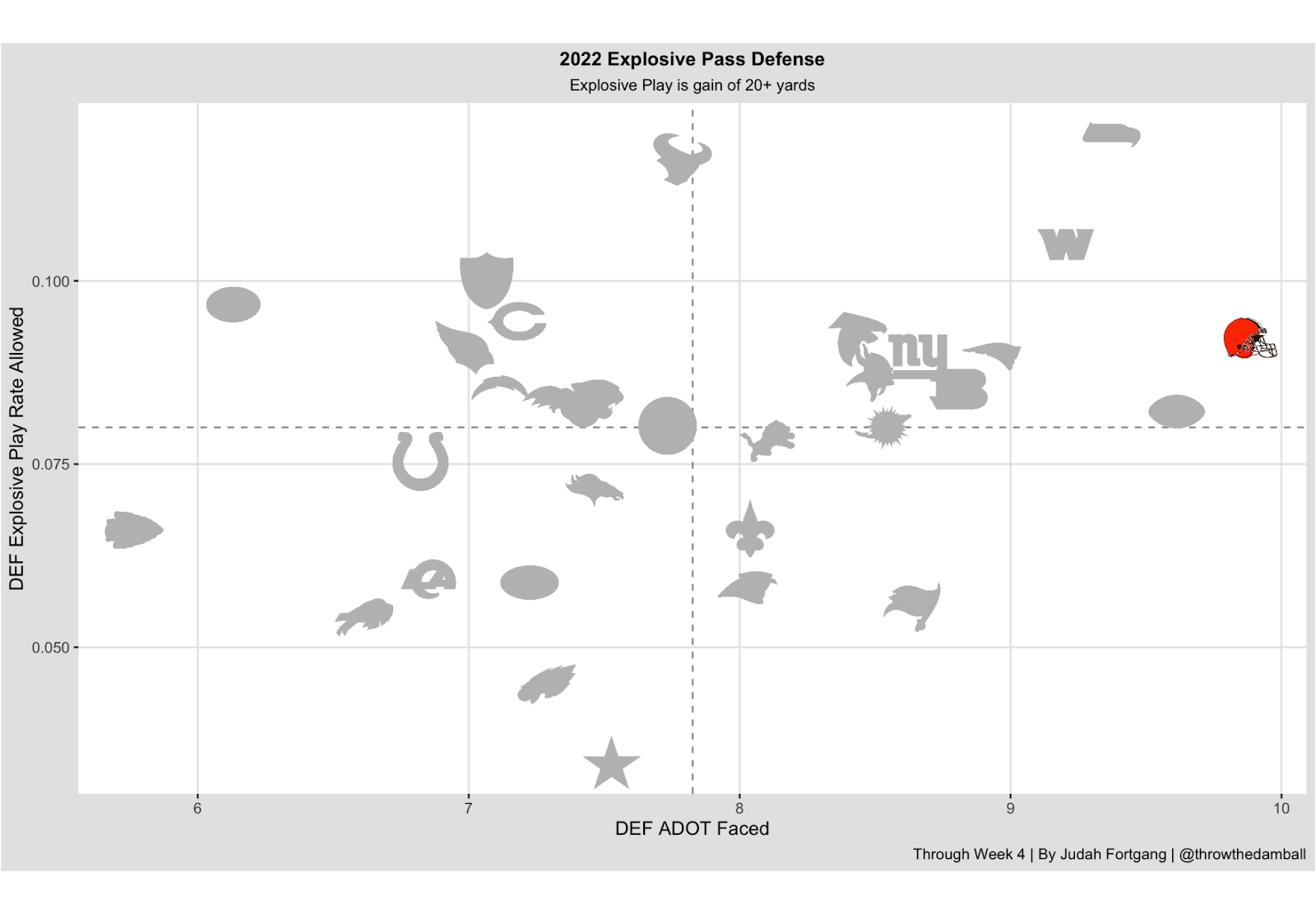 • The elevated expectations for deep attempts and explosive plays is good news for Justin Herbert, who's been perhaps the best deep thrower in the NFL. With the Chargers projected to move the ball well, and good reason for elevated explosive expectations, I see points piling up quickly by Herbert and Co.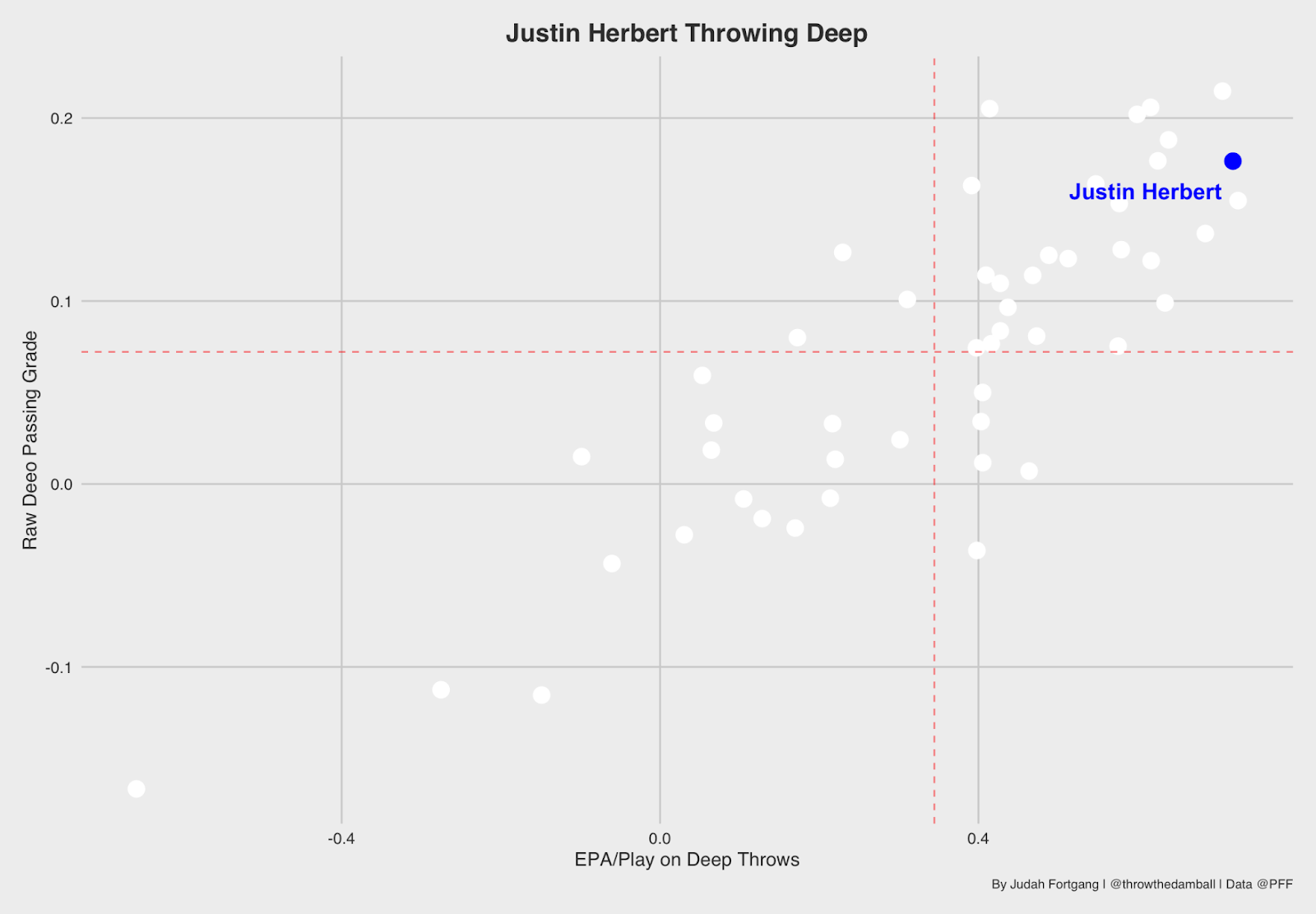 Why this market?
• Rather than bet the Chargers alt team total at a gaudy number and lower odds (o34.5+230 is the best we've found), this market allows us to capture the upside of the Chargers offense at a better price.
• Projecting a dominant offensive output and Chargers win, all we'd need is a little scoring from the Browns to cover this total. Although I see the Browns more a function of easy matchups than as top-10 offense, it should still at least be average. They should be able to easily muster up enough points on the other side — with the thesis of a projected Chargers offensive explosion — to get us over 47.5. 
• Spread points in high-scoring games matter less. And even when they're conservative, the Chargers play at a top-3 pace. Against a dreadful Browns run defense (30th in Rush EPA allowed), the Chargers should be able to run at will to maintain scoring drives and push up the score. 
---
Judah's 'Leveraging Tails' picks went 1-0 last week, improving to 4-2 in this space. Judah is 7-13 overall on the season (ROI: 124.25%).