• Bet Joe Burrow O 36.5 longest completion vs. Jets (-115 DK):  With Ja'Marr Chase, Burrow's longest completion has been over 36.5 yards in 63.6% of games.
• Bet Ryan Tannehill O 1.5 pass TDs vs. Raiders (+165 DK): Odds imply 37.7% chance market expects he'll go over. With Titans, Tannehill over in 53.9% of his games.
• New users who bet $10 or more at BetMGM will receive a free year's subscription to PFF+ — a $79.99 value.
Estimated reading time: 4 mins
---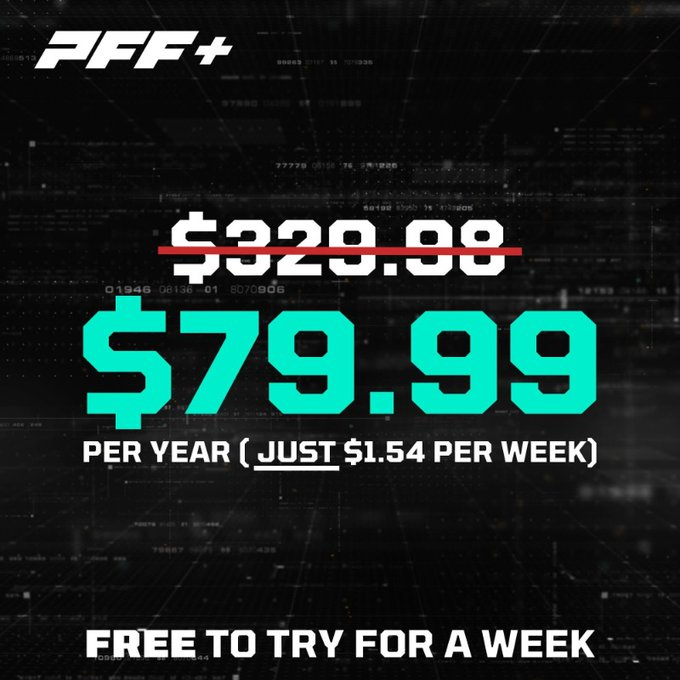 The NFL Week 3 slate features plenty of interesting matchups, with several QB props we've identified as advantageous based on our data. We start Thursday night with Mitchell Trubisky and the Pittsburgh Steelers visiting Jacoby Brissett and the Cleveland Browns in a game with two quarterbacks in new starting opportunities with a lot to prove on a national stage. 
BET: Jacoby Brissett Longest Completion Under 31.5 yards vs. Steelers (-110 DraftKings; playable to 30.5)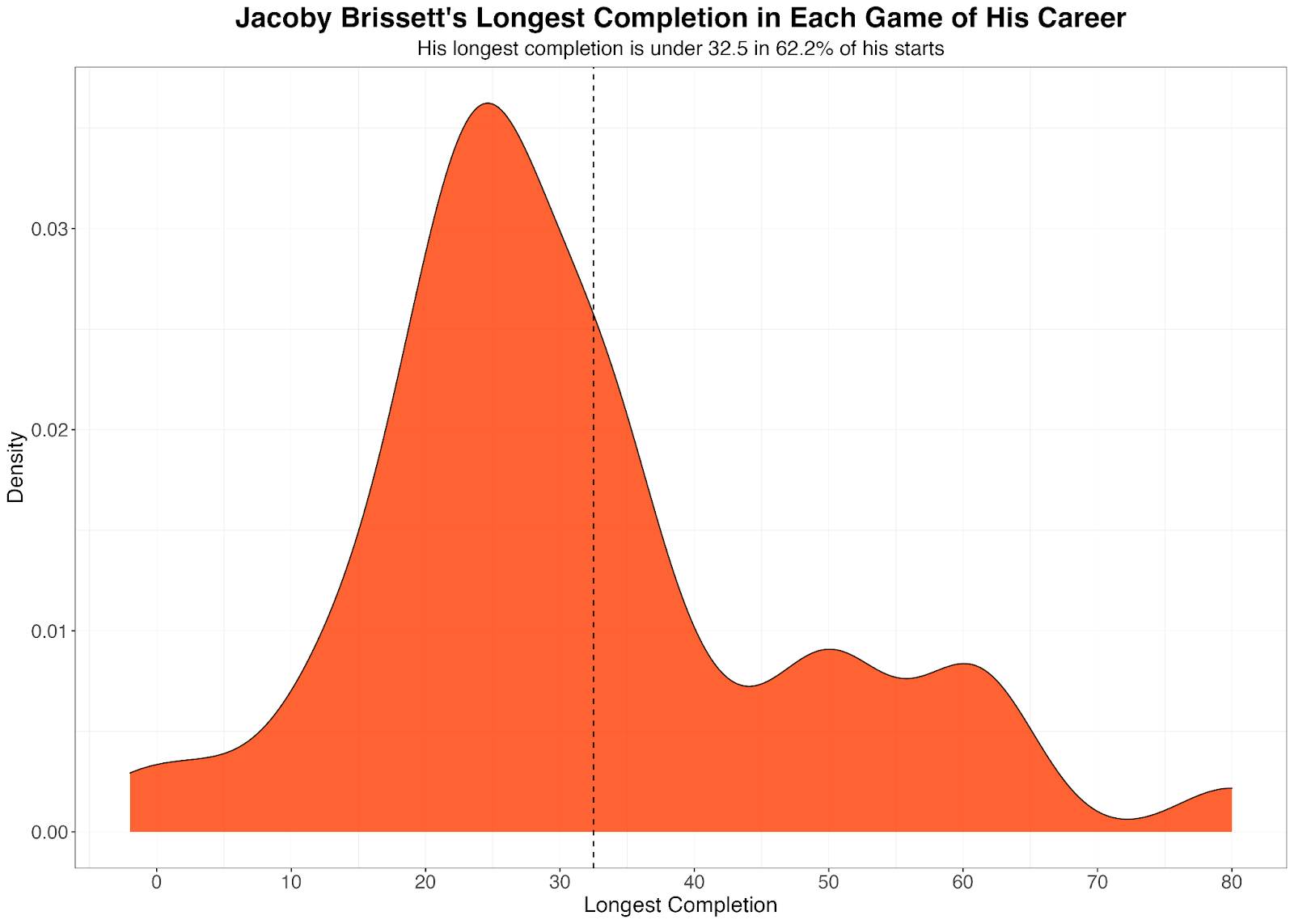 • Historically, Brissett Stays Under: In 59.1% of his NFL starts, Jacoby Brissett's longest completion of the game is under 31.5 yards. His median longest completion in those 39 career starts is 27 yards.
• Brissett Hasn't Gone Over This Season: In the Browns' Week 1 game against the Panthers, Brissett's longest completion was 24 yards. In Week 2 against the Jets, it was 30 yards. While it's a small sample size, we see the trend of him going under 32.5 yards on his new team, which is currently fueled on offense in the run game by Nick Chubb.
---
BET: Titans QB Ryan Tannehill Over 1.5 Passing Touchdowns (+165 DraftKings)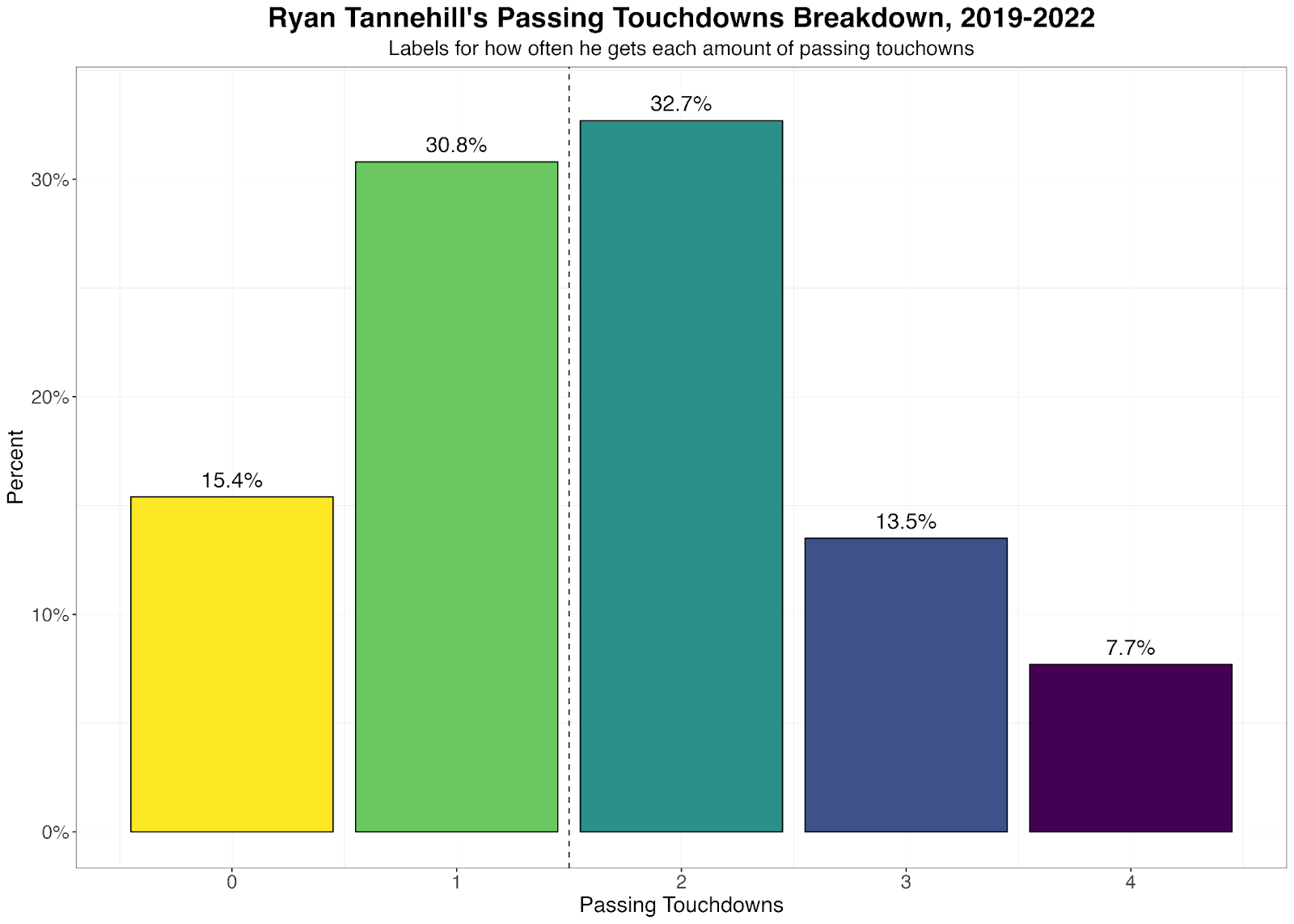 • Odds in Tannehill's Favor: The odds of this bet being at +165 implies that there's a 37.7% chance the market thinks he goes over. Since joining the Titans, Tannehill has thrown over 1.5 passing touchdowns in 53.9% of his games. Granted, his supporting cast isn't what it used to be, but there is still an edge.
• Raiders Pass Defense Kind to Opposing QBs: They ranked 24th in passing touchdowns allowed last season. In Week 1, the Raiders allowed three passing touchdowns from Justin Herbert, and in Week 2, they allowed two touchdowns from Kyler Murray.
• PFF's Player Props Tool has Ryan Tannehill over 2.5 passing touchdowns at +165 odds as a +6.4% edge.
---
BET: Bears QB Justin Fields Under 0.5 Passing TDs vs. Texans (+180 DraftKings)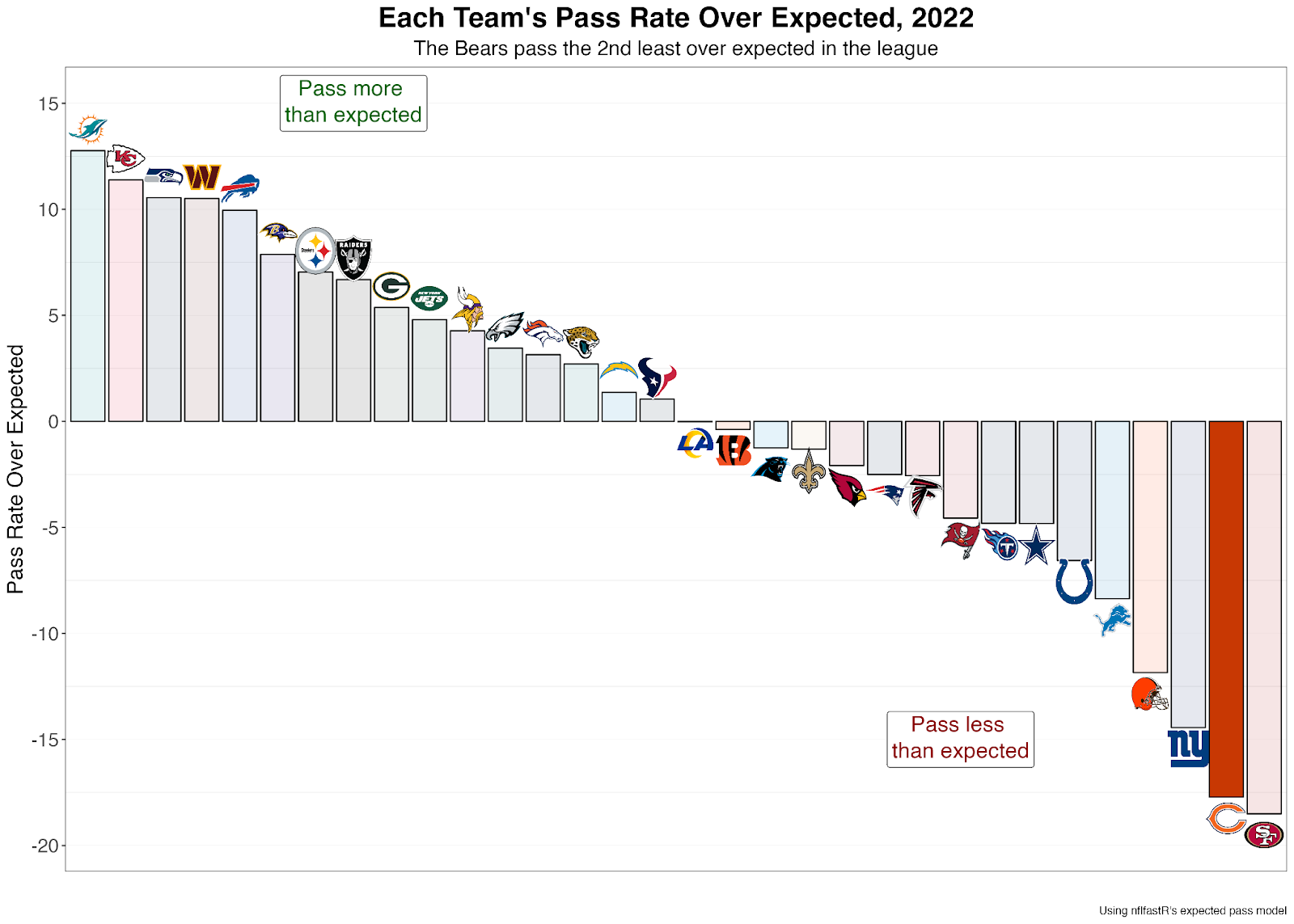 • The Bears Don't Pass: Justin Fields attempted 17 and 11 passes in Weeks 1 and 2, respectively. Using pass rate over expected (taking into account down, distance, yard line, score differential and time remaining), the Bears have had the second-lowest pass rate over expected in the league. 
• Fields Usually Doesn't Throw Touchdowns: In 50% of Justin Fields' starts in the NFL, he has 0 TD passes. Though the Texans defense isn't as strong as some of the others Fields has faced, +180 (35.7% implied probability) is still good value.
• PFF's Player Props Tool has Fields under 0.5 passing touchdowns at +180 odds as a +12.7% edge, the second- highest current edge among all Week 3 QB props.
---
BET: Bengals QB Joe Burrow Over 36.5 Longest Completion vs. Jets (-115 DraftKings)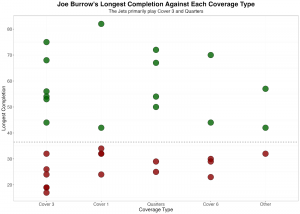 • The Jets Play Coverages Burrow Can Throw Deep Against: Joe Burrow's longest completions usually occur against Cover 3 and Quarters. The Jets have played Cover 3 41.5% of the time and Quarters on 21.1% of the time.  
• He Usually Hits on a Deep Ball: Joe Burrow's median longest completion has been 38 yards for his career. Since the addition of Ja'Marr Chase in 2021, Burrow's longest completion has been over 36.5 yards in 63.6% of games.