Rushing yards can be misleading, as it's a lot harder to get one yard on 3rd-and-2 than it is to get five yards on 3rd-and-15. This is where rushing yards over expected (RYOE), built using PFF charting data, comes into play.
RYOE adjusts for game situation, how well the offensive line blocked and how well the defense is at defending the run. Both expected yards and rushing yards over expected can be useful when looking at RB prop bets because we can see which running backs are being put in advantageous spots to run and which are getting a majority of their team's carries because they're the better rusher.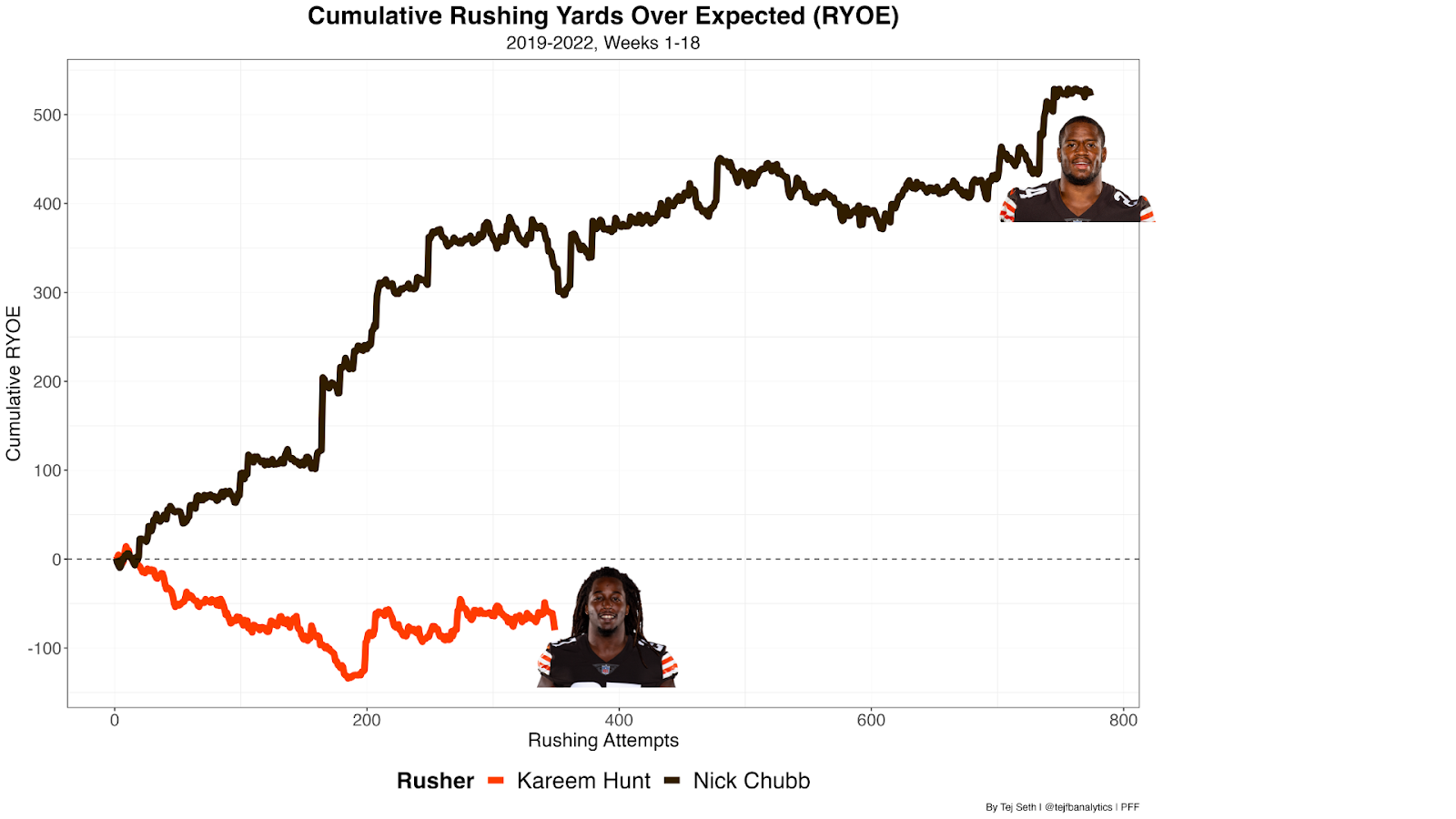 • Kareem Hunt is a Below-Average Rusher: In Weeek 1, Kareem Hunt finished with 4.2 yards per carry and a -1.60 rushing yards over expected. Since 2019, he has had 4.3 yards per carry and a -0.26 ROE. For comparison, Nick Chubb in Week 1 finished with 6.6 yards per carry and -0.13 ROE and has shown to be consistently the better rusher than Hunt, who has used more as a receiver.
• Jets Run Defense is their Strength: While earning a 64.3 run defense grade, good for 11th in the NFL in Week 1, the Jets again showed they can make life difficult for a rusher. Baltimore had 17 runs with an expected yards per carry of 3.7 and an actual yards per carry of 3.9 — meaning one of the NFL's best run games annually saw tough looks and barely executed over expected.
BET: Colts RB Jonathan Taylor — Over 100.5 Rushing Yards (-115 BetMGM)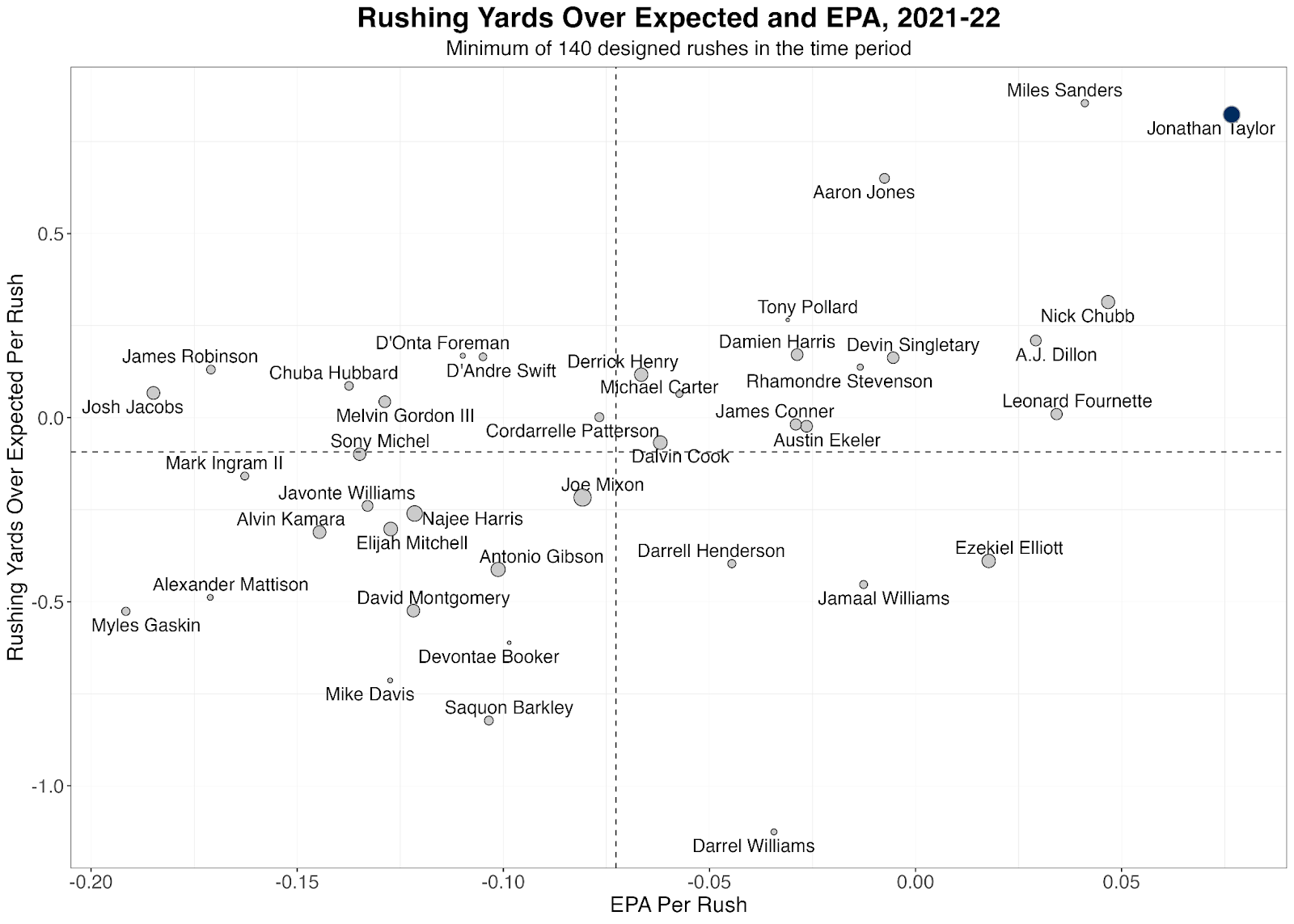 • Jonathan Taylor is Currently the Best Rusher in the NFL: Since the start of the 2020 season, Taylor has racked up 292 total rushing yards over expected. In Week 1, he picked up where he left off, rushing 31 times for 161 yards at 5.2 yards per carry. As Matt Ryan gets acclimated to his new offense, look for Taylor to carry the load in Jacksonville.
• Taylor Hits 100 Yards Frequently: Taylor has gone over 99.5 yards 61.1% of the time since the start of the 2021 season. He rushed for 116 yards in his first matchup against the Jaguars and 77 yards in the second matchup, a game in which everything went wrong for the Colts, making that his absolute floor.

• Justin Fields Designed Rushes Haven't Been Good: Last season, Fields had 20 designed rushes that were expected to get 4.54 yards per carry but ended up getting 2.25. In week 1, he rushed the ball 11 times for a total of 28 yards in conditions that required the Bears to lean more on the run game than they will against Green Bay.
• Green Bay's Defense is Built to Stop Rushing Quarterbacks: Last season, Packers LB De'Vondre Campbell earned a team-high 81.5 rush defense grade. Rookie LB Quay Walker earned a 68.2 rush defense grade in his debut, good for 4th best on the Packers. Edges Preston Smith and Rashan Gary both finished with 70+ run defense grades last year and that continued for Gary in week 1. When Fields attempts to scramble, the Packers will have the players to be able to contain it.
---
Rushing yards over expected was created using an extreme gradient boosting model (XGBoost). The most important factor in determining expected rushing yards is the number of graded and negatively graded blocks on a play. The importance is followed by yards from the end zone, defensive strength, seconds left in the half and score differential.
This model can predict 22% of the variance in actual rushing yards and has a year-to-year correlation of 0.21. A shiny app to explore RYOE for each player can be found here.