PFF previews the 16 NFL games ahead in Week 14, highlighting players to watch while also taking a fantasy football and betting approach to offer insight for every NFL fan.
[Editor's Note: ELITE subscribers have access to all of PFF's fantasy football projections, rankings and lineup tools in addition to PFF NFL and College Greenline, an online dashboard with predictions for the spread, total and moneyline for every FBS and NFL game every week. Subscribe today to gain access!]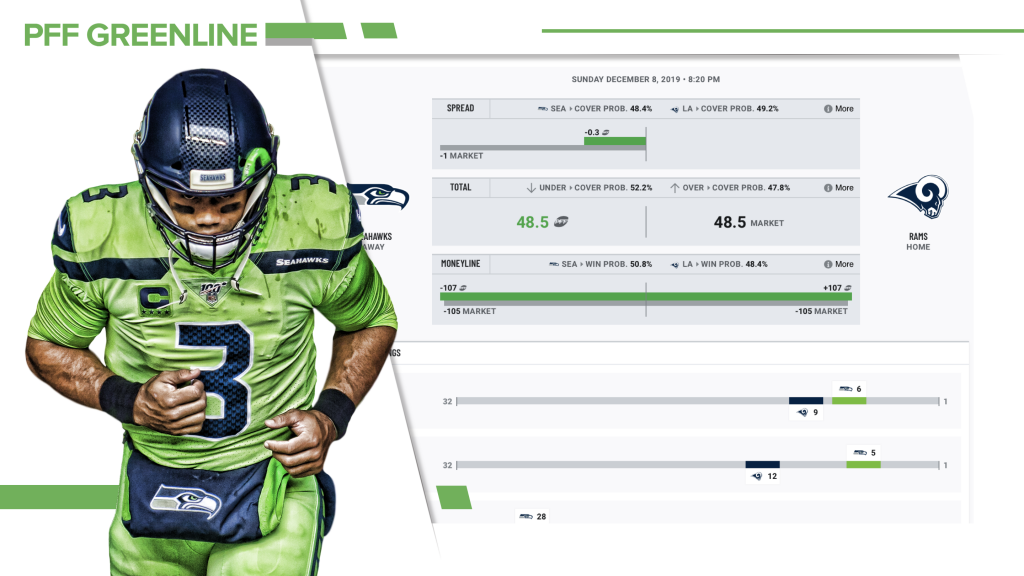 Players to Watch
Amari Cooper rebounded from getting shutout by Stephon Gilmore and the Patriots by bringing in eight catches for 85 yards against Tre'Davious White and the Bills (three catches for 37 yards against White himself). Cooper ranks fourth among qualifying wide receivers this season in receiving yards per route run with 2.48.
Mitchell Trubisky's 63.4 passing grade this season ranks just 27th out of 32 qualifying quarterbacks this season, but he led all quarterbacks with a 90.2 passing grade in Week 13 against the Lions. The key was accuracy on his downfield passes. Trubisky went 12-of-18 for 207 yards and a touchdown on passes 10 or more yards downfield. His previous high for completions on passes 10-plus yards downfield this season was eight in the prior week against the Giants.
Fantasy Football Preview
Anthony Miller had something of a pump-fake to his season. After a slow start (15 or fewer yards in each of his first four games), Miller started to rise in Week 5-8 with 50-plus yards in each game. And then just as we bought in, he vanished in Weeks 9-10, with one reception for seven yards in those two weeks combined. But then like those games didn't happen, Miller has bounced back with 21 receptions for 271 yards the last three weeks including a 9/140 line on Thanksgiving. You'd like to see him find the end zone like he did last year, but Miller is suddenly a name we have to pay attention to in fantasy.
Betting Preview
Two NFC Thanksgiving participants run it back for the second Thursday in a row, as our 16th-ranked Bears host the 14th-ranked Cowboys. The Cowboys sit as field goal road favorites with Dak Prescott still leading the number one ranked offense according to our opponent-adjusted metric. Greenline could see this line dropping to -2.5 with a play on the total the only possible betting offer.  
Players to Watch
Luke Kuechly has consistently been one of the best coverage linebackers in the NFL, and that is no different this season. His nine forced incompletions are second at the position to only Eric Kendricks, and his passer rating allowed of 82.7 on throws into his coverage is sixth among 60 linebackers with 25 or more targets this season.
Matt Ryan has been under pressure on 40.2% of his dropbacks (third-highest rate in the NFL) despite getting rid of the ball in 2.57 seconds on average (12th-lowest rate in the NFL). That rate has been even higher across the last two weeks (44.3%), and Ryan has felt it. He leads the league in both sacks taken (15) and turnover-worthy plays (9) since Week 12.
Fantasy Football Preview
The good news about Christian McCaffrey's down Week 13 performance is that fantasy managers who have had McCaffrey rostered were likely able to ride his season up to that point to such a lofty standing that they might not have needed him to go off in Week 13 to clinch a playoff berth. The other good news is that McCaffrey's "down" performance still featured 17.2 PPR points. You'll take that as a "disappointment" every time.
Betting Preview
Riverboat Ron was shown the door this week with the spread market moving two points since the open in the Falcons' direction with them currently priced as field goal favorites. The betting market has an expectation of points despite neither team ranking in the top half of our opponent-adjusted offensive metric. Greenline leans towards the under with the only possible play a moneyline bet on the Falcons if found at the right price. 
Players to Watch
Lamar Jackson's running ability has always spoken for itself. He currently leads all quarterbacks in both designed rushing yards (615) and rushing yards on scrambles (362). What's allowed him to take the leap this season has been his consistency as a passer. Jackson's passing grade of 88.7 from inside the pocket is second to only Drew Brees.
Despite being targeted 72 times so far in 2019, Tre'Davious White is still yet to allow a touchdown reception. Stephon Gilmore is the only other cornerback to be targeted 50 or more times this season without allowing a touchdown. White trails only Gilmore in passer rating allowed (52.0) among that same group of cornerbacks with 50 or more targets.
Fantasy Football Preview
It's kind of amazing how many points the Ravens have been scoring this year considering how overall poor the team's receivers have been. Marquise Brown has had more than a few flashes, and Willie Snead and Miles Boykin have had moments, but you could argue this is the worst receiver corps of any contender. To wit: Ravens receivers put up all of 4.8 PPR points in the team's Week 13 win, easily the lowest in the league all season (the next lowest was 6.0 points by Denver receivers in Week 12, and there have been only seven team games all season in which a receiver group failed to crack 10 points). For fantasy, you care about the Ravens quarterback (obviously), running back and tight end, but you can basically ignore the receiver position.
Betting Preview
Second overall in our ELO ranking and third in our opponent-adjusted offensive metric, the Ravens are currently the team to beat in the AFC despite just a 6-6 ATS record. The betting market appears to be fading Baltimore against a Bills squad we have ranked 13th overall. After opening as a touchdown favorite, the spread has moved over a point down to -5.5. If it continues to slide, Greenline sees a potential buying opportunity on the Ravens. 
Players to Watch
Andy Dalton has gotten rid of the ball faster than any other quarterback this season with an average time to throw of 2.41 seconds. Despite missing multiple games this season after his benching, he still has the fifth-most pass attempts in the NFL in two seconds or less (147). His passer rating of 82.8 on those passes is 31st among 32 qualifying quarterbacks, though.
Since rejoining the Browns lineup from his suspension, Kareem Hunt has forced 23 missed tackles on 45 total touches – a truly absurd rate. In 2017, Hunt led all players with 77 missed tackles forced. In 2018, Hunt forced 53 missed tackles (tied for fourth-most in the NFL) in just 11 games. There is no denying that he can make defenders miss.
Fantasy Football Preview
With Andy Dalton as the starting quarterback in Weeks 1-8, the Bengals passed the ball at least 62.3% of the time in every game. With Ryan Finley under center in Weeks 10-12, that percent never climbed above 58.5% and barely cracked 50 over the three-game stretch. With Dalton back Sunday, the Bengals passed the ball 59.7% of the time, a number between the other two, but the fact that it was slightly lower than it had been under Dalton before can be explained away by the fact that the Bengals actually won a game for once. The simple truth is that this is a pass-heavy offense under Dalton, and with John Ross expected back on the field for Week 14, the passing offense should continue to be productive.
Betting Preview
The Red Rifle has cemented his status as the Bengals starting quarterback after leading them to their first victory of 2019. Greenline maybe buying into the Bengals quickly despite their 30th overall ELO ranking with Greenline leaning heavily towards them against the spread for the second straight week. 
Players to Watch
Dwayne Haskins didn't have eye-popping numbers in last week's game against the Panthers, throwing for just 147 yards on 25 attempts without notching a touchdown pass, but it was his highest PFF passing grade of the season at 86.0. It was also good enough for the third-highest passing grade of any quarterback for the week.
Za'Darius Smith was one of the best offseason acquisitions this season. His 70 total pressures are fewer than only Danielle Hunter and Cameron Jordan this season. On a per-snap basis, no one has been better at getting after the quarterback than Smith. His pressure rate of 18.8% leads all defenders.
Fantasy Football Preview
Is there room for both Derrius Guice and Adrian Peterson to be fantasy contributors? Well, one week before their respective eruptions (Guice had 10 carries for 129 yards and 2 scores, Peters 13 for 99 and 1), both guys struggled in Week 12 (Guice 10/32, Peterson 10/27). And neither has even played 42% of the team's offensive snaps in a game since Guice's return. On the other hand, a Week 14 matchup against a Green Bay run defense that has struggled all year (bottom-six PFF run-defense grade) at least gives them a shot at keeping it rolling.
Betting Preview
Betting markets have moved over two points on the spread as the youth movement in Washington has taken over. Coming off of a thrilling victory against Carolina is one thing, but going into Lambeau in December is an experience few on the Redskins appear ready for. Greenline sees no value on the current 13 point spread but has an expectation of a few more points being scored with the Packers' defense dropping in our opponent-adjusted rankings in recent weeks. 
Players to Watch
Courtland Sutton has been a revelation in an otherwise unexciting year in Denver. Sutton has caught 11-of-17 contested targets this season, is averaging over 17 yards per reception, has a passer rating when targeted of 123.8 and has dropped only one pass in 81 targets. He has seamlessly made the transition to the team's go-to receiver after the Emmanuel Sanders trade.
No one has gotten outside the pocket more than Deshaun Watson this season. His 121 dropbacks either rolling or scrambling outside the pocket are the most in the NFL. On those plays, he has been one of the most productive quarterbacks in the league, as well. His passer rating of 114.6 outside the pocket leads all quarterbacks with 50 such attempts.
Fantasy Football Preview
Darren Fells is in his sixth season in the NFL. He is one yard away from a career-high. He had 10 touchdowns total before this year's seven. Even with Jordan Akins at the same position in the same position, Fells is TE12 on the season, TE7 from Week 3 on. For Fells, who is on a one-year deal, this could lead to him getting a nice payday this offseason. And for fantasy managers needing to fill out a garbage position, he's been a sneaky producer in desperate times.
Betting Preview
Houston has caught some backing after an impressive win on Sunday night football. The Texans have jumped out to 9.5 point home favorites after opening as a touchdown favorite over Denver. This move could be a slight overreaction with Greenline projecting the Broncos to at least keep pace in a game that could go over the total. 
Players to Watch
The Lions play a lot of man coverage, and that gives us a lot of one-on-one matchups with their top cornerback Darius Slay. This season, Slay has allowed 29 completions on 55 passes into his coverage. His completion rate allowed of 52.7% ranks seventh among 48 cornerbacks with 50 or more targets. His passer rating allowed of 74.3 ranks 10th among the same group.
Kirk Cousins has put together a very good season for the Vikings in 2019, particularly when passing the ball off of play-action. He has the highest passing grade in the NFL off of play-action (90.9), and his 132.4 passer rating ranks third among 32 qualifiers at the quarterback position.
Fantasy Football Preview
Alexander Mattison has looked strong in limited playing time this year, averaging more than 3.0 yards after contact per rush, and he got every touch after Dalvin Cook left Monday's game and had four carries for 22 yards and four receptions for 51 more. Cook said after the game that he'll be fine for Week 14, but we'll see how he feels over the course of the week. A starting Mattison is a lock-button start in fantasy as well, and even if Cook is healthy, it wouldn't be crazy to see the Vikings diversify a bit to keep him healthy.
Betting Preview
Minnesota lost a wild Monday night shootout but returns home to face an old division foe. The Lions have the extended rest and appear to be a popular play from the betting market after opening as 15.5 point dogs the line has dropped below two touchdowns to a current 13 point spread. The Vikings' second-ranked offense has injuries to critical offensive pieces but desperately needs a win to stay competitive in the NFC playoff race. 
Players to Watch
Deebo Samuel has emerged as a big-time receiving threat for Jimmy Garoppolo and the 49ers over the last several weeks. Since Week 10, Samuel ranks fifth among all wide receivers in yards per route run (2.57). His 167 yards after the catch over that same span is third among all wide receivers.
Turkey wasn't the only thing that Cameron Jordan has eaten over the last two weeks. He's eaten opposing offensive linemen, as well. His 17 quarterback pressures across those two games are the most in the NFL, and that's no aberration. Jordan's 72 pressures total this season are the second-most in the NFL, and his 495 pressures since the start of 2013 are more than any other defender.
Fantasy Football Preview
The 49ers have lost two games this year. Both games were tied until the very last second, with the Seahawks beating them on 27-24 on a last-second overtime field goal in Week 10 and the Ravens beating them 20-17 on a last-second regulation field goal in Week 13. Ultimately, that's more of a real football note than a fantasy one, but it's fascinating. And as it relates to fantasy — the 49ers aren't likely to ever get blown out this year. That means good gamescripts for their running backs every week. The task is only to figure out how work will shake out between Tevin Coleman, the presumed-back-from-injury Matt Breida, and the rising Raheem Mostert. As for figuring that out … good luck.
Betting Preview
One of the best bets of the week is a buying opportunity on the Saints who have dropped below a field goal favorite at home to the 49ers. Both teams rank in our top five according to ELO with the Saints best represented by their fourth-ranked offense and the 49ers boasting the number one ranked defense. We always lean towards quality offensive production with Brees grading almost 20 points better than Garoppolo who has maintained an average PFF passing grade of 73.1. The Saints on the spread or moneyline can be sprinkled with a certain play on the total in this matchup for NFC Conference playoff seeding. 
Players to Watch
Among the 79 NFL wideouts with at least 80 routes run in Weeks 10-13, DeVante Parker ranks second in PFF receiving grade at 85.5. He has caught 25-of-38 targets for 454 yards and two touchdowns in said span. He's also caught six of his 11 contested targets.
Blessuan Austin has been a pleasant surprise for New York in recent weeks. The rookie Rutgers product ranks third in PFF coverage grade (83.4) among the 69 NFL cornerbacks with at least 100 coverage snaps in Weeks 10-13.
Fantasy Football Preview
If your football knowledge started with Week 9, you'd think this was a matchup of true contenders. Over the last five weeks, the Dolphins and Jets are both 3-2, tied for second in the AFC East and ahead of the Patriots. How are they doing it? Well, the Jets mostly took advantage of a weak schedule, beating the Giants, Washington and Oakland in consecutive weeks. But the Dolphins? They've ridden the suddenly dominant trio of Ryan Fitzpatrick (1,359 yards, 8 TDs, 101.6 fantasy points), DeVante Parker (511 yards, 3 TDs, 98.1 PPR points) and Mike Gesicki (248 yards, 2 TDs, 57.8 PPR points) to glory of late. All three (especially Parker) are worth at least paying attention to in fantasy the rest of the way.
Betting Preview
Another fun battle of ineptitude between two teams ranked in the bottom fourth of the NFL in both overall ELO ranking and opponent-adjusted offensive play. Greenline sees little value on the current spread but finds some disagreement with betting markets on a certain side of the total. 
Players to Watch
Quenton Nelson is solidifying himself as one of the NFL's best guards in his second season. He currently ranks second among all guards with 300-plus offensive snaps played in overall grade at 91.5. He also ranks second among the same group of qualifiers in run-blocking grade (90.4).
Among the 102 NFL receivers with 300 or more offensive snaps played this season, Chris Godwin and Mike Evans rank first and eighth in overall grade, respectively.
Fantasy Football Preview
The Colts' training room has to be looking like a pretty sad place lately, with T.Y. Hilton, Eric Ebron, Marlon Mack, Devin Funchess, Parris Campbell and most recently Chester Rogers all missing extended time to injuries. That has left the team with a group of fantasy skill players of Zach Pascal, Jack Doyle and whichever running back you want to trust in a given week. End result? Until some of the bigger names return, Doyle is just about the only Colt you want in your fantasy lineups.
Betting Preview
This total offered some value early in the week but has dropped two full points down to a current 46.5 print. The field goal spread feels accurate in a matchup between two quarterbacks that have a closer PFF passing grade than most would anticipate. How well the Colts' eighth-ranked defense slows the Bucs seventh-ranked offense will go a long way towards determining who picks up the victory. 
Players to Watch
His younger brother in San Francisco may be stealing the headlines, but Joey Bosa is quietly having a fantastic year in Los Angeles. The older Bosa currently ranks tied for third in PFF pass-rush grade among all NFL edge defenders with 250 or more pass-rush snaps on the year.
Fantasy Football Preview
In all of NFL history, there have been 11 players to have at least 700 receiving yards in a full season and score no receiving touchdowns, most recently Dwayne Bowe in 2014. But this year, there are already two players who have passed 700 receiving yards without finding the end zone: Robert Woods (who has scored a rushing touchdown) and Mike Williams. Williams scored 10 touchdowns on 64 targets last year, making him one of the league's most obvious regression candidates … but this is ridiculous. Who knows if he'll find the end zone before the year is out, but you certainly wouldn't be crazy to expect it.
Betting Preview
The Nick Foles era could not hold off the swagger of Gardner Minshew for long. Bettors appear to be unfazed by Minshew's magic moving the line a full two points toward the Chargers as they now sit as three point favorites. Greenline finds consensus with the betting market at this price. This game adds enough intrigue without the mixture of gambling as viewers will be entertained by the new and innovative ways the Chargers implode on a weekly basis.  
Players to Watch
T.J. Watt currently leads all NFL edge defenders with 250 or more pass-rush snaps in PFF pass-rush grade (91.8). He has totaled 26 hurries, 14 hits and 15 sacks so far this season.
Fantasy Football Preview
Kyler Murray's been a very productive rookie, and his rushing gives him one of the highest floors in the league. To wit, even as his last two games have been underwhelming, he's scored a rushing touchdown in each game, keeping him relevant in fantasy. But his ceiling has been very inconsistent, with 313 passing yards combined the last two games after 324 the week before that. He's had six games with 0 passing touchdowns and six with multiple — interestingly, Murray does not have a single game with exactly 1 pass TD. With a tough matchup against Pittsburgh, his floor is still high, but his ceiling might be low.
Betting Preview
A third-string quarterback in charge of the second-worst offense in the NFL still sits as almost a field goal road favorite over the 29th-ranked Cardinals. The line has moved heavily towards the Steelers with Greenline still finding value at the current 2.5 point spread. Despite the worst-ranked defense in the NFL, this is the lowest total price the Cardinals have seen so far in 2019. 
Players to Watch
Chiefs wideout Tyreek Hill enters Week 14 with an NFL-high 90.4 PFF receiving grade across his 227 routes run. He also leads all receivers with at least 200 routes run in yards per route run (2.85) and ranks 10th in passer rating when targeted (120.2).
The Patriots feature one of the most talented secondaries in the NFL. Three members of the team's secondary (Devin McCourty, Jonathan Jones and Jason McCourty) rank inside the top-20 in PFF coverage grade among qualifying defensive backs.
Fantasy Football Preview
Historically, the knock against Sammy Watkins has been injury, and he's been productive when on the field. This year, that's not been even close to true. Watkins started hot, with 198 yards and three touchdowns in Week 1. Since then, he has 340 scoreless yards in eight games, with 39, 26, and zero yards across his last three games. After six-plus targets in all of his healthy games before Week 11, Watkins has had only three each of the last two. If you're still rostering him … you don't need to do that.
Betting Preview
A marquee Week 14 matchup between two teams ranked in the top five overall according to PFFELO. The field goal spread has held steady throughout with Greenline offering only a small lean on the total. Backers of the Patriots demise have been loud this week, but Tom Brady still offers a slightly better passing grade despite a much lower big-time throw percentage. 
Players to Watch
Among the 34 NFL backs with 100 or more offensive snaps in Weeks 10-13, Derrick Henry ranks first in overall grade (80.0) and fourth in PFF rushing grade (79.6). He should continue his late-season tirade against a porous Raiders defense.
Fantasy Football Preview
Since he became the starter in Week 7, Ryan Tannehill is fantasy's No. 5 quarterback. And lest that be chalked up to a fluke, he's also fifth in PFF grading at the position. Amazingly, though, he's doing it without big-time contributions from his pass-catchers. The top-scoring Titans skill player in that time is unsurprisingly Derrick Henry, who has more points than anyone not named Christian McCaffrey in that time but is basically a non-entity as a pass-catcher. Tannehill's top receiver, A.J. Brown, is only WR43 in that stretch, and Jonnu Smith is only TE20. So Tannehill's worth a look in fantasy, but there isn't really an obvious stack option for DFS.
Betting Preview
Bettors have taken note of the Raiders dropping three straight against the spread with this line moving heavily towards the Titans since the open. Surprising to some is Ryan Tannehill's passing grade, which ranks ninth overall and sits three spots better than Derek Carr's. Greenline finds some value at the current 2.5 point spread with a possible play on the total coming into view as well.  
Players to Watch
Seahawks' Shaquill Griffin is having a career year at outside cornerback this season. He enters Week 14 ranked fifth in PFF coverage grade (82.6) among the 90 NFL cornerbacks with at least 250 coverage snaps played.
The Rams haven't exactly met expectations following their Super Bowl run a year ago, but Aaron Donald hasn't skipped a beat. The star defensive interior currently leads all defensive players in overall grade at 93.6 entering Week 14.
Fantasy Football Preview
Three players have 13-plus targets in a game three times this year: Michael Thomas, Mike Evans and Robert Woods. Obviously, the more targets you get, the more yards you're likely to end up, but for Woods, it's particularly striking: In his three heavily targeted games, he averaged 135.3 receiving yards, compared to 53.8 in his other eight games. Only the Buccaneers, Panthers, Lions and Ravens have allowed more targets per game to wide receivers than the Seahawks this year, so while you never want to predict 13-plus targets for a player, this is set up well for Woods.
Betting Preview
Not many would have expected the Seahawks to open as field goal favorites over the Rams if the 2019 season was beginning today. That is the world we currently live in, but bettors have sided heavily with the Rams pushing the spread down to a one point differential for the home dog. This could be our highest total on the slate. After an opening of 46.5, it has pushed out to a high of 49. Continue to monitor Greenline with a more detailed breakdown of our Game of the Week coming Thursday. 
Players to Watch
Saquon Barkley has taken a major step back this season. He enters Week 14 ranked tied for 43rd in overall grade (63.3) among qualifying running backs and has averaged just 0.18 forced missed tackles per carry, a figure that ranks tied for 13th at his position.
Jalen Mills is a major liability in the Eagles' secondary. In Weeks 10-13, no cornerback has earned a lower coverage grade than Mills (40.3). He has given up 14 receptions for 214 yards and three touchdowns in the four-week span.
Fantasy Football Preview
This is a game that should favor wide receiver production across the board. The Giants have allowed the second-most PPR points per game to receivers this season, the Eagles the fifth-most. Both have fared much better against running backs. We just saw the Packers and Dolphins pass-catchers feast on these two teams last week. In what could end up as a shootout, this all portends good things for Alshon Jeffery, Nelson Agholor, Sterling Shepard, Darius Slayton and (if he can clear the concussion protocol) Golden Tate.
Betting Preview
The Monday night crew returns to another dreadful showdown of two teams who have underachieved in 2019. The Eagles are officially the new Falcons with their ineptitude only outdone by the Giants who are the worst-ranked team according to PFFELO. Neither team has an offensive or defensive unit that ranks in the top half of the league in our opponent-adjusted metrics. Greenline offers a small lean on a hold-your-nose play if you can stomach tuning into the Monday Night Football showdown.