PFF previews the 16 NFL games ahead in Week 13, highlighting players to watch while also taking a fantasy football and betting approach to offer insight for every NFL fan.
[Editor's Note: ELITE subscribers have access to all of PFF's fantasy football projections, rankings and lineup tools in addition to PFF NFL and College Greenline, an online dashboard with predictions for the spread, total and moneyline for every FBS and NFL game every week. Subscribe today to gain access!]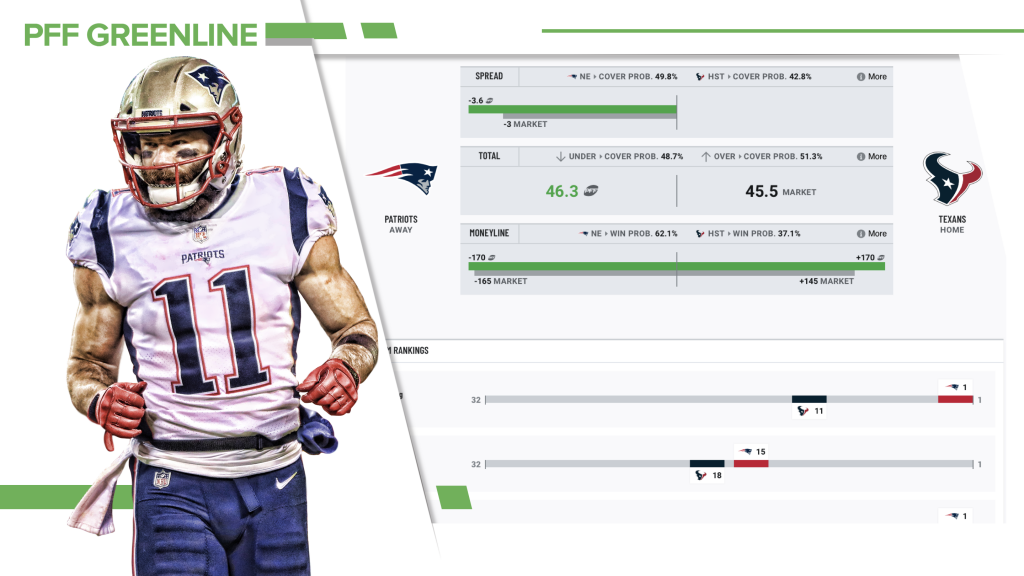 Fantasy Football Preview
Go through the game logs, and the only starting running backs the Lions have held in check this year were the Washington duo a week ago (Derrius Guice and Adrian Peterson combined for 87 scrimmage yards on 22 touches) and … Chicago's David Montgomery in Week 10. In what was touted as a potential monster game in the middle of what looked like Montgomery's breakout, he ran the ball 17 times in the game for only 60 yards, didn't score, and didn't see a single target in the passing game. Still, the Lions' history against running backs this year (they've allowed the second-most PPR points per game to the position) says Montgomery has to be at least tempting this week, and maybe we just have to get burned again.
Betting Preview
This spread has re-adjusted more than any other line in Week 13 with Detroit opening as a pick em or small favorite but settling in closer to a three point home dog. The Lions miss Matthew Stafford as they have dropped to 27th in our ELO rankings and will now look to their third string quarterback for guidance. Bettors are coming out in waves to support the Bears and push this total well below 40. Greenline finds agreement with the spread price but has a quality play on the total in this matchup to kick off Thanksgiving day action. 
Fantasy Football Preview
November was a good month for Bills rookie RB Devin Singletary. In four games, he averaged 16.0 carries and 79.5 rushing yards as he supplanted Frank Gore atop the team's depth chart. He hasn't been a big touchdown scorer yet, and you'd like to see him more involved in the passing game (he had only 8 receptions for the month), but Singletary is well on his way to being a contributor in the fantasy playoffs.
Betting Preview
The Bills are tied for the best against the spread record in the NFL and have found early week backing opening as 7.5 point road dogs but being bet down to 6.5 or 7. The 46 total fits in with Greenline projections for two teams ranked in our top-10 opponent-adjusted defensive rankings. The Cowboys surprisingly have held onto our number one overall offensive ranking with the Bills falling down to 25th. The Bills could struggle to move the ball through the air with a negative EPA per pass attempt and Josh Allen having a big-time throw on only 1.65% of pass attempts.  
Fantasy Football Preview
Jared Cook got off to a slow start to his Saints tenure, with only 2 receptions for 37 yards in his first game and 22.5 yards per game over his first month. But once he and Drew Brees both got healthy, things turned around. Ove the last three games, Cook has averaged 4.7 receptions, 86.7 yards, and 0.7 touchdowns per game. If he and Brees had been healthy early in the year and those had been his numbers over a three-week stretch, we'd have him ranked as a top-five tight end. That they came to this late matters, but the fact that they're his first games with a healthy Brees since Week 1 matters as much. Cook is a sure-fire starter.
Betting Preview
Bettors are buying into a Thanksgiving nightcap filled with points pushing this total up to 49 with Greenline falling right in line with consensus betting markets. The Saints are still sitting as touchdown favorites in some spots with Greenline leaning slightly towards the Falcons despite their ranking of 23rd overall. The Saints are currently third overall but have failed to cover two of their last three including a blowout loss to this Atlanta team three weeks ago. Could another upset be in the making? Check Greenline to see if there's any expected value on plays for this Thanksgiving nightcap. 
Fantasy Football Preview
Ryan Tannehill took over the Tennessee starting job in Week 7. Since then, the Titans are 4-1, and Tannehill is the No. 3 quarterback in fantasy points per game (23.6, trailing Lamar Jackson and Matthew Stafford) with a 10:3 TD:INT ratio and three rushing scores. He's put up an 85.0 overall PFF grade in that stretch, fifth among quarterbacks and a career-high for a QB who graded out worst in the league a year ago. If you want to debate whether that's more of an indictment of the Miami Dolphins or Marcus Mariota, that's fair, but at this point, Tannehill is a borderline must-start in fantasy.
Betting Preview
One of our favorite bets of the week is the Colts who have dropped below a field goal favorite at home to the Titans. The TItans have looked like a new team with Ryan Tannehill at quarterback who has posted an 83.6 passing grade while throwing a big-time throw on 5.15% of attempts. Both teams now average slightly above breakeven EPA per pass attempt and have a middle of the pack ranking in our opponent-adjusted offensive rankings. Greenline falls in line with the total but leans strongly towards the Colts at -2.5. 
Fantasy Football Preview
Since their Week 4 bye, the 49ers have given up 86.9 fantasy points to quarterbacks in eight games. That's really good, but it's even better when you break it down like this: They've allowed 47.7 points in two games against Kyler Murray and the Cardinals, and 39.2 in six games (6.5 per game) to everyone else. Of course, Lamar Jackson is the biggest test they've faced all season long. It's notable that Murray rushed for more than 100 yards and a score in two games against the stout 49ers defense.
Betting Preview
The marquee Week 13 matchup pits our fourth-ranked 49ers team against the second-ranked Ravens. It will be a battle of matchups with Baltimore's third-ranked offense facing off against the 49ers second-ranked defense. This spread continues to be on the move after the Ravens' impressive performance on Monday night. Not a comfortable proposition but if this line continues to move towards the Ravens a fade of the public could come into play. Continue to monitor Greenline for any price movement and potential play on this highly anticipated Week 13 matchup. 
Fantasy Football Preview
The Bengals appear to have all but locked themselves into the first overall pick in next year's draft, and so are turning their attention to simply not finishing winless by switching back to Andy Dalton at quarterback after three bad games from the overmatched Ryan Finley. And while that should mean good things for Tyler Boyd and whoever else makes it onto the field at wide receiver, it's fair to wonder what it might do to Joe Mixon's stock. Mixon averaged 15.0 touches and 10.0 PPR points in Dalton's eight starts earlier this year, but 21.3 touches and 14.1 points with Finley as the starter. Mixon's struggled with fantasy value all year, but if Dalton hurts his stock at all, his fantasy managers might be in for a bad stretch.
Betting Preview
Two of the four worst ranked offenses in the NFL face off with points expected to be at a premium. The Jets have covered three straight games but have been bet down slightly after opening as four point road favorites. Greenline has no edge with this line at a current field goal print.
Fantasy Football Preview
Baker Mayfield, Weeks 1-9: 7 passing touchdowns, 1 rushing touchdown. Baker Mayfield, Weeks 10-12: 7 passing touchdowns, 1 rushing touchdown. (Also 12 interceptions in Weeks 1-9, one since.) He's been as productive the last three weeks as he was over the season's first nine, and by itself that helps to explain why the Browns are on a three-game winning streak. This week he draws a Pittsburgh team that the Browns beat just two weeks ago, with the Steelers likely starter third-stringer Devlin Hodges. Can Mayfield keep it going? Fantasy managers of Odell Beckham Jr. and Jarvis Landry certainly like the way things are going lately.
Betting Preview
This AFC North matchup has lost some of its luster with Baltimore running away with the division. The Browns finally appear to be moving in the right direction and have picked up some steam in the betting market after opening as a pick em, they have jumped out to 2.5 point road favorites. The Steelers have the better overall ranking at 13th in our ELO metric with the Browns down at 18th. Greenline believes this spread is priced well but likes a certain play on the total. 
Player to Watch
Fantasy Football Preview
What Kalen Ballage is doing this season is pretty remarkable, and absolutely not in a good way. He has 135 rushing yards on 71 carries, a 1.90 yards-per-carry mark that would be worst in NFL history for a running back with at least 70 carries. The worst such number since the NFL merger in 1970 was Ron Johnson at 2.25 in 1974; the worst since the turn of the century was Chester Taylor's 2.38 in 2010. At some point, you'd think the Dolphins would need to look to another back — be it Patrick Laird or Myles Gaskin or someone else — but either way, Ballage can't possibly be in fantasy lineups.
Betting Preview
Both teams have disappointed in 2019 with the Dolphins expected too while the Eagles have begun to long for the days of Nick Foles. Neither team averages a positive EPA in any offensive metric despite an expectation of points scored with a total at 44.5. Bettors have backed the Eagles early in the week pushing them out 1.5 points but not across any key numbers. Greenline leans slightly towards the home dog at this price but doesn't offer enough expected value to beat the vig currently. 
Fantasy Football Preview
Judging Dwayne Haskins harshly off of an end-of-game selfie might be silly, but judging him harshly off of his on-field performance is less objectionable. Through five games (three starts), Haskins has 2 touchdown passes (both coming in Week 11 against the Jets) against 6 interceptions. He's averaging 6.1 yards per attempt and has a 55.9 passer rating. After an elite start to the season, the Panthers pass defense has fallen off of late, allowing big games to Drew Brees and Ryan Tannehill in recent weeks, but it's still formidable enough that you have to downgrade any Washington fantasy weapons this week.
Betting Preview
The people's MVP Christian McCaffrey has led the Panthers to a negative EPA per rush and pass attempt with the Panthers falling completely out of the playoff picture. Things could be difficult with the Panthers needing to cover near double digit points at home to the third worst team in the NFL. Greenline leans slightly towards the Redskins with the expectation we see a few more points scored than what's currently projected by betting markets. 
Fantasy Football Preview
Aaron Rodgers' rookie year, 2006, also happens to be the first year of PFF data, meaning we have every game of Rodgers' career (192, counting the playoffs) in our database. And the 37.9 overall grade Sunday night is the worst start he's ever had. A healthy portion of the blame for that performance goes to the formidable 49ers defense, of course, but Rodgers has now thrown only 2 touchdowns in his last three games and has six games this year with 0-1 touchdown passes. The highs are still very high, as we saw in Weeks 7-8 (9 total touchdowns and 734 passing yards), but Rodgers' lows are why he's a low-end QB1 at this point in his career.
Betting Preview
The Giants have found some support at home dropping from 7.5 point dogs down through the key number to 6.5. Greenline finds agreement with both the spread and total price despite ranking the Packers ninth overall with the Giants down at 30th. Aaron Rodgers has had his struggles in 2019 but still posts an 81.4 passing grade with a big-time throw on 5.17% of attempts. 
Fantasy Football Preview
Between the two of them, Mike Evans and Chris Godwin are averaging an incredible 40.0 PPR points per game this season. That's the good news. The bad news is that predicting which one to use in a given week has been a fool's errand this year. Evans has topped 20 PPR points in a game three times, Godwin five times, and they've never done it in the same game. If you can somehow use both of them in fantasy, do that every week and take the good with the bad. But if you only have one or the other, the best approach is to just use him every week and hope you get more good than bad.
Betting Preview
After opening as three-point favorites bettors have backed off of Jacksonville with Nick Foles not providing the same level of assurances that Gardner Minshew once provided. No discernible value can be found at the current -1 spread. Despite the Bucs ranking ninth in offensive ranking the 48 point total could be a stretch according to Greenline projections. 
Fantasy Football Preview
It's hard to be a starting quarterback and go an entire month without a touchdown pass. It's shocking to do it for a team that was in the Super Bowl last year. But that's what Jared Goff just did, with no touchdowns in November (with three games and a bye in there). The Rams put up only 35 points in the month as they went 1-2 and got embarrassed by the Ravens Monday night to close it out. This week's opponent, the Cardinals, is obviously less scary than the Steelers-Bears-Ravens run the Rams are coming off of, but until we see the offense start to put things back together, it's hard to trust any of the team's options in fantasy.
Betting Preview
The last line to be released for Week 13 took some time with markets unsure on what to make of this Rams squad. They sit as three point road favorites in a game they would have been expected to dominate before the season. Greenline has a slight lean on the current 47.5 total despite a huge discrepancy between these teams in opponent-adjusted defensive ranking. 
Fantasy Football Preview
Funny thing: Patrick Mahomes hasn't thrown 2 touchdowns in a game yet this season. He's played nine games (including the game he got hurt in Week 7) and thrown for 0-1 touchdowns four times and 3-4 touchdowns five times. He's still Mahomes, and you'd expect ceiling more than floor going forward, but that's worth noting. Also worth noting: His one 4-touchdown game this season came against this same Oakland team back in Week 2, and that one was on the road. Now, Mahomes gets them at home.
Betting Preview
Two teams that rank in our top ten according to opponent-adjusted offensive ranking face off in this AFC West showdown. Both teams have a high EPA per pass attempt and like most struggle when running the ball. Thankfully the Chiefs only call a run on 32% of offensive plays but Gruden likes his grinders and hands the ball off on 44% of plays. The market expects points with a 51.5 total print. Greenline leans heavily towards the downside and offers no discernible play on the current -9.5 spread price.   
Fantasy Football Preview
In his first start, Brandon Allen averaged 9.7 yards per attempt (granted, with 75 of 193 yards coming on one pass). In his second, that dropped to 6.2, but he still managed 240 yards and a touchdown in a game the Broncos almost won. In his third start? The wheels came off, as Allen managed only 82 yards on 25 pass attempts (3.3 YPA) and no touchdowns against one interception as the Broncos were routed 20-3 by the Bills. Maybe he's not as bad as he was a week ago (the Bills are a strong opponent), but Allen's struggles could easily filter down to Courtland Sutton, whose breakout year could whimper to a close if Allen can't improve off of last week.
Betting Preview
The battle for the cellar of the AFC West could be ugly with a current total of 38.5. Greenline likes the idea of more points being scored than consensus markets. This is another spread that has been on the move after opening as a pick 'em the Chargers have now settled in as field goal favorites. Greenline had early week value on the Chargers but the line movement has pushed this game into unplayable territory. 
Fantasy Football Preview
In Weeks 1-7, the Patriots topped 30 points six times in seven games, averaging almost 32 points a game. In Weeks 8-12, the Patriots topped 30 points zero times in four games, averaging just over 19 points a game. Their team point total has dropped every game since Week 6. The defense has stopped putting up the massive point total it did early in the year, and the offense hasn't gotten going. Julian Edelman remains one of the league's highest-floor fantasy options, but other than him, it's hard (if not impossible) to trust any Patriots in fantasy.
Betting Preview
The PFF game of the week features our number one ranked Patriots on the road against the 11th ranked Texans. Both teams have middling offensive rankings despite both quarterbacks grading above 80 in 2019. The market seems to be moving towards the home dog with the Texans picking up a full point in some spots with prints of three appearing at most locations. Greenline would lean towards the Patriots at that price but also has a possible play developing on the total. 
Fantasy Football Preview
Early in the year, when Kirk Cousins wasn't throwing the ball much, Dalvin Cook was unsurprisingly getting the lion's share of his yardage on the ground. More recently, as the Vikings passing offense has expanded and Adam Thielen has been banged up, the balance between the two has shifted. In Weeks 1-7, 76.9% of Cook's yardage came on the ground. In Weeks 8-11, that number dipped to 55.4%. The end result is largely the same — he's a strong RB1, with Christian McCaffrey the only back definitely ahead of him — but he's getting there in a different way.
Betting Preview
Boog's game of the week has two evenly matched teams facing off in primetime. The Vikings also surprisingly bring in the second-best offensive unit according to our opponent-adjusted rankings. This total has dropped slightly but the spread price has held strong to the -3 print for the Seahawks. That is a fair price according to Greenline between the sixth overall ranked Vikings and the seventh-ranked Seahawks.