Justin Jefferson and Adam Thielen combined for 200 receiving yards as the Minnesota Vikings held on to beat the New England Patriots 33-26 on Thanksgiving night.
The 9-2 Vikings now sit comfortably atop the NFC North. The Pats loss sees Bill Belichick's men slide to 6-5 and into last place in the AFC East, at least for now.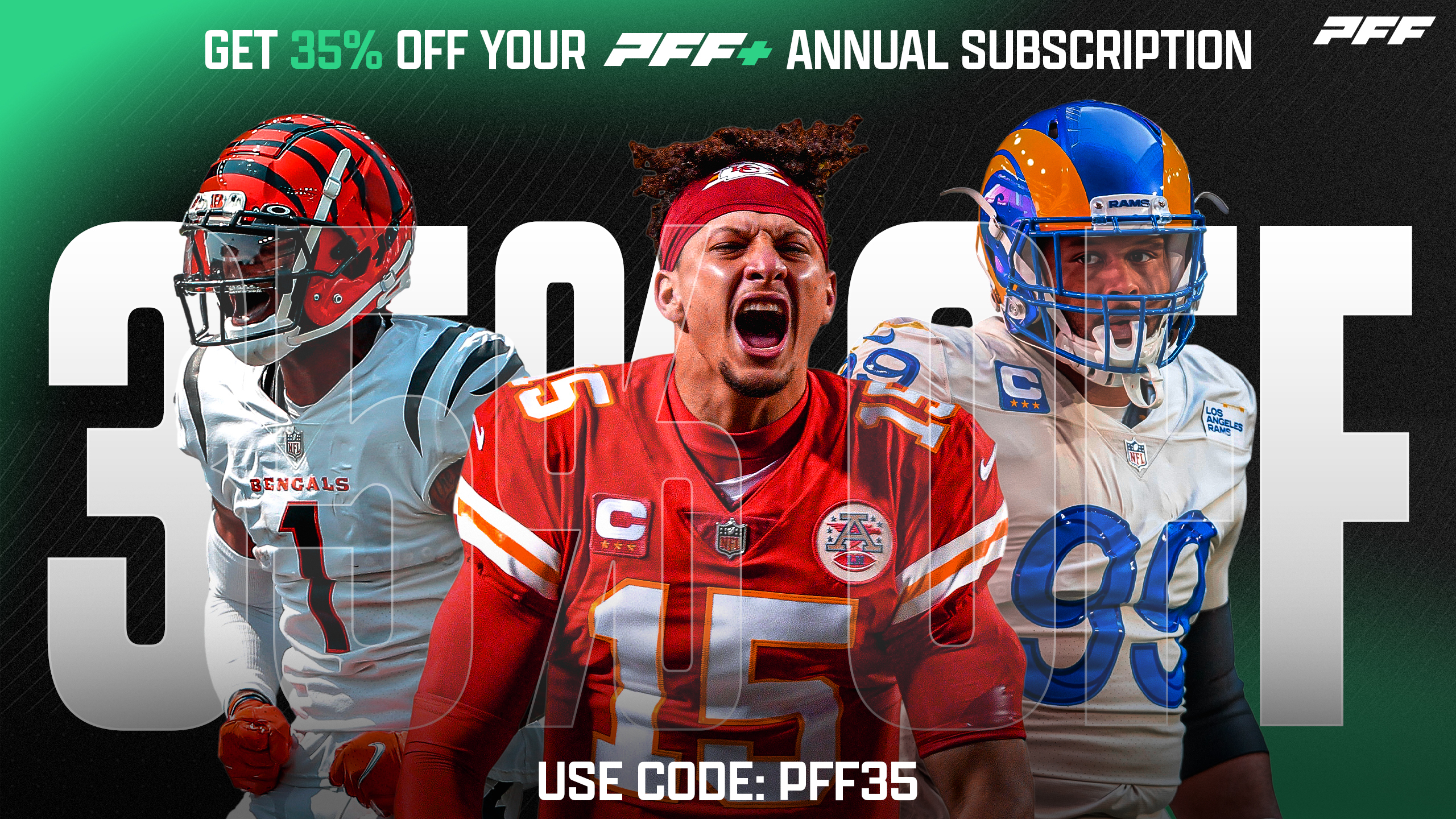 Offensive spotlight: Minnesota's Justin Jefferson cemented his case as one of the league's very best wide receivers, snaring all nine of his catchable targets for 139 yards and a score. He caught two of his contested targets, averaged an incredible 3.76 yards per route run and generated a 149.1 passer rating.
JUST THROW IT TO JUSTIN JEFFERSON ????????
pic.twitter.com/8K6PJs6fHO

— PFF (@PFF) November 25, 2022
Defensive spotlight: Veteran edge rusher Za'Darius Smith graded well against the run and as a pass-rusher against the Patriots. He produced five QB hurries from 36 pass-rush snaps and two defensive stops on 10 run-defense snaps.
Rookie spotlight: Patriots first-round guard Cole Strange didn't have the greatest night in pass protection, as he gave up three hurries on 42 pass-blocking snaps and was beaten twice more on reps that didn't result in pressure.
Offensive line spotlight: Things could have been a lot worse for a Vikings line that was without left tackle Christian Darrisaw. On PFF's first review of the game film, they gave up one sack, one hit and seven hurries across 39 passing plays.
Box Score
Passing
Player
Fantasy
Comp/Att
Yds
YPA
TD
Int
Sacks
Rtg
Mac Jones
26.3
28 / 39
382
9.8
2
0
3
119.8
Player
Fantasy
Comp/Att
Yds
YPA
TD
Int
Sacks
Rtg
Justin Jefferson
32.3
1  / 1
11
11.0
0
0
0
112.5
Kirk Cousins
22.9
30 / 37
299
8.1
3
1
1
116.1
Rushing
Player
Fantasy
Car
Yds
YPC
TD
Long
Fum Lost
Rhamondre Stevenson
20.2
7
36
5.1
0
14
0
Kendrick Bourne
5.9
1
-7
-7.0
0
-7
0
Damien Harris
1.6
5
16
3.2
0
7
0
Player
Fantasy
Car
Yds
YPC
TD
Long
Fum Lost
Kirk Cousins
22.9
1
-1
-1.0
0
-1
0
Dalvin Cook
9.6
22
42
1.9
0
6
0
K.J. Osborn
2.3
1
5
5.0
0
5
0
Alexander Mattison
1.1
3
11
3.7
0
8
0
Receiving
Player
Fantasy
Tgt
Rec
Yds
YPT
TD
Long
Rhamondre Stevenson
20.2
10
9
76
7.6
0
40
Nelson Agholor
18.5
8
6
65
8.1
1
34
Hunter Henry
15.3
5
3
63
12.6
1
37
DeVante Parker P
12.0
4
4
80
20.0
0
40
Jakobi Meyers
9.2
4
3
62
15.5
0
26
Kendrick Bourne
5.9
4
3
36
9.0
0
17
Player
Fantasy
Tgt
Rec
Yds
YPT
TD
Long
Justin Jefferson
32.3
11
9
139
12.6
1
37
Adam Thielen
21.1
10
9
61
6.1
1
16
T.J. Hockenson
15.3
6
5
43
7.2
1
14
Dalvin Cook
9.6
5
4
14
2.8
0
8
Johnny Mundt
4.0
2
2
20
10.0
0
13
Jalen Reagor
3.5
1
1
25
25.0
0
25
K.J. Osborn
2.3
2
1
8
4.0
0
8