The Las Vegas Raiders won their second consecutive overtime game of the season by beating the Seattle Seahawks 40-34 in Week 12.
The victory moves the Raiders to 4-7 on the year.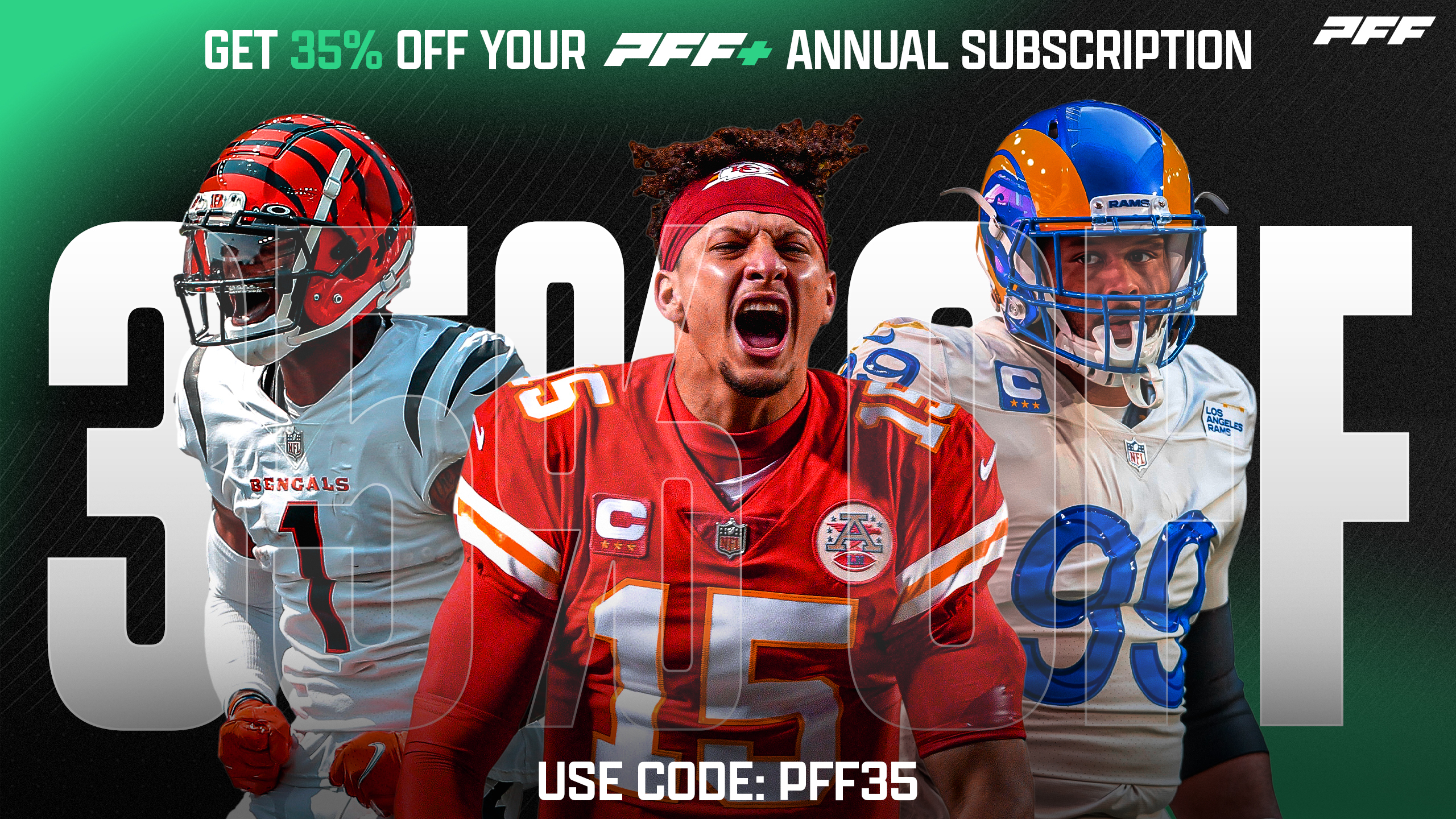 Offensive spotlight: Running back Josh Jacobs was a terror against the Seahawks defense and put together one of the best performances of the season. He ran for a season-high 229 yards — with 162 yards after contact — nine rushing first downs, four explosive runs of 10 or more yards and two rushing scores, including his game-winning 86-yard touchdown run.
Defensive spotlight: Maxx Crosby totaled three hits, a quarterback hurry and two sacks to finish with an 81.2 pass-rushing grade on first review. The performance featured a stellar 20.9% pass-rush win rate.
Rookie spotlight: Seattle's Kenneth Walker III ran for two touchdowns despite being held below 30 rushing yards on the afternoon. He rushed for only 26 yards on 14 carries, with 18 yards coming after contact.
Offensive line spotlight: Seattle's offensive line allowed a season-high four sacks across 45 pass-blocking snaps. Rookie right tackle Abraham Lucas surrendered two of them and put up a 31.7 pass-blocking grade on first review.
Box Score
Passing
Player
Fantasy
Comp/Att
Yds
YPA
TD
Int
Sacks
Rtg
Derek Carr
22.8
25 / 36
295
8.2
3
2
1
98.7
Player
Fantasy
Comp/Att
Yds
YPA
TD
Int
Sacks
Rtg
Geno Smith
24.3
27 / 37
328
8.9
2
1
3
106.6
Rushing
Player
Fantasy
Car
Yds
YPC
TD
Long
Fum Lost
Josh Jacobs
51.3
33
229
6.9
2
86
0
Derek Carr
22.8
2
10
5.0
0
7
0
Ameer Abdullah
14.5
3
16
5.3
0
7
0
Zamir White
2.8
2
28
14.0
0
17
0
Player
Fantasy
Car
Yds
YPC
TD
Long
Fum Lost
Geno Smith
24.3
5
22
4.4
0
18
1
Kenneth Walker III
16.9
14
26
1.9
2
14
0
Travis Homer
13.3
2
8
4.0
0
4
0
Marquise Goodwin
8.5
1
7
7.0
0
7
0
DeeJay Dallas
3.5
1
2
2.0
0
2
0
Receiving
Player
Fantasy
Tgt
Rec
Yds
YPT
TD
Long
Josh Jacobs
51.3
7
6
74
10.6
0
28
Mack Hollins
16.3
5
4
63
12.6
1
36
Ameer Abdullah
14.5
3
3
39
13.0
1
18
Davante Adams
14.4
11
7
74
6.7
0
28
Foster Moreau
12.3
7
3
33
4.7
1
17
Keelan Cole
3.2
2
2
12
6.0
0
9
Jakob Johnson
0.0
1
0
0
0.0
0
0
Player
Fantasy
Tgt
Rec
Yds
YPT
TD
Long
DK Metcalf
20.0
15
11
90
6.0
0
24
Kenneth Walker III
16.9
1
1
13
13.0
0
13
Tyler Lockett
15.8
7
3
68
9.7
1
35
Travis Homer
13.3
3
2
45
15.0
1
27
Marquise Goodwin
8.5
3
3
48
16.0
0
21
Noah Fant
6.4
3
3
34
11.3
0
24
Will Dissly
3.7
3
2
17
5.7
0
12
DeeJay Dallas
3.5
2
2
13
6.5
0
9