The first week of the 2020 NFL season concluded with the annual MNF doubleheader, and there was certainly no shortage of storylines between the teams involved.
From Big Ben's return to the field to Jadeveon Clowney's first game as a Tennessee Titan, there was a lot to watch in the two games. Here are the big takeaways from the Pittsburgh Steelers' 26-16 win over the New York Giants and the Denver Broncos' 14-13 win over the Tennessee Titans.
Editor's note: All of PFF's grades and advanced stats from Week 1 of NFL action are available to ELITE subscribers now. Subscribe today for access!
Big Ben looked a lot better than expected
I was somewhat skeptical of the offseason talk about the Pittsburgh Steelers and Ben Roethlisberger. This was due to the fact that (A.) his 2018 season had some concerning signs that a steep decline was approaching, and (B.) he was coming off a significant elbow surgery at 38 years old that caused him to miss most of the 2019 season.
Roethlisberger was impressive in his return, though, producing an 81.4 passing grade for the game and hitting all the throws at the short and intermediate levels.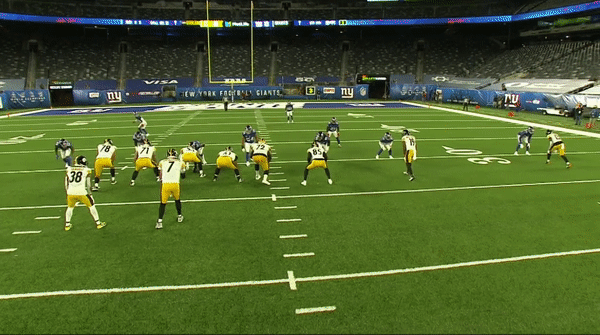 Now, does this mean that Big Ben is back to his prime? Not necessarily. After all, he had games like this in that 2018 season but was inconsistent from game to game, ending the season ranked 17th in PFF grade and fifth-worst in terms of negatively graded throw rate.
The point is that we need to see this kind of game replicated in the coming weeks, and Big Ben still needs to prove that he can do it against much better secondaries than the one the Giants fielded last night.
For now, though, Big Ben did enough to keep the doubters quiet. He completed 18 of his 27 attempts for 179 yards and three scores from a clean pocket while completing three of his five attempts for 50 yards in the face of pressure.
Chase Claypool and Jerry Jeudy showed flashes of what they could be
Steelers wide receiver Chase Claypool was reportedly the star of training camp, earning high praise from everyone (including his quarterback). While he only ran seven routes last night, he also had the catch of the night early in the first quarter.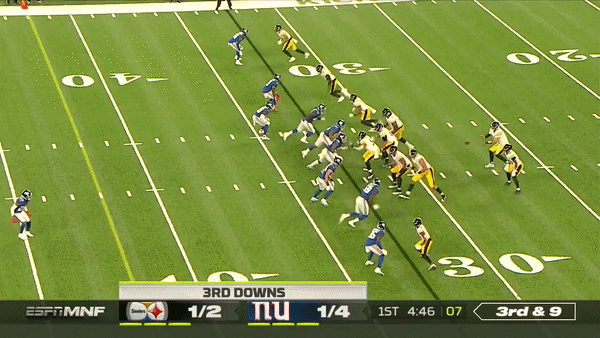 Claypool is far from a separation-getter, but he is strong on contested targets and can make incredible highlight-reel grabs, just like the one last night. He showed routinely at Notre Dame that he can adjust to any off-target throw and come down with the catch, as his 15 contested catches in 2019 ranked among the top 20 FBS wide receivers.
We did see a separation-getter take the field in the other game, though, and Jerry Jeudy rose to the occasion with Courtland Sutton out with an injury. While Jeudy did have two bad drops, he displayed the same elite route-running, releases and playmaking ability in the open field that we saw from him at Alabama.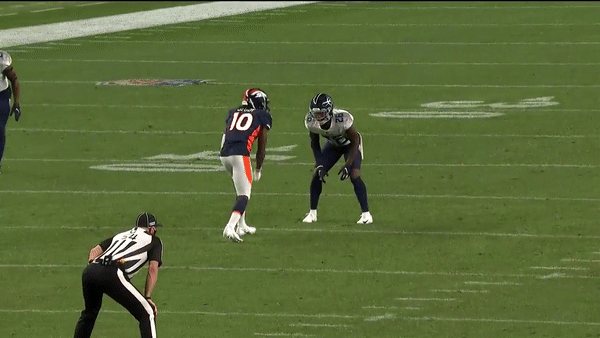 Jeudy is incredibly quick and has a mean dead leg that can break the ankles of even the best coverage defender. Of his eight targets against Tennessee, he had open separation (more than a couple of steps) on six. And of his three targets in single coverage, Jeudy created open separation on every single one. If he gets those drops cleaned up, Jeudy is bound to explode in this Broncos offense.
T.J. Watt is inching closer to best-edge-defender-in-the-NFL status
After two strong seasons in 2017 and 2018, T.J. Watt took his play to new heights in 2019, finishing the year as the highest-graded edge defender in the NFL (91.3). Watt made plays against the run, rushing the passer and even dropping into coverage, and last night was no different.
Watt earned a 93.7 PFF grade against the Giants, the best at the position in Week 1. He was the only edge defender in the league who produced grades above 80.0 against the run and as a pass-rusher, and of course, he came down with this clutch interception.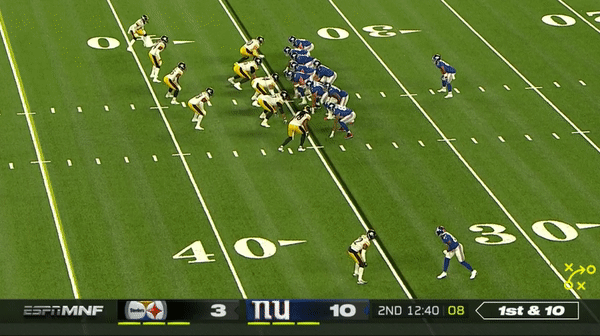 He also finished the game with a pass-rush win rate of 27%, the fourth-highest of the week. Entering the year, we had Watt as the fifth-best edge defender in the NFL, behind brother J.J., Khalil Mack, Cameron Jordan and Von Miller. Considering how consistently great he was in 2019 — over half of his games ended in a PFF grade above 80.0 — and how impressive he was in Week 1, I think we might be calling the younger Watt the best edge defender in the NFL by season's end.
Now's the time to start worrying about Drew Lock's inability to throw downfield
Drew Lock's impressive downfield passing was a big part of what made him a prospect worth taking in the 2019 NFL Draft. In his final year at Mizzou, he ranked fifth in the FBS in passing grade on throws of 10 or more yards downfield, and he ranked second on throws of 20 or more yards.
However, we saw very few of these throws in his rookie campaign, and the results weren't great even when he did look deep — his grade and uncatchable-pass rate on 10-plus-yard throws were both the worst in the NFL.
Lock needed to take a big leap in this regard in Year 2, but the opening-game results were far from promising.
The second-year signal-caller had numerous wildly inaccurate throws downfield against the Tennessee Titans. In fact, of his 11 passes that were thrown 10-plus yards downfield, five were charted as uncatchable.
Denver just cannot afford to have Lock airmail his receivers, which is precisely what he did last night. Take this play from late in the fourth quarter as an example. Here he has an open receiver on a go-route on third-and-8 in the Titans' territory. If he hits the throw, the Broncos have control of the game and are in a position to secure the win. Instead, he overthrew him by five yards.
It's been a common theme thus far in his NFL career. I know this was only his sixth career start, but time is ticking for Lock to show us that he is the real deal.
Saquon Barkley showed once again that rushing success is dependent on the offensive line
The Giants' ground game was nonexistent in the team's loss to the Steelers — they finished with a league-low -0.52 EPA per run play, and the offensive line made very few holes for Saquon Barkley to run through.
The unit as a whole had a lot of quick losses, leading to Barkley being contacted at or behind the line of scrimmage on 10 of his 15 carries. In all, Barkley finished the night with 6 yards, and the Giants as a whole had just two successful runs (every other team in Week 1 had at least five). 
And this right here is another prime example of why rushing success is dependent on the offensive line and not the ball carrier.
Jadeveon Clowney looked like himself in his Titans debut — a high-level run-defender but an average pass-rusher
Jadeveon Clowney is a good player, but we didn't think he was worth top-tier edge defender money when he hit free agency. This was because he has struggled to make an impact as a pass-rusher, and his calling card has, to this point, always been his run-support.
Clowney earned a top-10 run-defense grade in each of the five seasons before 2020, but he also failed to produce a top-10 year in regard to pass-rush grade over that same span. He was close in 2018 and 2019, but he was still a touch off that "elite" tier.
Clowney's debut with Tennessee was much of the same. He recorded a run-defense grade of 84.7, first among edge defenders for the week. But as a pass-rusher, Clowney made virtually no impact. His grade in that facet was a lowly 59.6, and he recorded just two pressures for the game, one of which was unblocked.
Tennessee obviously didn't break the bank for Clowney by giving him a one-year, $13 million deal right before the season, but this game is just another example that he is a good, but not elite, edge defender.