The last four hours leading up to the franchise tag deadline were nothing short of amusing, that's for sure. All in all, we saw 15 tags issued across the league — some were expected, but a handful certainly will not.
Now, not every player is going to play the 2020 season on the fully guaranteed one-year deal. Some will agree to a longer-term contract, and a handful will be traded by the team that tagged them to recoup some assets. This year's tag-and-trade class — Anthony Harris, Chris Jones, Joe Thuney, Yannick Ngakoue and Matthew Judon — mainly resides in the trenches, and these are their likeliest landing spots:
[Editor's Note: Check out PFF's analysis of every franchise tag used this 2020 NFL offseason.]
This was one of the surprise moves of the day. But per Ian Rapoport of the NFL Network, the likeliest scenario is that Minnesota ends up trading Harris for a mid- to late-round draft pick as opposed to keeping him in the short- or long-term. Minnesota was in cap space hell a few weeks ago, which partly led to the team trading its star wide receiver for four draft picks yesterday (among numerous other things). The Vikings are clearly not afraid to move on from their elite talent to open up money and recoup assets. It sounds a lot like tanking, although I really don't think that's the intention. Either way, it'd be a surprise to see Harris a Viking come Week 1.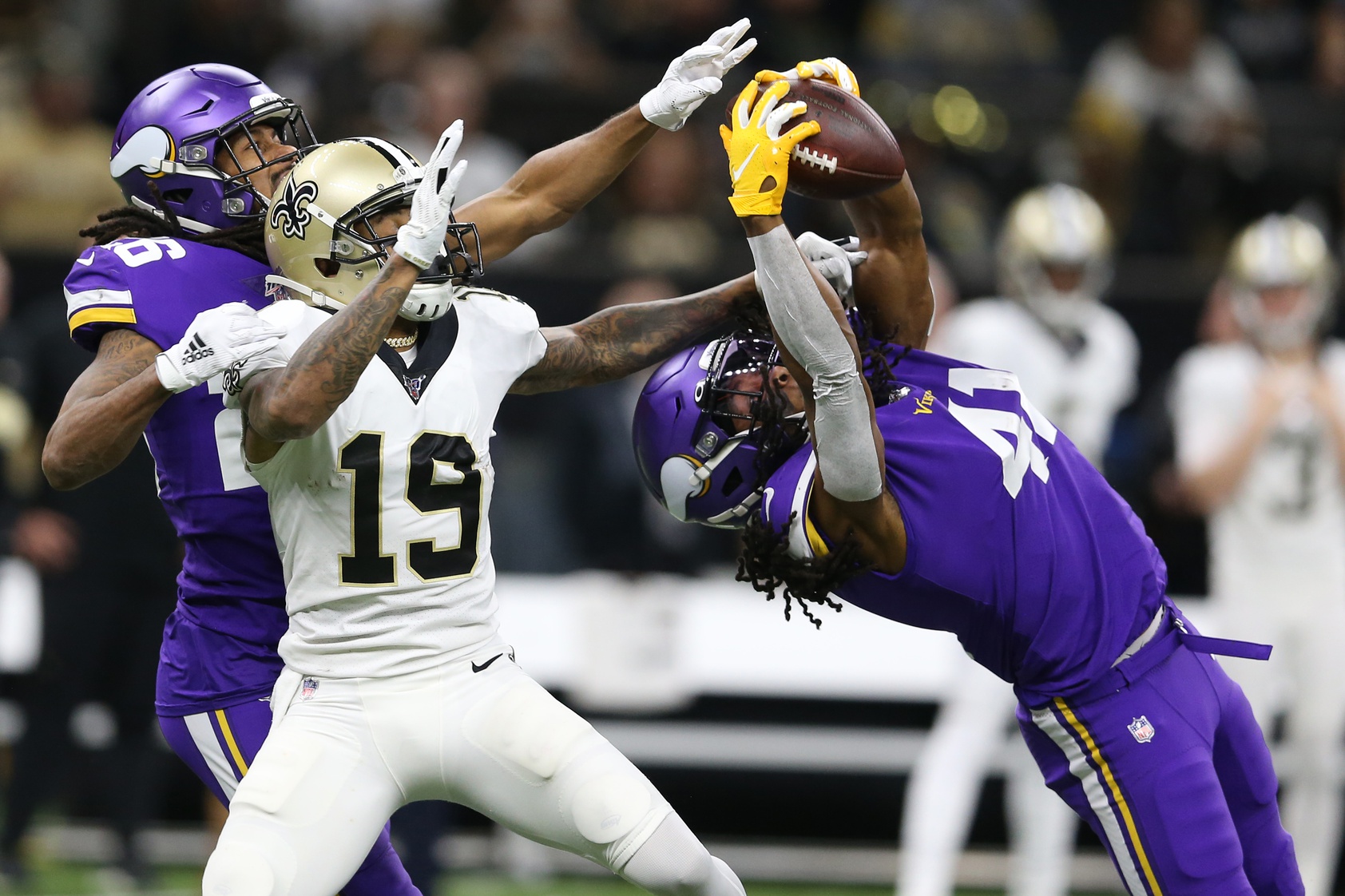 In terms of production, there hasn't been a better deep safety in the NFL over the past couple of seasons than Harris. He's played 980 coverage snaps in that span and was responsible for only 216 yards; he didn't allow a single touchdown, and he also added 17 combined pass breakups and interceptions. He isn't limited to only free safety, though, as he played over 41% of his snaps either in the box or in the slot in 2019, and he remained a high-level player at those alignments. PFF ranked Harris as the eighth-best available free agent — he will have a lot of interest on the open market.
After a bevy of events the past couple of days, the Cleveland Browns are left with only Sheldrick Redwine and J.T. Hassell in their safety unit, and both have just one year of NFL experience. Not to mention, those two are from the old regime. Damarious Randall is a free agent, too, but was average at best in his move to safety with the Browns the past couple of years by ranking 30th and 41st in PFF grade. It would be surprising to hear if the analytically sound Cleveland Browns weren't interested in valuable safeties Anthony Harris, Tre Boston and even Ha Ha Clinton-Dix.
Bruce Arians has been vocal about continuously improving the defensive side of the ball this offseason. His team improved its corners this past season with drafting Jamel Dean and Sean Murphy-Bunting and improved its pass-rush by adding Shaquil Barrett. There's still a glaring need at safety, though, and the Buccaneers' deep safety last season, Andrew Adams, is a free agent. It doesn't seem likely he will make a return considering he fell short of the 50th percentile in PFF grade.
If Aaron Donald weren't in the NFL, Chris Jones would be the most dominant pass-rushing interior defensive lineman in the game. In his first two years in the league back in 2016 and 2017, Jones ranked eighth and sixth in PFF pass-rush grade, proving his ability to get to the quarterback. In the past two years, Jones somehow found a way to improve — he posted elite 90.0-plus pass-rush grades in each season, both of which ranked behind only Donald.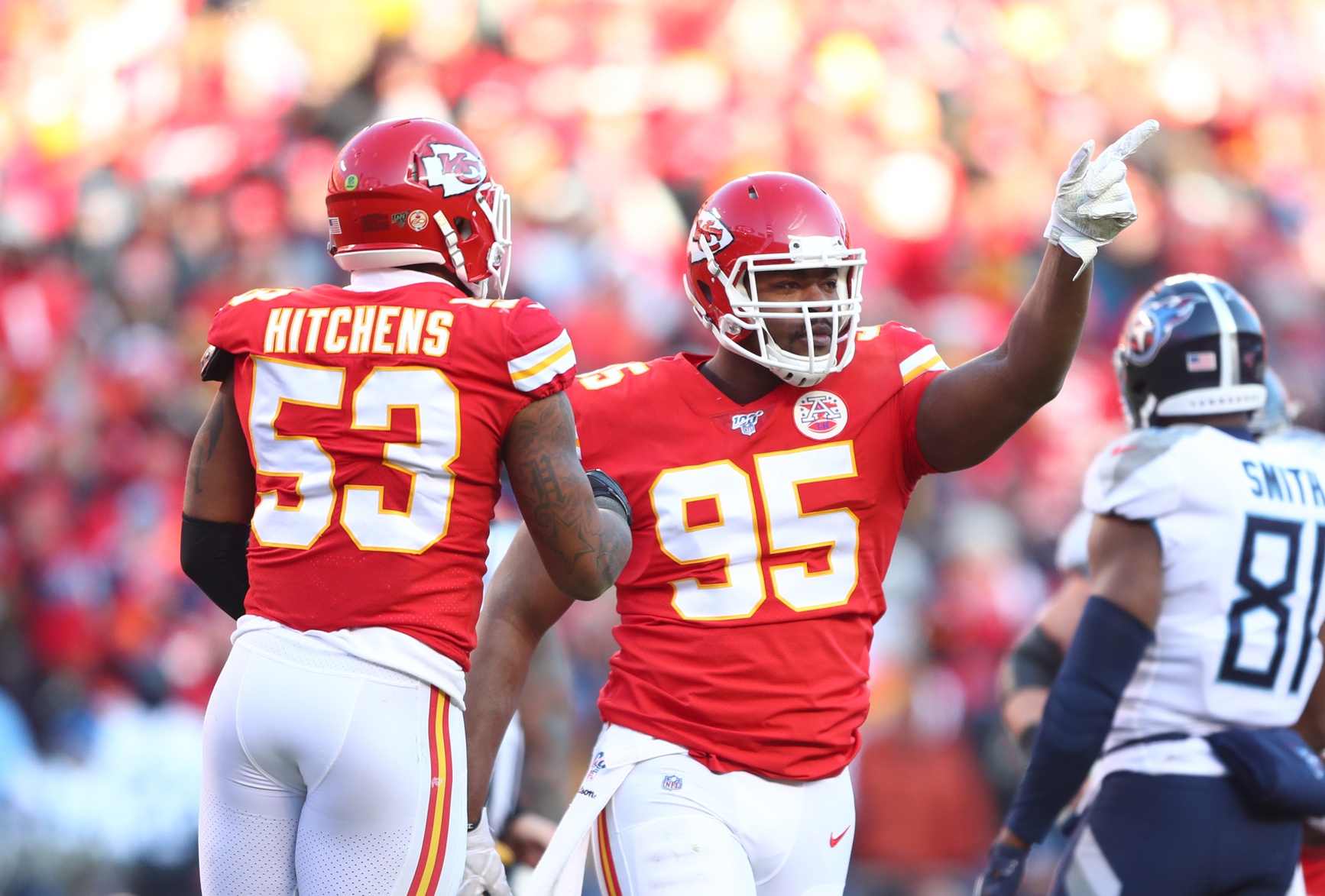 In his first four years in the NFL, Jones has been the fourth-most valuable player at his position. He does play a rather invaluable position on the field and doesn't sniff that of an elite defensive back, but his talent at the position is rare as indicated by his pass-rush grades. When lined up at 3-technique in his career, Jones has produced a 17.7% win rate, which is second to only Aaron Donald, over two percentage points higher than third and nearly eight percentage points higher than the average.
Kansas City currently owns the least amount of available cap space — in fact, they are over the cap. And reigning Super Bowl MVP Patrick Mahomes is still in need of a contract extension. The likeliest scenario is Chris Jones is traded on the tag, and these are two possible suitors:
Prior to the 2019 season, the Lions were looking ferocious on the interior of their defensive line. A'Shawn Robinson was coming off a fringe-elite year at an 89.7 grade, Da'Shawn Hand put forth an 85.9 grade as a fourth-round rookie, they picked up veteran Mike Daniels coming off one of the best pass-rushing seasons of his career and also brought back Snacks Harrison after trading for him the season prior and watching him post an absurd 92.0 overall grade.
Injuries hindered the group in 2019, though, and not a single one posted an overall grade higher than 64.0. Harrison was subsequently released, and Robinson and Daniels are now free agents. In one year, Detroit went from owning one of the most dominant interior defensive line units to owning one of the most depleted groups in need of help.
People really don't give edge defender Chandler Jones enough credit for the career pass-rush year he had in 2019. He produced an elite 90.0 pass-rush grade, ranking fourth in the NFL behind only T.J. Watt, Myles Garrett and Joey Bosa. That's where Arizona's pass-rush success ends. They did generate a respectable amount of pressure from the interior as a team, but they still don't have that premier guy. Among all 32 defenses, the Cardinals owned just the 23rd-best pass-rushing grade on the interior. After trading for DeAndre Hopkins, the Cardinals could be looking to make another splash play to improve their underwhelming pass rush.
[Editor's Note: All EDGE and ELITE subscribers have full access to our free agency database, including rankings, grades, PFF WAR, contract projections and more! Subscribe today!] 
Over the past three years, Joe Thuney has quietly become one of the league's best offensive guards. He's been the fifth most valuable guard in that span. And in the past two seasons particularly, Thuney's pass-blocking has been as good as anyone — his grade in pass protection each season was second among left guards and his pressure rate was fifth among the same group. When it comes to evaluating offensive linemen, we like to dive into their "true pass sets," as they are most stable and predictive of future performance. True pass sets are as they sound — standard quarterback dropbacks (no rollouts, no play-action, no screens, no quick passes under 2.0 seconds). In the case of Thuney's true pass sets, he's easily been one of the NFL's five best offensive guards the past two seasons in regard to PFF grade. Of the 59 guards to register at least 250 true pass sets since 2018, Thuney is the only one to not allow a single sack.
The likeliest scenario, as of now, is that Thuney does not get traded. That could easily change, though, if Tom Brady returns to Foxborough and demands offensive weapons.
The Cincinnati offensive line was widely known as one of the worst in the NFL last season. Fortunately, they'll be getting their 2018 first-round pick, Jonah Williams, back on the field after he missed the entirety of his rookie season. The tackle situation outside of that was pretty bad, but it wasn't nearly as bad as the guard play. Among all 32 NFL teams, the Bengals offensive guards were 30th in overall grade and 31st in pass protection, where they lost more than any team.
Shockingly moving on from Stefon Diggs, the Vikings now have the cap space to make such a move that their offensive line desperately needs. Pat Elflein was Minnesota's left guard in 2019 after spending the first two years of his career at center, and the pass-protection he displayed was a liability. On true pass sets, Elflein posted a 33.8 pass-block grade, ranking among the bottom six guards while his 12.5% pressure rate allowed slotted in at second worst.
Ngakoue's run defense and tackling have been flat-out poor thus far in his NFL career. His career-high run-defense grade in his four-year career sits at just 60.0, and he has missed 17 of his 69 tackling attempts over the past two years. As said, pass rush is king for an edge defender, and Ngakoue hasn't been dominant in that area. He had an 88.2 pass-rush grade in 2017 but saw that dip to 76.8 and 77.5 in the 2018 and 2019 seasons, respectively. Granted, both of those figures cracked the top 20 among edge defenders, but barely. Ngakoue is a good player, but only for the right price. And that ship has sailed by being slapped with the franchise tag.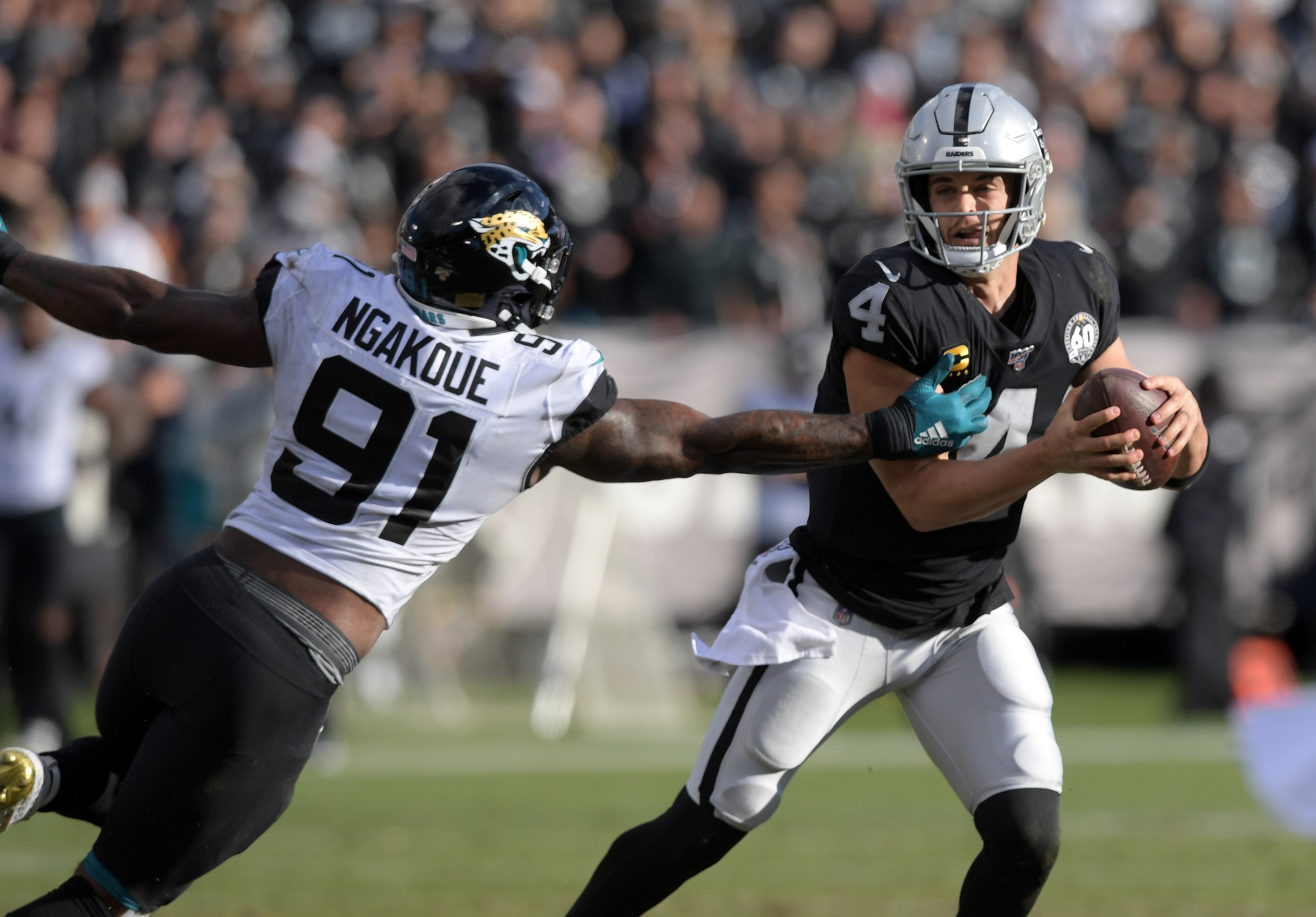 By trading away Calais Campbell, the Jaguars are in full-force tank mode, and Ngakoue himself said he will not be a Jacksonville Jaguar in 2020. He'll almost certainly be traded, with these two teams being the one to watch:
With Shaq Lawson signing with the Miami Dolphins and Lorenzo Alexander retiring, Buffalo has nearly half of its total edge pressures to replace this offseason. Ngakoue played in a similar role in Jacksonville that Lawson played in at 6/7-tech, and he could slide right into that void. With the news of the Diggs trade, it's pretty clear Buffalo is constructing a contending roster around Josh Allen. Even after giving up a haul for Diggs, they still have assets available to them to send to Jacksonville for Ngakoue.
Russell Wilson has been vocal about wanting more star players on the team to win a Super Bowl. It seems like Jadeveon Clowney will be coming back long-term, but opposite of him, there isn't much to be excited for. Even with Clowney on the roster last season, Seattle ranked just 28th in edge pass-rush grade and 29th in edge pressure rate. A duo of Clowney and Ngakoue would certainly help that in 2020.
Matthew Judon was amongst the group of "buyer beware contract-year standouts" edge defenders this offseason. Judon did manage to produce the 20th-best pass-rush grade, but he is not nearly worth what he will receive on the tag or long-term deal. PFF analyzes every single pass-rusher and pass-blocker on every pass play in every game (among everything else going on), and one of the things we look at is whether the pressure was won by the pass-rusher or came as a cleanup/unblocked pressure. This past year, 56.5% of Judon's pressures were deemed as the latter, which was five percentage points higher than any other edge rusher.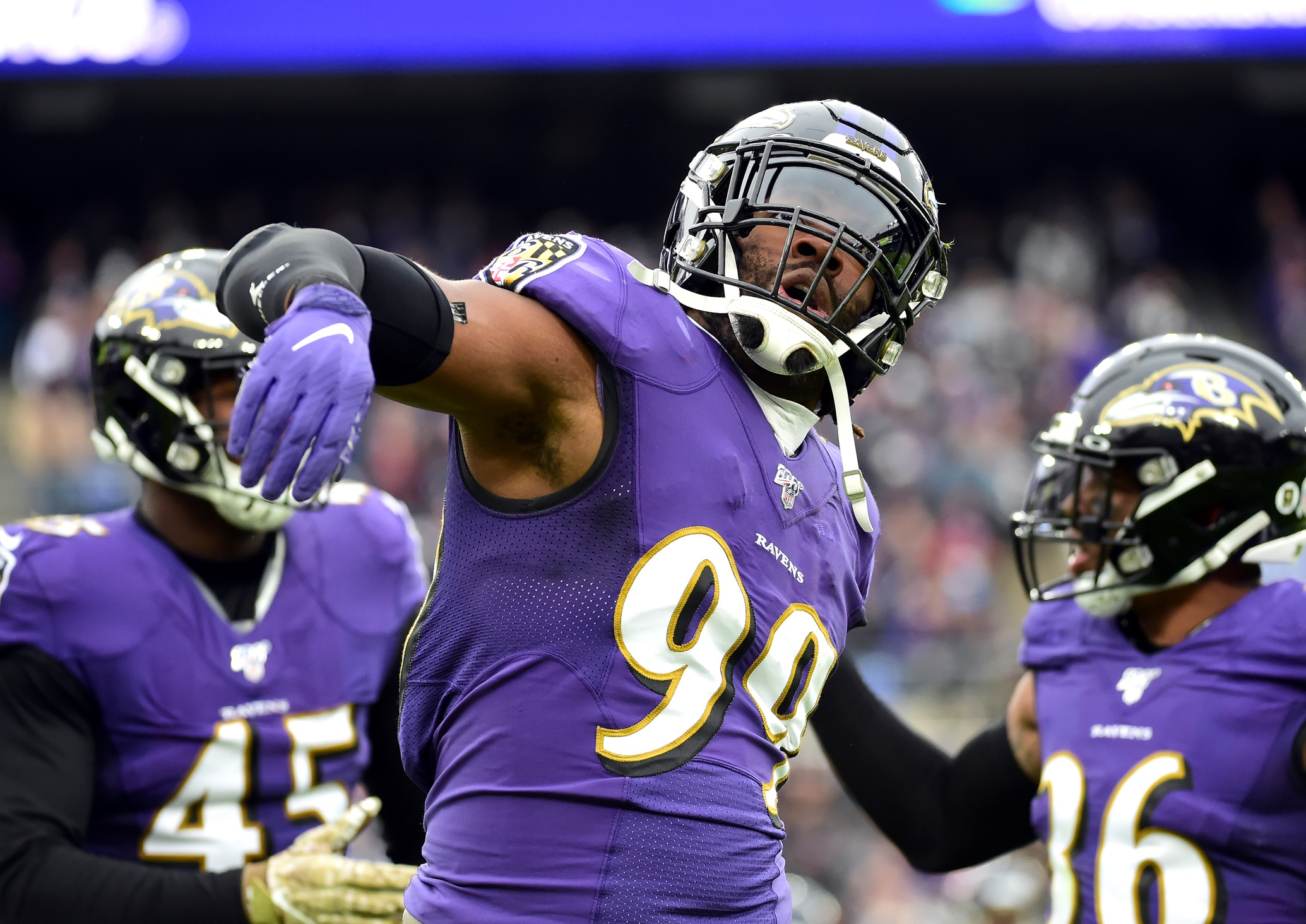 It was reported days ago that the Baltimore Ravens would place the franchise tag on Judon with the intention of trading him. After acquiring Campbell from the Jags, it'd be a surprise to see Judon stick with the Ravens. These two teams could be intrigued with a possible deal:
The Jets' pass-rush as a whole was pretty abysmal in 2019, but on the edge specifically, they generated one of the three lowest rates in the NFL. Jordan Jenkins and Tarell Basham were average pass-rushers, but Henry Anderson and Kyle Phillips didn't even crack the top 95 in pass-rush grade. New York had a good chunk of change to spend entering free agency, but they've been incredibly quiet and are seeing all the premier guys get snatched up. They might be forced to look in the trade market, and Judon is right there in front of them.
As said earlier, Chandler Jones is not getting enough love for what he did in 2019, but the man can't do it all himself. If the Cardinals miss out on Chris Jones, they might look the way of Matthew Judon. Arizona really has no other option opposite of Jones on its roster at the moment. The Cardinals moved on from Terrell Suggs mid-year, and the next guy up was Cassius Marsh — who is a free agent and posted a sub-60.0 pass-rush grade last year. A move has to be made at some point on Arizona's end, and options are dwindling.