On the surface, the 2020 crop of NFL free-agent edge rushers looked like a phenomenal group for teams in need of pass-rush help, but I found myself seeing a lot of red flags when I looked at the potentially available players. It's not that there aren't good football players available, but almost none of them seem to be worth the kind of investment they are likely to demand as free agents, and there seems to be very few obvious value signings.
[Editor's Note: All EDGE and ELITE subscribers have full access to our free agency database, including rankings, grades, PFF WAR, contract projections and more! Subscribe today!] 
As things stand, we will likely lose several of the group to the franchise tag, but even so, it's worth evaluating their outlook in 2020 and beyond compared to the hype surrounding them. Below, we will run through the various different red flags to navigate if your team is in the running for one of these edge rushers this free agency period.
The Good, Not Great
Seen by many as the crown jewel of this free-agent class, Jadeveon Clowney nevertheless represents a risk if the contract required to land him is one that will make him the highest-paid edge rusher in the league. Complicating the evaluation of Clowney is that he has always been seen as one of the most spectacular athletes on the field since he was a high school recruit, and that hype continued all the way through to the NFL. Even now, it probably bolsters his reputation beyond where his NFL play would have taken it otherwise. Clowney is a good NFL player, but he is not a great pass-rusher — at least not consistently. He has yet to top 65 total pressures over a season, and when you consider that Za'Darius Smith led the NFL this year with 93, that's leaving quite a lot of meat on the bone in terms of the best pass-rushers in the league. In truth, he has consistently been a better run defender than a pass-rusher, but that has never mattered less in today's NFL. Whoever secures Clowney's services will be getting a very good football player, but they are unlikely to get one who will justify a contract that pays him like the best player at his position.
Jadeveon Clowney: pass-rush grade and rank by year (2014-19)
| | | |
| --- | --- | --- |
| Season | Pass-rush grade | Rank |
| 2019 | 76.7 | 21/120 |
| 2018 | 78.8 | 13/112 |
| 2017 | 74.7 | 29/121 |
| 2016 | 71.3 | 30/121 |
| 2015 | 64.6 | 55/115 |
| 2014 | 50.5 | N/A |
Tampa Bay Buccaneers head coach Bruce Arians says the Bucs are likely to keep Shaquil Barrett around through the franchise tag because you don't just find NFL sack leaders every day. While that's true, it's a worrying way of looking at a player who didn't play dramatically different in 2019 than any other season of his career, even if a glance at sack totals would tell you otherwise. Barrett has been a consistently very good player for his entire career — each of his seasons has an overall PFF grade of 74.0 or better — and PFF is now in the strange position of having been championing him when he was a rotational body and telling people to pump the brakes once he notched 20 sacks. Barrett had by far the best sack season of his career, and almost double his previous career-high in total pressures (82 to 43). But on the other hand, that is almost a direct result of just being given more opportunities to rush the passer. He rushed the passer 236 times more than his previous career-high and also saw 25 of his pressures come either unblocked or on clean-up plays. Barrett is an excellent player, but 2019 shouldn't change how you view him beyond validating the idea that he can do it with a full-time workload. He didn't become one of the very best pass-rushers in the NFL despite the sack total.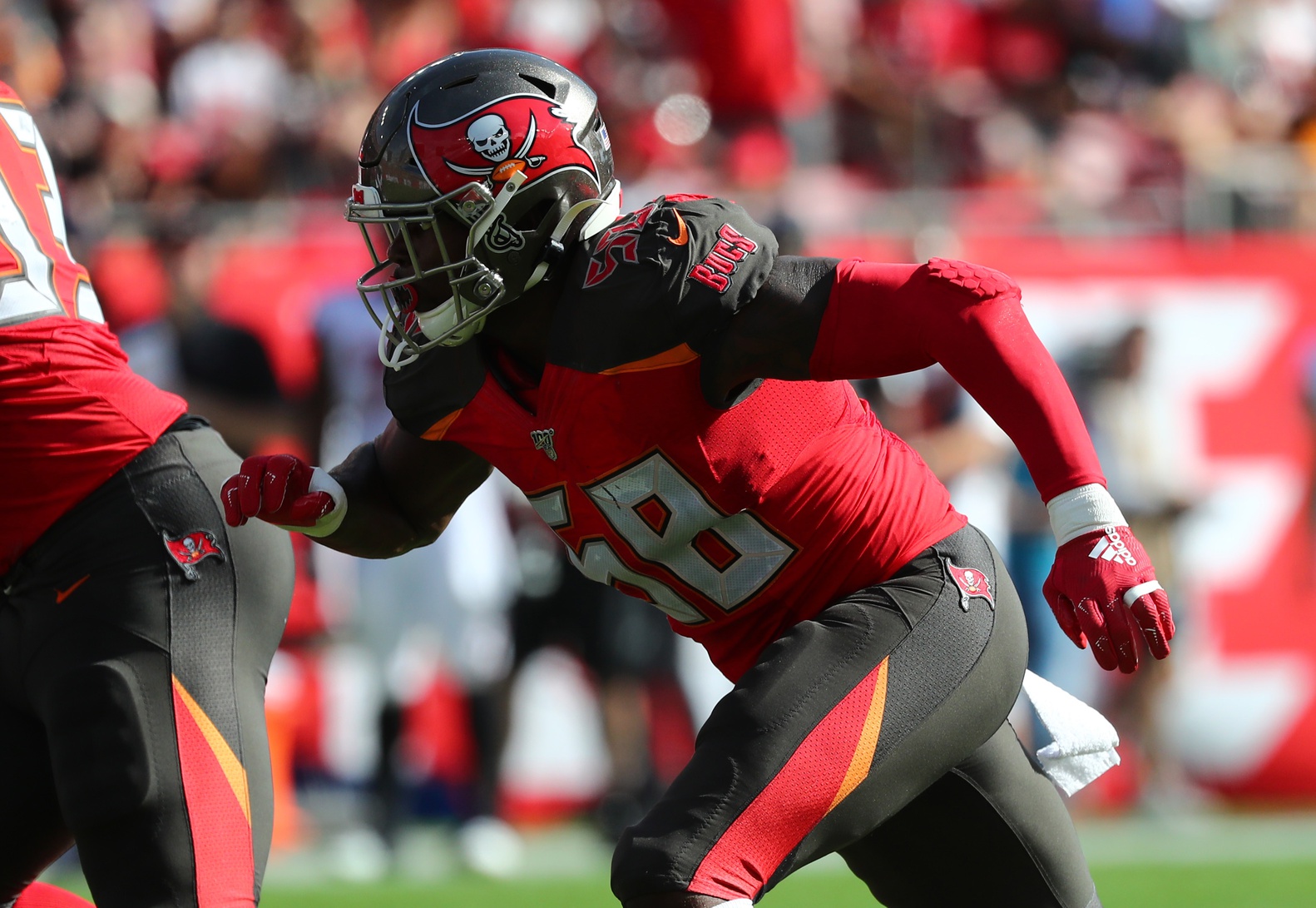 You don't find too many established players hitting the open market before they turn 25, but that's the case for Yannick Ngakoue, who will be 24 for the first couple of weeks of free agency after playing his first four seasons in Jacksonville and notching multiple double-digit sack years. Ngakoue's problem is twofold: Firstly, the season that showed his elite potential as a pass-rusher was 2017, and he hasn't really come close to those heights since. That year, he had an 88.2 PFF pass-rushing grade and notched 82 total pressures including the playoffs. Since then, he hasn't been within 10 grading points of that high mark and has registered pressure at a much lower rate. Secondly, Ngakoue wants no part of defending the run. Admittedly, that has never been less relevant, but at some point it's bad enough that it is an issue, and Ngakoue has never had a PFF grade north of 60.0 against the run, with his first season in the league earning one of just 29.5. In theory, there is an elite pass-rusher in Ngakoue, but a team will need to gamble that they can coax the player we saw in 2017 back out.
Not All Pressure Is Created Equal
A year ago, the Baltimore Ravens said goodbye to a couple of proven pass rushers and turned the reins over to Matthew Judon as the primary source of pass rush. He responded with a career year in sacks (10) and total pressures (63) and seems to taken advantage of that opportunity to the fullest extent. Whoever gives him a new long term deal needs to take a closer look at his play, however, and analyze how repeatable that is. The first point to note is that at 55.2%, the Ravens were by far the most blitz-happy team in the NFL last year, which generated a lot of favorable looks for Judon on the edge. Of his total pressures, 57% were either unblocked or clean up, which is the highest rate of anybody in the league with 50 or more pressures. When he was one-on-one with a blocker, his PFF grade wasn't any better than it had been in previous seasons — he just reaped the benefit of a dramatically better environment for a pass-rusher. In effect, the Ravens were able to scheme pressure up front, and he was one of the principal beneficiaries of that. If you're not going to do likewise in 2020, beware of a drop in production. And if you are going to do likewise, consider a cheaper option to reap the same benefit.
% of total pressures that were charted as clean up/pursuit pressure (edge defenders, 2019, min. 50 total pressures)
| | | |
| --- | --- | --- |
| Name | Pass-rush Snaps | CUPP% |
| Matthew Judon | 404 | 56.5% |
| Harold Landry III | 513 | 51.0% |
| Kyle Van Noy | 416 | 50.9% |
| Dante Fowler Jr. | 476 | 50.7% |
| Markus Golden | 477 | 50.0% |
Pass rush feels like a series of one-on-one reps a lot of the time, but it can be a very harmonious thing across the defense. Whether through basic exchanging of gaps through stunts and twists up front or reacting to the pressure generated by other members of the defense, everybody's production is influenced to a degree by those around them. Dante Fowler Jr had Aaron Donald around him. Of his total pressure last year, 26.9% of it was clean-up pressure after somebody else had made the initial play. And while he did have 15 sacks, he had just three knockdowns with the vast majority of his pressure being slower-developing hurries, so his PFF pass-rushing grade was just 73.4 and ranked 32nd among edge rushers. Fowler still has youth on his side, and this was his best season to date, but unless Donald is coming with him wherever he goes, expect a marked regression in his play.
Another player whose sack and pressure totals don't necessarily tell an accurate story of his season, Markus Golden managed to hit double-digit sacks, and his 64 total pressures ranked 15th in the league — just behind Everson Griffen. The issue, though, is that fully half of that pressure was either clean up or pursuit pressure. It's not that these are bad plays — in some instances, they can be extremely noteworthy hustle plays — it's just that they aren't predictive of future performance in the way clean wins against a blocker are, and Golden struggled far more with that aspect of pressure. Injuries have robbed us of the player Golden was when he first burst into the league, and you now have to go back four seasons to find his very best play.
One-Year Wonder
Any time a player performs to an unusual degree in a contract year, it has to be something of a concern. And nobody did that more than Bud Depree in Pittsburgh this past year. Prior to this season, Dupree would have been seen as a first-round bust, having failed to post a PFF pass-rushing grade north of 61.0 in any season or register more than 50 pressures in a campaign. This year, he pushed that grade up to 76.0, or 15 grading points higher than his previous best, and registered 51 total pressures over the year while hitting five or more in a game four times over the season. Dupree has always had the athleticism, but this was the first year we saw any kind of production out of him, and that would ring alarm bells if I was operating the checkbook of an NFL team.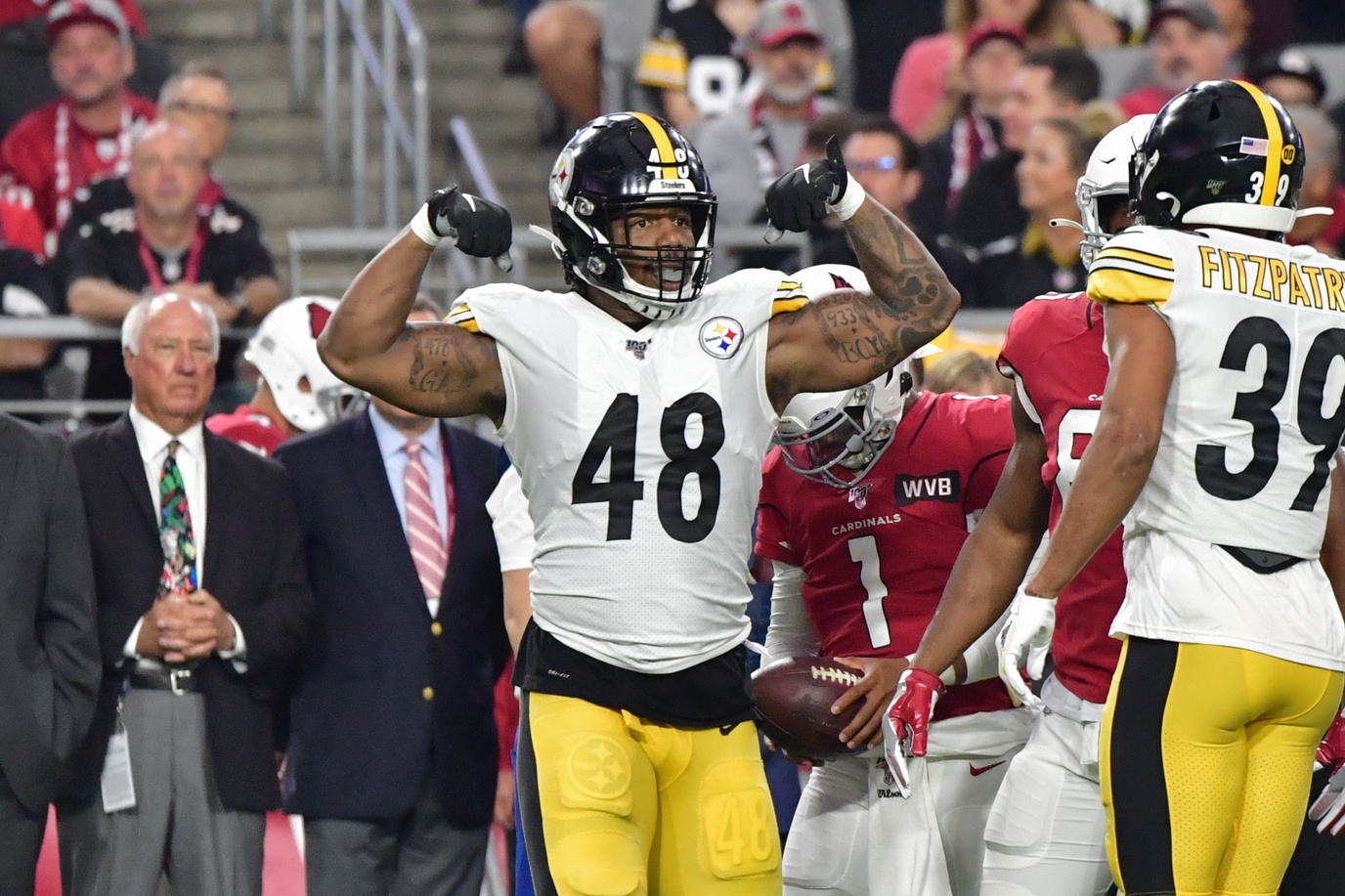 You could make the same kind of argument for Arik Armstead, but his 2019 was better, and his previous baseline was higher. His 89.8 overall PFF grade this season was the fourth best among all edge rushers (where he lined up the majority of the time, despite some interior ability), and he had 62 total pressures over the year. That is an elite performance by any standards, and it came with him seeing a greater percentage of snaps than he has before. But it represents a similar leap from his previous level to Dupree, with his best season before that either his rookie year of 79.0 (on 378 snaps) or his 2018 mark of 74.8 on 608 snaps. Armstead continued that good play into this season's playoffs, and I would be significantly more comfortable expecting his high level to continue than I would be with Dupree, but it remains a concern to bear in mind.
Kyle Van Noy has the added complicating factors of switching positions in his NFL career and thriving in the successful confines of New England. Fifty-eight total pressures in 2019 is by far the most of his NFL career, but this was his first season as a real full-time edge rusher, with his previous seasons seeing him split time there at best while playing the majority of his snaps as an off-ball linebacker. Teams will need to evaluate if he was just being deployed in the wrong position all these years before (including in New England) and also whether he can succeed outside of the Patriots organization when he has already failed to do so once before. Van Noy's performance this season was good enough to rank 20th overall among edge rushers, and in an inflated market, he could be seen as an attractive gamble in the second wave of free agency.
Father Time Is Knocking
Finally outperformed by his teammate in Minnesota, Danielle Hunter, Everson Griffen was still very productive in 2019. He registered 66 total pressures, which ranked 14th among all edge rushers, and just 15% of them were either unblocked or clean up plays, which is by far the lowest rate of any player with a significant number of pressures. Griffen, however, is 32 years old and is a couple of seasons removed from his best play. Teams will be asking themselves how much gas is left in the tank and how much they are willing to risk on him being able to tap that resource in 2020 and beyond.
Robert Quinn still owns the best true edge-rushing season PFF has seen. His 2013 performance was utterly phenomenal, seeing him earn a 93.6 overall PFF grade and register 91 total pressures, but he has never really hit those heights since. Complicating matters, he showed in the past few seasons that he isn't really an outside linebacker even though the differences between edge rushers in a 4-3 or 3-4 have become smaller by the season. Quinn is a player who needs his hand in the ground to be able to explode off the turf and attack a tackle with speed and burst off the line. And while this past season in Dallas was something of a career renaissance, it was still only good enough to earn a 78.3 PFF pass-rushing grade, some 15 points shy of his best play. He is now over 30 years old, and teams must be wondering if he will ever approach that level of impact again.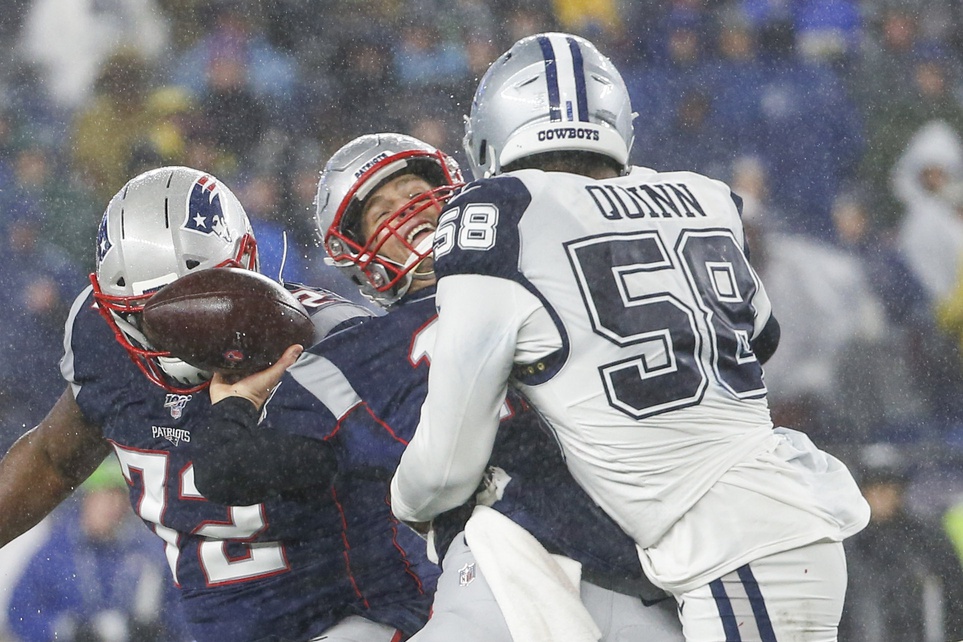 Even at his best, Jason Pierre-Paul was a very good rather than great player, and he hasn't really been at his best for a number of years. Last season saw him miss some time to start the season, but the second half of the year saw him register an impressive 44 pressures and at least post the kind of grade that suggested he wasn't declining as fast as his 2018 campaign may have suggested. At 31 years old, we're unlikely to see a dominant season out of JPP again, but maybe he can be added at a reasonable price and still contribute to a pressure-needy team.