Injuries are an unfortunate reality in the NFL. Some are easier to deal with than others; some see players return in time to right the ship and others derail the seasons of proven playmakers. The beauty of it is that, in most cases, there is next season to turn to — a chance for the injured player, or even just someone who played well below their expected standards, to redeem themselves. It's a chance to show the kind of value they can bring to the table when healthy.
These 10 players are in position to do just that next season, putting a disappointing 2019 campaign behind them to boost their team in 2020.
[Editor's note: Subscribe to PFF ELITE today to gain access to PFF's Premium Stats and new Player Grades experience in addition to the 2020 NFL Draft Guide, 2020 Fantasy Rookie Scouting Report, PFF Greenline, all of PFF's premium article content and more.]
The fact that the Steelers were able to go 8-8 last season, nearly making the playoffs, with only one-and-a-half games from Roethlisberger before a season-ending elbow injury is a testament to just how dominant their defense was. Mason Rudolph and Devlin "Duck" Hodges certainly weren't keeping them competitive. Over the course of the regular season, Steelers quarterbacks combined for the second-lowest passing grade in the NFL (48.6) and the fewest big-time throws (14).
We don't know exactly what Roethlisberger will look like coming off major elbow surgery at 38 years old, but it's bound to be a significant upgrade over what the Steelers had to work with last season, particularly if he truly does feel as good as he has in years. In his last two full seasons of action, Roethlisberger finished with PFF grade ranks at quarterback of fourth in 2017 (86.5) and 15th in 2019 (78.2), leading all players in big-time throws (76) over that two-year stretch. If he gets back to playing at a high level from the jump, he has as good a chance as anyone of winning Comeback Player of the Year.
Do you get extra points for returning from retirement rather than injury or poor play? There is a lot of projection work being done here. We don't know how often Gronkowski will play after taking the 2019 season off. The Buccaneers could opt to use him as a matchup weapon in certain situations rather than a full-time starter with O.J. Howard and Cameron Brate still in the fold, but if Gronkowski does step right back into a full-time role with his long-time partner Tom Brady, he's going to put up big numbers.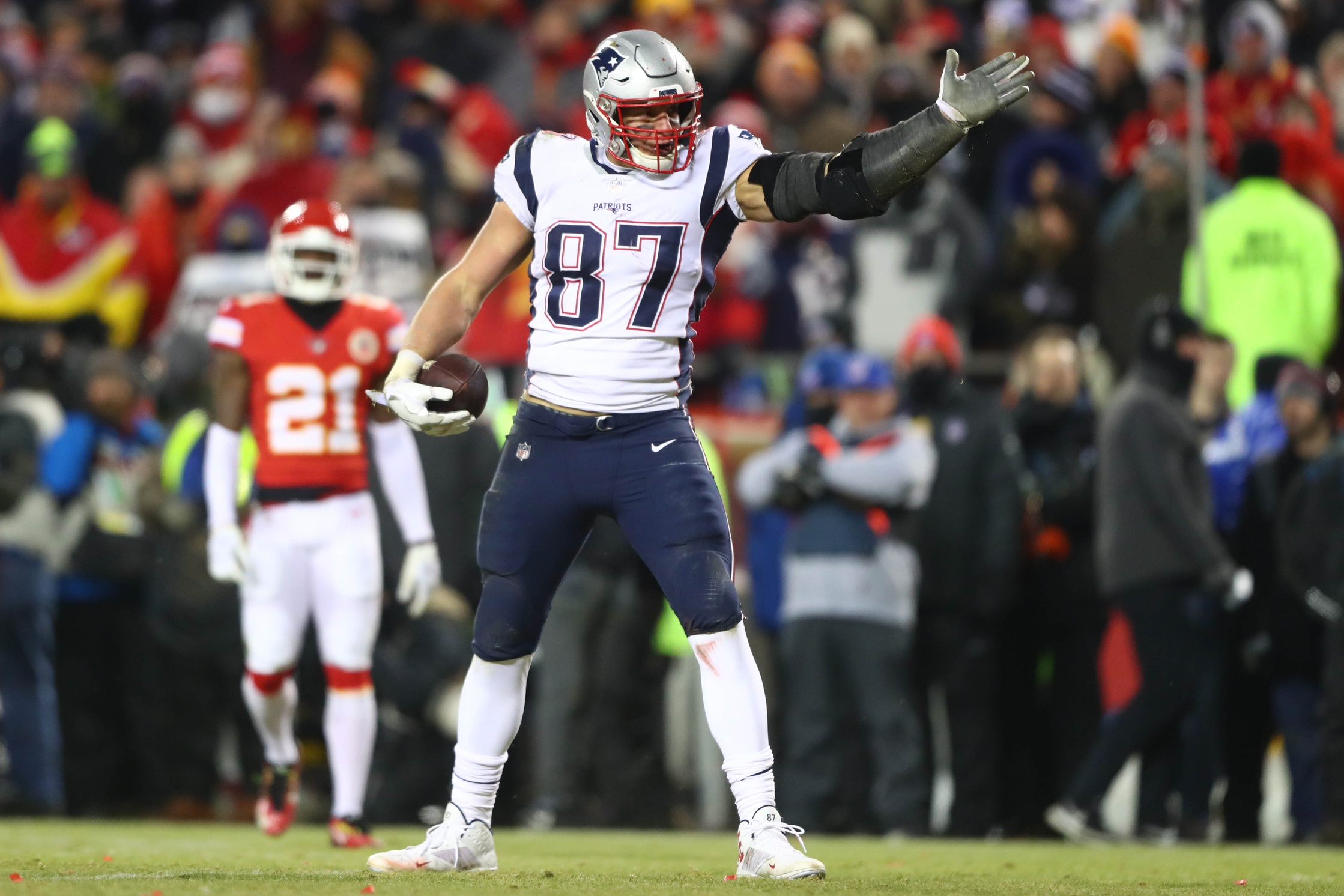 Sure, Gronk had a down year in his last season (2018), as injuries had seemingly begun to take their toll on his body, but he still earned a 75.2 grade on the season (11th among tight ends) and showed up on the big stage in Super Bowl LIII.
From 2010 to 2019, Gronkowski earned more than half of a win above replacement over any other tight end despite not playing in 2019. His 235 regular-season receptions of 15 or more yards over that same 10-year stretch were 45 more than any other player at the position. Simply put, Gronk was dominant at his peak. It's not all that likely the Buccaneers will be getting "peak" Gronkowski, but that doesn't mean they aren't still getting a very good football player.
The Lions' record early in the 2019 season may not have reflected how well they were playing, particularly offensively. Through the first nine weeks of the campaign (with Stafford at quarterback), they ranked fifth in expected points added per pass play. Stafford was thriving in a scheme that allowed him to push the ball downfield with reckless abandon, ranking eighth in PFF grade among quarterbacks from Week 1 to Week 9 and doing so with an average depth of target of 11.4 yards (highest in the NFL).
Stafford once again will have some quality receivers around him in the passing game with Kenny Golladay, Marvin Jones Jr., Danny Amendola, T.J. Hockenson and the rookie additions of D'Andre Swift (PFF's top pass-catching running back in the class) and Quintez Cephus. If he puts together a complete season of that early 2019 success, there's no reason Stafford can't take home this award for the second time.
The injuries that Watt has dealt with over the past several seasons have put a bit of a damper on what has been a truly elite career. Before Aaron Donald came around, Watt was the unblockable force who was re-writing PFF's record books, picking up 83, 85, 119 and 94 quarterback pressures in consecutive seasons from 2012 to 2015 when you include the postseason. He was on his way to another dominant showing in 2019 before a torn pectoral muscle put that season to a halt.
Through the first eight weeks of the 2019 season, Watt ranked sixth among qualifying edge defenders in PFF grade and first in total pressures (52). His 25.3% pass-rush win rate sat behind only Myles Garrett. Remarkably, Watt was able to return for the postseason, but things weren't quite the same as pre-injury. A full season of the kind of play Watt delivered over the first eight weeks last year would result in some big-time numbers, giving him a good chance of bringing home this award.
It's been some time since we've seen a full season out of Green at this point. In fact, he's played at least 700 offensive snaps just twice in the past six years after missing the entire 2019 season with injury. However, he is in prime position to return to what should be an improved Bengals' offense in 2020 with No. 1 overall pick Joe Burrow at the helm and remind everyone that he is a top-five wide receiver talent when healthy.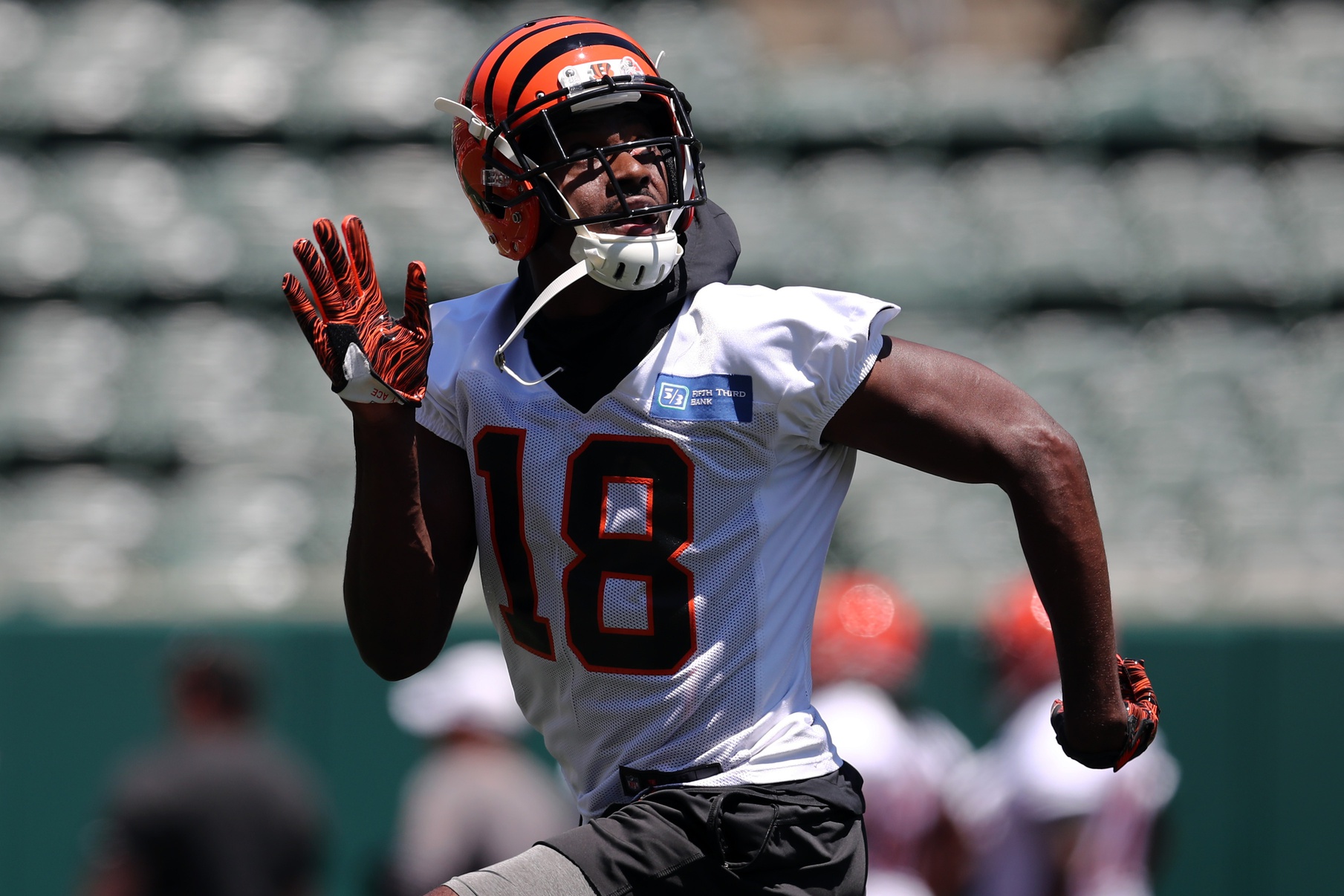 Green has earned overall grades above 80.0 in each season he has played bar his rookie campaign in 2011. He can do it all as a true primary option in the passing game. His 3,273 receiving yards on passes 20 or more yards downfield rank third among all wide receivers since 2011 — even with that lost time due to injury — and his 85.1 red-zone receiving grade ranks tops among all qualifiers in that same time frame. A healthy Green will serve as Burrow's best friend as he acclimates to the NFL.
It's safe to say that things certainly didn't go as planned for Foles with the Jacksonville Jaguars. Injuring himself early in his first career start and then losing the starting job multiple times to sixth-round rookie Gardner Minshew is not what was supposed to happen after signing a massive contract. He'll get an opportunity to redeem himself in Chicago after the Bears traded for him to compete with Mitchell Trubisky — a job that Foles should end up winning.
If Foles' career has taught us anything to this point, it's that there is a wide range of outcomes. The Bears could be getting the guy that put up a 58.8 overall grade as a starter for the then St. Louis Rams in 2015. Alternatively, they could be getting the guy who became a folk hero in Philadelphia for leading the Eagles to a Super Bowl win with back-to-back 90.0-plus overall grades in the NFC Championship game against the Minnesota Vikings and the Super Bowl against the New England Patriots. There is enough talent on Chicago's roster to where Foles could put up a decent season and the Bears could get closer to the result we saw from them in 2018 rather than 2019. That would position Foles well to be a contender for this award.
I don't care that James has played only one full season. I'm ready to say that he is one of the best defenders in the NFL. The versatility that he brings to the table — the ability to do a lot of things very well — is a cheat code of sorts for the Chargers' defense. It's something they clearly missed for much of last season.
As a rookie in 2018, James played at least 200 snaps in the box, in the slot, at free safety and as an edge rusher on the line of scrimmage. He was able to put up 80.0-plus grades as a run defender, pass rusher and coverage defender while balancing those different roles, and he was back to playing at a high level upon his return from injury last season. James earned an 82.5 overall grade on just under 300 defensive snaps in 2019. The Chargers have some serious talent on their roster, but you could make the argument that James is the most talented player on the team. His return in 2020 will be a huge boost for Los Angeles.
If Mayfield were to win the award, it would come in more of the Tannehill vein of bouncing back from a poor year in the previous season rather than missing time due to injury. To be fair, Mayfield wasn't great last season — certainly taking a step back from what we saw as a rookie — but he was also on the receiving end of some bad luck. He ended the year ranked 18th out of 32 qualifying quarterbacks in overall grade, and yet, he ranked 31st in a traditional statistic like passer rating (78.8). That signals there is a good chance for positive regression in 2020, particularly if Kevin Stefanski puts Mayfield in positive positions like he did with Kirk Cousins in Minnesota last season.
The Los Angeles Rams released Gurley this offseason, eating over $20 million in dead money. A productive bounce-back season as the lead back on a Falcons' offense that certainly has some talented pieces would at least put him in the conversation for this award.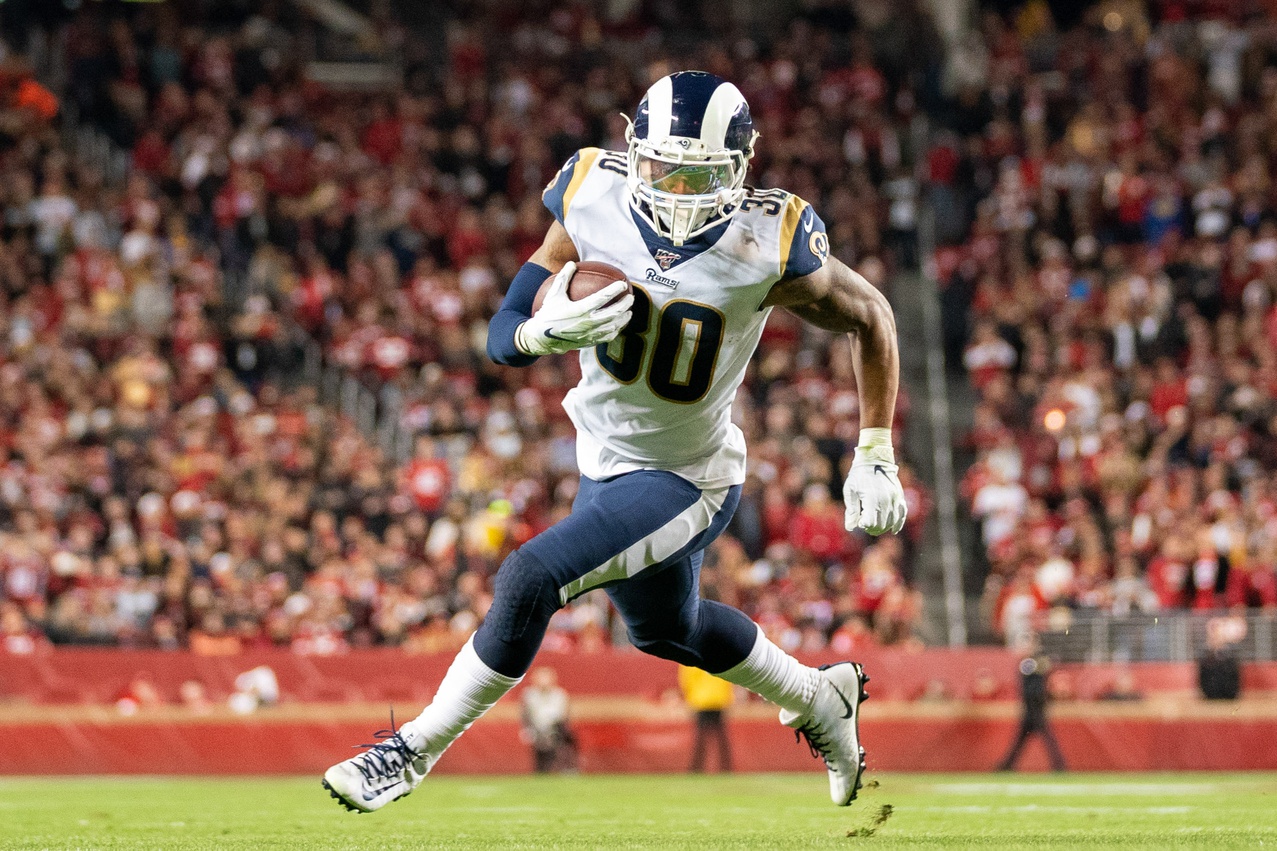 The big question with Gurley is how much his chronic knee injuries will continue to limit him from getting back to the player we saw in 2017. As much as the yards-per-carry numbers may tell you otherwise, Gurley was still an effective runner behind a very bad Rams' offensive line last season (79.1 rushing grade), but he added next to nothing in the passing game (34.8 receiving grade). That is really where he excelled and added value for the Rams in 2017 and at the beginning of the 2018 season. Expect him to put up improved numbers in Atlanta next season, whether or not he can ever fully get back to top-of-the-league form.
It's not often you transition from a 13-year starter who should be Canton bound (Joe Staley) to another Hall-of-Fame talent in Williams, but that's exactly what the 49ers got with the trade to bring him in. Williams was finally granted his trade after sitting out the entire 2019 season, and now, he gets the chance to show he is still one of the game's top left tackles.
He graded out at 75.0 or higher in every season from 2011 to 2018 with 80.0-plus grades from 2012 to 2017. Both as a pass protector and run blocker, there are few tackles in the NFL who come close to the kind of production Williams has generated. On what should be one of the better teams in the NFL — a team that relies heavily on the offensive line in the ground game — he makes some sense as a candidate to get back to All-Pro status and contend for this award.