Each offseason, NFL teams spend both time and money looking to improve on their greatest areas of deficiency. When resources are dedicated to making those necessary improvements, teams are often rewarded with a reversal of fortune; areas of weakness become areas of strength.
These are four teams that are expected to make the biggest improvements in their biggest areas of weakness from 2019.
Subscribe to PFF's EDGE or ELITE subscriptions to get access to the following tools, charts, etc. 
– All Premium Article Content
– Fantasy Football Rankings & Projections
– Fantasy Football Draft Guide, Cheat Sheets & Advanced Stats
– Fantasy Football Mock Draft Tool (DraftMaster)
– Fantasy Football Strength of Schedule Matrix
– NFL Player Grades
– NFL Premium Stats
The Philadelphia Eagles fielded one of the least-productive wide receiver corps during the 2019 regular season. Starting receivers DeSean Jackson and Alshon Jeffery missed a combined 19 games last season due to injuries. Without the services of Jackson and Jeffery, the Eagles' wide receiver production plummeted to league-low totals in several critical areas.
Eagles WR Production in 2019
| | | |
| --- | --- | --- |
|   | Stat | Rank |
| Receiving Grade | 61.7 | 32nd |
| Yards Per Route Run | 2.43 | 32nd |
| Yards After Catch Per Rec. | 3.3% | 31st |
| Missed Tackles Forced | 7 | 32nd |
| Explosive Plays (15+ Yds) | 30 | 32nd |
| Deep Rec. Grade (20+ Yds) | 71.4 | 29th |
Last year's struggles compelled the Eagles to add more speed on the perimeter, and they did exactly that. Philadelphia used three of its 10 draft picks on wide receivers — first-rounder Jalen Reagor, fifth-rounder John Hightower and sixth-rounder Quez Watkins. Similar to 33-year-old veteran DeSean Jackson, both Reagor and Hightower possess a combination of speed and quickness to help create explosive pass plays that were lacking in 2019. The Eagles' 2018 second-round selection, J.J Arcega-Whiteside, fell short of expectations last season with a 57.6 receiving grade and zero touchdowns in 16 games.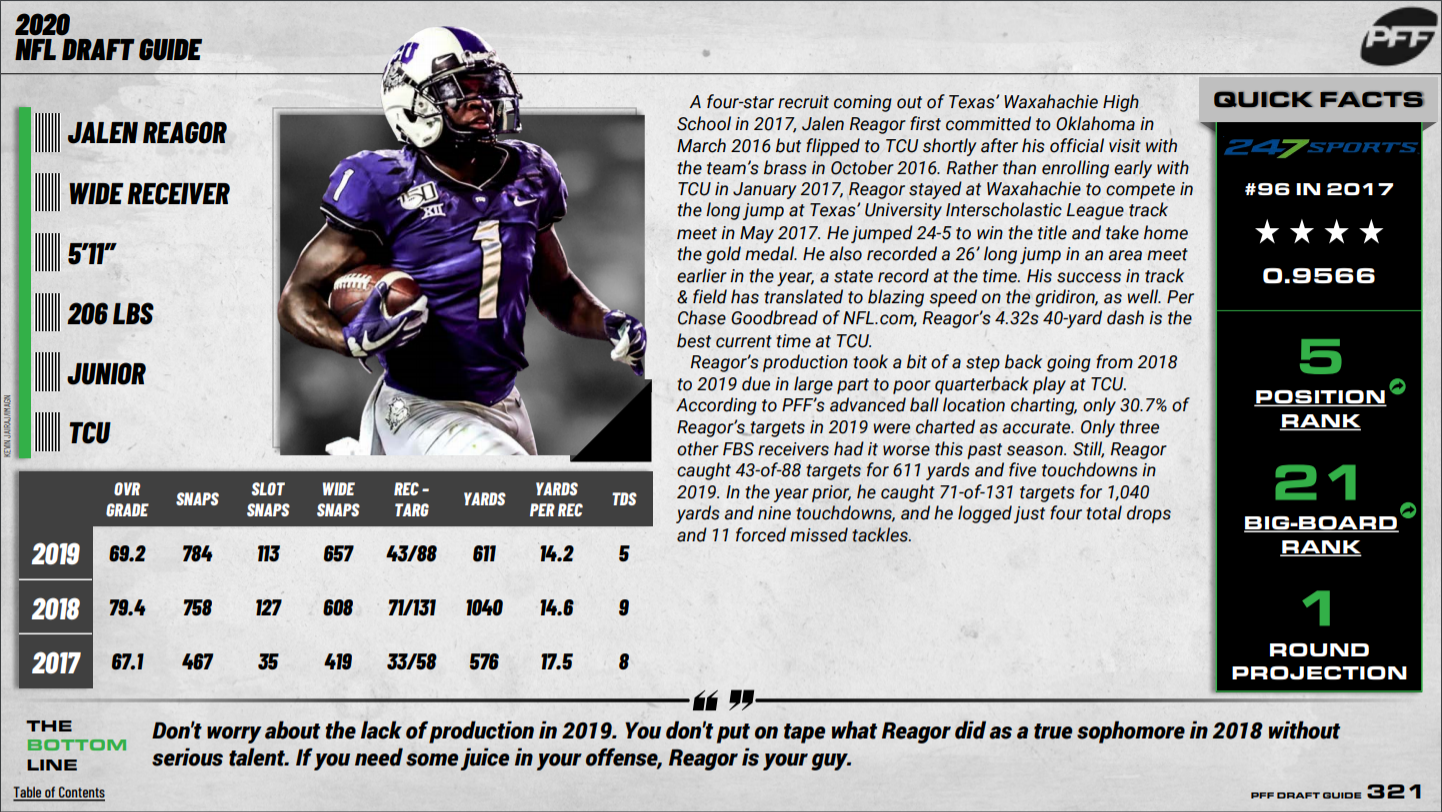 Tight ends Zach Ertz and Dallas Goedert hauled in 37.6% of quarterback Carson Wentz's 388 completions and 40% of his 27 touchdown passes last year. The Eagles used a rotation of nine players at wide receiver in 2019, and that group scored a combined  11 touchdowns — equivalent to the total amassed by Ertz and Goedert. A return to health for Jeffery and Jackson will also mean a return to productive play for both. The youthful talents of Reagor, Hightower and Arcega-Whiteside must find a way to flourish without having access to a full offseason program due to COVID-19.
Last season, the Denver Broncos failed to surround their quarterbacks with enough explosive playmakers who could produce on offense. Their skilled players managed to produce only 75 plays of 15-plus yards, which ranked 28th, and a league-low 16 receiving touchdowns. The team's group of seven wide receivers produced 3.61 yards per route run (27th), with Courtland Sutton generating 46% of the group's 154 receptions. While Sutton finished the 2019 season with a 13th-ranked receiving grade of 80.5, no other Broncos wide receiver finished with a grade among the top 90 players at their position.
The Broncos should expect to see a spike in production after adding wide receivers Jerry Jeudy and K.J Hamler in the first and second rounds of the 2020 NFL Draft. Both players have elite vertical speed, proven by their 80.0-plus receiving grades on deep routes in 2019.
Jerry Jeudy and K.J. Hamler Receiving Stats in 2019
| | | |
| --- | --- | --- |
| | Jerry Jeudy | K.J. Hamler |
| Receiving Grade | 86.8 (28th) | 71.6 (T-129th) |
| Yards Per Route Run | 3.30 (17th) | 2.48 (T-66th) |
| Drop Rate | 8.3% (T-159th) | 15.5% (247th) |
| Contested Catch Rate | 50.0% (T-73rd) | 36.4% (T-179th) |
| Deep Receiving Grade | 89.8 (62nd) | 89.6 (T-65th) |
| YAC/Per Reception | 7.8 (T-33rd) | 6.7 (T-55th) |
| 40 Times | 4.4 | 4.3 |
*Ranks among qualifying college wide receivers in 2019
The return of standout receiver Courtland Sutton and his fourth-ranked 16 missed tackles forced last season will provide some familiarity on the perimeter for second-year quarterback Drew Lock. Tight end Noah Fant could add to his credentials as the most productive player at his position in the 2019 NFL Draft.
Noah Fant's 2019 Season | Ranks Among Rookie TEs
| | | |
| --- | --- | --- |
|   | Stat | Rank Among Rookie TEs |
| Receiving Grade | 61.4 | 9th |
| Targets | 59 | 1st |
| Receptions | 40 | 1st |
| Explosive Plays of 15+ Yards | 16 | 1st |
| Missed Tackles Forced   | 6 | 1st |
| First Down/TD % | 65% | 1st |
Several teams in 2020 could look to mimic the San Francisco 49ers' successful running back trio from one year ago, and the Broncos now have that option after adding Melvin Gordon III.
Philip Lindsay returns after posting PFF's fifth-best rushing grade (87.8) over the past two seasons among running backs with a minimum of 200 attempts. During the same time span, Royce Freeman has ranked in the top 25 in missed tackles forced per attempt (0.15) and yards after contact per attempt (2.9). Gordon will join Lindsay and Freeman in the Broncos' backfield after ranking third in both rushing grade (78.4) and first down/touchdown percentage (25.8%) among backs with a minimum of 1,000 attempts over the past five seasons.
Despite finishing the 2019 season with PFF's third-best team coverage grade (91.2), the Minnesota Vikings were keenly aware of their under-performing group of cornerbacks. Former first-round picks Trae Waynes (61.6 overall grade/65th), Mike Hughes (59.6/75th) and Xavier Rhodes (44.7/111th) all failed to grade among the top 50 cornerbacks in 2019. And former second-round selection Mackensie Alexander managed only a 64.1 coverage grade (60th) last season while contributing to the group's sluggish performance.
Minnesota Vikings Cornerback Group in 2019
| | | |
| --- | --- | --- |
| | Stat | Rank |
| Coverage Grade | 53.4 | 28th |
| Completion % Allowed | 72.7% | 32nd |
| First Downs + TDs Allowed | 141 | 32nd |
| Forced Incompletion %  | 11.2% | 17th |
| Pass Rating Allowed | 103.1 | 22nd |
With first-round pick Jeff Gladney and third-round selection Cameron Dantzler, the Vikings expect a complete turnaround for their cornerback group in 2020. Gladney is a feisty player who competes on every play. He allowed 5.3 yards per attempt and a 41.5% completion rate on 130 targets during his final two seasons at TCU. Meanwhile, Dantzler held opposing quarterbacks to a 45% completion rate and a total of 36 receptions on 80 targets in his final two seasons at Mississippi State.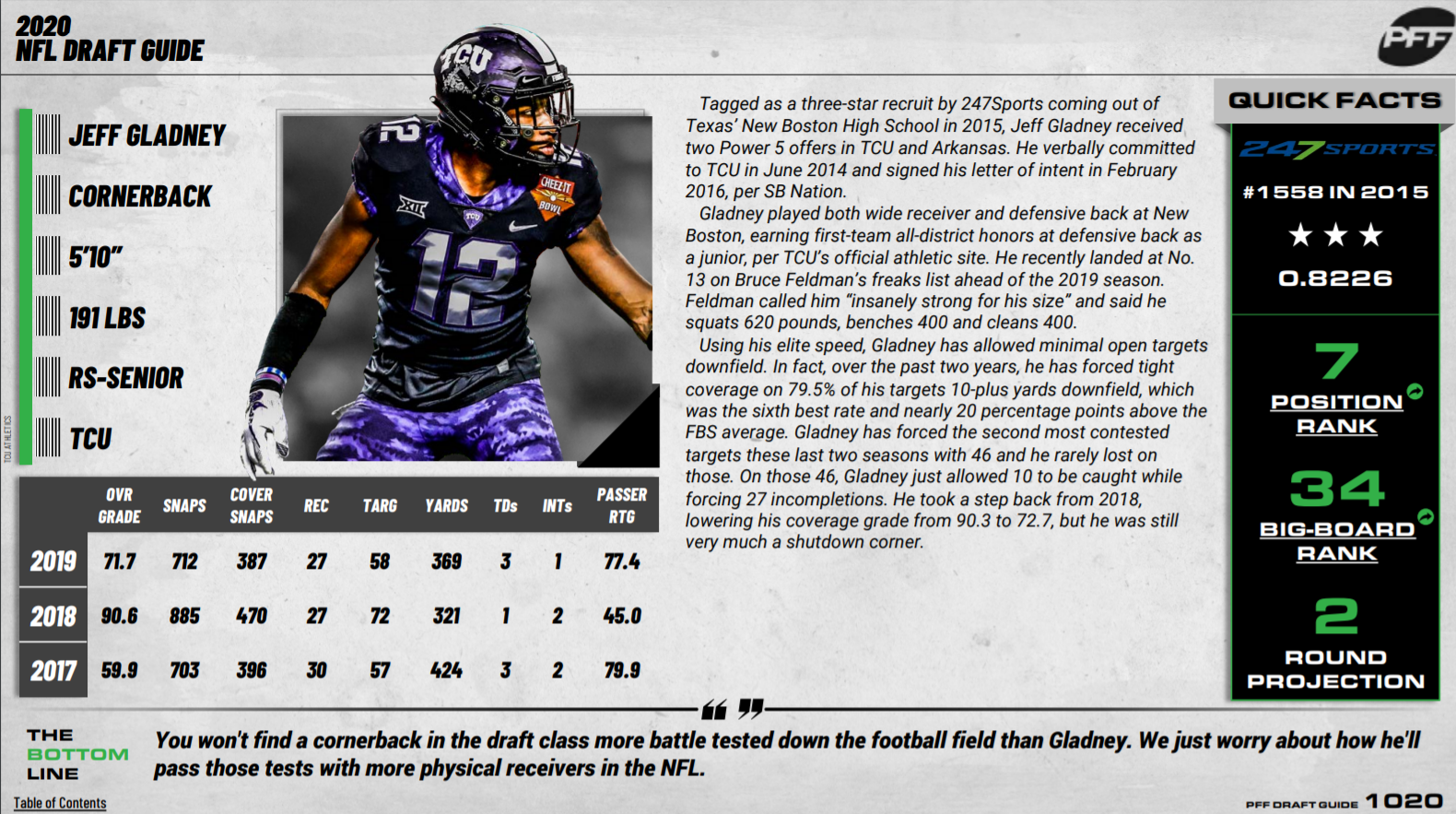 Both rookie corners will need to quickly adapt to Mike Zimmer's defense, which relies on a heavy dose of man coverage on the perimeter. MIke Hughes, the team's2018 first-round pick, will return for his third season and join PFF's top-rated safety tandem in Anthony Harris (91.6) and Harrison Smith (91.4) from one year ago. The Vikings' new additions will complement their elite safeties to retool a secondary that has already proved its dominance as one of the league's top coverage units.
Despite the Cleveland Browns' offensive line paving the way to PFF's top-ranked team rushing grade (88.8) last season, pass protection proved to be a much more difficult task. More specifically, Browns offensive tackles Greg Robinson and Chris Hubbard were the weakest links in the team's pass protection scheme, failing to provide a safety net for quarterback Baker Mayfield.
In 2019, Robinson and Hubbard combined for 42.3% of the quarterback pressures allowed by the Browns' offensive line (151). While pass protection on the perimeter can be more difficult, the Browns' offensive tackles performed much worse than the interior portion of the line last season.
Cleveland Browns 2019 Pass Protection
| | | |
| --- | --- | --- |
| | Offensive Tackles | Interior Linemen |
| Pass-Blocking Grade | 62.6 (30th) | 81.4 (1st) |
| QB Pressures Allowed | 82 (19th) | 69 (8th) |
| Pressure Rate | 13.7% (22nd) | 11.6% (10th) |
| Sacks Allowed | 13 (19th) | 7 (9th) |
| Beaten by Defenders | 46 (21st) | 21 (2nd) |
The inequities between the offensive tackles' and the interior members' performances in pass protection was immediately addressed this offseason. Robinson's overall grade ranked 45th out of 93 tackles with a minimum of 100 snaps, so the Browns used their first-round pick on Alabama's Jedrick Wills to serve as his replacement. Hubbard fell even lower in the rankings (64th) after allowing 38 quarterback pressures (78th), prompting the Browns to sign Jack Conklin in free agency.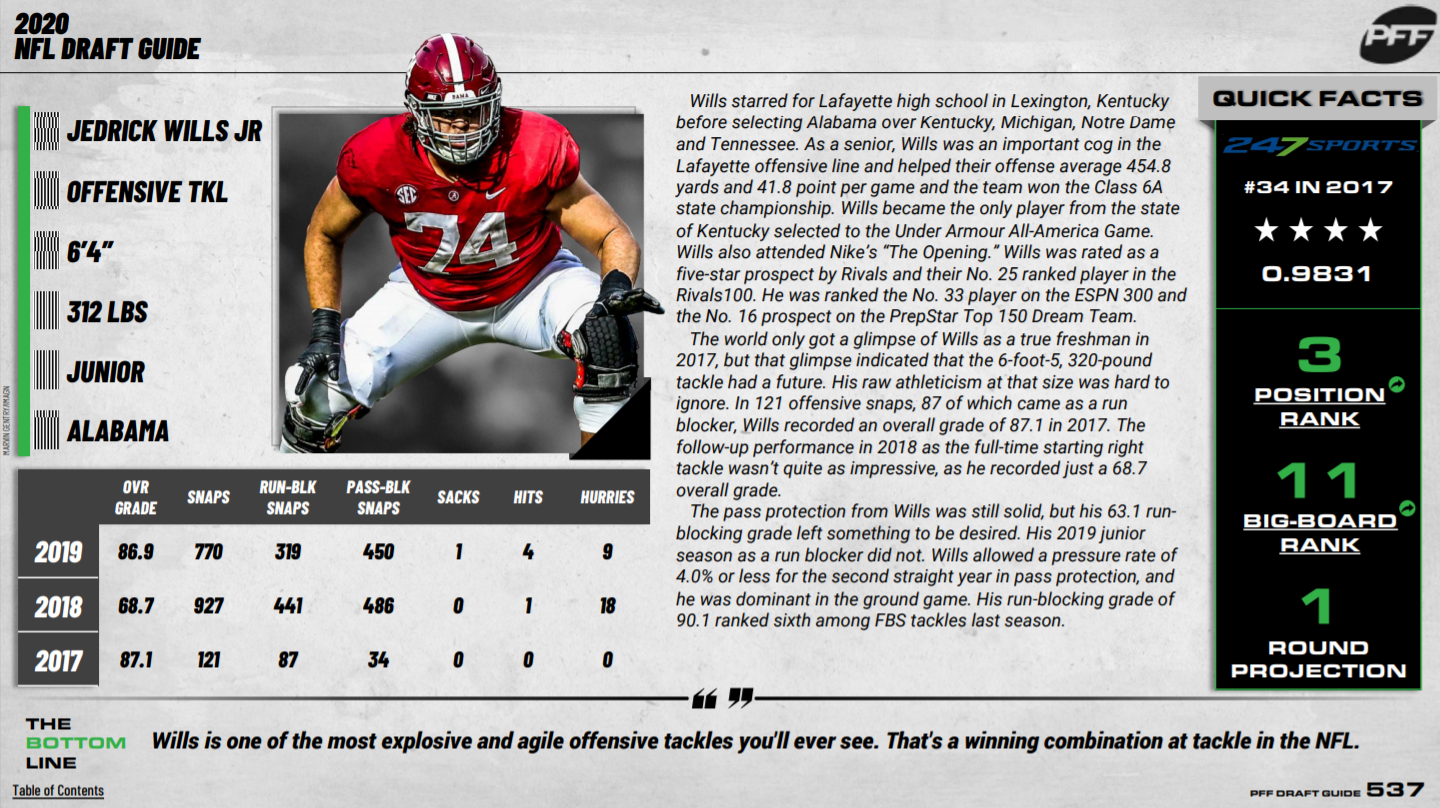 Alabama's Jedrick Wills is an explosive and agile player who played all 760 snaps last season at right tackle, so it will take him some time to adjust as a left tackle in the NFL. He excels in run blocking (90.1) and is also known to anchor well against a bull rush in pass coverage.
Conklin's 38th-ranked pass-block grade (72.3) last season offers an upgrade over Hubbard. He is a traditional right tackle who excels primarily in the run game, where his powerful base helped fuel the Tennessee Titans' run game in 2019. Conklin may require some help in pass protection, but his 80.5 run-blocking grade ranked sixth among tackles. The Browns are expected to lean more heavily on the run while working in Kevin Stefanski's new offense in 2020, which would bode well for road graders like Wills and Conklin.