On Friday, May 27, the Cleveland Browns gave franchise-tagged tight end David Njoku a four-year, $56.75 million deal that includes $28 million in guarantees.
Given the former first-round pick's lack of career production to this point — having turned 239 career targets into just 1,820 receiving yards and 15 touchdowns, including the playoffs — the eyebrows of some very respected people were raised:
That is an awful signing by the #browns.

— Jason_OTC (@Jason_OTC) May 27, 2022
That $28 million in guarantees is the fifth-most among tight ends, even though Njoku's PFF WAR of 0.77 wins ranked 21st among tight ends from 2017 to 2021. And that performance is worth roughly $8 million per year in 2022 cap dollars.
Travis Kelce (2.88), George Kittle (1.82), Zach Ertz (1.70), Rob Gronkowski (1.60) and Mark Andrews (1.45) are the top five in PFF WAR.
The Browns were already on the hook for Njoku's modest franchise tag number of $10.9 million but ate into their league-leading $23 million in effective cap by re-signing star edge player Jadeveon Clowney this week, meaning that the flexibility of extending Njoku presented some value to them.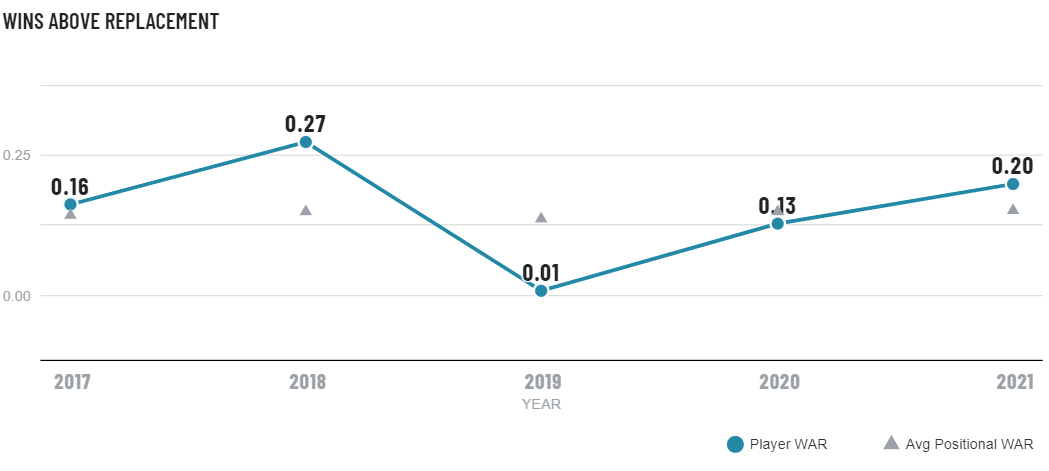 In this article, I want to discuss the Browns' possible thought process in giving Njoku such a rich deal:
Tight Ends Take Longer to Develop Than Other Players
I alluded to this idea in a tweet recently, but the tight end position is littered with players who took longer to perform up to expectations.
My colleague Timo Riske did excellent work on age curves, which showed that tight ends accumulate the lowest percentage of their career WAR (40%) before the age of 25 (Njoku is currently 25 years old) and the highest percentage of their career WAR after the age of 30 (19%).
Jason Fitzgerald of Over The Cap did an informative study on the premium-ness of positions by essentially going through the 20 highest-paid players at the position and determining what percentage of those players were available via free agency. Tight end was one of the least premium positions, in large part because even top players readily changed teams after their rookie deal.
Anecdotally, while the San Francisco 49ers were able to capitalize on the late bloom of Vernon Davis' career, the list of players at the position who were drafted by one team but made their biggest contribution to another team is quite vast: Visanthe Shiancoe, Benjamin Watson, Delanie Walker, Jared Cook, Martellus Bennett, Charles Clay, Greg Olsen, Eric Ebron and Vance McDonald are all recent examples.
The proverb from the Fitzgerald study speaks less to the mistake of paying guys like Njoku too much and more to drafting them too high in the first place.
The current Browns regime — while not the regime that made the mistake of selecting Njoku too high — is likely going out of its way not to be yet another franchise that drafts another's franchise tight end.
A Characteristic of Late Blooming Tight Ends is Athleticism, and Njoku is a Freak
At PFF, we've built an athleticism score for each player in each facet of play, which uses a combination of NFL Scouting Combine and pro-day data along with principal component analysis to determine how many standard deviations a player's PFF grade would be if we knew only the combination of his size, athleticism and age at the draft.
Njoku's reading is the best we've done in the PFF era, as he combines elite length with explosiveness and speed at the position: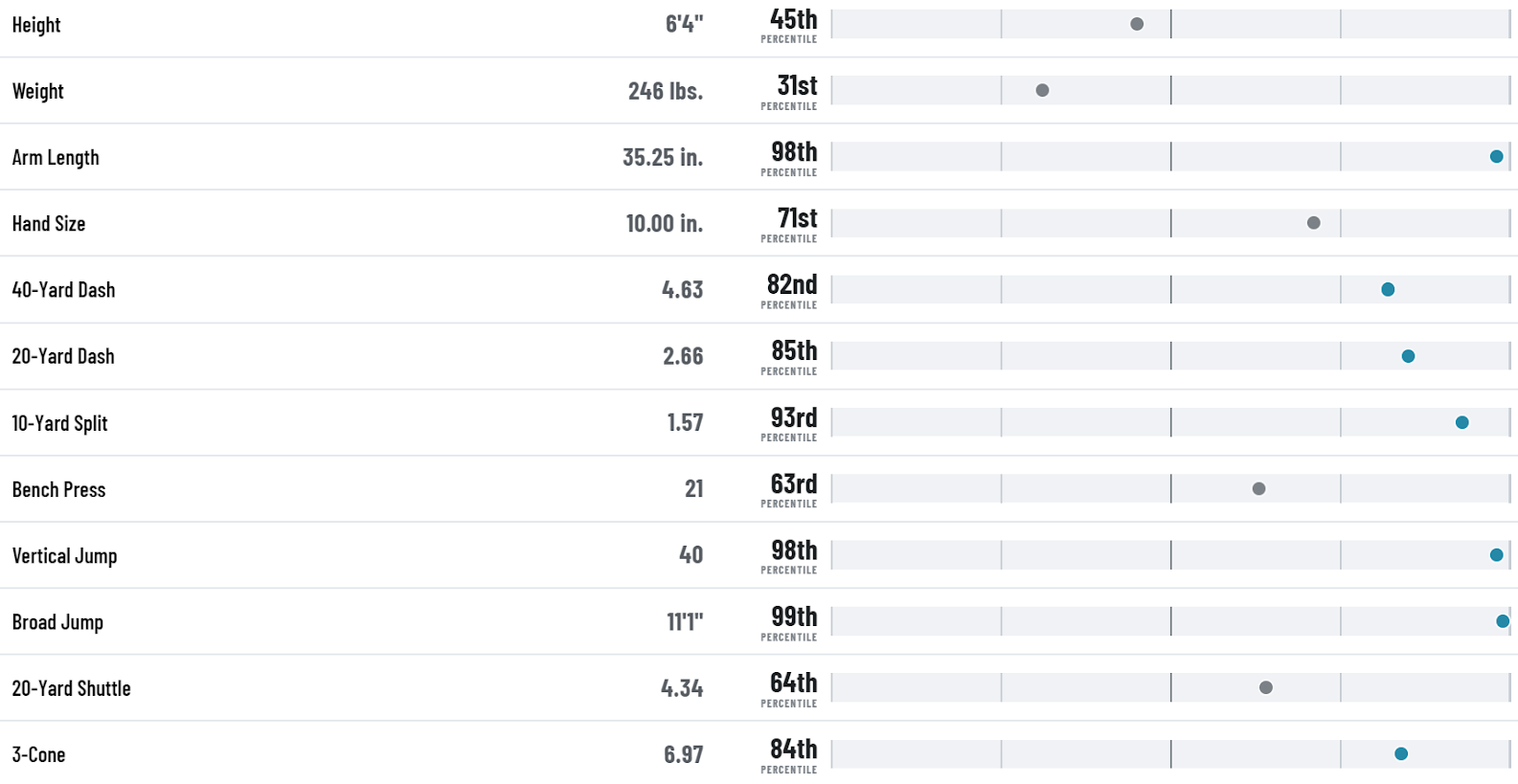 His athleticism score of 3.1 (99th) percentile is higher than all of the aforementioned players listed in the previous section, but each of them was a great athlete in their own right:
• Vernon Davis famously ran a 4.38-second 40-yard dash at the 2006 NFL Scouting Combine and also vertical jumped 42 inches.
• Visanthe Shiancoe ran a 4.68-second 40-yard dash out of Morgan State, with a vertical jump of 39.5 inches.
• Benjamin Watson ran a 4.50-second 40-yard dash coming out of Georgia.
• Delanie Walker ran a 4.49-second 40-yard dash coming out of Central Missouri State.
• Jared Cook ran a 4.49-second 40 and vertical jumped 41 inches out of South Carolina.
• Martellus Bennett's 1.53-second 10-yard split is in the 99th percentile of tight ends.
• Charles Clay ran a 4.69-second 40-yard dash and recorded a 93rd-percentile short shuttle.
• Greg Olsen ran a 4.51-second 40-yard dash coming out of Miami, with a 38-inch vertical jump.
• Eric Ebron's athleticism score was 2.3, which is in the 99th percentile of tight ends.
• Vance McDonald ran a respectable 4.69-second 40 coming out of Rice in 2013.
While this list is neither predictive nor exhaustive in the process of trying to understand the thought process of the Cleveland Browns in giving Njoku this big deal, it is instructive.
In another piece, Timo Riske showed that more athletic players tend to age better. And while this trend is less pronounced for tight ends, it might be another in a collection of reasons why the Browns are betting on Njoku.
Conclusion
The Cleveland Browns are at an interesting crossroads in terms of their team building. The totality of the bill is not really due — from a cap perspective — on quarterback Deshaun Watson, but they will not be able to acquire cheap, young talent at premium positions as readily as they had in the past due to the trade to acquire him.
Njoku represents the fourth player this calendar year that the Browns have given a big deal to that doesn't play a premium position, with Nick Chubb, Joel Bittonio and Wyatt Teller the others, which I think is something to monitor vis-à-vis the success of this signing.
Ultimately, when viewing this deal from the "average outcome" perspective, this is very much the overspend that it appeared to be at first blush. However, given the history of the tight end position, the justification is that the Browns are buying the tail of the distribution here — and that tail is fat.