When it comes to team-building season, every NFL team must assess both free agency and the draft in order to fill out needs and add value to their franchise.
Free agency has a direct impact on each team's draft strategy, and the best organizations assess both places when it comes to filling out the roster. Teams never want to go into the draft with needs to fill, so it's crucial for teams to round out the roster in March before they focus on finding the best and most valuable players in April's draft. Here's a look at each position group with a relative measure of strength in both free agency and the draft.
[Editor's Note: All EDGE and ELITE subscribers have full access to our free agency database, including rankings, grades, PFF WAR and contract projections! Subscribers also have access to the PFF 2020 NFL Draft Guide, which consists of over 750 pages loaded with background information, analysis, advanced statistics, grades, round projections, player comparisons and more. Subscribe today!]
Quarterback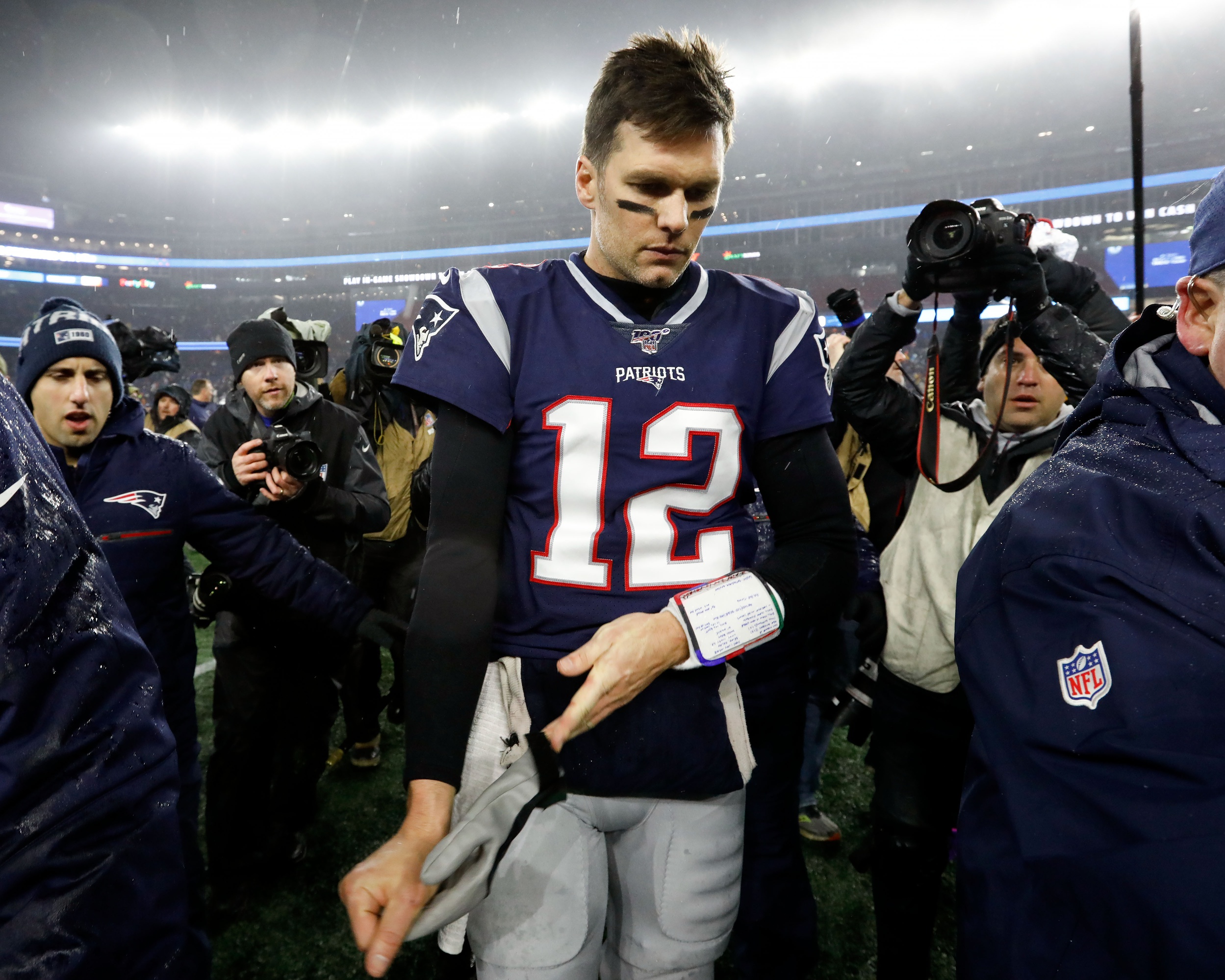 Players on PFF Top-100 Free Agency Board: 8
Players on PFF Top-100 on Draft Board: 5
Free Agency: It's a historic year for quarterback talent hitting free agency, starting with legends like Tom Brady and Drew Brees and rounding out with legitimate starters like Dak Prescott, Philip Rivers, Ryan Tannehill and Jameis Winston. When you add Marcus Mariota and Teddy Bridgewater to the mix, about one-quarter of the top 32 quarterbacks in the world are on the open market this offseason, and that's not including the trade rumors that are currently surrounding Panthers QB Cam Newton and Bengals QB Andy Dalton. Other than those at the top of the draft, this is the year for teams to look outside the organization if they want to turn around their quarterback position.
Draft: The top of the draft is clear with LSU's Joe Burrow and Alabama's Tua Tagovailoa as the consensus top options, but things get fuzzy after those top two. Oregon's Justin Herbert has his fans, but his production screams risky if selected in the top half of the first round. The same is true for Utah State's Jordan Love, while Georgia's Jake Fromm doesn't impress from a tools standpoint when compared to other first-round hopefuls. For teams getting a veteran quarterback, Washington State's Anthony Gordon is a name to watch as a hedge, as his production screams mid-round sleeper, and he has enough arm to make an impact at the next level.
Running Back
Players on PFF Top-100 Free Agency Board: 4
Players on PFF Top-100 on Draft Board: 6
Free Agency: There's never a great place to spend draft capital or money on a running back, and this year's class is no different. Derrick Henry will likely be overpriced after his performance as a part of the Titans' AFC Championship run (so buyer beware) and Melvin Gordon III is a good back in his own right, but it's always risky to invest long-term in second contracts. The usual, safe course of action is raiding the bargain bin of running backs, particularly those with receiving skills such as Redskins RB Chris Thompson.
Draft: Most high-level PFF research suggests that taking a running back before Round 4 is risky at best, and our draft board generally reflects this view with only six making the top 100 and Georgia's D'Andre Swift holding the top spot at just 67 overall. Utah's Zack Moss makes defenders miss as well as any running back in the class, while Wisconsin's Jonathan Taylor will produce in any scheme with his excellent combination of size, power and speed. LSU's Clyde Edwards-Helaire is also difficult to tackle, so don't let a 4.6-plus 40 take away from his all-around ability with the ball in his hands. Overall, it's a solid group of Day 2/Day 3 options in this year's draft.
Wide Receiver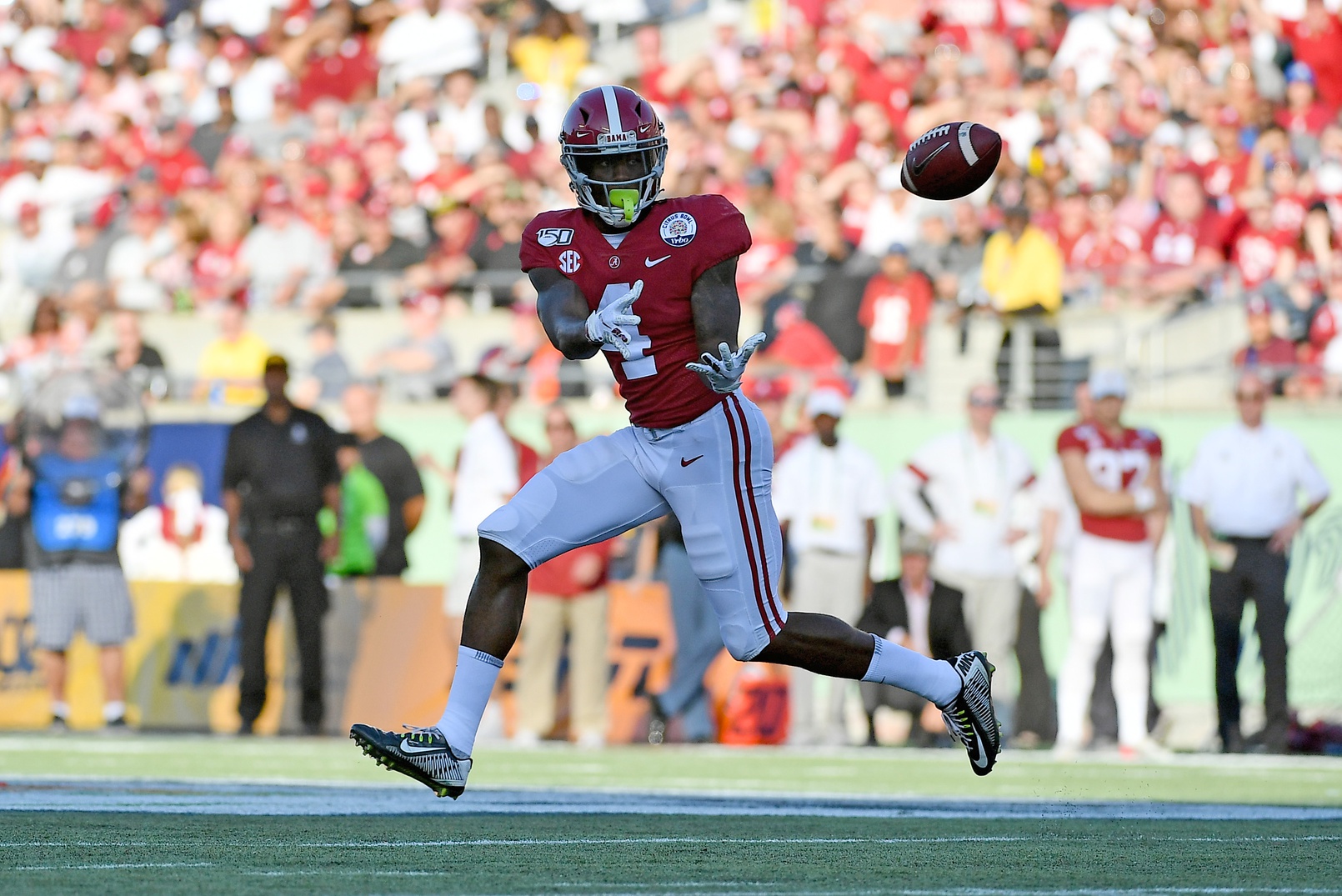 Players on PFF Top-100 Free Agency Board: 9
Players on PFF Top-100 on Draft Board: 16
Free Agency: While Cowboys WR Amari Cooper is the prize of the class, it's a mixed bag beyond him. Bengals WR A.J. Green is expected to be franchised, and he's been banged up and headed for his age-32 season. There are a few other specific skill sets on the market; Jets WR Robby Anderson and Bucs WR Breshad Perriman bring speed and downfield ability and 49ers WR Emmanuel Sanders can still move the chains at age 33. In the end, though, this group pales in comparison to the potential provided by the 2020 NFL Draft class.
Draft: The PFF 2020 NFL Draft Big Board features eight receivers among the top-32 and 14 in the top-60, so this is the year to overhaul a passing attack. Receiver-needy teams should also consider doubling up in the first two days of the draft, as this group features speed, size, quickness and contested-catch ability up and down the first three rounds. Alabama's Jerry Jeudy holds the top spot on the PFF board at No. 5, but Oklahoma's CeeDee Lamb is right behind him at No. 6 as both players can win on the outside or in the slot. Alabama's Henry Ruggs can flip the field like few receivers in recent years, Colorado's Laviska Shenault is a big-bodied offensive weapon and Clemson's Tee Higgins has the best catch radius in the draft. There are solutions for every pass-game problem in this draft; this could very well be remembered as one of the best receiver classes in recent memory.
Tight End
Players on PFF Top-100 Free Agency Board: 3
Players on PFF Top-100 on Draft Board: 4
Free Agency: It's not a great class of free agent tight ends, as Hunter Henry, Eric Ebron and Austin Hooper all have question marks. Henry is the best receiver of the group, but health has always been an issue. Ebron has a couple of years of solid production, but he was limited to only 325 snaps last year. And while Hooper has been productive, 75.5% of his receiving yards have come on more scheme-driven plays against zone and underneath the defense. Beyond the top three, we see either aging players or more injury-prone players like Tyler Eifert, who is worth a flier but is certainly not a clean long-term option.
Draft: The draft isn't much better for tight ends, as there are a few intriguing receivers but no clear first-round options. Washington's Hunter Bryant is the top tight end on the PFF board, but he ranks at just 65 overall while the next three (Brycen Hopkins, Adam Trautman and Cole Kmet) all rank between No. 87 and No. 99 on the board. Notre Dame's Chase Claypool may have disrupted the tight end market with his 238-pound weigh-in and next-level performance in workouts, but it's still a weak year for clean tight end prospects, both in free agency and in the draft.
Offensive Tackle
Players on PFF Top-100 Free Agency Board: 5
Players on PFF Top-100 on Draft Board: 12
Free Agency: The free agent group of tackles features two solid starters in Anthony Castonzo and Jack Conklin to go with a pair of 38-year-olds in Andrew Whitworth and Jason Peters, who both fit best as one-year options. Castonzo is quietly one of the best left tackles in the league, while Conklin will be coveted as a strong run-blocking right tackle. Whitworth and Peters are risky due to their age, but they are worth a flier for contenders. Beyond those four, Bryan Bulaga is another good player with injury concerns, and Bucs OT Demar Dotson remains a solid starter.
Draft: It's a loaded group of tackles in the draft, with as many as five or six in the first-round mix and a total of 12 in the PFF Top 100. Given the price tag and lack of quality options in free agency, the draft may be the way to go for tackle-needy teams. The NFL has had poor offensive tackle play in recent years, but this group of draftable players is a good step in the right direction toward righting the ship. Georgia's Andrew Thomas is the top tackle on the PFF draft board, as he brings the best combination of pass-blocking and run-blocking skills with little scheme dependency.
Interior Offensive Line
Players on PFF Top-100 Free Agency Board: 6
Players on PFF Top-100 on Draft Board: 8
Free Agency: The guard market is top-heavy in free agency, with Washington's Brandon Scherff and New England's Joe Thuney both ranking as top-25 players on the PFF board. Beyond that, Lions guard Graham Glasgow will command big money, while the Broncos' Connor McGovern is the top center on the board at No. 83 overall. Overall, it's a weak class when it comes to long-term options on the interior.
Draft: There is plenty of second- and third-round value on the interior in the draft. The position is led by Fresno State's Netane Muti, who is a mauler whom every NFL team should love. There's a good mix of guards and centers among the top 75 players on the PFF draft board, and the second- to fourth-round range is generally a good place to take a shot on interior offensive linemen.
Edge Defender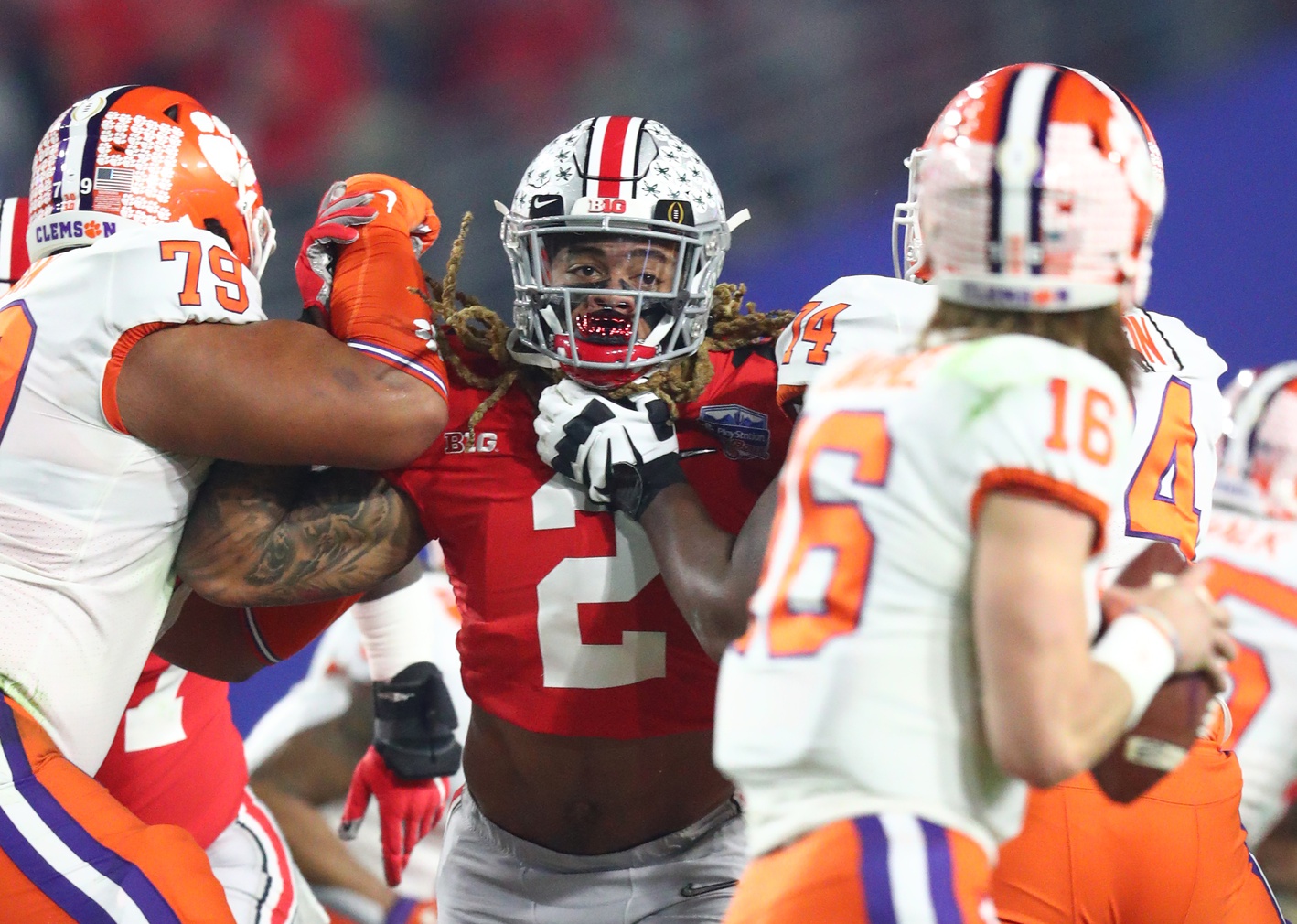 Players on PFF Top-100 Free Agency Board: 10
Players on PFF Top-100 on Draft Board: 11
Free Agency: The free agent edge class has plenty of buzz with Jadeveon Clowney expecting to reset the market to go with NFL sack leader Shaquil Barrett also hitting free agency. Clowney is an excellent run stopper and a good, not great, pass-rusher, while Barrett is another solid pass-rusher who will likely be overpaid due to his 20 sacks last year. The rest of the edge class screams buyer beware due to the high price of pass-rushers combined with plenty of question marks for players like Yannick Ngakoue (best year in 2017), Arik Armstead (career year in 2019), Kyle Van Noy (broke out in New England's system) and Bud Dupree (one PFF grade over 70.0 in five years). This group appears destined to be overpaid for the production they'll bring to the table in the coming years.
Draft: Unfortunately, the edge class is not much better in the draft. Ohio State's Chase Young looks like a slam dunk after posting the highest grade in PFF history, and he ranks second on the PFF draft board as a result. Beyond Young, the rest of the class comes with plenty of question marks that range from A.J. Epenesa's mediocre Combine performance to K'Lavon Chaisson's high-end flashes but average production. If they want to get the best bang for their buck, pass-rush needy teams may be best off looking to the second tier of edges, which contains players like Michigan's Josh Uche or Utah's Bradlee Anae.
Defensive Interior
Players on PFF Top-100 Free Agency Board: 16
Players on PFF Top-100 on Draft Board: 7
Free Agency: There are intriguing names at the top of the interior defensive line list, starting with Chris Jones of the Chiefs, and while he is expected to be franchise tagged, he's still the clear class of the market as a dominant pass-rusher. Houston's D.J. Reader and Pittsburgh's Javon Hargrave both broke out this season, and they're young enough to provide three to four more years of strong production. The Giants' Leonard Williams should also command big money, but it may not be worth the average pass-rush that he generally brings. The value of this interior defensive line group is in the veterans, as players like Gerald McCoy, Mike Daniels and Timmy Jernigan all have capable snaps left in them and they'll come at a lower price.
Draft: The PFF draft board features four top-32 players on the defensive interior. Derrick Brown and Javon Kinlaw provide long, powerful options while Missouri's Jordan Elliott may be the best pure rusher of the group. Auburn's Marlon Davidson rounds out the group after playing more of an edge role in college. Overall, it's a solid class, and teams that need help up front should look to a healthy mix of free agents and the draft in order to get both short and long-term options at a reasonable price this offseason.
Linebacker
Players on PFF Top-100 Free Agency Board: 7
Players on PFF Top-100 on Draft Board: 9
Free Agency: Coverage is the most important role for today's linebackers, and the top of the free agent class features strong options in Rams LB Cory Littleton and Browns LB Joe Schobert. And while both players have had issues against the run, they bring range and blitzing ability to the back seven. New England's Jamie Collins comes in at No. 50 on the PFF free agent board, and he is only risky because he hasn't found much success outside the Patriots' defense, so his landing spot is crucial. Green Bay's Blake Martinez is a bit overrated by tackle numbers, but he has had successful seasons in the past, and Chicago's Nick Kwiatkoski is a quietly strong option for teams in need of a run stopper and reasonable three-down player.
Draft: If teams are looking at add speed and versatility to their defense, this is a great draft for linebackers. Clemson's Isaiah Simmons is technically a linebacker, but he's an overall defensive weapon who will be coveted in the top 10. LSU's Patrick Queen, Oklahoma's Kenneth Murray and Mississippi State's Willie Gay Jr. all crushed the 2020 NFL Scouting Combine, and they all fly around the field. Wisconsin's Zach Baun will likely move from edge to off-ball linebacker at the next level and will try to follow in Schobert's footsteps. Teams in need of linebacker help have a few cheap free agent options and a bunch of athletic options in the draft.
Cornerback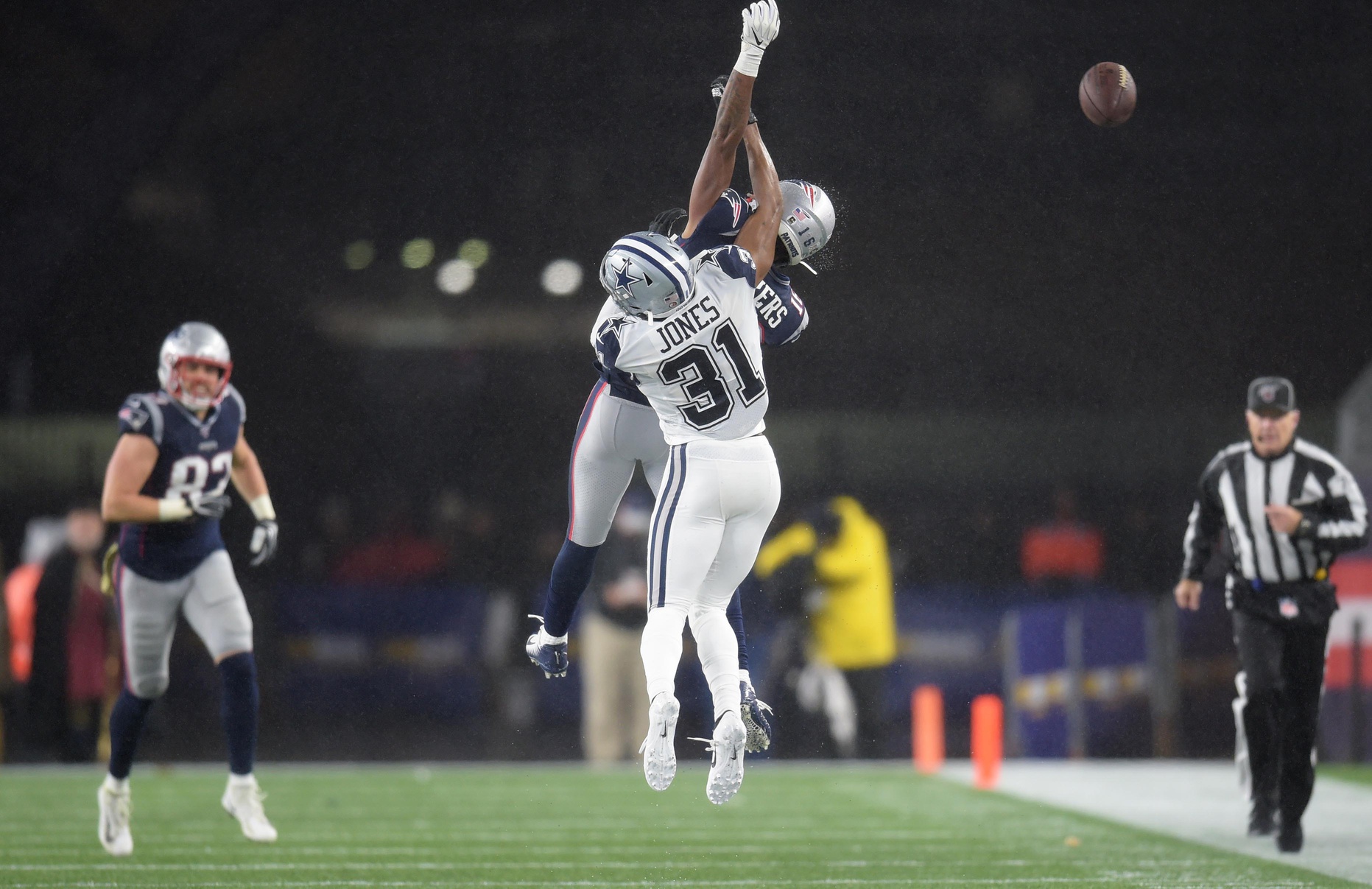 Players on PFF Top-100 Free Agency Board: 16
Players on PFF Top-100 on Draft Board: 13
Free Agency: The top two free agent options are Byron Jones and Chris Harris Jr., with Jones being the best long-term option on the outside and Harris providing another year or two of strong play, likely in the slot. Both players have ranked among the league's best in recent years. The rest of the cornerback class features several players who have had one or two good seasons, but the nature of the position suggests that a few chances need to be taken by teams in need of secondary help. Tennessee's Logan Ryan can cover the slot, and Minnesota's Trae Waynes is solid when covering speed options on the outside. Both of these players are exemplary of a class that features role players rather than game-changers outside of the top two.
Draft: It's a good year to draft a cornerback, as several players feature the desired combination of size, speed and footwork. Ohio State's Jeffrey Okudah is the top-ranked corner at No. 4 on the PFF draft board but LSU's Kristian Fulton, Florida's C.J. Henderson, Alabama's Trevon Diggs and Utah's Jaylon Johnson all land in the top 32 as excellent consolation prizes. As usual, scheme fit is crucial in the secondary, and the 13 cornerbacks in the PFF top 100 feature plenty of options for both man- and zone-heavy systems.
Safety
Players on PFF Top-100 Free Agency Board: 14
Players on PFF Top-100 on Draft Board: 8
Free Agency: There's a good mix of youth and veterans in the safety market, and there are options for every role on the back end. Underrated Vikings safety Anthony Harris comes in at No. 8 on the PFF board after ranking among the top three safeties in each of the last two seasons, while Denver's Justin Simmons had a breakout 2019 that saw him rank second overall with a 90.8 PFF grade. Both players can make plays in free safety roles, while Simmons works downhill well when needed to play in the box. New England's Devin McCourty and Carolina's Tre Boston are two good free agent options, and Oakland's Karl Joseph is worth another look in a new system after grading well despite falling out of favor with the Raiders. There are certainly bargains to be found in the free agent safety market this offseason.
Draft: It's a good, not great, group of safeties in this year's draft class. LSU's Grant Delpit and Alabama's Xavier McKinney both make the top 20 on the PFF draft board, and Cal's Ashtyn Davis is just outside the top 32. The next five safeties all fall between No. 50 and No. 85 on PFF's board, meaning there should be viable options in the third round this season. In the end, that may just be the best play for safety-needy teams, as there are stronger positions in the draft, and late Day 2/early Day 3 may have a bargain or two to be had.