The 2020 NFL Scouting Combine is known as the ultimate job interview, in which everything said and done by the players is carefully weighed and measured.
While in Indianapolis, I had a chance to catch up with nine of the top 10 cornerbacks on PFF's NFL Draft Big Board, and I couldn't help but notice how much their personal traits told me about who they are and how they play the game.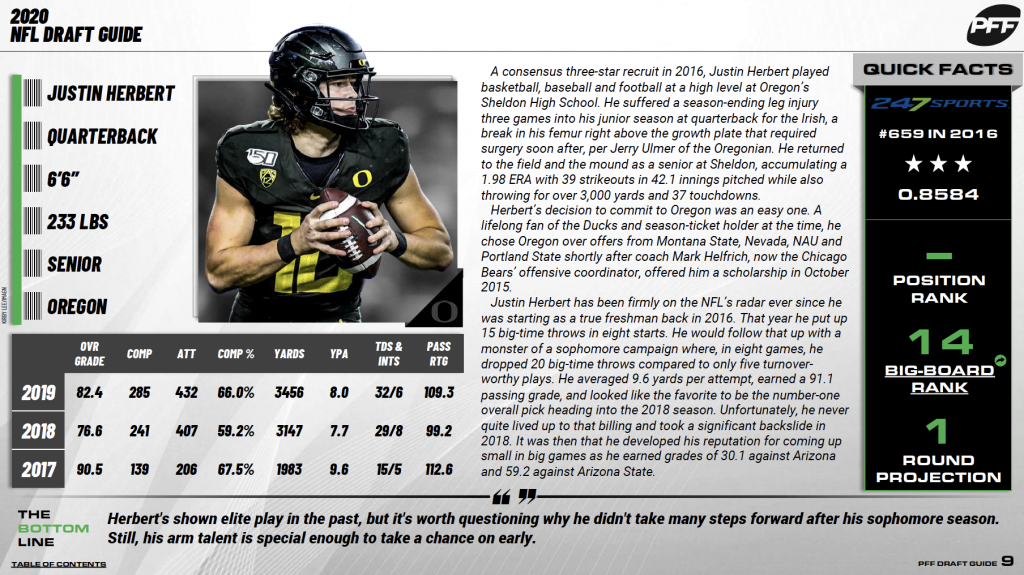 1. Jefferey Okudah, Ohio State
When I asked Jefferey Okudah about what he hoped to accomplish during his workouts, he stated that he wasn't resting on his past performances. Rather, he wanted to go out and prove that he is the best cornerback in this year's draft.
Okudah demonstrated his willingness to compete by clocking an impressive 4.48-second 40-yard dash. His 41-inch vertical and his 11-foot-3 broad jump were better than any of the cornerbacks ranked among the top 10 on PFF's board, and this is all after he landed and hit his head while catching the ball in previous drills. Not only has he checked all the boxes on the field, but he is equally impressive as a competitor who is determined to earn what he gets with no tricks, cheats or asterisks next to his name. This is only supported further by the fact that out of the 54 qualifying draft-eligible corners in this year's class, he was one of only seven who played 400-plus coverage snaps but had zero pass interference or holding penalties.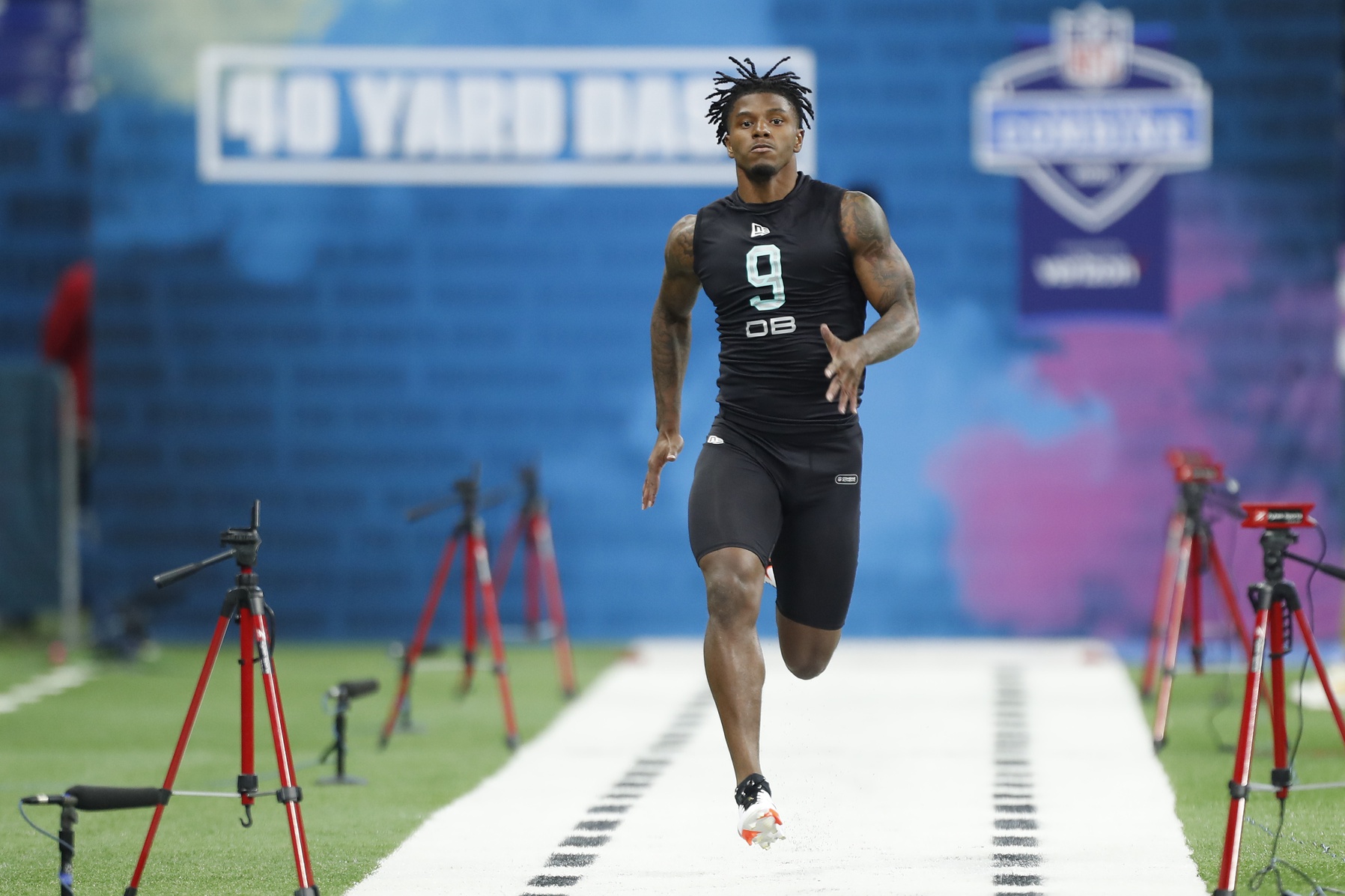 2. Kristian Fulton, LSU
I interviewed Kristian Fulton and Ohio State's Damon Arnette as they sat side by side to debate which school was the real D.B.U.
Arnette quickly cooled the temperature by giving props to the LSU defensive backs by saying that they had earned the right to be called D.B.U., and he added that the Buckeyes have titled themselves as B.I.A, which stands for "Best In America."
This exchange best exemplifies the incredible respect these competitors have for one another. Fulton admitted that, while spending time together in Indianapolis, the group of defensive backs had formed a bond off the field but remained competitors when it was time to work. Fulton's 4.46-second 40-yard dash then bested Arnette's time of 4.56 seconds.
Now PFF's second-ranked corner, Fulton recorded 20 forced incompletions last season, which tied for first among all cornerbacks with at least 300 coverage snaps last year. And after Fulton arrived in Indy with questions surrounding his top-end speed in coverage, he quickly put those concerns to bed and checked one more box to help silence the noise.
3. C.J. Henderson, Florida
Henderson posted a PFF coverage grade of 80.9 in 2018 when he allowed only 18 receptions and zero touchdowns across his 36 targets in primary coverage. However, he saw his grade plummet to 58.9 in 2019 after he allowed 389 yards on 37 targets.
His regression was credited to a lackadaisical effort that often seemed to lack focus. But while interviewing Henderson, he spoke about his intent to demonstrate a sustained effort by showcasing his talent during every phase of the combine workouts.
Henderson did just that. His 4.39-second 40-yard dash was the best among any of PFF's top-10 corners, as was his 20 reps on the bench press. His 37.5-inch vertical jump tied for second-best among the group, and his 31-5/8 inch arms combine with his 6-foot-frame to solidify his position as a first-round selection. Henderson didn't hide from the probing questions, but he responded with a confident smile as if he knew that all would be well. And after his performance in Indy, I would suggest that all is very well.
4. Cameron Dantzler, Mississippi State
Defensive coordinator Todd Grantham says that Cameron Dantzler is the best cornerback he has ever coached. Dantzler's 6-foot-2 frame and 30-inch arm length, combined with his excellent technique in press coverage, makes Dantzler an ideal talent for the position. He allowed only 13 passing yards on two receptions against LSU last season. Over the last two years, he held opposing quarterbacks to a 45% completion rate while posting coverage grades of 82.0 and 83.5 in 2018 and 2019, respectively.
The Mississippi State product was targeted 80 times over the last two seasons, and he hauled in four interceptions but gave up just one touchdown. He is a natural athlete who excels in both man and zone coverage, but his lean 188-pound frame seems to be the only concern for NFL scouts.
After asking questions about his weight, I learned that Dantzler is an affable yet extremely confident young man. He said that his size is not a question because he has displayed his ability to play physical in press-man coverage in college. He also stated that he expects to gain weight slowly over time while also understanding why it is necessary to do so.
That being said, he did not perform on the bench press in Indy, and his 4.64-second 40-yard dash will need to be improved upon come his pro day.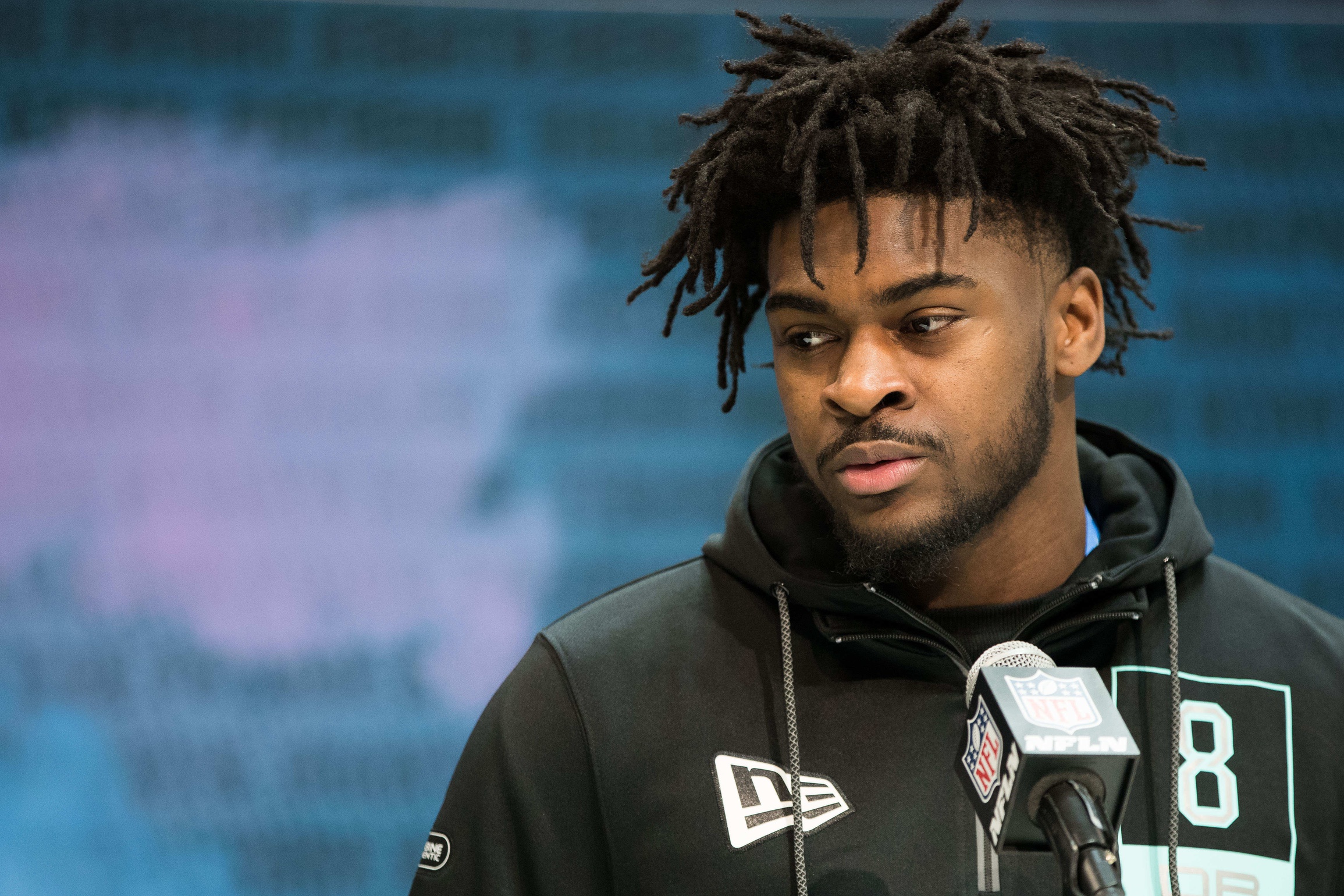 5. Trevon Diggs, Alabama
Not only is he the younger brother of Minnesota Vikings wide receiver Stefon Diggs, but Alabama cornerback Trevon Diggs was also a highly decorated, four-star recruit coming out of high school. His versatile talents saw him play offense, defense and special teams as a true freshman in 2016, and after completing his conversion and becoming a fulltime corner, Diggs exploded in 2019 with a 90.1 coverage grade while allowing a 42.3% completion rate and just one touchdown pass all season.
While speaking with Diggs at the 2020 NFL Scouting Combine, he explained how his intimate knowledge of the wide receiver position helped with his transition. He explained how a receiver's splits and alignments within the formation limit potential routes and drastically reduce options. He also stated that he uses this information to anticipate route combinations, which allows him to force more incompletions.
Diggs didn't mention why he chose not to participate in workout drills or run the 40-yard dash in Indy, but he will have to prove that he has the speed to run downfield with NFL wide receivers. After all, he has limited experience, with only 703 career coverage snaps to his name. And while he has excelled in press-man coverage, he does seem somewhat uncomfortable in off-man coverage and appears to get out of phase when he's unable to make contact at the line of scrimmage. 
6. Jaylon Johnson, Utah
I could not have come away more impressed after sitting and speaking with Utah's Jaylon Johnson. In 2019, he was chosen as a First-Team All-Pac-12 cornerback, but he also earned all-conference academic honors with a 3.6 GPA as a business major. However, his achievements in the academic realm ranked second to his commitment to competing and his determination to earn the right to be drafted by an NFL team.
I was surprised when he told me that he would participate in every phase of the combine workouts, despite needing shoulder surgery to repair a torn labrum. Not only did Johnson bench press 225 pounds 15 times with a shoulder that needs to be surgically repaired, but he also ran an impressive 4.50-second 40-yard dash and produced a 36.5-inch vertical jump that ranked fifth-best among PFF's top 10 cornerbacks.
Jaylon Johnson toughed it out and solidified his standing as what some believe to be a second-round talent.
7. Jeff Gladney, TCU
Of the top 10 corners I interviewed at the combine, Jeff Gladney was by far the most intensely focused. He is a fearless, no-nonsense player who forced 49 incompletions during his four seasons at TCU, the second-most among cornerbacks in the nation over that timeframe.
Aided by his quick feet on intermediate routes and his ability to recover after losing a step on deep routes downfield, Gladney earned a 72.7 career coverage grade during his time in Fort Worth. Over that career, he was targeted 232 times but still forced an incompletion on 21.1% of those targets — an impressive rate on that kind of volume.
Gladney came to Indy wanting to prove that he has the speed to be a lockdown corner at the NFL level, so he promptly laid down an impressive 4.48-second 40-yard dash and showed his explosive athletic ability with a 37.5-inch vertical and a 10-foot 4-inch broad jump. He is a battle-tested corner who has enough good plays on tape to last no longer than the second round come April.
8. A.J. Terrell, Clemson
No player in this group has more swagger than Clemson cornerback A.J Terrell. His confidence is well-founded, though, as he posted 80.0-plus PFF coverage grades in each of the last two seasons.
A former four-star recruit who received multiple offers from top Power-5 schools, Terrell transitions well with fluid hips that help him to turn and run against deep routes. His ideal height and length persuaded many teams to throw away from him in the passing game last year, and that certainly showed up on the stat sheet, as he averaged 10 coverage snaps per target throughout the 2019 regular season, making him the 10th-least targeted draft-eligible cornerback in the entire nation over that span.
So, when LSU targeted him eight times for five completions, 143 yards and two touchdowns — all coming at an average of 17.9 yards per pass attempt —  in the National Championship game, many wondered how he would respond. I asked Terrell about his thought process after giving up a big pass play, and he responded by reminding me that the best defensive backs have a very short memory. He asserted that the only players who don't get beat are the ones who never play. We laughed, and it revealed more about Terrell than what meets the eye.
He likes performing under pressure, and he performed well in Indy by clocking a superb 4.42-second 40-yard dash. His silky movements were on full display during his workout, as well. In my eyes, he validated why many think he will be a high draft pick come April.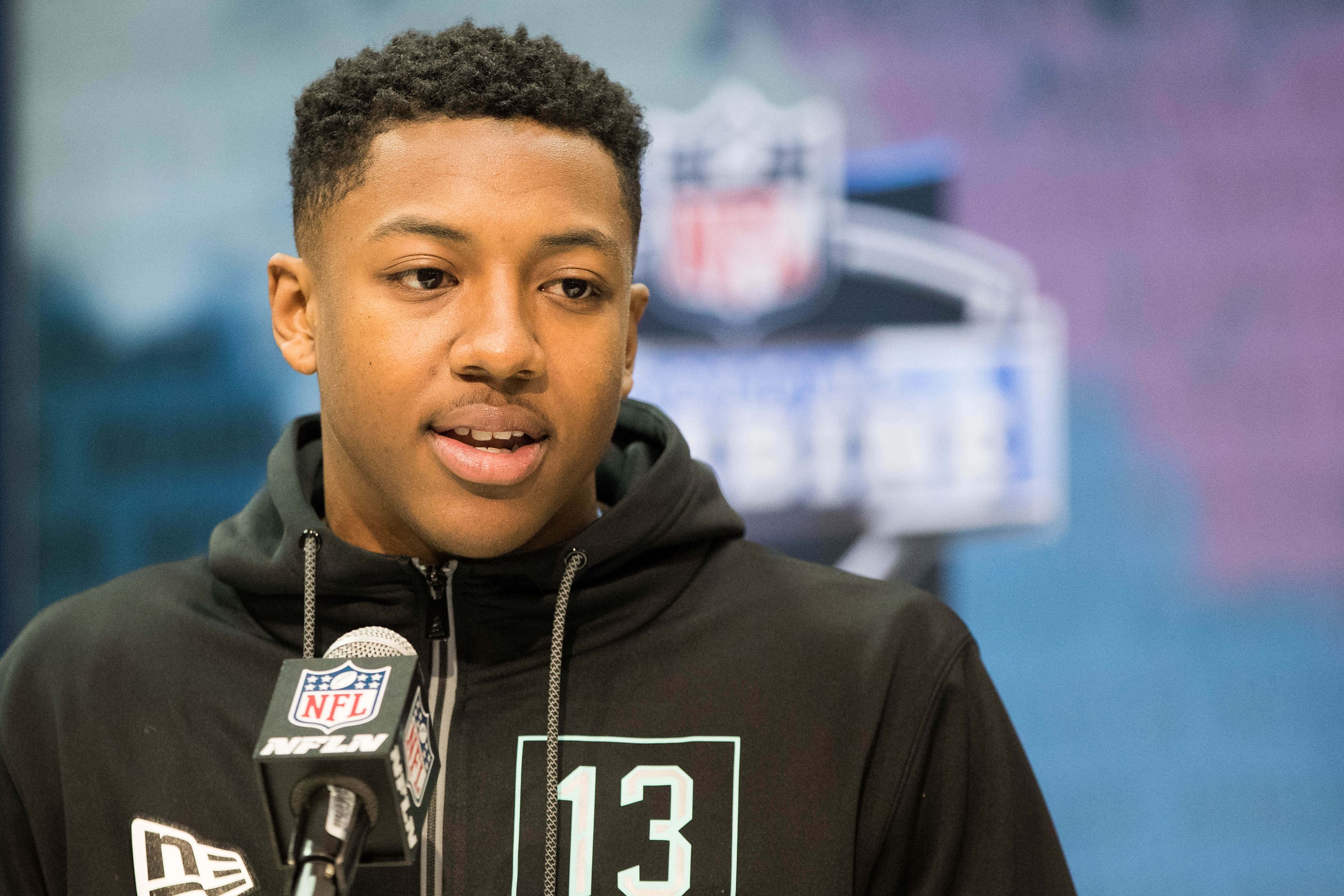 9. Bryce Hall, Virginia
Bryce Hall is another converted wide receiver who possesses great ball skills and excellent coverage ability. Many believed that had he decided to enter last year's draft, he would have come off the board early after leading the nation with 23 forced incompletions. Still, over the last two seasons, Hall earned a fifth-ranked PFF coverage grade of 92.4 and recorded 37 forced incompletions in the process.
Used primarily as a zone corner at 6-foot-2 and 202 pounds, Hall's 32¼-inch arms measured as third longest among the top 10 corners listed on the PFF draft board. However, due to the same ankle injury that limited him to just six games this past season, his combine visit was restricted to just eleven reps on the bench press, his physicals with team doctors and a handful of meetings with team representatives.
Hall was the only member of the top ten cornerbacks whom I failed to interview. Had we been able to sit down for a chat, though, you could bet I would have somehow found a way to explore some potential regret for his decision to return for another season of college football.
10. Noah Igbinoghene, Auburn
The first thing with Igbinoghene was learning to pronounce the name correctly, but Noah politely and slowly helped me out by saying (IG-bin-OG-gah-nee). And, just like that, I got it.
The son of two Nigerian Olympic-caliber track athletes, Igbinoghene is a freakish athlete with power, speed and agility. A prep phenom in the triple jump who went on to convert from wide receiver to corner during his freshman year at Auburn, Igbinoghene refused to miss spring football practice in order to attend his training sessions for track.
When I asked him why not practice track in the spring, he replied, "I signed to attend Auburn on a football scholarship, not track. So, I honored my commitment."
Wow. To me, that's the only thing more impressive than his 4.48 forty and his 37-inch vertical jump. At 5-foot-10, 198 pounds, the physical tools are noticeable. However, Igbinoghene will need to polish his game upon his transition to the next level; he tends to be "grabby" at the line of scrimmage, and he somewhat lacks ball awareness, as evidenced by the single interception on his college resume.
In 2019, he posted the second-most press-coverage snaps among all cornerbacks in his draft class (210), and he will not turn 21 until he has fully completed his rookie season in the NFL. This young man has plenty of tools and loads of integrity. With good coaching, something tells me he will figure it out at the next level.