• Chicago Bears QB Justin Fields impressed this preseason with the highest grade among qualifying signal-callers.
• Houston Texans rookie RB Dameon Pierce couldn't have done much more this preseason to solidify his spot as the team's RB1 entering Week 1.
• Once a high-profile free agent signing, Kenny Golladay continues to struggle with the New York Giants, catching one pass for six yards this preseason.
Estimated reading time: 7 mins
---
NFL preseason is now complete, with some players seizing the opportunity for playing time with excellent performances and others letting the chance slip. Cuts will be made and plans for the season adjusted based on those performances.
Here are some players who helped and hurt their stock in the preseason.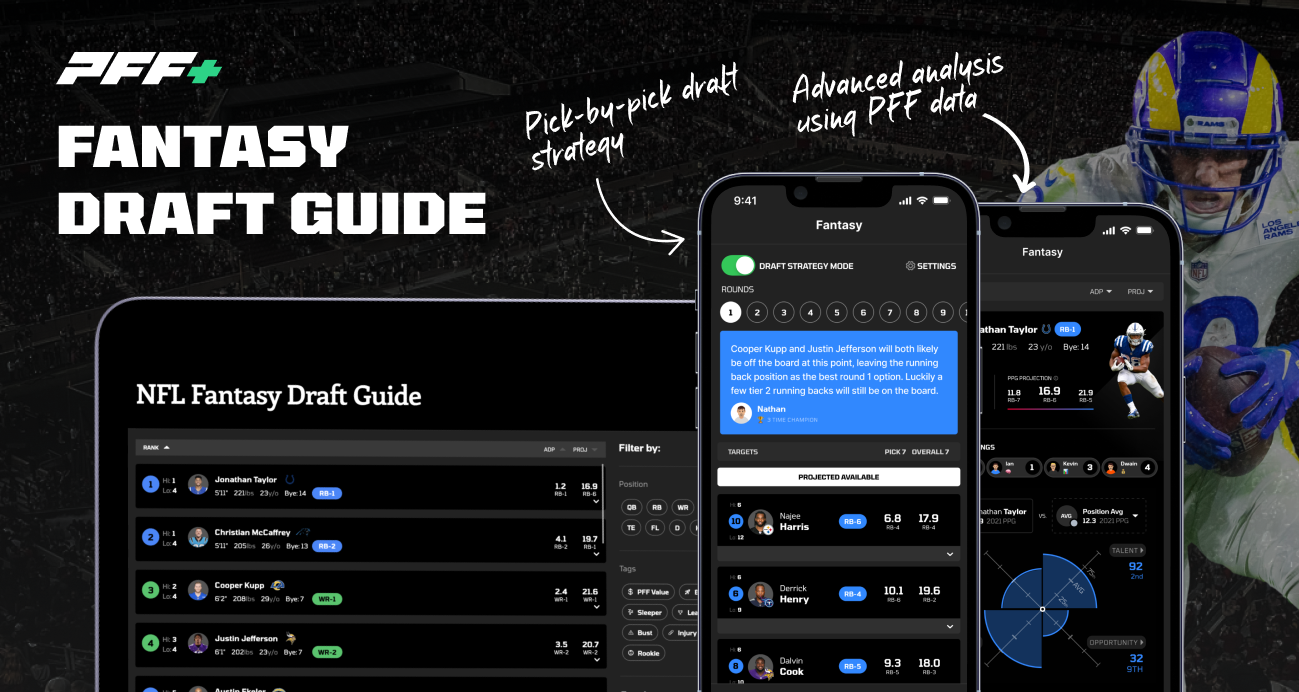 Stock Up
PFF Preseason Grade: 90.4 (T-1st)
The Bears are at the lowest point of a full franchise rebuild, and Justin Fields has little around him this season in terms of help. Nonetheless, he showed marked improvement to his game in the preseason and led all qualifying quarterbacks in PFF grade. Fields averaged 8.1 yards per pass attempt, added over 100 rushing yards and didn't make a turnover-worthy play all preseason. The real difficult task is going to be getting it done during the regular season against everybody's A-game, but Fields looks ready for a significant jump in performance in his sophomore season.
---
PFF Preseason Passing Grade: 80.4 (12th)
One of the biggest pre-draft concerns with Kenny Pickett was how long he took to work through his process in college. He averaged 3.2 seconds per throw in his last season, a number that typically only increases in the NFL. And if it does, in his case, he simply won't have time to do anything at this level.
However, he showed in the preseason that he can speed up his process and still be efficient. Pickett averaged 2.43 seconds per throw and had an average depth of target of just 6.6 yards downfield. That game plan resulted in 7.3 yards per attempt and a 124.7 passer rating. The Steelers will be asking a lot more of Pickett if and when they turn to him as the starter, but he was able to prove that they don't need to worry about whether he can operate at an NFL cadence.
---
PFF Preseason Grade: 92.2 (1st)
Isaiah Likely had a dream preseason, making the kind of impact where it is immediately clear his general draft evaluation was well off the mark. The focus for Likely was on his blocking deficiencies, but it should have been on just how good and polished he is at every aspect of receiving. Likely caught all 12 passes thrown his way including four contested targets. He averaged almost six yards after the catch and broke seven tackles with the ball in his hands. Likely still may not be the best blocker in the world, but he can be an impactful secondary pass-catching option within the Ravens' offense.
---
PFF Preseason Grade: 92.4 (1st)
The Dameon Pierce hype has been for real and in full swing for most of training camp. So much so that he's actually had relatively little work in preseason games while the team treats him as a starter who is expected to feature heavily in the regular season. He played 21 snaps in total across two preseason games, turning 11 attempts into 7.8 yards per carry (6.0 of which came after contact) and a league-leading PFF grade. Pierce looks extremely impressive from the moment the team drafted him. He has now earned himself a role within the offense through solid preseason play.
---
PFF Preseason Grade: 83.9 (6th)
A former third-round pick, Josh Jones has struggled so far in the NFL with overall PFF grades in the 40s each of his first two seasons. However, Jones was a college left tackle who has played at right guard and right tackle in the NFL.
This preseason, he was given the chance to play his college position on the left side and looked excellent. He posted good PFF grades in each facet of play through three preseason outings and surrendered only two pressures from 127 pass-blocking plays. Left tackle is clearly his best position, but the Cardinals don't have an obvious way of getting him playing time there with D.J. Humphries already in place. Jones, however, may have put himself in the shop window with his play.
---
PFF Preseason Grade: 81.6 (5th)
The former No. 3 overall pick has had a torrid start to his NFL career and needed a strong preseason just to win back a starting spot. He did exactly that, and across three games had one of the better PFF grades in the league at cornerback. Okudah gave up three catches for 23 yards with an individual pass breakup. He also recorded three defensive stops — one in each preseason game. Okudah may have given the Lions hope that he will eventually realize the potential he showed in college.
---
Stock Down
PFF Preseason Grade: 42.9
Dillon Radunz was expected to take over the starting right tackle job this season but lost out to rookie third-round pick Nicholas Petit-Frere over the course of training camp. His preseason performances simply emphasized how easy a decision that turned out to be. Radunz gave up two pressures and three penalties across three preseason games and was bad enough to be moved inside to guard for the final game. Few players have fallen as far over the course of this offseason.
---
PFF Preseason Grade: 34.0
Bryce Hall couldn't come close to holding off the challenge of the team's top draft pick, Sauce Gardner. While the rookie wasn't being targeted all preseason, Hall was getting lit up on the other side. He allowed seven catches from eight targets (87.5%) and a perfect passer rating of 158.3 when the ball was thrown into his coverage. The performance was even worse than those numbers if you factor in two penalties. It was only ever a matter of time before Gardner won the job, but that time ended up being immediately.
---
PFF Preseason Grade: 33.9
Trading for Amari Cooper was a good move to bolster the Browns' receiving corps, but it was offset in part by losing Jarvis Landry. Cleveland still badly needs an effective second option at receiver and was likely hoping Anthony Schwartz would develop into one given his blazing speed. Yet, Schwartz led all receivers this preseason with five drops, catching just three of the 12 targets thrown his way. His targets this preseason generated a 4.9 passer rating, and he did little to suggest he can be anything more than a speedster on the end of gimmick plays.
---
PFF Preseason Grade: 57.2
Injury has kept Caleb Farley off the field almost entirely so far in his young NFL career, and the preseason was his chance to show that he can come back and still be an impact starter.
He played at least 20 snaps in three preseason games, and though the numbers are solid (allowing three catches from eight targets), three of those incompletions were plays where the receiver was open but the ball was either off target or dropped. Farley's PFF coverage grade came out to just 57.2, and even though he had at least one nice rep against DeAndre Hopkins, how he fares against smaller receivers in space has been a concern.
---
PFF Preseason Grade: 54.5
Davis Mills exceeded expectations in his rookie season, but his overall performance was still far from good. Mills recorded a 58.5 overall PFF grade, which was comparable to Trevor Lawrence (59.6) and Zach Wilson (59.3), each of whom was seen as disappointing. This preseason, Mills hasn't looked on an upward trajectory, averaging just 5.6 yards per attempt and making as many turnover-worthy plays (two) as big-time throws.
---
PFF Preseason Grade: 46.7
Kenny Golladay is in danger of going down as one of the worst free agent signings in NFL history if his current trajectory continues. He was outscored last season by the team's left tackle, and this preseason he caught one pass for six yards. He matched that one catch with a drop, and that lack of production came on 34 routes run over three games. In a league where the best receivers average over 3.0 yards per route run, Golladay averaged about six inches per route run in the preseason.