Sean Payton trade:

League sources believe the Saints could fetch at least one first-round pick for their former head coach.

Panthers trade candidates:

A league source believes Carolina could recoup valuable draft capital by trading a prominent defensive player.

Bailey Zappe's ascension:

Two maligned Patriots coaches deserve credit for developing their rookie QB.
Estimated Reading Time: 7 mins
---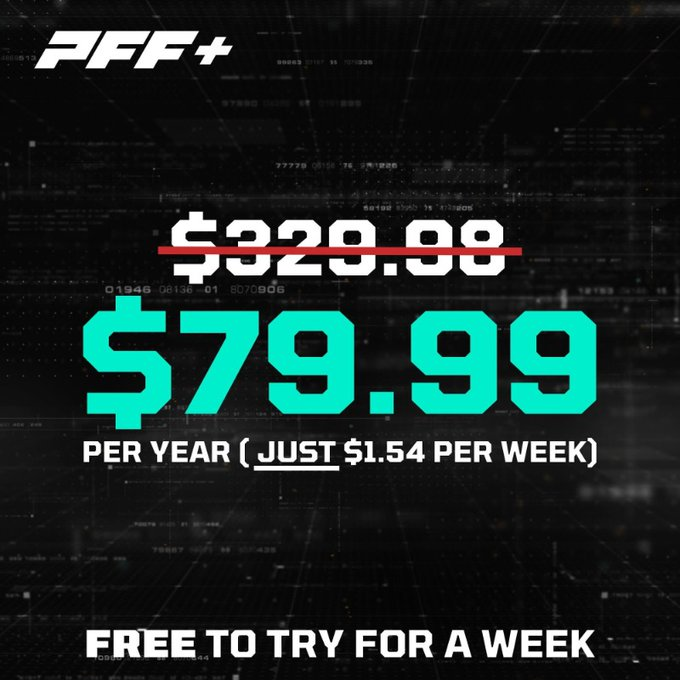 WHAT A SEAN PAYTON COULD TRADE LOOK LIKE
I wrote in last week's rumor roundup that it's never too early to talk about the head coaching carousel, and what happened Monday? The Carolina Panthers fired head coach Matt Rhule after a 1-4 start to the season and an 11-27 record in just over two NFL seasons.
The biggest fish in the upcoming pool of coaching candidates will be Sean Payton, and a couple of sources we spoke to didn't see the former New Orleans Saints head coach as a fit in Carolina. The Panthers are an NFC South division rival, don't currently appear to have their quarterback of the future, and it will require draft capital to acquire Payton from the Saints. Since draft capital is typically required for a QB, that's a bad combination. Yes, Payton "retired," but New Orleans still holds his rights. So, a team will almost certainly need to give up something in return to hire Payton as their next coach.
Carolina possesses just four picks in the 2023 NFL Draft: their own first- (currently slotted in at No. 1 overall), second-, fourth- and fifth-round picks. They also won't have either a fourth- or fifth-round pick in the 2024 NFL Draft depending on whether or not Baker Mayfield winds up playing 70 percent of offensive snaps this season. Mayfield is expected to miss some time with a high-ankle sprain, so if he plays less than 70 percent of snaps, the loss of a fourth-round pick becomes a fifth-round pick instead.
One high-ranking AFC personnel executive believes the Saints should ask for a first-round pick and a mid-round pick for Payton since New Orleans doesn't currently have a first-round pick in 2023. The Panthers need that first-round pick to acquire a quarterback, and it wouldn't make sense for Payton to go to a team if it can't acquire their quarterback of the future. The exec can't imagine Payton wanting to deal with a rebuild.
"That Carolina job doesn't look enticing at all unless the owner can stomach another rough year or two," he said.
Another league source we spoke to noted that there have not been any NFL head coaches traded in the last 15 years. The most recent example came in 2006 when Herm Edwards was traded from the New York Jets to the Kansas City Chiefs for a fourth-round pick.
Before that, Jon Gruden was traded from the then-Oakland Raiders to the Tampa Bay Buccaneers for two first-round picks, two second-round picks and $8 million in 2002. In 2000, the Patriots acquired Bill Belichick, a fifth-round pick and a seventh-round pick in a trade with the Jets for first-, fourth and seventh-round picks.
So, the league source believed the conversation for Payton would start at two first-round picks. He believed the Saints could potentially be talked down to one first-round pick, but if he was traded in-division, New Orleans could try to seek three firsts.
The exec we spoke to didn't believe the Panthers could stomach such a trade given their lack of draft capital in upcoming years. 
"No way Carolina should give up potentially a top-three pick for anyone aside from God to be their HC," he said.
It's difficult to discuss other potential destinations for Payton with only one job open, but two teams that were mentioned by league sources as interesting fits were the Denver Broncos and Los Angeles Chargers. The AFC West was expected to be the toughest division in the NFL this season, but the 2-3 Broncos and 3-2 Chargers have yet to live up to their hype. Still, it would be stunning to see those teams move on from their head coaches so quickly. That being said, at this time, there are expected to be limited openings for head coaches this offseason. And if Payton is interested in returning to coaching, then a team might have to make a difficult decision to make a run at him.
The Dallas Cowboys appeared to be an obvious fit for Payton before the season began, but head coach Mike McCarthy has them out to a 4-1 start with backup QB Cooper Rush undefeated as a starter. Needless to say, that hasn't helped Payton's chances of landing in Dallas.
---
POTENTIAL HEAD COACHING CANDIDATES FOR PANTHERS
We identified some head-coaching candidates in last week's rumor roundup, with Philadelphia Eagles defensive coordinator Jonathan Gannon, San Francisco 49ers defensive coordinator DeMeco Ryans and Miami Dolphins offensive coordinator Frank Smith among them.
Three other names to consider: Dallas Cowboys defensive coordinator Dan Quinn, New England Patriots linebackers coach Jerod Mayo and Buffalo Bills offensive coordinator Ken Dorsey.
Dorsey previously served as the Panthers' quarterbacks coach and was fired following the 2017 season. The Panthers were under previous leadership at the time, however. Jerry Richardson was owner and Marty Hurney was interim general manager. Now David Tepper is owner and Scott Fitterer is general manager.
"Any coach who takes (the Panthers head coaching job) needs more time than Rhule to fix it," a league source said. "And they have to feel secure and be secure enough to ride the wave of disappointment unless the QB is lights out Day 1, which is rare."
Interim head coach Steve Wilks did not get a fair shake his first time leading a team when he went 3-13 in his first season as Arizona Cardinals head coach and was fired after one season. Wilks now has 12 games to state his own case for the job.
---
WHERE DO PANTHERS TURN NEXT?
One league source made the point that it could make sense for the Panthers to recoup draft picks and sell off assets by dealing players now before the NFL trade deadline in order to get premium value rather than waiting until a new head coach is hired. Players on the team might not fit a new head coach's scheme anyway, and their value will drop with fewer years left on their respective contracts.
That league source believes edge defender Brian Burns, who is under contract for two more seasons — $2.3 million in 2022 and $16 million in 2024 plus the potential of a franchise tag in 2025 — and plays a premium position could fetch a first-round pick. Defensive tackle Derrick Brown is another young defensive player under contract for at least the next two years who could draw interest around the NFL.
If the Panthers could deal a player for a first-round pick, it would give them potential options in the 2023 NFL Draft. Would they take a defensive player like Alabama's Will Anderson first and wait to get a QB with their next first-round pick or draft the QB first and then select the best player available next?
---
STEELERS COULD FACE INTERESTING CONUNDRUM IN DRAFT
Speaking of teams expected to select early in the 2023 NFL Draft. The Steelers, with a 1-4 record, currently hold the No. 3 overall pick. Anderson was identified as a fit for Pittsburgh, as well, by a league source. The Steelers have 12 more games to decide if they want to keep moving forward with rookie QB Kenny Pickett or if they want to pull a Josh Rosen–Kyler Murray move by dealing Pickett and picking a top QB in this year's class.
---
TIME TO GIVE BILL BELICHICK, JOE JUDGE AND MATT PATRICIA THEIR DUE
It was a strange offseason for the New England Patriots for a number of reasons, and plenty of grenades were lobbed at them from afar for their decisions to draft offensive lineman Cole Strange in the first round, select Bailey Zappe in the fourth round over Sam Howell and name Joe Judge as quarterbacks coach and Matt Patricia as offensive line coach.
Well, Strange was a Day 1 starter at left guard, Zappe just led the Patriots to a fairly dominant Week 5 win over the Detroit Lions, and a league source pointed out that Judge and Patricia were instrumental in getting the rookie QB up to speed as a fourth-round third-stringer called on to start after Mac Jones suffered a high ankle sprain and Brian Hoyer was placed on injured reserve with a concussion.
It's too early to tell what Zappe will be in the future. Some have compared him to Brian Hoyer 2.0 or even former journeyman backup Matt Flynn. But he certainly showed promise Sunday in New England's 29-0 win over the Detroit Lions, going 17-of-21 for 188 yards with a touchdown and interception while earning an 82.7 passing grade.
New England is smart to keep adding quarterbacks through the draft regardless of their situation at the position. If the Patriots draft a QB, there's a good chance he'll become a starter somewhere at some point like Matt Cassel, Ryan Mallett, Jimmy Garoppolo and Jacoby Brissett. And if he doen't, then he might wind up becoming a head coach like Kliff Kingsbury and Kevin O'Connell.
While we're talking about the Patriots' draft, the team deserves credit for taking cornerback Jack Jones in the fourth round, as well. With two interceptions in two weeks, he's currently PFF's top-graded defensive rookie. Third-round pick Marcus Jones has also been an impact-maker on returns. And New England might be forced to use fourth-round pick Pierre Strong at running back this weekend as Damien Harris nurses a hamstring injury.
---
DEION JONES' TRADE HAUL
Fans appeared surprised that the Cleveland Browns only had to give up a sixth-round pick to acquire linebacker Deion Jones and a seventh-round pick.
A league source we spoke to wasn't shocked. The move doesn't come with zero risk. His $1.14 million salary is essentially guaranteed since he'd be due termination pay if released.
---
GENO SMITH EARNING NEW CONTRACT
We wrote extensively about Smith, PFF's current top-graded QB, in this week's "Buy or Sell" piece, but his impending contract situation is one to monitor.
If looking for a comparable contract, one source pointed to the three-year, $63 million deal Teddy Bridgewater signed with the Carolina Panthers in 2020.
That being said, that source doesn't believe the Seahawks should be in a rush to get a contract done with Smith unless it's extremely team-friendly. Smith looks like a starter — and a top-20 one right now, at that — but we're only five weeks in, and Seattle be best off waiting until the end of the season to see how everything shakes out before committing to a quarterback who, prior to this season, had started five games between 2015 and 2021. The Seahawks also own two first-round pick in the 2023 NFL Draft, and they're currently slotted in at Nos. 10 and 11 overall. They're in an ideal spot to draft a quarterback of the future — unless they believe Smith can be that player. 
The Lions (Nos. 4 and 13 overall) and the Houston Texans (Nos. 6 and 8 overall) also currently have two picks inside the top 15.