• D.J. Reed Jr. on Zach Wilson's post-game comments: "I talked to Zach, and he didn't mean it like that as far as he didn't mean he didn't let down the defense."
• Buffalo Bills WR Gabe Davis remains underrated: The former Day 3 draft pick's numbers beat out the majority of his counterparts over the years.
• Where do the Jets go from here at QB?: Head coach Robert Saleh left the door open for a new starter in Week 12, but the team also has to address the future, potentially via the trade market or the 2023 NFL Draft.
Estimated Reading Time: 8 mins
---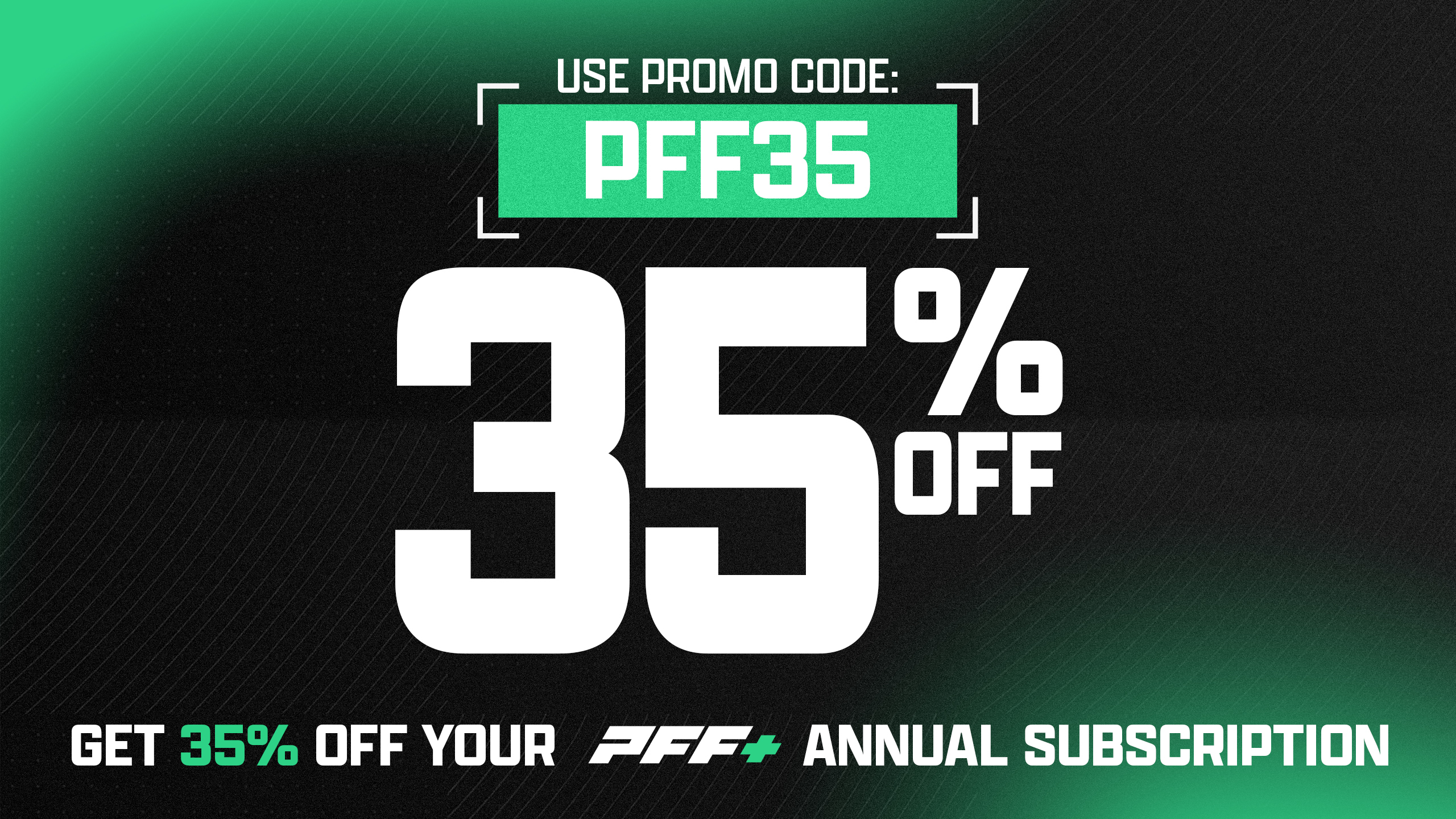 ---
HOW ZACH WILSON EXPLAINED LACK OF ACCOUNTABILITY IN NEWS CONFERENCE
New York Jets quarterback Zach Wilson made headlines Sunday after the New England Patriots beat his squad 10-3 without scoring an offensive touchdown. Wilson was asked after the game if he felt like he let his defense down, and he answered, "No, no."
Jets cornerback D.J. Reed Jr. spoke to Wilson about the answer.
"I talked to Zach, and he didn't mean it like that as far as he didn't mean he didn't let down the defense," Reed told PFF. "He just didn't like the way that the reporter worded the question. He felt like if you watch the whole interview, he took account for what he did and they've got to figure it out, but they kept egging him to answer the question, and he got a little frustrated, which he said was a mistake. And he answered, 'No, no' like that, but that was more so at the reporter. But watching it, it comes off like he's not the problem or anything.
"But he knows that he needs to play better, the offense needs to play better. He's very aware of that. The media nowadays is going to blow that up. It definitely was a tough situation, but everyone in the locker room knows he didn't mean it like that. We're moving on and getting ready for Chicago."
Still, for the first time all season, Jets head coach Robert Saleh wouldn't commit to Wilson as New York's starter moving forward. That's a major departure when speaking about the 2021 No. 2 overall pick.
"There's no pointing fingers in our locker room despite what the media claims or nothing," Reed said. "We're all good. We're just trying to figure it out still."
---
GABE DAVIS 'UNDERRATED' ON THE BILLS
We'll have a larger piece this week on D.J. Reed Jr., who's been a phenomenal offseason addition for New York, but the cornerback praised Buffalo Bills wide receiver Gabe Davis, who's been a bit maligned this season for drops.
"He's a great football player, very underrated just because he's just getting started, but he fits the Bills' offense really well because you have to account for (Stefon) Diggs. So, that's going to have one-on-one situations for him to eat."
Davis has five drops this season but with 29 catches on 54 targets for 612 yards with five touchdowns. He also leads the NFL with 21.1 yards per catch and is third with a 16.6-yard average depth of target.
Some other notable stats on Davis:
First in both touchdowns per reception and first downs per reception since entering the NFL

Ninth in receiving touchdowns since entering the NFL and the most of from a 2020 NFL Draft class that also includes Justin Jefferson, CeeDee Lamb and Tee Higgins, among others.

33rd in receiving yards since entering the NFL

Second in yards per catch since entering the NFL

Fourth in average depth of target since entering the NFL

First in explosive play rate (min. 100 targets) since entering the NFL

First in yards per catch (min. 100 targets) since entering the NFL

12th in deep target rate since entering the NFL
What's perhaps most impressive is how rare it is for a Day 3 pick to be putting up Davis' production so early on in a career. Among Day 3 picks and including the postseason, only Kansas City Chiefs wide receiver Tyreek Hill and New Orleans Saints wide receiver Marques Colston had more receiving touchdowns through the first three seasons of their NFL careers in the PFF era (since 2006) than Davis. Hill and Colston had 25. Davis has 23, and he has seven more games to play this season, plus the playoffs.
The Bills could still use another playmaker in their offense, but Davis and Diggs are regarded as one of the toughest wide receiver duos in the NFL, and there's no lack of confidence in the UCF product within Buffalo's organization.
---
JETS NEED A 'HOME RUN' AT QB?
The New York Jets are a team built to win now with a quarterback who is actively holding them back.
The Jets are 6-4. Wilson is 5-2 as a starter. Yet, with a -0.088 expected points added per play figure that ranks 32nd in the NFL, it's more than understandable that head coach Robert Saleh wouldn't commit to Wilson. 
Wilson ranks dead last in both passing grade and overall PFF grade among quarterbacks. He has a 22.0 passing grade under pressure. That is the lowest under-pressure passing grade for any quarterback (min. 25 snaps) of the PFF era (since 2006). Respectfully, that mark is lower than J.P. Losman, Ryan Lindley or a fella named Max Hall who played for the Arizona Cardinals in 2008 ever had in a single season.
Had Wilson even played below average in Sunday's loss to the New England Patriots, the Jets undoubtedly would have come out on top in a  game with zero offensive touchdowns and just two field goals.
​​"He has some fatal flaws," an AFC pro scout said. "And when you can choke down their run game, his inaccuracy, inability to read coverage and lack of poise under pressure combine for what you saw Sunday."
Wilson earned a career-low 29.9 PFF grade in Week 11's offensively deficient loss to the Patriots. He finished 8-of-21 for just 76 yards with two turnover-worthy plays.
The quarterback position has to be evaluated when the signal-caller is hitting historically bad levels, and that's what Wilson is doing. The fact that New York is winning despite that performance is a testament to why the Jets need to be making contingency plans at the position. In the interim, that could mean turning to Mike White, their current backup, or Joe Flacco, who's been a third-stringer in recent weeks. White had some moments last season but finished with a 53.6 PFF grade. Flacco played two decent games as a starter this year before bottoming out in Week 3 with a 27.1-graded performance after which Wilson was back healthy and ready to start.
But neither White nor Flacco can lead New York to a legitimate chance at a championship. In talking to people around the NFL, there seem to be two choices for the Jets: add a veteran to compete with Wilson next offseason or attempt to go all-in.
"I think the vet route is the way to go," a high-ranking NFC player personnel executive told PFF. "Then see what happens with the draft the following year."
Jimmy Garoppolo, who's familiar with offensive coordinator Mike LaFleur's system from their time together with the San Francisco 49ers, is set to be a free agent. Las Vegas Raiders quarterback Derek Carr could be available in a trade after the season. Baker Mayfield, Teddy Bridgewater, Daniel Jones, Jacoby Brissett, Andy Dalton, Taylor Heinicke and Gardner Minshew are among other quarterbacks with starting experience who are set to be free agents. Carson Wentz could be released by the Washington Commanders, too.
Then there's another option.
"If I'm there, I go after Aaron (Rodgers)," a high-ranking AFC player personnel executive said. "They can't get another rookie where they will pick, and they have to win now. I think it has to be a home run."
PFF's Brad Spielberger mentioned the possibility on a recent episode of "PFF Wire," as well. OverTheCap.com broke down what an acquiring team would take on cap-wise if they traded for Rodgers.
"For the team acquiring Rodgers, they would be on the hook for the salary for the year," Jason Fitzgerald wrote. "The cap charge would be $59,515,000 if they do not exercise his option and $15.79 million if they were to exercise the option."
The Jets are set to have $17.2 million in salary cap space before making any other moves for 2023. Rodgers, who currently plays for LaFleur's older brother, does not have a no-trade clause, but he does have the option to retire if he doesn't want to be traded.
The other home-run option wouldn't make Patriots fans very happy, and that would be impending free agent Tom Brady. Of course, Brady could choose to retire after the 2022 season, but the seven-time Super Bowl champion has a son currently living and playing football in New York.
The Jets are currently set to pick 18th overall in the 2023 NFL Draft. They could be in line to pick a quarterback like Will Levis or Anthony Richardson, but that also might not help them win right away, and they still might need to acquire a veteran signal-caller if they took that route. A plethora of teams set to pick before them would likely take Bryce Young or C.J. Stroud at this point. One league source did mention the possibility of adding a veteran quarterback while also taking Tennessee's Hendon Hooker, who tore his ACL last weekend and will be 25 years old on draft day, in the second or third round.
If the Jets did whiff on Wilson, they obviously deserve some criticism, but it could have been worse. They didn't have to trade up for him and were still able to fill out their roster in free agency and the 2021 and 2022 NFL Drafts. The quarterback taken immediately after Wilson, Trey Lance, has barely played for the San Francisco 49ers. Justin Fields, who the Chicago Bears took eighth overall, looks like a potential future superstar, but he currently still has his limitations. Mac Jones, taken 15th overall by the Patriots, had a fantastic rookie season but has regressed in 2022.
Trading up for a quarterback and mortgaging future draft picks is much more damaging to a franchise.