At its heart, PFF is a player evaluation website, and the most interesting players to evaluate every year are rookies. These first-year players represent the weight of hope for their respective franchises and, depending on the team, can be shouldering the entire weight of that hope.
[Editor's Note: PFF's advanced statistics and player grades are powered by AWS machine learning capabilities.]
This season, more than most, the performance of these rookies is interesting to watch because none played preseason football to get their feet wet. Each has had to learn on the fly; some have seamlessly translated their game to the NFL level while others have floundered.
So, let's take a look at some rookie studs and duds in Week 7.
STUDS
Week 7 overall grade: 90.8
This wasn't billed as a particularly good rookie crop of tight ends, and though they have taken a few weeks to get their feet wet, they seemed to collectively stand up in Week 7. Harrison Bryant was one of the chief beneficiaries of Baker Mayfield catching fire and completing 22 straight pass attempts (minus a spike) and scoring five passing touchdowns. Two of those scores went to Bryant.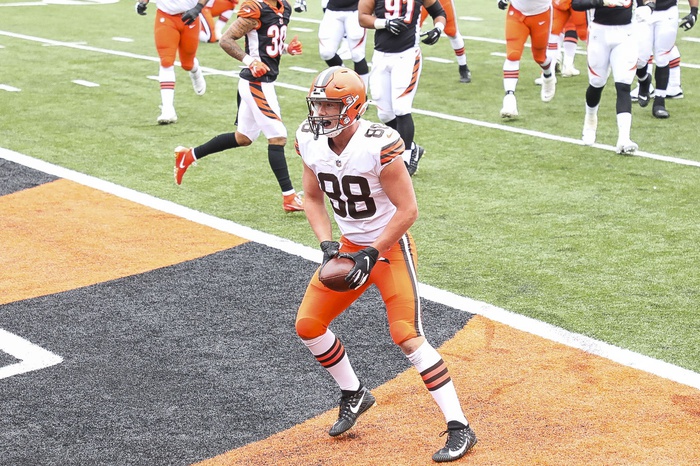 When Mayfield targeted Bryant, it yielded a 152.9 passer rating, just below a perfect mark, and Bryant broke through two would-be tackles from Bengals safety Jessie Bates III, who has been one of the best safeties in the league this year. Bryant was mostly featured as a receiver but snuck in some positive grades as a run blocker, too.
Week 7 overall grade: 89.0
49ers rookie receiver Brandon Aiyuk just looks athletic, even on a field with other super athletes. Each of his movements seems to have an added spring, making him lethal with the ball in his hands. He topped 100 receiving yards this week for the first time in his NFL career and averaged over 5 yards for every pass pattern he ran in the game.
Aiyuk gained 50 yards after the catch, breaking a pair of tackles along the way, and should be in line for an increased workload with Deebo Samuel likely to miss the next couple of games due to injury. Aiyuk is on the cusp of great things as a receiver and could even coax Jimmy Garoppolo and the offense to open up a little more downfield.
Week 7 overall grade: 81.6
Things went from bad to worse for the Dallas Cowboys this week, with the Washington Football Team running all over them on the ground. The biggest problem was Antonio Gibson, who rushed for 128 yards and a score on just 20 carries. Gibson averaged 6.4 yards per attempt and was averaging almost 4 yards per carry before contact against a Dallas defense that was again unable to offer any kind of resistance up front.
Gibson broke five tackles when defenders did get a chance to catch up with him, gaining 49 yards after contact. This was one of the best rushing performances of his career so far, and he looks like an excellent find for Washington.
Week 7 overall grade: 86.9
Of all the young receiving options within Denver's offense, Albert Okwuegbunam was the team's principal source of production this week. He led the team in targets (seven), receptions (seven) and receiving yards (60). Throwing his way generated a 102.4 passer rating for Drew Lock, who still finished the game with a lowly 57.7 rating.
Okwuegbunam was largely fed the ball on short targets just to give Lock somewhere to go, and the average depth of his target was just 2.7 yards downfield, but he averaged almost 6 yards per reception after the catch and used his speed to make the most of those opportunities.
Week 7 overall grade: 86.6
Davon Hamilton featured on the "dud" side of this article last week, but he bounced back in a huge way against the Los Angeles Chargers this time around. It's definitely true that the Chargers' offensive line represents a good opportunity for a defensive lineman to have a good day, but Hamilton took advantage with gusto.
He had three defensive stops, two tackles for a loss or no gain and an average depth of tackle just 0.3 yards from the line of scrimmage. Hamilton was a one-man wrecking crew in the run game and showed why the team has been high on him despite tough days at the office. Hamilton deserved huge credit for putting last week's performance behind him and having a big showing in Week 7.
DUDS
Week 7 overall grade: 37.2
CeeDee Lamb has been an absolute rookie stud receiver for most of this season, but this week was anything but. Apparently, the malaise in Dallas could affect a rookie even as promising as Lamb. He didn't have a catch at all this week but saw five passes thrown his way. He dropped three of them, making this the first game of his NFL career in which he has failed to catch at least five passes and rack up 50 or more yards through the air.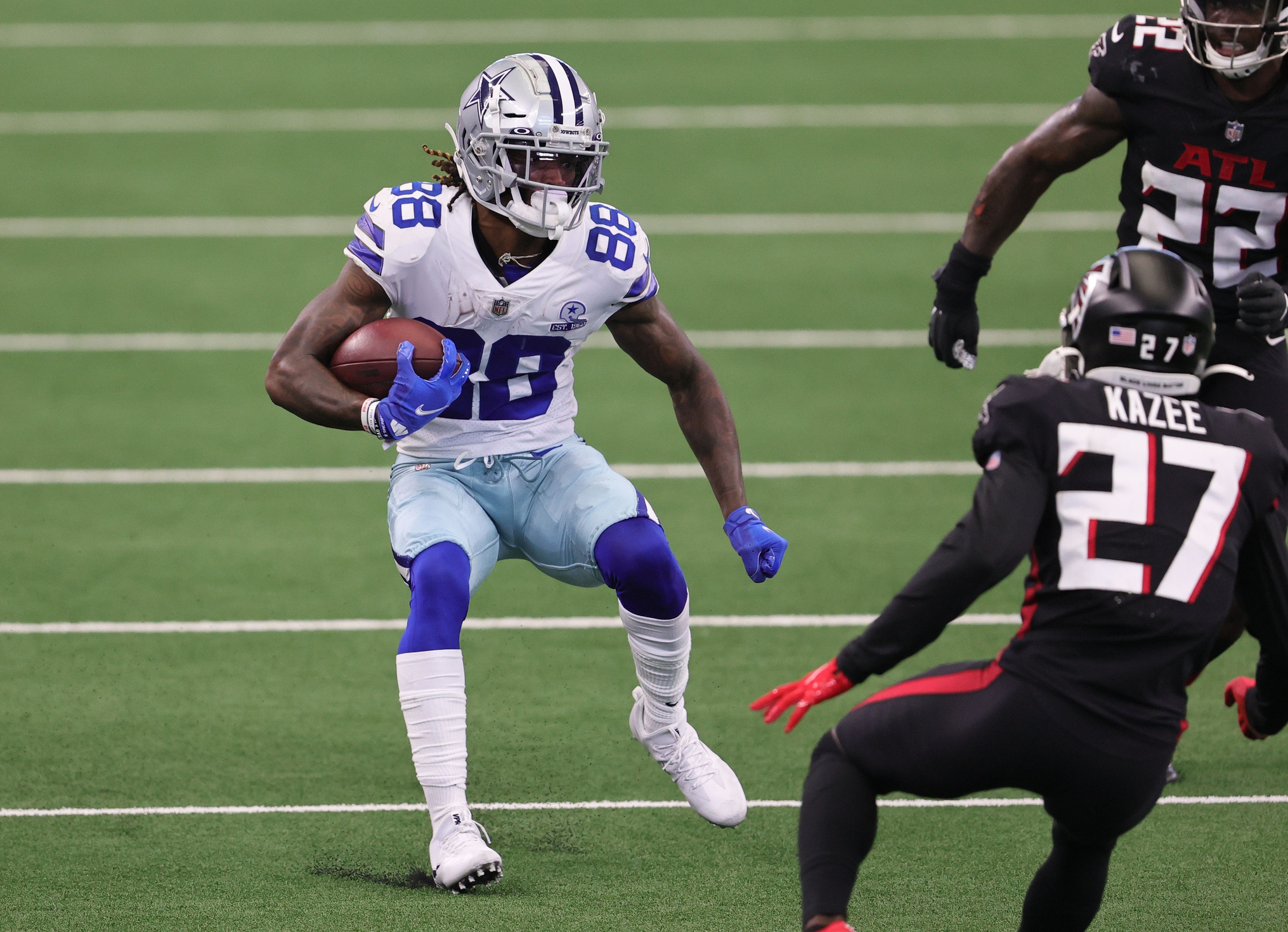 There is no doubt that Lamb has the talent to be a special receiver in the NFL, but even special players have bad days, and that is without a doubt what this was. Lamb's concern will be that Dallas may now be down to its third quarterback if Andy Dalton doesn't clear concussion protocol before the next game.
Week 7 overall grade: 28.8
The San Francisco 49ers' offense absolutely dismantled the New England Patriots' defense in a way we just don't see happen with Bill Belichick as the head coach. The relative lack of talent due to offseason departures and opt-outs from COVID-19 might finally be starting to catch up with the team, and  Anfernee Jennings had a day as bad as any.
The 49ers' offense is a nightmare of smoke and mirrors for defenders to diagnose, and the third-round rookie from Alabama had more than his fair share of trouble with it. He surrendered three catches for 38 yards in coverage, but his biggest issues came busting gaps in the run game or simply being buried to the ground at the second level by 49ers blockers. Overall, this was a rough day for the Patriots and for Jennings, who will look to get back on track next week.
Week 6 overall grade: 39.8
Jeremy Chinn is all over the field for the Carolina Panthers every week. His deployment in that defense almost breaks conventional position designations, and so his week-to-week output varies dramatically. Things largely bounced against him in Week 7, though he did have a nice pass breakup in his positives column.
Overall, Chinn missed a pair of tackles and gave up five catches for 55 yards and a touchdown in coverage. Throwing the ball into his coverage resulted in a 144.4 passer rating, and most of the damage actually wasn't done by Alvin Kamara. Chinn also struggled at times when the Saints were able to get offensive linemen onto him, including one play where he wound up as the base of a Cesar Ruiz pancake at the second level. Chinn will have far better days than this going forward.
Week 7 overall grade: 37.2
A snow game in Denver was always likely to limit how much offense we saw, but there was also plenty of evidence from the other side of the ball that talented athletes would find a way to make plays. Hamler is a talented athlete, but instead of seizing an opportunity, he had a drop and a fumble on his three targets. The third was intercepted by the Chiefs.
Hamler has electrifying speed and the ability to take it to the house any time he touches the ball, but he needs to at least give himself a chance of making plays by keeping hold of the football.
Week 7 overall grade: 51.1
This wasn't a week full of disastrous rookie performances as some previous slates have been, and when you're selecting players for the duds group who have cleared an overall PFF grade of 50.0, you're struggling for truly deserving candidates. Nevertheless, that is where we land with Jonah Jackson, a player who has been largely impressive in Year 1.
Jackson was far from bad against the Falcons, but it was the lowest PFF game grade of his career to date. He allowed a pair of pressures, one of which was a hit on Matthew Stafford, and had another clean loss that was actually the worst of them all, but the ball was away before it could become pressure.
In the run game, he allowed his man a shot at making a clean tackle twice and was without much of the positive blocks that have been a feature of his season. For this week at least, Jackson was just about a rookie dud.