It's Day Whatever of quarantine for many of us, but the one piece of good news that stems from the lack of live sport is the way in which various content providers have been trying to ease the burden and open up our access to things to watch while we're trapped inside.
NFL.com has opened up Game Pass for free through May 31 in the US and July 31 outside of America. So, what games should you check out? Many places can tell you what the closest games were, but what if you wanted to check out some of the best individual performances of the past few seasons? Let's use the PFF database to highlight some of the most dominant games we have seen, starting with the postseason.
Editor's note: PFF's advanced database of grades and signature stats dates back to 2006, and it's available with a PFF Elite subscription! Sign up today for access.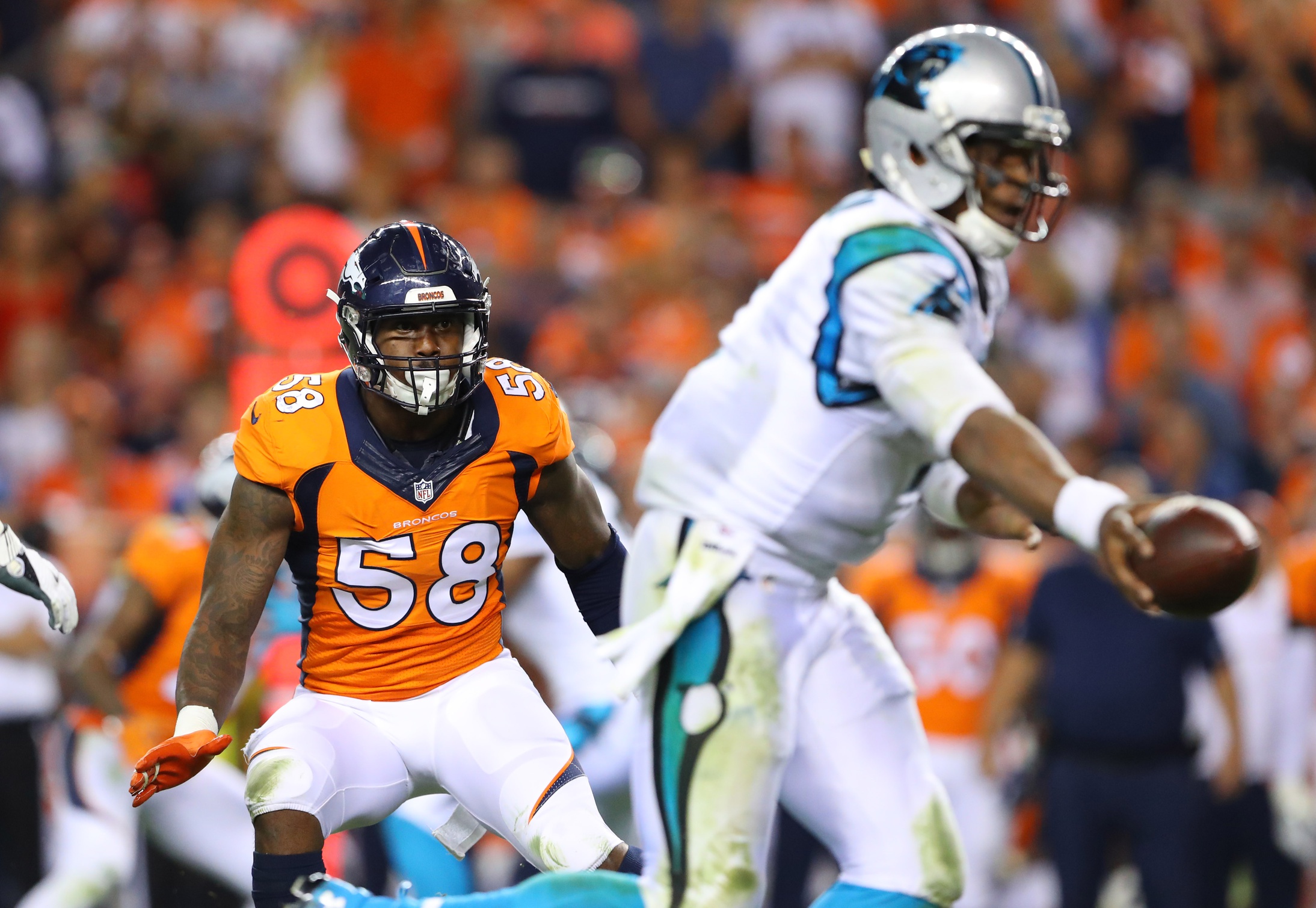 One of the most dominant performances in the PFF era just so happened to come in one of the biggest games of the PFF era.
Von Miller was almost single-handedly responsible for making the difference in Super Bowl 50. He had eight total pressures in the game, an absurd pass-rush win rate of 32.1% from his 28 pass rushes and (of course) he made the biggest play of the game with the strip-sack of Panthers quarterback Cam Newton. The Panthers were a legitimate juggernaut that season, but Miller was able to take advantage of a pedestrian right tackle in the form of Mike Remmers and dominate him so completely that the entire game swung in Denver's direction. Without this game from Miller, that phenomenal Broncos defense may have never won a ring.
This is still the best Super Bowl performance we have ever seen from a quarterback. It was also the start of Aaron Rodgers' sustained run at the very peak of his game, which is something more than a few Packers fans are hoping he can rediscover.
He passed for 304 yards and three touchdowns in the game but had a ridiculous nine big-time throws — PFF's highest-graded passes — to no turnover-worthy plays. He did this despite averaging 11.6 yards downfield per target, and just 26% of the passing yardage he amassed in the game came after the catch. This was a phenomenal example of Rodgers putting the passing game on his shoulders and just being better than the defense that was trying to stop him. Watch this if you want a reminder of just how good Rodgers can be at his best.
With all the talk of naming the top five receivers of all time now that we're in the time-wasting portion of the offseason, it's worth turning back the clock to watch one of the most physically dominant receivers ever to play do his thing.
In a losing effort, Megatron was virtually unstoppable. He saw 15 targets, catching 12 of them for 211 yards and two scores. He single-handedly accounted for 10 first downs, and Matthew Stafford had a perfect passer rating of 158.3 when targeting him. Given those numbers, you'd expect the New Orleans Saints were actually happy to let Johnson have his way, but he actually saw more attention in terms of special alignments and coverage than is typical, and he still put up one of the best single games of all time from a receiver.
A week later, the Saints ran up against another all-time performance, this time from Vernon Davis and the 49ers, and this time they weren't able to overcome it.
Davis tied for the team lead with eight targets but caught seven of them (compared to Crabtree catching only four of his eight), and those seven passes went for 180 yards and two touchdowns. Davis was a physical specimen at his best, but he was rarely able to put all facets of his game together at the same time — he either dominated as a receiver or a blocker, but never both. This game was as close as he got to that perfect combination, as he played very well as a run-blocker on top of the devastation he caused as a receiver.
In a defensive battle, it seems only fitting that one of the best defenders of all time had one of his best games to make the difference between the two sides.
Reed was in primary coverage on four passes in the game, and over the course of 34 snaps in coverage, he came away with an interception and three pass breakups. He made six tackles, two of which were defensive stops, and even registered a hurry on his single pass-rushing snap. Reed graded well in every facet of the game PFF measures and, as he was getting towards the end of his Ravens career, had the kind of game against the Texans that convinced them to bring him on board a couple of seasons later when he became available.
Vontae Davis had a game that highlights how sometimes the PFF system doesn't run exactly how box score numbers do or how conventional wisdom views the game.
Davis was targeted eight times in the game and "gave up" three catches and a passer rating of 45.8, which is good, but not great. He also didn't have an interception. He did, however, break two passes up, and his three receptions totaled 12 yards. He registered three defensive stops in the game, showing an excellent tendency to give up what was sensible for a defender rather than shoot for a perfect shutout at the expense of being beaten for a big play somewhere along the line. This was by far the best game of his season, and it predicted his career year that came just the very next season.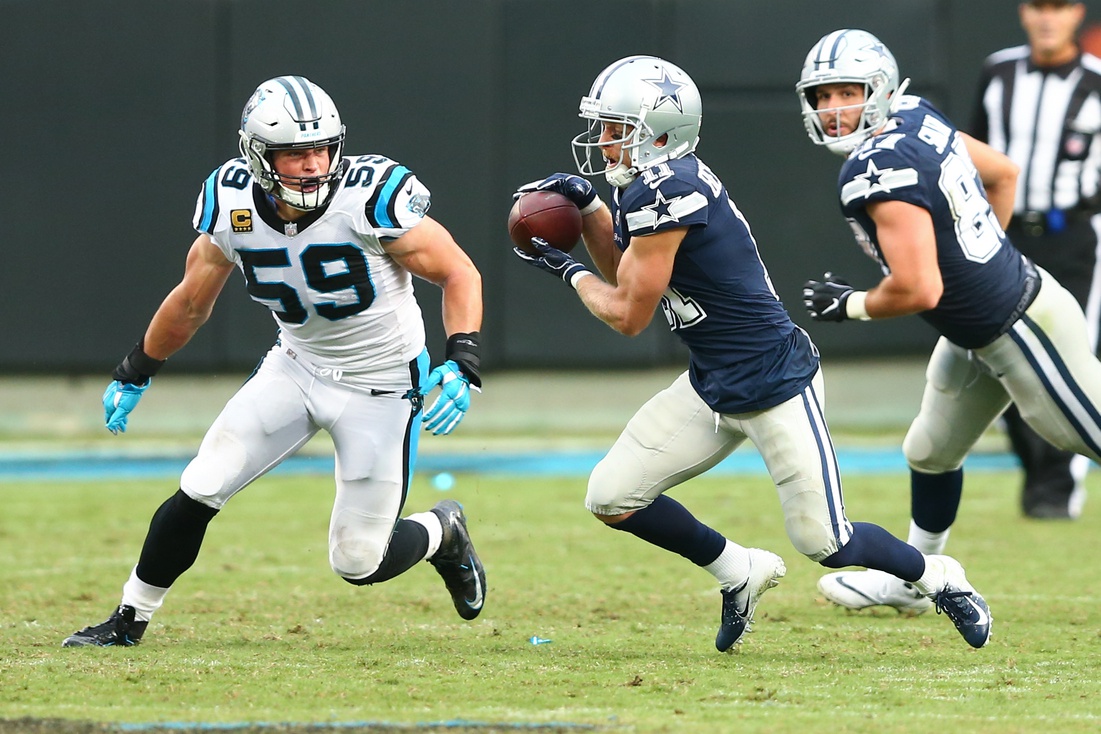 Luke Kuechly is one of the best linebackers of his generation –or any generation, for that matter — and during his career, he essentially became the 100th percentile above and beyond what anybody else was capable of.
His game against the Cowboys in the 2015 season was probably the best of his career, and it showed the kind of impact he could make on opposing passing games because of his ability to cover ground on the back end. He had two interceptions on the day as well as three defensive stops. This was what the modern linebacker should look like, and the prototype everybody is still searching for.
This game is in here just for the sheer weight of pressure. Strictly speaking, it's not one of the single-best games of the PFF era, not least because of the competition, but because Chris Clemons was individually responsible for making a complete mess of the San Diego Chargers' passing offense in this game.
Overall, he produced 18 total pressures from only 41 pass-rushing snaps, meaning he was getting pressure on almost half of his rushes — double a normal "good" rate of pressure. He ended up handing his principal victim — Chargers tackle Brandyn Dombrowski — a 22.6 overall grade, one of the lowest you're going to find, so this game is worth watching just to see how completely out of hand a one-on-one matchup can become.
This game gives you a pretty good idea of how bad sack totals are as a measurement to assess pass-rushing performance.
J.J. Watt, at the peak of his powers, registered 15 total pressures on 47 pass-rushes but was somehow kept off the stat sheet when it came to sacking the Bills quarterback. Watt knocked him down nine times and batted a pass down for good measure. Oh, and he intercepted the football while he was at it. This was Watt at his imperial best, and though he has worked his way back from a series of injuries, this version was one of the best players ever to play. It's worth revisiting to see just how good he was before injuries started to impact his career.
The 2009 season was the greatest single-season of coverage PFF has ever seen from Darrelle Revis. It was one of the greatest single-seasons of coverage anybody has ever seen, and this was the best game from that season.
What made Revis so great is that he would track receivers all game regardless of where they lined up, including following them to the slot, something very few corners do. That put the opposing offense in a bind — either they kept throwing his way, or they agreed to the terms that their best receiver would be entirely ornamental in that game, something few coaches were willing to do. So, Revis continued to be targeted. In this game, he held Antonio Bryant to two catches for 22 yards, while breaking up three passes and intercepting another one himself. Overall, throwing it his way in this game produced a passer rating of 2.8.