Of the thousands of NFL players to ever play the game, a small percentage of players get the honor of being enshrined in the Hall of Fame, forever cementing their position among the legends of the sport. Among those players are those transcendent talents, whose ability on the football field couldn't be constrained by position or scheme — players who were always capable of changing the game in the blink of an eye with lightning-quick reflexes and game-breaking ability.
One of those players was Baltimore Ravens safety, Ed Reed.
Drafted out of the University of Miami with the 24th overall selection of the 2002 NFL Draft, Reed has a strong claim to being the best player in the Ravens' relatively young history, something that shouldn't be overlooked given the fact that the franchise has drafted three first-ballot Hall of Famers since 1996: Jonathan Ogden, Ray Lewis and Ed Reed. Those are some incredible headliners from the first seven drafts in franchise history.
The reason why Reed has a genuine claim to being the best of the three is in his rare playmaking ability. We only have grades and data from 2006 onwards, so we are missing the first four years of his tenure, but overall in his career, he can boast 64 interceptions, an NFL-record 1,590 interception return yards, 11 forced fumbles, 13 fumble recoveries and nine defensive touchdowns. It was the ability to turn any interception into a big play or even a touchdown that made him so special, even though many were skeptical of his cavalier attitude regarding interception returns early in his career.
His second career interception came in Week 5 of his rookie season, with Reed picking off a tipped Kelly Holcomb pass in the end zone. With the Ravens up by five and the clock running out, Reed should have gone down rather than trying to return it, and commentator Mike Patrick deemed it a "mistake," something that conventional wisdom would agree with. Fast forward through Reed's career and to the fact that he owns the longest and second-longest interception returns in NFL history at 106 and 107 yards, respectively, and it's easy to see why he was always so eager to risk it all to bring one back.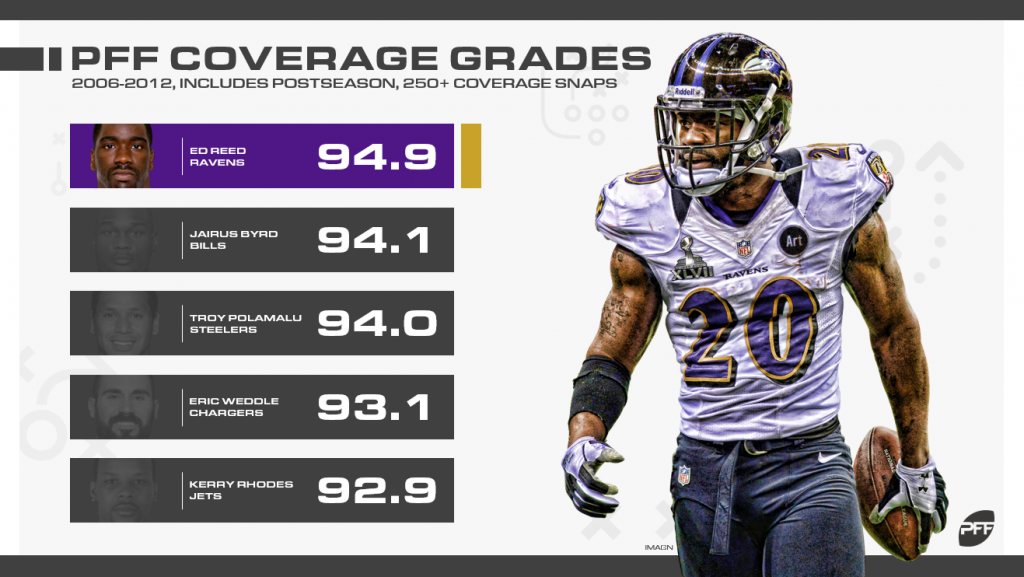 From 2006 to 2012, the stage of Reed's Ravens career that we have graded, he produced the highest coverage grade of all safeties in the NFL. That span included 47 interceptions compared with just 16 touchdowns allowed where Reed was the primary coverage defender. He also had 41 pass breakups in that span and was never too far away from the ball. The 2008 and 2009 seasons were Reed's peak PFF years, with a PFF coverage grade of 96.5 in that span. Not surprisingly, that was the best in the NFL. Only three other safeties managed to produce PFF coverage grades above 90.0 but Reed was the only one above 92.0, and he was comfortably above that mark.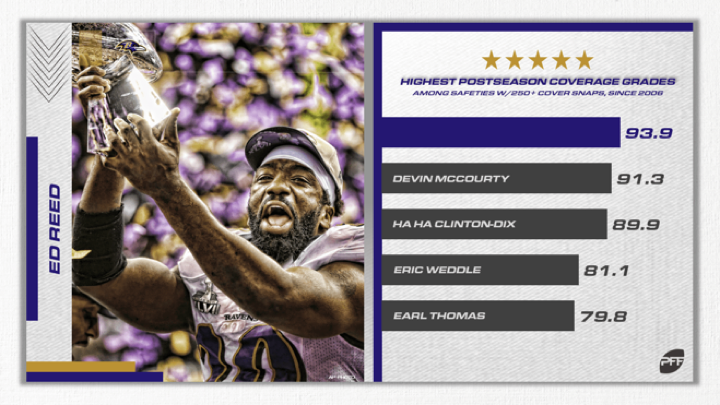 Truly great players make their presence felt in the playoffs too, and Reed did just that. Since we began grading in 2006, only two safeties have produced PFF coverage grades of at least 90.0 having played a minimum of 250 playoff coverage snaps, and none have graded higher than Reed. His playoff resume boasts defensive touchdowns and interceptions of future Hall of Fame quarterbacks in Peyton Manning and Tom Brady. Including the four years that we don't have grading for, Reed's nine career postseason interceptions are tied with fellow safeties Ronnie Lott and Bill Simpson for the most in NFL postseason history.
It wasn't just in coverage that Reed found success though, and despite the fact that he was used as a blitzer on only 92 snaps from 2006 to 2012, he was still able to register 14 total pressures and two batted passes. He could even turn those plays into turnovers by knocking the ball loose from the quarterback's grasp before he could get the pass away. 
Even though we don't have grades for what is widely regarded as the best season of his career — the 2004 Defensive Player of the Year season — PFF grades highlight just how dominant Reed was in Baltimore. He will put on that gold jacket for the first time on Saturday as he is recognized as one of the best players to ever play the game, and his playmaking ability is what made him a genuinely transcendent talent.