PFF has graded every single game since 2006 as well as a few other Super Bowl one-offs throughout the years (1996, 1998, 2001, 2003, 2004). In honor of Super Bowl LIV being right around the corner between the Kansas City Chiefs and the San Francisco 49ers, let's take a look back at every single Super Bowl performance by a quarterback PFF has ever graded:
(Not based off season, just the Super Bowl performance itself. Reminder: a win or loss has no effect on a quarterback's game grade.)
[Editor's Note: Subscribe to PFF's EDGE or ELITE subscription to dive into PFF's 2020 QB Annual. Download your copy of PFF's 2020 QB Annual here if you're already a subscriber.]
Without question, the Denver Broncos' Super Bowl 50 victory was largely because of their stout defense. Manning dropped back to pass 28 times and produced zero big-time throws and three turnover-worthy plays. His PFF passing grade of 45.1 in Super Bowl 50 was among the three worst in a single game we have ever graded of his. That being said, Peyton is still one of the best quarterbacks PFF has ever seen overall — six of his nine seasons in the PFF era resulted in an elite, 90.0-plus PFF grade.
Atlanta's first Super Bowl appearance came in the 1998-99 season when they went up against John Elway's Broncos, and they were not able to pull it out. Chandler struggled mightily with his accuracy, posting the lowest adjusted completion percentage (57.6%) in a Super Bowl among these 36 quarterbacks. Chandler had a couple of nice big-time throws, but they weren't enough to offset his four turnover-worthy plays. Chandler ended up with just a 47.9 passing grade in a clean pocket, which was lower than his grade when under pressure — that almost always leads to disaster for an offense.
Devin Hester returned the opening kickoff for a touchdown, and with the Chicago Bears owning one of the greatest defenses of all-time in 2006, it looked like they would be on their way to securing their first Super Bowl since 1985. That was until the offense took the field. Grossman threw two costly interceptions in the fourth quarter, with one being a pick-six when down by one score. On throws of 10-plus yards, Grossman completed just three of 10 passes with zero big-time throws and four turnover-worthy plays.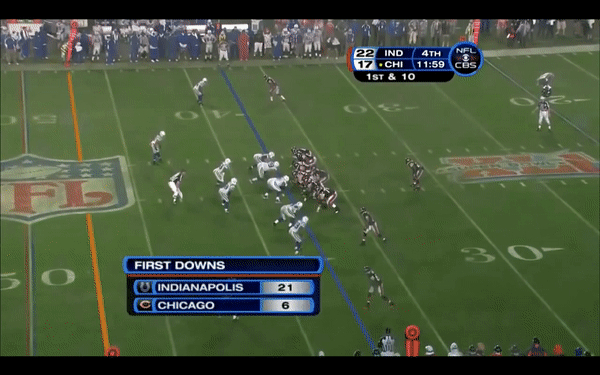 No one will ever forget the lowest-scoring Super Bowl in history last year when the Patriots defeated the Rams, 13-3. Goff had one of the most inaccurate games of his career that day, throwing just 37.9% of his passes accurately according to PFF's ball charting process. He was 0-for-5 on his deep 20-plus yard passes, with one being picked off. The defense did their part that day, but Sean McVay's offense did not.
Bledsoe had a rough go at it in the Patriots' 1996-97 Super Bowl loss to the Packers, throwing four interceptions. The pass-protection was poor and caused 45% of Bledsoe's dropbacks to be under pressure. It clearly affected Bledsoe and the overall success of their offense, as he completed just six of his 17 passes under duress for a 4.4 passer rating and 2.4 yards per attempt.
Then-second-year quarterback Tom Brady took over for Drew Bledsoe earlier in the 2001 season after he got hurt and helped lead the New England Patriots to Super Bowl XXXVI against the St. Louis Rams. New England was up 17-3 in the fourth quarter, and the Rams came back to tie the game. Brady famously executed a drive with one minute and 30 seconds left on the clock to set up a game-winning field goal from Adam Vinatieri. Up until that drive, though, Brady was ineffective. His passing grade sat at 42.4 before then, with more negatively graded plays than positive. Clearly, though, he did redeem himself in that final drive with a perfect adjusted completion percentage.
Similar to that of his opponent Jared Goff, Brady didn't have his best day in the lowest-scoring Super Bowl in history last year. Brady rarely threw the ball downfield, as just a quarter of his pass attempts were 10 or more yards — and he completed just four of those nine attempts. Even with the low average depth of target, 27% of Brady's passes were uncatchable. The Patriots got the win, but largely because of their defense that generated the third highest team defense grade in a Super Bowl.
McNabb was relied upon heavily in the Eagles three-point loss to the Patriots in Super Bowl 39, as he was tasked with throwing the ball 51 times. McNabb's intermediate-range passing got to him, recording just a 29.5 passing grade on throws of 10-19 yards downfield with two interceptions. When he stayed inside the pocket, McNabb found some success with a 76.9% adjusted completion percentage. But when he went outside the pocket, whether it was designed or forced, that dropped to just 30%.
The Denver offense couldn't get anything cooking in a 43-8 loss to Seattle in Super Bowl 48. Manning had a 61.4 passing grade and completed just four of his 13 passes 10-plus yards downfield while going 0-for-6 on passes of 20-plus yards. It didn't help matters that the Seahawks posted the highest grade by a defense we have seen in the Super Bowls that PFF has graded.
Newton couldn't keep up his MVP season in the Super Bowl, recording a 62.9 passing grade and completing only 43.9% of his passes. Newton was under pressure on 50% of his dropbacks and had just a 47.7 passing grade during those instances. On his 24 dropbacks under pressure, Newton completed just six passes while getting sacked six times by the ferocious Denver defensive front.
Favre secured his one and only Super Bowl win against the Patriots in 1996-97, but he wasn't the primary reason for victory that day. Favre was great on his deep passes, completing three of his seven attempts of 20-plus yards for 157 yards and two touchdowns. But outside of that, he wasn't up to his standard. On third down, Favre dropped back to pass 11 times and completed just three of them for two first downs and a 42.9 passing grade.
Through the first three quarters of action, Manning was excellent in Super Bowl 44 for the Colts. He had an elite 90.9 passing grade and recorded three big-time throws in those quarters. Then, the fourth quarter came around. The Colts were up one point entering the final 15 minutes, and Peyton had one of the worst quarters of his career. He had a 34.0 passing grade with two turnover-worthy plays and, of course, threw an infamous game-sealing pick-six in the final minutes.
Peyton's only Super Bowl win with Indianapolis was his best one. He handled the Chicago pass-rush exceptionally well, posting an 80.9 passing grade when under pressure and 11.6 yards per attempt on those passes. With that, though, he was wildly off his game when kept clean. His PFF grade in a clean pocket sat at just 51.9.
The most crushing defeat of Brady's career is easily his Super Bowl 42 loss to the New York Giants, as a win would have made the Patriots the first 19-0 team in NFL history. His 64.7 passing grade was among the four worst of his 2006-07 season, and he wasn't the same big-time play threat we saw post a 97.7 PFF grade in Weeks 1 through 11 that year. He was 0-for-8 on 20-plus yard passes that day.
Super Bowl XLII was the most crushing defeat of Brady's career, but the one right behind that was to the same team just four years later. Brady didn't play poorly by any means, producing a 69.0 passing grade — he just didn't make impact plays to lead the Patriots to victory. The New England offense had plays made in the short passing game, where Brady completed 23 of his 25 passes (two were dropped) nine yards or less downfield for 205 yards and two touchdowns while completing just four passes on 10-plus yard targets.
If it weren't for a 100-yard pick-six from James Harrison at the end of the first half, the outcome of the historic Super Bowl XLIII would look a lot different. Warner was relatively quiet through the first three quarters, posting a 56.9 passing grade while leading the Arizona offense to just seven points. Despite coming up short in the end, he stepped it up in the fourth quarter by leading the Cardinals to two scores while contributing an 80.1 passing grade.
Warner shredded the Patriots' defense back in the 2001-02 Super Bowl when given time in the pocket. He had an average time-to-throw that day of 3.24 seconds and had an 89.5 passing grade on any pass he made that surpassed 3.1 seconds. Ultimately, though, the New England blitz got to him, as his grade on those plays lowered to 57.0 with two interceptions (only one was a turnover-worthy play).
Brady came up clutch in his second Super Bowl victory over the Carolina Panthers in 2003-04, leading New England on two quick game-changing drives at the end of the first half and at the end of the game to set up a game-winning field goal. On those two-minute drills, Brady completed six of his eight passes for 99 yards, with two of those completions going for big-time throws. His PFF grade on those two drives sat at 93.6, but on all others, it was down to 60.7. Regardless, Brady's clutch gene helped mightily in New England winning that game.
The ending to Super Bowl 49 might be the most well-renowned ending in NFL history. Russell Wilson led the Seahawks to the New England one-yard line down four points and threw an interception that sealed the New England victory with just over 20 seconds to go. There was another turnover-worthy play Wilson had in the game that didn't help matters any, either. Still, the Seahawks marched down the field throughout the game because of Wilson's tremendous deep passing, completing three big-time throws and racking up 178 yards.
Kaepernick capped off his tremendous 2012 postseason run with the 17th-best passing grade we have seen from a quarterback in the Super Bowl. Kaepernick carried his play on his vertical route targets by completing four of six (with one drop) attempts for 108 yards and three big-time throws. Kaepernick had two turnover-worthy plays, one that resulted in an interception and the other he got lucky on, as it was dropped and could have resulted in a pick-six.
Delhomme torched New England from inside the pocket, generating an 85.3 passing grade on such dropbacks. He was ready to risk it all by owning an average depth of target at 16.7 yards when inside the pocket and totaled 200 yards on deep passes alone. Most of his worst plays came when he was forced outside the pocket. Delhomme did enough for the Panthers to win the game — but the defense couldn't come up big when it needed to most. The Carolina coverage unit posted the worst coverage grade in a Super Bowl that we at PFF have ever seen.
Brady beat the Legion of Boom through a quick passing attack. His average time-to-throw that game was 2.24 seconds, and he was money on anything less than 2.0 seconds. He had an 89.2 passing grade on those throws, posting a perfect adjusted completion percentage on his 21 attempts with 162 yards and four touchdowns. Brady did have a costly interception in New England's own territory that led to a Seattle touchdown, but the Patriots wouldn't be Super Bowl champions without his fourth quarter that resulted in an 84.2 passing grade and two touchdowns — in addition to the Malcolm Butler interception, of course.
The comeback Brady orchestrated against the Atlanta Falcons in Super Bowl LI is arguably the best in NFL history. The Patriots were down 28-3 early in the third quarter, and Brady looked like anything but his elite self. Up until that point, Brady had just a 54.9 passing grade with an interception and zero big-time throws. After he got the ball back when the Falcons went up 28-3, Brady turned on the jets and produced a 90.1 passing grade with four big-time throws, zero turnover-worthy plays and an accurate pass rate of 80% that led to a Patriots win in overtime.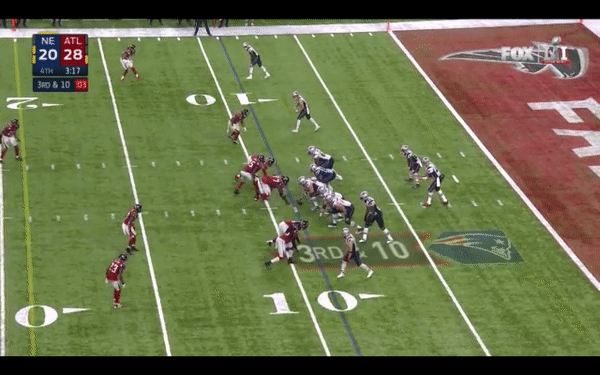 Brady's third Super Bowl win in a four-year stretch back in the 2004-05 season was one of his best on-field performances. Brady had a 79.8 passing grade for the game, and the Eagles had no answer for his quick, short passing attack. Brady's grade jumped to 90.9 on throws of 19 yards or less, recording 8.7 yards per attempt and generating a 127.8 passer rating in the process.
With every great comeback comes an unthinkable collapse, and Matt Ryan and the Atlanta Falcons were on the receiving end of it in Super Bowl 51. In every drive leading up to the beginning of Brady's comeback, Ryan was stringing together an impressive performance by producing an 88.1 grade. After that, though, Ryan wasn't nearly as effective, and his passing grade ended up dropping down to 80.7 for the entire game. Despite his team's collapse, Ryan was still collectively accurate, with 77.3% of his total passes being deemed accurate and 31.8% being accurate-plus (perfectly placed passes).
Manning led the Giants to one of the biggest Super Bowl upsets in history over the Patriots in 2007-08. They ruined the Patriots' perfect season, and Eli's fourth quarter is a large reason why. Overall in the game, Eli put together the second most big-time throws in a Super Bowl we have seen (5) — and four of those came in the fourth quarter. He had an 88.0 passing grade that quarter (68.5 in the first three quarters) and came up huge when under pressure at that time by completing all three of his pressured attempts for 53 yards.
It's crazy to think 25% of the quarterback Super Bowl appearances PFF has graded are owned by Brady and that his best one from start to finish came in one of his three losses. Brady recorded an 81.5 passing grade in Super Bowl 52 and lit the Eagles up when they obtained pressure on him. When under duress, Brady's grade improved to 89.3 and he completed nine of 18 passes for 237 yards. In addition, Brady connected on six deep passes with two big-time throws. The Patriots didn't get the win, but it was still the best performance of Brady's Super Bowl career.
The first quarter of Super Bowl XLV for Roethlisberger did not go the way he or anyone else expected. He had a pick-six when he was hit while throwing and just a 49.2 passing grade while watching the Packers jump out to a 14-0 lead. After that, though, Roethlisberger rallied and put up an 89.1 passing grade the rest of the way. The Steelers came up short and failed to execute a game-winning drive, but Roethlisberger still got them back in the game to the point where they had a shot.
Elway went back-to-back with his Super Bowl 33 victory over Atlanta and had his way with their secondary when throwing downfield. On throws at or beyond the sticks, Elway produced a 92.8 passing grade while averaging 17.2 yards per attempt and completing 9-of-13 attempts for first downs. Even when generating pressure, the Falcons couldn't stop Elway, as he had an 84.7 passing grade under pressure and averaged 18.4 yards per attempt on those dropbacks.
Drew Brees' great accuracy and decision-making were on display in Super Bowl 44, as he produced an 89.5% adjusted completion percentage and the lowest negatively graded play rate of any of these quarterbacks in their Super Bowl appearances. Only seven of his 39 passes were attempts of 10 or more yards downfield, but he kept the turnover-worthy play column empty while consistently moving the ball, which helped lead the Saints to victory.
In his Super Bowl performance against the Packers, Roethlisberger was underperforming for just one quarter. In his first one against the Cardinals, he was underperforming throughout his first three by producing just a 69.1 passing grade. But as we know, that didn't hold in quarter four. Roethlisberger improved his grade to 90.9 and produced two scores in the final three minutes, which included one of the best touchdowns in Super Bowl history: his big-time throw touchdown to Santonio Holmes to secure the win.
The question still remains as to whether or not Flacco is, in fact, elite, but regardless, he still owns one of the best Super Bowl performances we have ever seen. Flacco had an 86.5 passing grade in his Super Bowl 47 victory. He stayed with the play better than any of these quarterbacks — on throws where the time-to-throw was longer than 2.6 seconds, Flacco had a 93.7 grade with two big-time throws while completing 11 of 15 attempts for 170 yards and two touchdowns.
Seattle hung 43 points on Denver in Super Bowl 48, and Wilson was a big reason for it, being one of four quarterbacks to ever produce an elite passing grade in the Super Bowl. Wilson was especially effective in a clean pocket, improving his grade to 92.4 while completing 17 of 22 attempts for 199 yards with three big-time throws. The Seahawks generated positive EPA on 64.3% of their dropbacks that game (highest ever in Super Bowl graded by PFF), thanks to mostly Wilson.
Foles earned himself a lot of money and a long future in the NFL with his Super Bowl 52 showing that ended in him being the game MVP. Foles had a 90.7 passing grade for the game while throwing four big-time throws and had zero turnover-worthy plays. Foles was blitzed quite a lot from Bill Belichick's defense and overcame that better than most of their opponents did. Against the blitz, Foles had a 91.5 passing grade, with three of his four big-time throws coming on those plays. And just 6.7% of Foles' 17 passes were deemed uncatchable.
Whether or not Eli Manning belongs in the Hall of Fame is another topic of discussion, but he did have the second-best Super Bowl performance by a quarterback of the 36 PFF has graded. Eli had four big-time throws and no turnover-worthy plays for the game and was near perfect when throwing under pressure. He had 14 pass attempts under duress and had a perfect adjusted completion percentage while averaging 9.3 yards per attempt.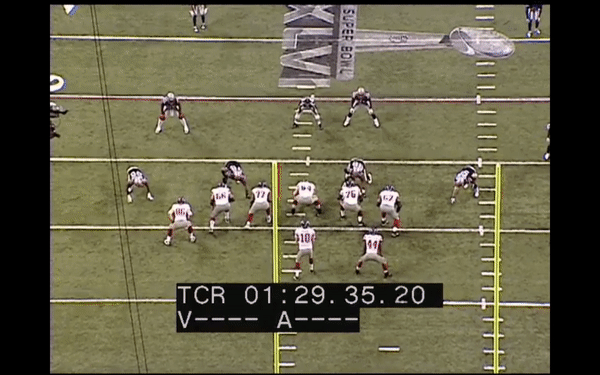 The best Super Bowl performance by a quarterback we have ever seen belongs to Rodgers in his one and only appearance — and it's not even close. Rodgers had a 94.2 passing grade in his Super Bowl 45 victory over Pittsburgh and gathered up nine big-time throws while going without a single turnover-worthy play. Five of those big-time throws came on third down, where he completed six of 11 attempts for 138 yards (four of those five incompletions were dropped). For perspective on how great this performance was, Rodgers hasn't recorded a higher passing grade in a single game since. No quarterback has come close to as good of a game as this in the Super Bowl, and it's hard telling if anyone else will anytime soon.