Landing a franchise quarterback isn't easy, but it's a necessity in order to be a perennial threat to win the Super Bowl. 
In almost every scenario, adding a difference-making QB requires a team to hit rock bottom to obtain a high draft pick — and then some luck, paired with a sharp evaluation and decision-making process. 
This begs the question: Which teams are in good position and have that franchise quarterback after the 2021 season? If you were starting a team from scratch and had the choice of all the players in the NFL, whom are you choosing to start a franchise with?
---
Click here for more PFF tools:
Rankings & Projections | WR/CB Matchup Chart | NFL & NCAA Betting Dashboards | NFL Player Props Tool | NFL & NCAA Power Rankings
Best Bets Tool
---
Taking into consideration age, previous play and potential, here are the players I would choose — not the PFF consensus — to start a franchise with in 2022 ranked 1 through 10:
It's no secret that Mahomes hasn't performed up to his standards in 2021. He earned a 77.5 PFF grade this season, good for just 13th in the NFL. But in each of the previous three years, Mahomes posted an elite PFF grade above 90.0 for a top-five finish among quarterbacks, along with a regular season NFL MVP (2018) and a Super Bowl MVP (2019).
Mahomes' big-time throw rate this year has been cut in half year-over-year, while his average depth of target from his MVP campaign has dropped 2 yards. Teams are blitzing the 2017 10th overall pick significantly less while also rapidly increasing the amount of two-high structures played, but that hasn't stopped Mahomes from peppering defenses deep downfield in 2021. In fact, he owns a higher deep passing grade in 2021 than in 2020. The stark difference comes from his passing to the intermediate level of the field, where he has tossed only two big-time throws compared to 18 in 2020 — most of which came against single-high looks. 
While it may be a down year for the 26-year-old quarterback, he's without a doubt still the No. 1 option to start a franchise with heading into 2022. Mahomes' arm talent and playmaking ability outside of the structure of the offense is truly in the "unprecedented" category. Despite not owning an elite PFF grade this season, the Chiefs still have the most efficient offense in the NFL. 
The fact Burrow enters the postseason with the NFL's highest passing grade a year removed from destroying his knee in the midst of a so-so rookie campaign is quite impressive. Not only does his 91.2 passing grade sit atop of the NFL this season, but it is also the second-best grade PFF has on record from a second-year quarterback behind only Mahomes in 2018.
Burrow's playmaking when under pressure has factored in this, but easily the biggest reason why for the major jump has been his deep passing. The 2020 No. 1 overall pick was lights-out as a rookie throwing to the short and intermediate levels of the field, but he couldn't do anything deep downfield. Now that he's been reunited with his top pass-catcher from LSU — Ja'Marr Chase — Burrow's deep passing has gotten back to the level we saw during in his 2019 national title run.
Joe Burrow passing grade and rank by depth of target | 2020 vs. 2021
| | | |
| --- | --- | --- |
| 2020 | | 2021 |
| 78.8 (8th) | Short (less than 9 yards) | 80.5 (4th) |
| 92.5 (5th) | Intermediate (10-19 yards) | 95.6 (1st) |
| 61.5 (30th) | Deep (20+ yards) | 95.8 (4th) |
He's been deadly accurate to all levels of the field. Burrow's 64.6% accurate pass rate on throws beyond the line of scrimmage leads all quarterbacks by multiple percentage points this season. His poise and mental processing speed is in the upper-echelon of the position. Regardless of Cincinnati's wild-card game result against the Las Vegas Raiders this weekend, Burrow is going to break the Bengals' multi-decade playoff win drought sooner rather than later.
Herbert is the definition of calm, cool and collected both on and off the field. There's no panic to his game, and that's why he leads the NFL with 10 total games with zero turnover-worthy plays this season. The 2020 No. 6 overall pick has the lowest turnover-worthy play rate this year at 1.6%, just ahead of future Hall-of-Famers Tom Brady and Aaron Rodgers. For those looking at the box score and arguing Herbert doesn't take good care of the ball because of 15 interceptions, he's had seven interceptions that weren't his fault. Herbert also has thrown an uncatchable ball at the lowest rate in the NFL at 15.8%.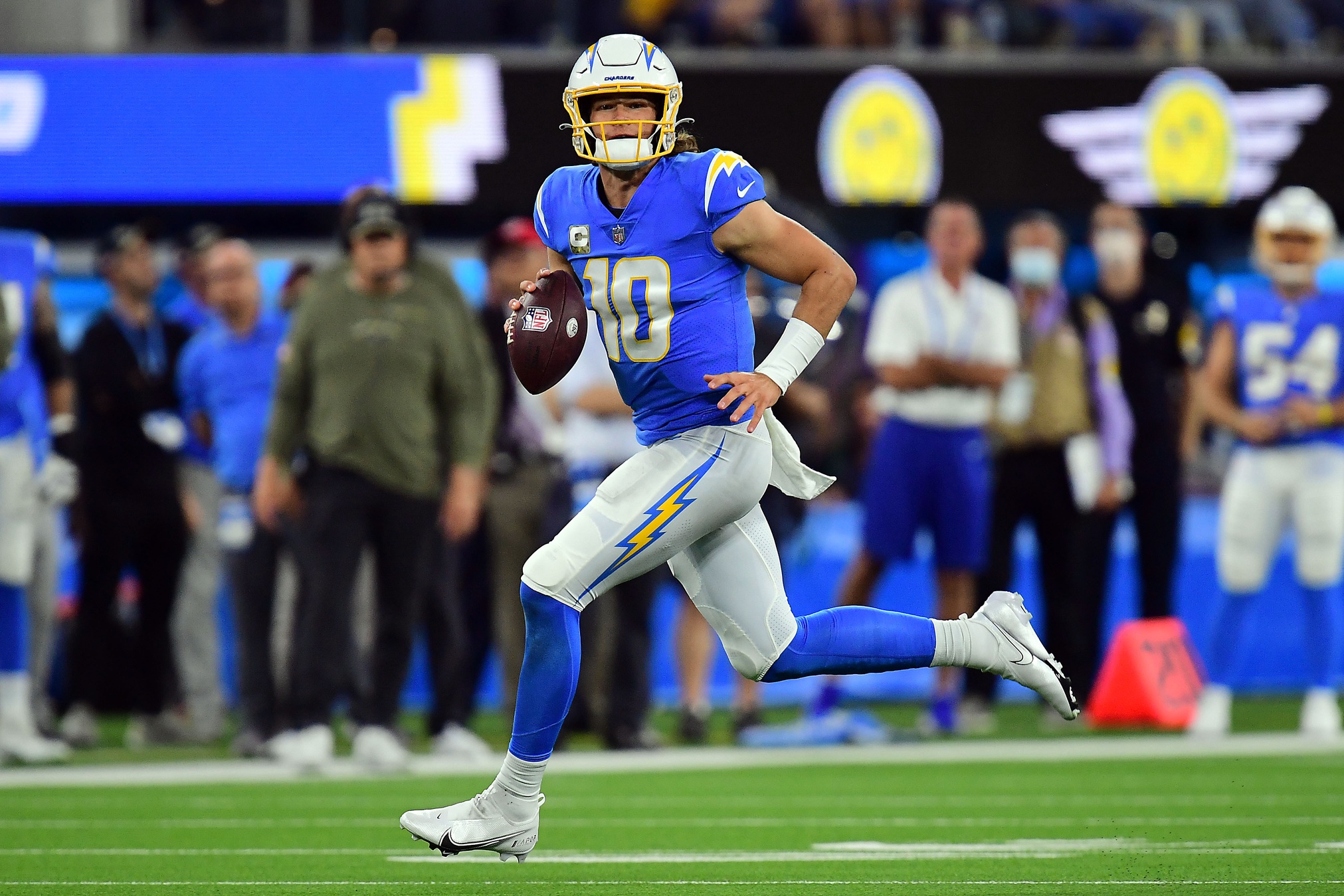 Between his ability to take care of the football, deliver high-velocity throws and make accurate and anticipatory throws, Herbert produced the third-best passing grade from a second-year quarterback in the PFF era in 2021 (86.2).
Allen had an unprecedented breakout in 2020. After ranking 29th and 28th in passing grade his first two seasons in the NFL, the former first-round pick posted the sixth-best passing grade of 2020. He increased his passing grade well over 25 grading points year-over-year. Accuracy is an area of quarterback play that is incredibly difficult to improve in. With the help of quarterback consultant and former NFL passer Jordan Palmer, Allen is no longer in the bottom-tier of the NFL in that metric.
Josh Allen accurate pass rate on throws beyond the line of scrimmage 
| | |
| --- | --- |
| Season | Accurate Pass Rate |
| 2018 | 43.1% (32nd) |
| 2019 | 47.9% (31st) |
| 2020 | 57.9% (13th) |
| 2021 | 57% (12th) |
There have been a few rough performances from Allen this season that brought down his 2021 passing grade to 77.5, but he's still been the sixth-highest-graded quarterback overall thanks to his league-leading rushing grade. He has also been a high-level playmaker, boasting 39 big-time throws — tied for the third-most in the NFL.
Allen had the arm strength and the mobility entering the NFL, but his improvement from an accuracy standpoint and growth in processing has made him into a franchise quarterback.
Josh Allen my goodness pic.twitter.com/BlgaRMbBar

— Anthony Treash (@PFF_Anthony) December 27, 2021
Murray is one of the most fun players to watch in the NFL (sorry, PFF Tailgate crew Austin Gayle and Mike Renner). He has posted an 8.1% big-time throw rate for the 2021 regular season — the best in the NFL by 1.7%. The 5-foot-10, 207-pound quarterback recorded at least three big-time throws in an NFL-leading nine games this season. Keep in mind, he did this while missing a few games due to injury. A lot of those highly graded throws have come on bucket throws where he drops it right over the receiver's shoulder with perfection:
Kyler is one of the best over-the-shoulder throwers in the NFL pic.twitter.com/fyqTBLMeGW

— Anthony Treash (@PFF_Anthony) December 26, 2021
Murray is quick on his feet as well and has no issue making a play on the run outside of the pocket. In fact, the 2019 No. 1 overall pick owns the highest passing grade on plays outside the structure of the offense this season. Only Burrow and Brady have a higher passing grade this year than Murray, who led the Cardinals to their first playoff appearance since their conference title game loss in the 2015 season.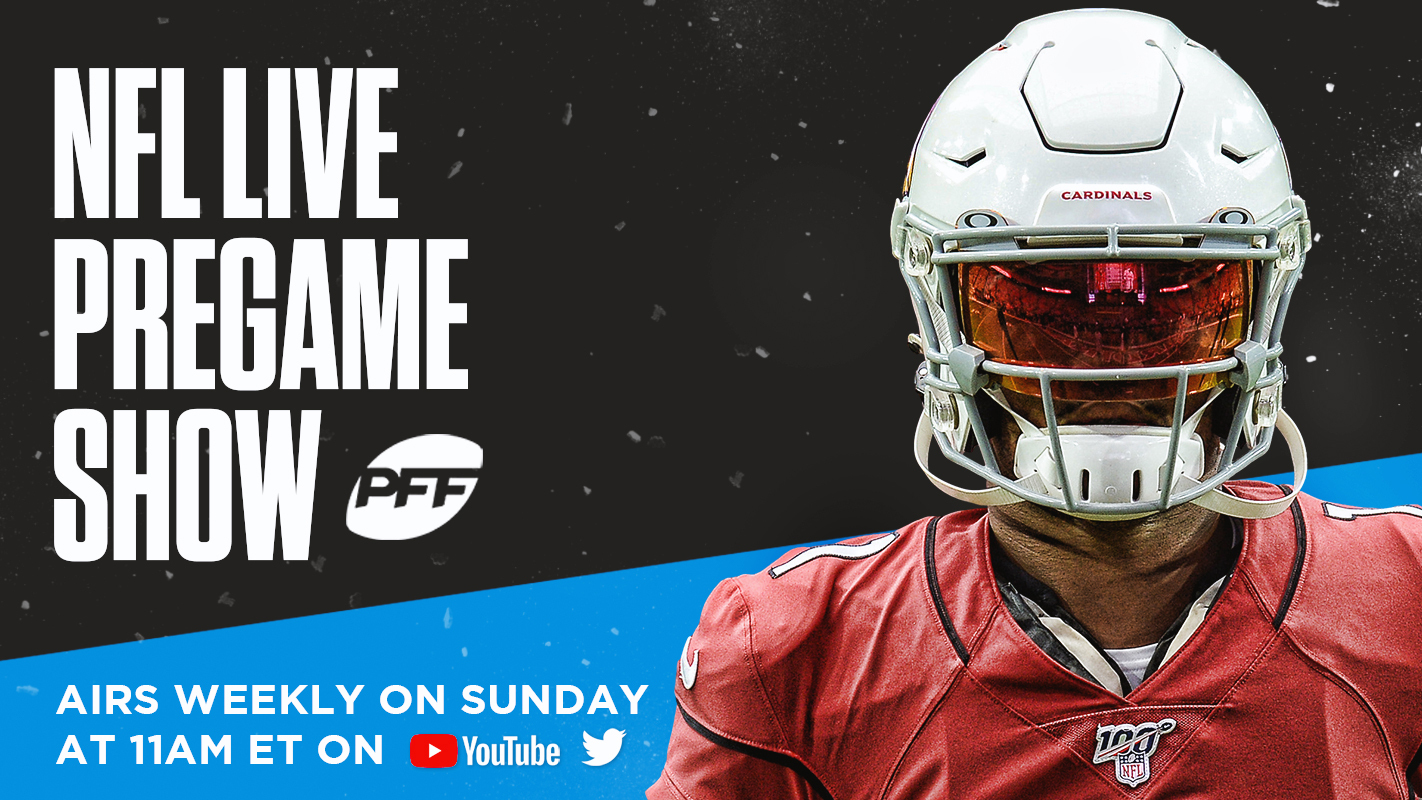 Prescott has grown immensely over the last couple of years under offensive coordinator Kellen Moore. His ability to read defenses and get through his progressions on pure passing concepts has shined in particular. With no play-action, run-pass option or screen, Prescott has been a top-five-graded quarterback in 2021. He also cracked the top five in grade this season when working full field going to his next read. The 28-year-old quarterback has displayed fantastic ball placement all year long, with the second-lowest uncatchable pass rate on throws beyond the line of scrimmage.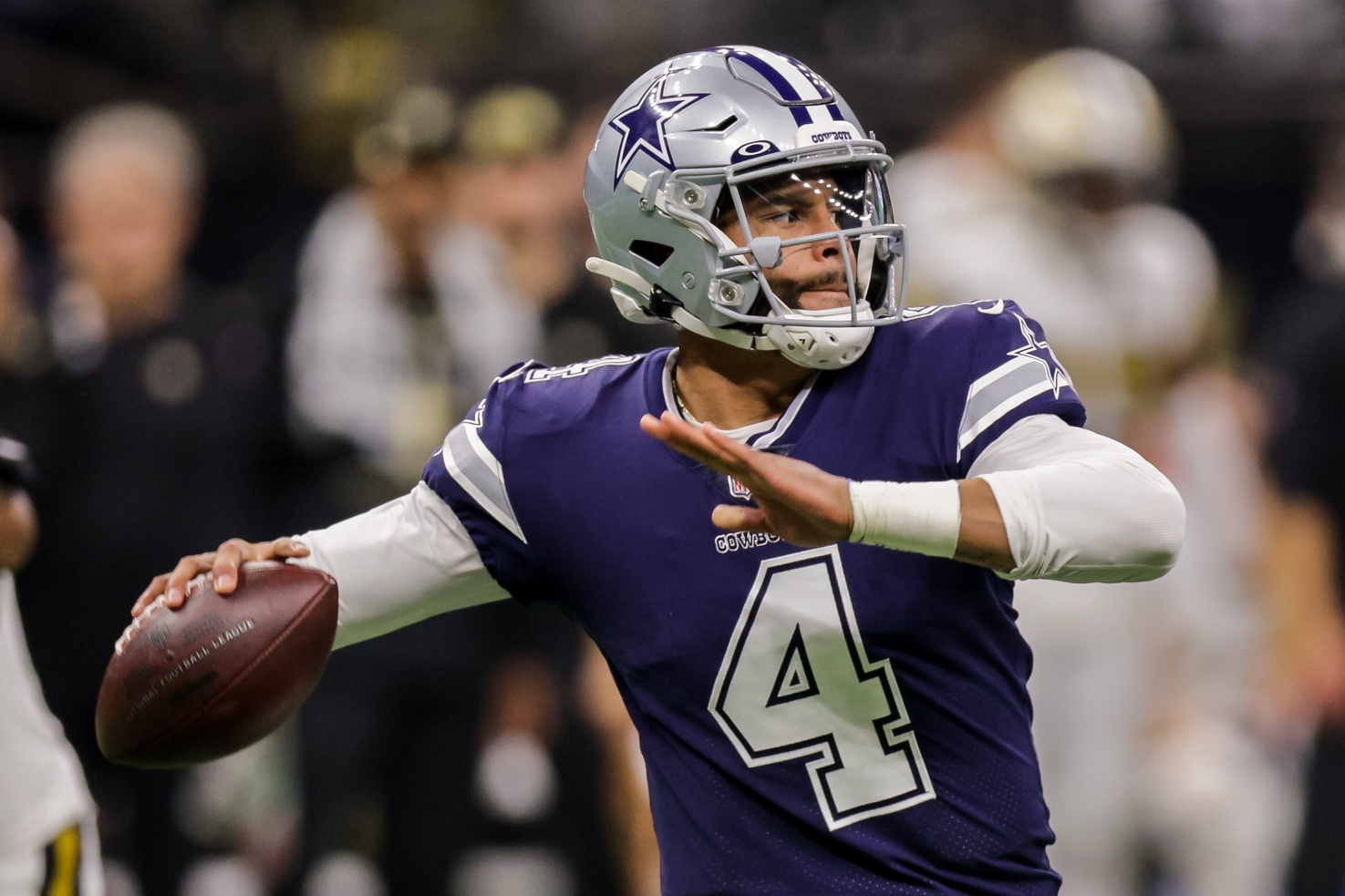 Lawrence objectively did not produce all that well in his 2021 rookie campaign: The 2021 No. 1 overall pick turned in a 59.6 PFF grade. Despite that, he would still be the consensus first quarterback off the board if there were a redraft of last year's class. Lawrence showcased the traits that made him the top selection even though he was in a bad situation in 2021. His pocket presence has been at a rare level for a rookie — Lawrence converted pressure to sacks at the fifth-lowest rate in the league (14.5%). The Clemson product has also been a playmaker under duress, tying for the third-most pressured big-time throws (12).
look at him open up this throw with his eyes pic.twitter.com/FUEElxiZiF

— Anthony Treash (@PFF_Anthony) January 10, 2022
Lawrence has elite-level arm talent. There were times where he tried to do too much, but that's common for a rookie. It would have been difficult for any rookie prospect in recent memory to produce in the same ecosystem Lawrence was in this past year.
Related content for you:
Understanding 2021 Rookie Quarterbacks with Clustering and Bayesian Forecasting: How much confidence do we still have in Trevor Lawrence? via Timo Riske
The entire football world can agree Fields was in an all-around rough situation his first year in the NFL ranks. The biggest issue was undoubtedly the poor pass-protection the rookie endured: He spent 42.8% of his dropbacks under pressure, the highest rate in the NFL (minimum 300 dropbacks).
Still, the former Ohio State Buckeye showed plenty to be excited about. Fields recorded a 6.1% big-time throw rate and 14 explosive runs of 10 or more yards, both of which were fifth among quarterbacks in 2021. Fields rarely put the ball in harm's way from a clean pocket, as evidenced by his fifth-ranked 1.4% turnover-worthy play rate on clean-pocket dropbacks.
Justin Fields had more high-level throws on MNF than any rookie has had in a single game this year pic.twitter.com/9y6JvJFLw7

— Anthony Treash (@PFF_Anthony) November 9, 2021
It wasn't a banner year from Fields, but he showcased the traits to be a star quarterback.
Jones' processing, accuracy and timing stood out when he led Alabama to a national championship in 2020. Those traits have translated to the NFL right away and resulted in high-level play for the rookie. The Pats quarterback enters the postseason with a 77.8 PFF passing grade — a top-10 mark at the position — and the sixth-best passing grade among all rookie quarterbacks in the last decade. His 2.5% turnover-worthy play rate and 19.8% uncatchable pass rate on throws beyond the line of scrimmage are both the sixth-best in the NFL.
There was actually a seven-week span (Weeks 5-11) when Jones was the highest-graded quarterback in the NFL. Again, that's unheard of for a rookie. He may not be the most gifted quarterback from a tools perspective, but the 15th overall pick has the intangibles and most important traits at the position. That's why he produced better than any other rookie in 2021 and could become an elite quarterback at some point in his career.
Mac Jones put on a clinic yesterday.

He's the NFL's highest-graded QB since Week 5, per @PFF. pic.twitter.com/86Ii7KLCM7

— Anthony Treash (@PFF_Anthony) November 15, 2021
Jackson is one of the most dangerous quarterbacks in the game thanks to his athleticism: He has totaled 108 explosive runs of 10 or more yards since 2019 — 40 more than any other quarterback in that span. The dual-threat QB stresses defense and keeps them on their toes. Jackson hasn't necessarily been a top-tier passer over the years, with passing grades of 82.5, 74.9 and 65.9 since 2019, but he has nailed the play-action concepts offensive coordinator Greg Roman dials up. He ranks eighth in passing grade with play-action since 2019 and owns the second-highest usage rate over that time at 35.1%.