PFF's Ari Meirov sits down with Field Yates, an NFL Insider for ESPN who contributes analysis, breaking NFL news and fantasy football insight year-round.
Together, the two discuss: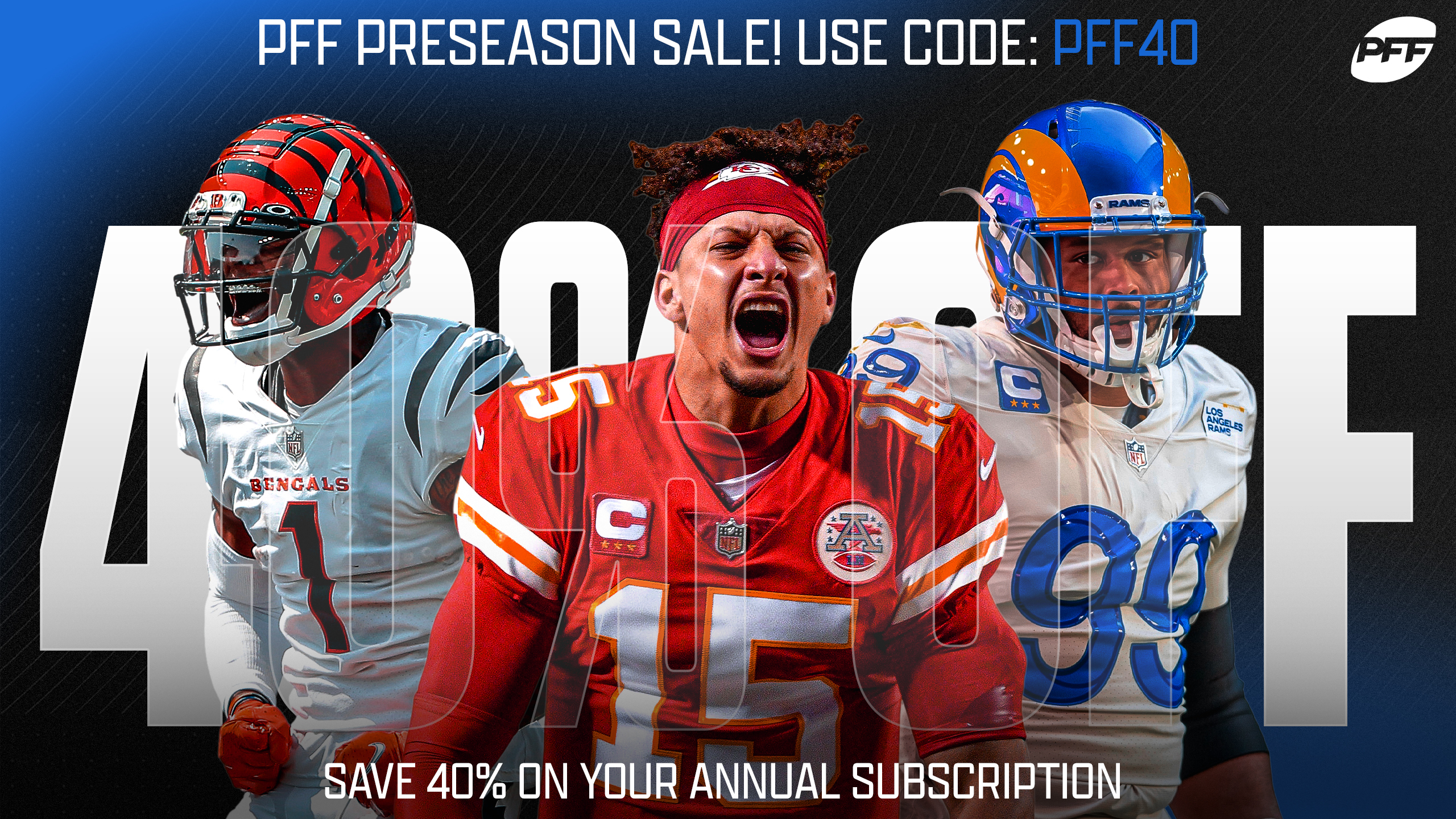 Field Yates: I think the Browns should look to roll with Jacoby Brissett. And this eventually becomes a dollars and cents game. Cleveland can afford to fit basically any free agent they like, with their current cap situation at the time that you and I are having this conversation. But, of course, every dollar spent is a dollar less to allocate elsewhere. And I think that a big part of the Browns' thinking right now is not just augmenting the roster as it presently stands but also that they've got some good young players who are going to eventually be eligible for extensions or are already eligible for extensions. And when you have a young roster, it's not just balancing needs for right now in the context of what's available but also the bigger picture.
And the problem with Jimmy Garoppolo is pretty straightforward: If you trade for him on his current contract, it's a $24-ish million tab for the season — because once Week 1 is in the books, Jimmy Garoppolo's salary is guaranteed.
So, if you're Cleveland, and the proposition is Jimmy Garoppolo for eight games is your starter and then to Deshaun Watson from nine more, I think you're probably saying to yourself, "I don't know that half a season of Jimmy Garoppolo is worth a $24 million price tag."
Now, if Jimmy Garoppolo is released, the Browns — any team — would at least have a conversation about it. But I don't think — and maybe I've misread the market here — that trading for Jimmy Garoppolo at his current price tag makes sense for the Browns.
---
FY: I don't think there is a perfect fit, especially with the trade. And the rub is not just that you got a $24 million contract, which if you look around the league right now, how many teams are in a spot where a $24 million quarterback makes sense for them?
Most teams have their plan. Every team has their plan going into the season right now at quarterback. So, I think the way in which Jimmy Garoppolo finds a new home, is one of the following:
1. He gets released. Once you're released, it's a far different market. You probably aren't commanding $24 million. But what you can do from a contract standpoint is whoever acquires you can structure in a way that's far more cap-palatable in Year 1. That maybe is unlikely because it seems like San Francisco is unwilling to release Garoppolo outright. But I think it at least has to be mentioned because I don't know that they can afford to keep them on their roster going into the season with some of the extensions they need to budget for, Deebo Samuel and Nick Bosa among them.
2. Is that Jimmy Garoppolo agrees to a reworked contract in some way, shape or form. Perhaps the Baker Mayfield route, where the contract is restructured for just this year and the Niners pick up a big part of the tab. Or it's a multi-year extension, where the cap number is dropped dramatically.
Again, the problem is, who's willing to commit a multi-year extension to Jimmy Garoppolo when he's coming off of shoulder surgery. And as of this point, no one's found a strong desire to acquire him.
So, the other thing that could change is that someone's plan that looks good right now could be blown up during training camp because of other poor performance, an injury or something else that all of a sudden changes the outlook of your roster.
We've seen late training camp trades. I think Sam Bradford will always be remembered as the most memorable recent one when he went from Philly to the Vikings. I don't know that we can forecast something like that, but it's a testament to the idea that mid-to-late July plans don't always bear out — even in mid-to-late August.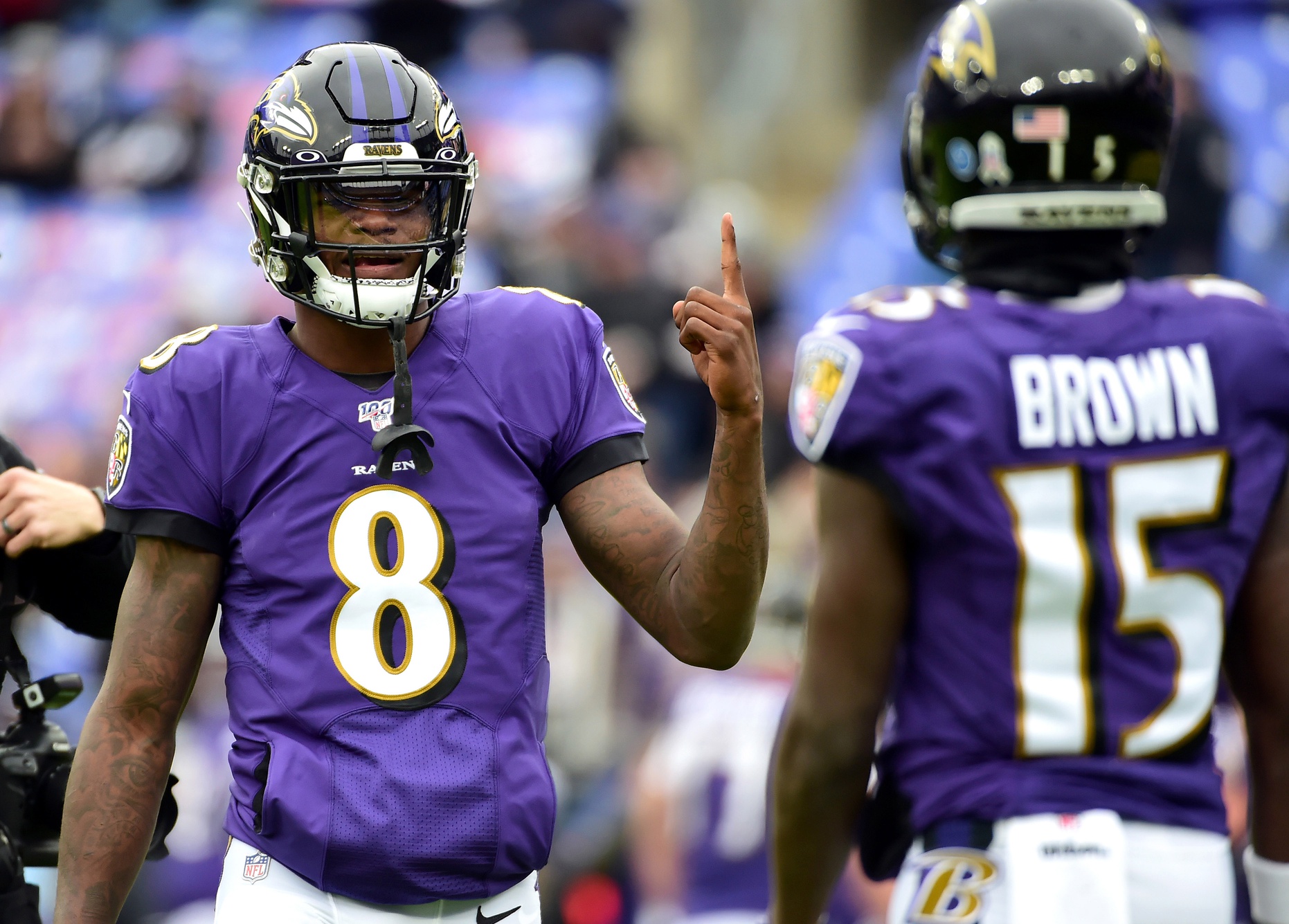 FY: Yeah, "distraction" is an interesting choice of words, only because I think it could be somewhat subjective for those involved. But if you're Eric DeCosta, the general manager for the Baltimore Ravens right now, the reality is that every decision that you make as it pertains to your roster is directly or indirectly related to the finances of a Lamar Jackson extension.
If you knew right now that the Lamar Jackson deal was going to get done, it was going to cost you approximately this in terms of the cap and cash this year, it allows you to more effectively evaluate every other move that you could make for this upcoming season.
If Lamar says, "Absolutely no chance that I will be playing on a new deal this year. I am going to play out the fifth year of my contract," that cap number is not going to change for Lamar Jackson. But if you're inching closer and closer and closer to an extension and you feel like a deal, even though it's going to give Lamar a massive raise, could also include reducing his cap number by, say, $12 million, all of a sudden you're saying to yourself, "We either have our in-season budget accounted for or do you want to go try to sign an Odell Beckham Jr. or trade for a disgruntled receiver.
Who knows how many other wide receivers could all of a sudden wake up one morning unhappy? That's the kind of calculus that I think is going to the head of Eric DeCosta. Maybe not a distraction, but it's certainly a consideration, and I don't know exactly where Lamar's head is at right now.
I'm trying to only apply what I believe could be logic, even if I don't know for sure. And in Lamar's case, he was willing to not do a deal this past year. Josh Allen, the only quarterback of the five in the first round of 2018 to do a deal, and it paid him $43 million per year. And when you're resolute in your stance like Lamar has been to this point, it generally means that you're willing to go to the mat and continue to fight this. Meaning that, "hey I didn't want to do a deal last offseason, but I think I'll just take a deal this year — even if it's not exactly what I want."
Maybe Lamar Jackson is saying, "DeShaun Watson got $230 million fully guaranteed. Give me at least that." Maybe he's saying, "Aaron Rodgers is now making $51 million per year. Give me at least that."
Maybe there are other deals that he's got in mind, but if I'm Lamar Jackson and my stance up until this point has been, "I need to play hardball," then I wonder if Lamar is going to move off that stance because, as we know, if a quarterback of Lamar Jackson's caliber ever hits the open market — it may be a couple of years from now — but he might end up being the richest quarterback the league has ever seen.
You think about Kirk Cousins and the way that things have played out for him financially. Well, Lamar would be in an entirely different stratosphere if he ever played the Kirk Cousins cards.
---
FY: You know as a team, I can't imagine they have any interest in doing that, especially when you're talking about a player like that.
It's a little bit different when you're not totally sold on the guy. As a matter of fact, the Giants could be a team that is saying to themselves internally, "Listen, if Daniel Jones plays amazingly this year, I know we could add him on the fifth-year option. We'll just tag him, and we'll go in that direction. Let him prove it to us, right?"
But if you exercise that fifth-year option then you get stuck with the Sam Darnold–Baker Mayfield problem, the one Browns and the Panthers — and now the Panthers again — are stuck with at the moment.
So, I think the Ravens don't view it that way. I think they would like to get a deal done yesterday. Lamar, I think, has to make a decision. Say whatever you want about Kirk Cousins: Is he a perfect quarterback? No, but it took stones to say, "I'm not doing a deal." Not once. Not twice on the franchise tag. And he got what he wanted. And it ended up being a fully guaranteed contract with the Vikings that has been extended twice already. And unless I miscalculated or misremembered how things have gone, every dollar in his deal has been fully guaranteed. And we're talking about over a five- or six-year span — that could make like $220 million.
---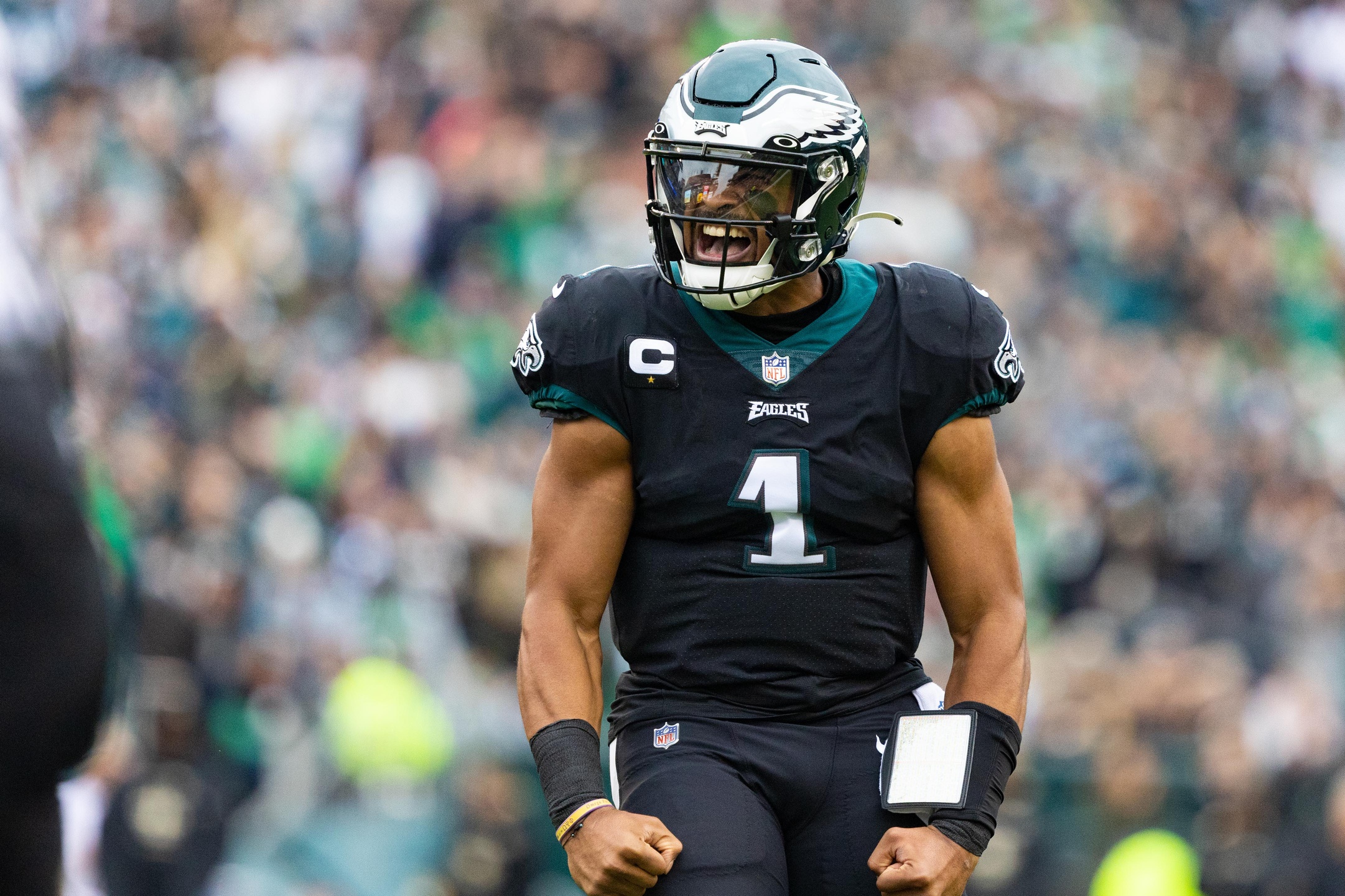 FY: For me, it's probably between Tua and Jalen Hurts. And I think that the best way to silence critics, generally, is for your team to win.
Jimmy Garoppolo might be one of the exceptions, right? Because if the 49ers keep winning big. Jimmy Garoppolo like, you know, they won big last year, but it didn't necessarily equate to the doubters changing their tune on Jimmy.
But if Jalen can win a playoff game with the Eagles, that to me I think, would go a long way because as we all know, there are these two first-round picks plus an extra second-round pick that is hovering above the Eagles' franchise for the 2023 draft. And I think the hard part for Tua, who also has two first-round picks hovering around him, is that the Dolphins are part of just a gauntlet conference, right?
I could see them making the playoffs next year. I could also see them finishing third in their own division and winning more like seven games. And Tyreek Hill has certainly stoked the flame plenty this offseason with his comments about Tua and Mahomes, and vice versa. But I think it's reflective of the fact that there isn't a lot of gray area with him. Just being a solid starter probably does not end the conversation. He either needs to be a lock-it-in top-10 guy or we're going to say, "I'm not even sure he's a top-20 guy."
---
FY: Yeah, I'll be very clear that most of my guesses of what I presume will be the four battles are just guesses. Maybe there's one exception. So I'll go with Geno Smith, and just — you know — it's the guy who's been in the league for 10 years, and the guy that has been around Seattle for a while and has a lot of respect in that locker room. Seattle would never say this out loud, but I think you have to, as an organization, be honest with your timeline.
And while no doubt D.K. Metcalf, Tyler Lockett, Quandre Diggs and Jamal Adams are "winning now"-type of players … there's no such thing as the "Process Sixers" in the NFL, right? Where you've got basically all first- and second-year players — guys, who in some cases aren't even equipped to be on an NBA roster or an NFL roster. That doesn't exist in the NFL.
But if I'm Seattle, and maybe they'll be a Jimmy Garoppolo team if he's released, but up to this point, you know, you made the most significant quarterback trade of the offseason in Russell Wilson going to Denver. And I think part of the thinking was, "maybe it's time for us to press reset." And yes you have an old coach in Pete Carroll — the oldest coach in the NFL — but Pete, I think, is less concerned about his age than the rest of us are.
And I think maybe they're saying to themselves, "Short-term pain can result in long-term gain." And the 2023 quarterback class includes two players that in mid-July seem like potential franchise changers in both C.J. Stroud of Ohio State and also Bryce Young of Alabama — plus some others that I think will be in that mix. It's a much different year than it was this past season.
---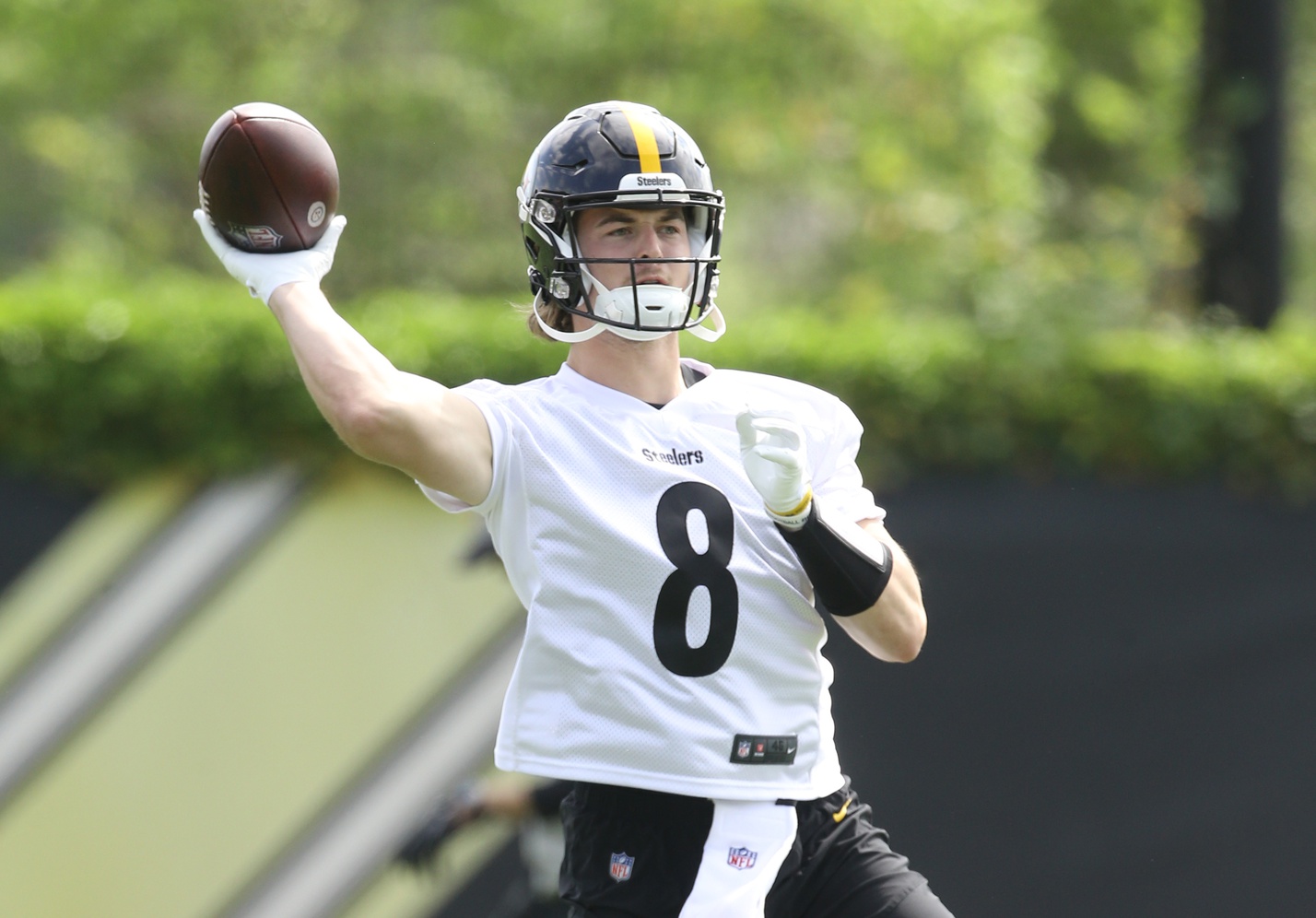 FY: It probably strikes me as one of those where it's, assuming, it's close, and who knows? It's easier to start Trubisky and turn to Kenny Pickett, than the other way around. The reason I say that is if you go to Kenny Pickett right away, and he struggles, people are saying to themselves, "We took this guy 20th overall, and he can't even stave off Mitch Trubisky for a full season."
Whereas if Trubisky starts the year, and after six games, you pull the cord — I mean it's $7 million — which is basically what Trubisky basically is making on a per-year basis. Is that a catastrophic error if he becomes your No. 2 quarterback? I would argue that it's less of an error than drafting a kid 20th overall and having to bench him early. So, while Mike Tomlin is not the kind of person who has to worry as much about what the court of public opinion thinks as other coaches do, to me that seems like a reasonable mindset to adopt if Trubisky either is the better quarterback in the competition or it's close.
Remember at this time last year Bill Belichick was repeatedly saying it was Cam [Newton]'s job, and then it wasn't. Because Mac Jones was by far the superior player in training camp, and obviously a year later, it looks like they found a real gem. And maybe Pittsburgh thinks things play out that way, as well. But I think Trubisky is on more solid footing than Cam Newton was at this time last year.
---
FY: So, concern is probably relative for me, but I'll go with Aaron Rodgers, only because we're looking at the remaining pieces in place in Green Bay, and while neither Green Bay nor Kansas City has, in my estimation, like a top-three or -five wide receiver group, you still have Travis Kelce in Kansas City.
I probably have a little bit more faith — maybe even more than a little bit more faith — in JuJu Smith-Schuster, Marquez Valdes-Scantling and Mecole Hardman and Skyy Moore and some of the players that will pick up the pieces left behind by Tyreek Hill, than a group in Green Bay — Allen Lazard, Romeo Doubs, Sammy Watkins — I'm sure I forgot a name or two in there as well. Randall Cobb, of course.
I just believe more in the guys in Kansas City right now, but I'm not particularly concerned for Aaron Rodgers. Back-to-back MVP — obviously, that's great. You go back to the year prior to that first year with Matt LaFleur, and they won 13 games. And they were a bit more of a "defense/run the football" team, and maybe it puts a little a bit of a lower ceiling on their overall outlook, but I tend to think that this team is going to be fine. I think they're going to be really, really, really dominant in their division because you have two teams in Chicago and Detroit that still have some real gaps to fill along their roster.
---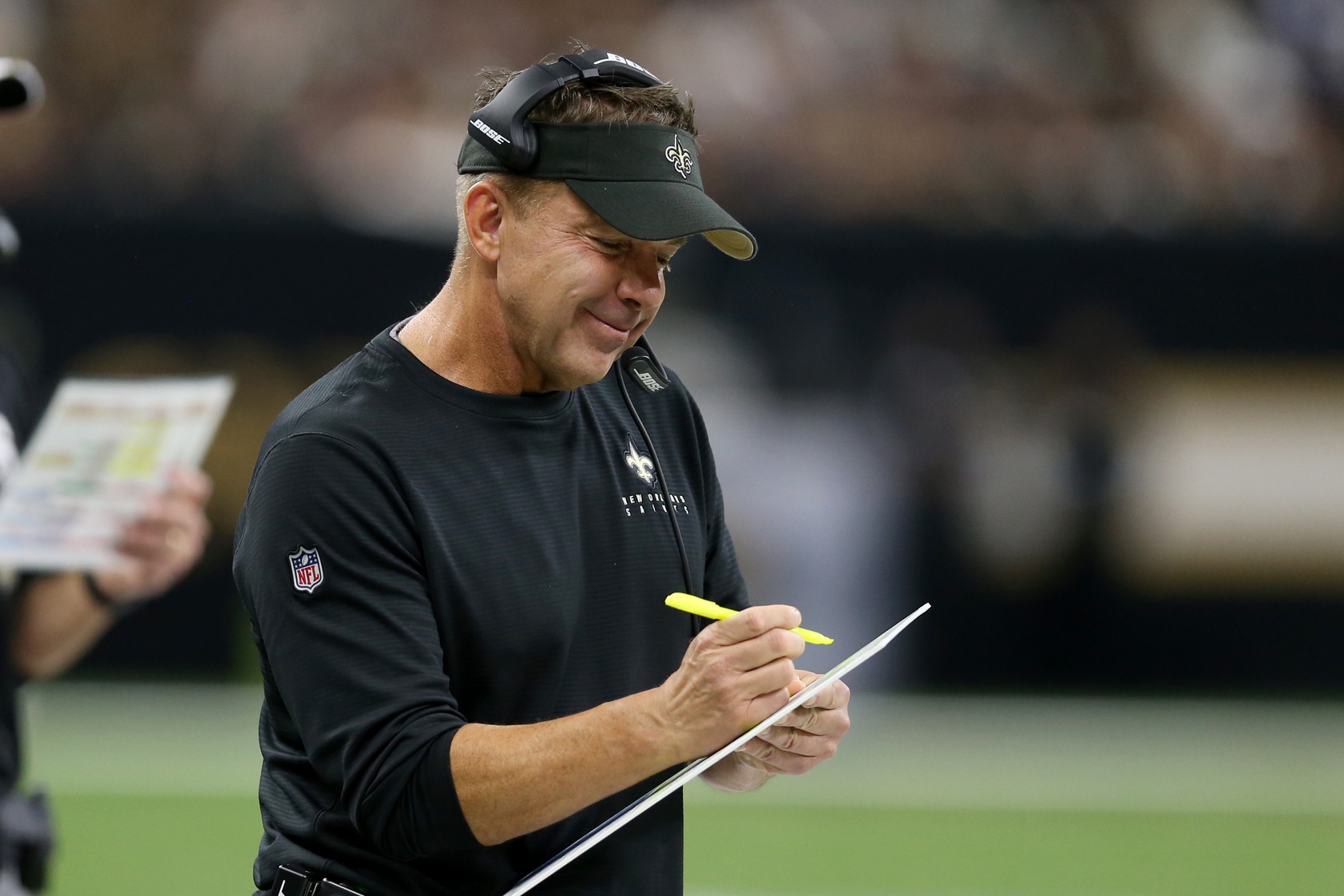 FY: This isn't a perfect comparison, but it's going to be like when Ron Rivera got fired by Carolina. It was just a matter of time until he got a job again, right? And you think about the leg up that Ron had when he was available to interview, and even accept the job, before the candidates on teams that were still playing. It's going to be like that. It's going to be — we're going to talk about Sean Payton until he's a coach again.
This is low-hanging fruit — I'm not going to deny as such. But all eyes are going to be on Dallas. And if Mike McCarthy keeps his job, it's because the team is really successful. But there are two things that I think everybody, probably, is mindful of. If Dallas struggles, and they need to make a coaching change, Dan Quinn is a ready-made takeover on the interim basis.
But if they decide to hold on to Mike McCarthy for the entire year, and then make a coaching change after the year? Sean Payton, former Cowboys assistant, has a home in Dallas and an extreme fondness for the organization. None of that is a mystery to anybody. One of those things that just makes a little bit too much sense to at least consider.
---
FY: It's such a fun, fun debate because this year, it feels like we've got some strength in numbers in terms of volume of teams. So, I've sort of been an advocate for the Vikings in the past — I thought they were a playoff-ready team. So, I'm definitely playing with a bit of fire here and going back to that well. But offensively, they have certainly the pieces in place to be just exceptional.
Kirk Cousins will always be a hot-button topic, but you know, say what you want about coaching changes, I happen to think Mike Zimmer is a darn-successful, darn-good coach. But every time there's a change, it's going to lead to the same rhetoric that we're hearing right now. "Breath of fresh air, new energy, a chance to take a big step back, and look what we did well versus what we need to do better." All of that is being talked about right now in Minnesota.
So, it's that, plus the pathway of the division, which as I mentioned, has a very good team in Green Bay and then a team in Chicago and then another one in Detroit that I still think has some gaps to fill, as I mentioned earlier. It's hard to pick an AFC team because it's just such a gauntlet.
---