The NFC East used to be the league's best, producing the Super Bowl champion each season but one from 1990-1995. The Dallas Cowboys, "America's Team," has been a dynasty multiple times during its franchise history, while both New York and Washington have won multiple Super Bowl titles themselves. Heck, even the Philadelphia Eagles finally got the monkey off their back in 2017, beating the mighty New England Patriots thanks to an MVP performance from quarterback Nick Foles.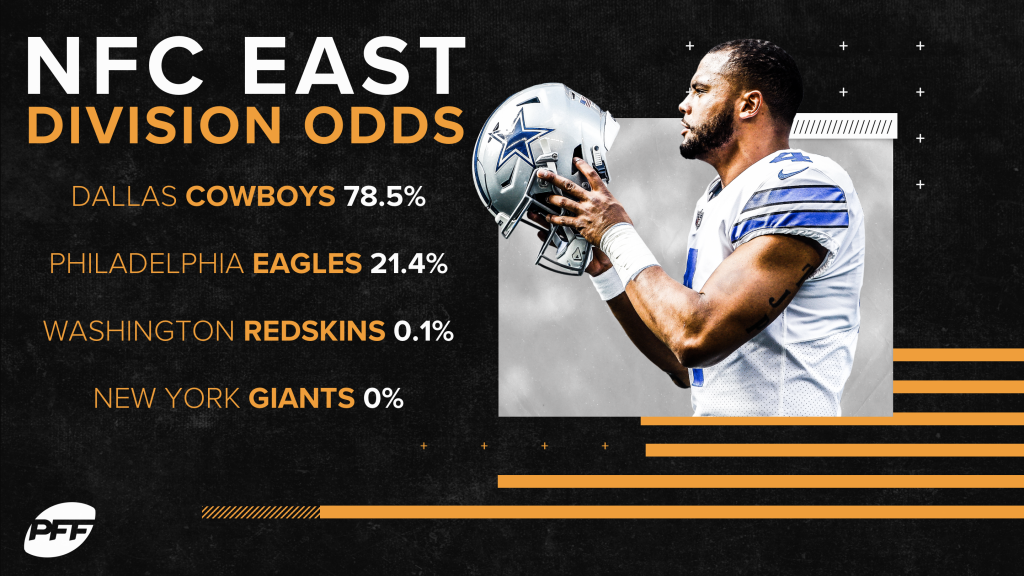 Those were the best of times. These are the worst of times. After Dallas lost 26-15 to the Buffalo Bills on Thanksgiving Day, the Philadelphia Eagles, with a sub-0.500 record, had roughly a 33% chance of overtaking the Cowboys to win the NFC East. This number has fallen to roughly 21% with an embarrassing 37-31 loss at the hands of the lowly Dolphins in Miami. With a deficit that includes one game in the standings and a head-to-head loss with Dallas, the only thing the Eagles have going for them is easily the league's easiest schedule in terms of average opponent PFFELO. 
Dallas is the clear favorite, and despite some poor efforts of late, they are carried by statistically the second-most-valuable player in the NFL in Dak Prescott (worth over two wins above replacement through 13 weeks). With games against the Bears and the Rams upcoming before their matchup in Philadelphia, the Cowboys are very likely to achieve a feat that has happened only four times since realignment — win a division with a 0.500 or worse record.
There's a 3% chance that Dallas loses out, and 4% of such simulations still result in a playoff berth. Another 17.6% of simulations have them finishing with seven wins, and in 34.4% of those, they become only the third team since realignment to win their division with such a putrid record.
Over a third of simulations have the Cowboys winning exactly eight games (36.9%), and such a feat yields the division title 81.3% of the time. The Cowboys make the playoffs in all cases in which they win nine or more games (42.3%), due to (at worst) being able to claim a better record than the Eagles in NFC play.
There is one scenario that is possible but extremely improbable. The Washington Redskins can still make the NFC East playoffs with a 7-9 record if they win out, the Cowboys lose out and the Eagles lose the rest of their games against non-Cowboys opponents. This happens in roughly 0.1% of our simulations. 
The Giants are eliminated, both mathematically and spiritually, from the playoff race. 
As with all of our analyses, the models and simulations are made possible with the capabilities offered by AWS.