Now through Week 12 of the 2019 NFL season, we at PFF have updated our power rankings using PFFELO.

Like any ELO system, it adjusts the ranking of a team after each game based on what happened in the game and the perceived strengths of the team and its opponent prior to the game. As opposed to most other ELO systems, PFF ELO doesn't use the final score to update the rankings. Instead, we compute what the final score should have been based on the player grades. Thus the predictive power of our grades carries over to a strong predictive power of our ELO rankings, though we should note that other variables go into our season-long or game-by-game projections.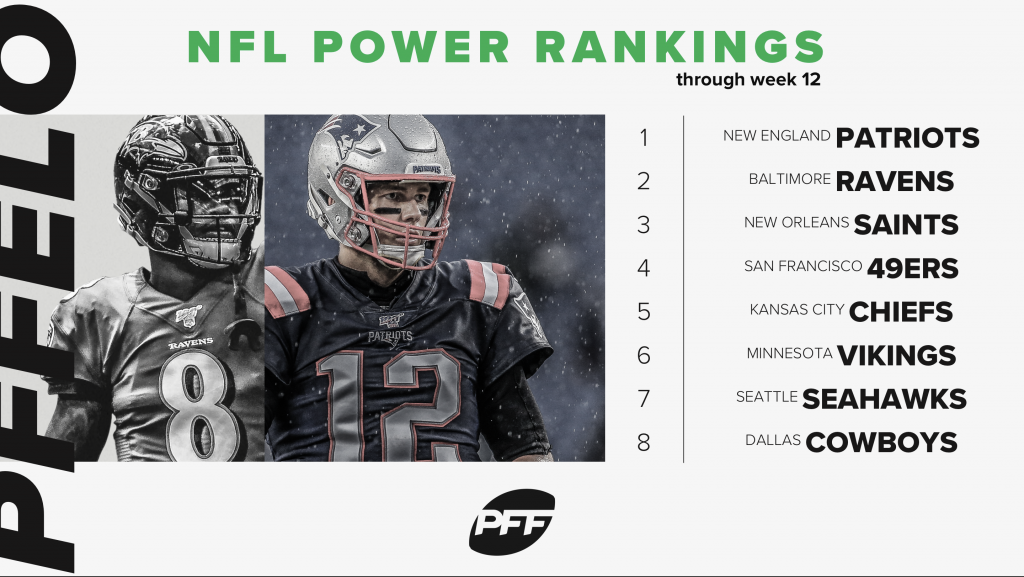 Last Week: 1st
Their latest win, sending the Patriots to 10-1 on the season, mirrored the weather for the contest: ugly. Tom Brady completed just 17-of-37 passes in the game, though his receivers certainly didn't help matters with six drops. Yet, as they have done for most of the season, they found a way to win. Stephon Gilmore blanked Amari Cooper for the game, catching more of Cooper's two targets than Cooper did himself. He's a big reason why the Patriots have the top defense in the NFL in terms of EPA allowed per play. Gilmore against DeAndre Hopkins in Week 13 will be must-see television.
Last Week: 3rd
The Rams were supposed to pose a challenge to the Ravens, just as the Patriots and Texans were before them. The Ravens didn't get the memo, though, rolling over the Rams 45-6 into the number-two hole in the PFF ELO power rankings. Lamar Jackson's brilliance as the orchestrator of the offense has been well documented, but it's hard to overstate just how brilliant he has been as both a passer and runner. The Ravens have generated the NFL's best passing and rushing offense in terms of EPA per play. Jackson, meanwhile, ranks fourth among quarterbacks in passing grade and first in rushing grade.
Last Week: 2nd
It was extremely fortunate, but the Saints ultimately escaped Week 12 with a narrow 34-31 win over the divisional rival Panthers to take their record to 9-2 on the year. Drew Brees looked much more like his old self in the game, completing 22-of-31 attempts from a clean pocket and going 10-of-16 for three touchdowns and four big-time throws on passes that traveled at least 10 yards in the air downfield. Star wide receiver Michael Thomas also continues to be at the forefront of his position — he's caught 85.3% of his total targets and 82.3% of his contested targets so far this year, both of which are first among qualifying wideouts.
Last Week: 4th
Fresh off a dominant victory over a stumbling Packers outfit, the 49ers' passing offense currently ranks ninth in expected points added per pass play on the heels of a play-action game that is run on 30% of pass plays and generates 8.9 yards per play-action play (third), making them the only offense with a 30%-plus rate and top-five yards-per-play average. Things also look bright on the defensive side of the ball with Nick Bosa leading the charge. So far, Nick Bosa has graded positively on 20.0% of his total plays, which is first — by almost six percentage points — among the 63 edge defenders who played at least 400 snaps through 12 weeks of their rookie seasons.
Last Week: 5th
It's easy to overlook just how explosive the Chiefs can be given that they've operated at less than 100% for most of the season. When operating at full strength, though, there are few quarterbacks and offenses that can rival Patrick Mahomes and the Chiefs. Mahomes has 70 big-time throws since the start of 2018, just one less than Russell Wilson, and he has 10 more than Aaron Rodgers in third place. Despite the missed time this season, his 112 completions of 20-plus yards are tied for the most of any quarterback in the league over that same stretch. The Raiders have put some pressure on Kansas City, but come Sunday, they should showcase why they are still the team to beat in the AFC West.
Last Week: 6th
The Vikings remain unmoved after their Week 12 bye. Their offense will continue to go as Kirk Cousins goes, which is great when he's performing at the level at which he's performed over the last six weeks. Since Week 6, Cousins has earned the NFL's best passing grade (92.0), and he's led an offense that has generated 0.375 EPA per pass play that ranks second over that same stretch. On the other side of the ball, not enough people are talking about Danielle Hunter, who is on pace for a career year on the edge. Entering Week 13, Griffen ranks ninth among qualifiers in pass-rush grade, and he ranks first among players at the position in total pressures (71).
Last Week: 10th
Week 12 was just another week and another tip-top outing for MVP candidate Russell Wilson, who now has seven more big-time throws than any other quarterback in the league while having just six turnover-worthy plays next to his name. With Wilson playing the way he is there are few things to be concerned about, but the pass-rush is definitely one of those things. With Clowney out the last couple of weeks, the Seahawks' defensive line has managed just 15 pressures between them, which is tied for 20th among NFL teams in that span.
Last Week: 9th
Jerry Jones put Jason Garrett & Co. on notice this past week, publically making his disappointments known following the loss to New England. In the torrential rain, the Cowboys were forced to abandon what had made them successful his year—the passing game—and they scored just nine points as a result. With Dak Prescott as the focal point of the offense, the Cowboys are generating the league's fourth-best EPA per passing play off the back of a play-action game that is run on 29.0% of plays (9th) and is gaining 9.2 yards per attempt (14th). They'll need to get the ball out of the hands of Zeke and back into the hands of Dak if they want to make Jerry happy.
Last Week: 8th
To say that Aaron Rodgers and the Green Bay offense was humbled in Week 12 would be an understatement. They mustered just eight points against a tough Niners defense, and Rodgers stumbled to PFF grade of just 37.9, his worst single-game mark since 2006. In what is becoming a concern, Rodgers is ranked dead last among quarterbacks in accurate-throw rate on throws targeted at least 10 yards downfield over the last month. While the offense is raising questions, the pass-rush remains a huge strength — they've pressured the quarterback on 51% of their passing plays so far this year, ninth among teams.
Last Week: 7th
The Rams' offense failed to make a significant dent in the Ravens' defense on Monday night, and with just five games left to play, they couldn't look further from the dominant force they were last year. The offense, once lauded for its genius, is currently generating a 21st-ranked -0.019 EPA per pass play, while the Todd Gurley-fueled run game clocks in at 25th with a mark of -0.147 EPA per rush. On a positive note, at least Aaron Donald is still Aaron Donald. The premier pass-rusher has recorded at least three total pressures in 10 of his 11 games this year, and his 56 total pressures currently lead all interior defensive linemen.
Last Week: 12th
Heading into last week's game against the Colts, the Texans (46.7%) and Colts (46.4%) had nearly equal probabilities to win the AFC South, so needless to say the fact that they came out on top was huge for their chances of winning the division. Part of what has helped their offense has been a reduction in the amount of pressure that Deshaun Watson has had to deal with on a week-to-week basis. Across Weeks 1 to 4, Watson got rid of the ball in 2.8 seconds on average and faced pressure on 47% of his dropbacks (30th). Since then, he has gotten rid of the ball in 2.5 seconds on average and faced pressure on 33% of his dropbacks (13th).
Last Week: 11th
Part of what made the Andrew Luck retirement so surprising was that the Colts had put perhaps the best team around him that he had at any point in his career. Ultimately, it might be the quarterback position that keeps them out of the postseason. Jacoby Brissett earned a passing grade of just 48.3 in the game against the Texans this past week, and his passing grade on the season of 61.5 ranks 26th among 32 qualifiers. One player who has not disappointed, though, is left guard Quenton Nelson, who turned in another outstanding performance in Week 12. His overall grade of 91.8 is nearly 15 points higher than any other left guard.
Last Week: 14th
Through 12 weeks of this season, Mason Rudolph is ranked dead last among 32 qualifying quarterbacks in overall grade. It became clear that if he remained in the game against the Bengals last week, there was a very good chance that the Steelers would drop a game against a winless Cincinnati team. That is something they simply can't afford to do in their fight for a playoff spot. Rudolph's replacement, Devlin Hodges, may be limited in the weapons he has at his disposal due to injury, but one receiver he does have that has stepped up in recent weeks is James Washington. Over the last four weeks, Washington is averaging 2.59 yards per route run, and he's generated a passer rating of 123.0.
Last Week: 13th
The Eagles' passing attack will no doubt go down as one of the disappointments of the season. As a receiving unit, they're currently tied with the Washington Redskins (!) for 26th among teams in yards per reception (10.4) and they're on their own for 26th in contested-catch rate (39.7%). While he's not been given much help, Carson Wentz looks far from the MVP candidate he was in 2017. He's managed just a 96.5 passer rating from a clean pocket and a 79.8 clean-pocket passing grade, 27th and 20th, respectively, among qualifying quarterbacks.
Last Week: 15th
Don't look now, but the Tennessee Titans are winners of four of their last five and have surged into the postseason conversation. Derrick Henry ran all over the Jaguars in Week 12, with 136 rushing yards after contact. That was more than any other rusher had in total on the week. That rushing attack paired with a passing offense that ranks third in the league in EPA per play since Ryan Tannehill took over in Week 7 has the Titans heating up at the right time. Their game against the Colts this week will have big playoff implications for both teams.
Last Week: 19th
The Bills have the opportunity on Thanksgiving Day to send a message that their 8-3 record isn't fraudulent with a win over a Dallas Cowboys team in contention for the playoffs in the NFC. Their fourth-ranked defense in EPA allowed per play against the Cowboys second-ranked offense in EPA per play will be the matchup to watch throughout the day.  On a more micro-level, Tre'Davious White against Amari Cooper will be must-watch television. White's passer rating allowed of 24.8 in press coverage on the season is almost 15 points lower than that of simply spiking the football.
Last Week: 17th
Mitchell Trubisky wasn't spectacular, but he was better than Daniel Jones in Week 12, and that's all the team really needed. Wide receiver Allen Robinson II shined in the game and is really showing how much of a help he can be for this offense. Through 12 weeks, Robinson has earned an elite 91.9 receiving grade on targets thrown 10 or more yards downfield, and in total, he's caught 53.3% of his contested targets on the year — fourth-best among qualifying wideouts.
Last Week: 21st
The Browns didn't come close to living up to expectations to start the season. After three consecutive wins, though, they're beginning to build steam, jumping to 18th in the PFF ELO rankings. Granted it was against the Dolphins, but Baker Mayfield had by far his best game of the season with a passing grade of 86.3 and four big-time throws compared to no turnover-worthy plays. He'll be facing a tougher test against a tough Steelers defense this week, but the Browns will need a similar performance from Mayfield.
Last Week: 20th
The Chargers had high expectations coming into this season — and for good reason. They had talent throughout their roster. Injuries and players not playing up to expectations have put a damper on those postseason hopes, though. Philip Rivers not being the same top-10 quarterback that he has been in recent seasons is part of the reason for their underwhelming 4-7 start. Rivers ranks 15th in overall grade, and he's dealing with suboptimal conditions thanks to an offensive that is allowing pressure at the fifth-highest rate in the NFL.
Last Week: 25th
Jameis Winston's highs and lows have been on display this season, but it's worth asking the question: What would his numbers be like if not for Chris Godwin and Mike Evans? Godwin has developed into one of the best receivers in the game and racked up almost 200 receiving yards last week, 65 of which came after the catch, scoring twice along the way. One of his touchdown receptions was a remarkable play, snagging a badly located pass from Winston with one hand before holding on through a big hit just across the goal line. The Bucs' receivers will likely keep bailing out Winston in some spots, but there's nobody on the back end of the defense who can do the same on that side of the ball. Through 12 weeks, the Bucs have surrendered 0.046 EPA per pass play, 22nd among teams, while their 105.4 passer rating allowed ranks 24th.
Last Week: 23rd
The Panthers nearly got the better of the Saints in Week 12, but it ultimately wasn't meant to be. Quarterback Kyle Allen was reined in a bit this past week, and he recorded his lowest single-game average depth of target (7.3) of his career so far as a result. Christian McCaffrey took the bulk of Allen's check-downs and continues to carry this offense on his back. Through 12 weeks, McCaffrey ranks secong among all running backs in receiving grade and 12th among backs in passer rating when targeted.
Last Week: 16th
Ryan had some good throws last Sunday against the Buccaneers, but as has been the case all year, the turnover-worthy plays defined his performance. With just five games left, Ryan is on pace to earn his lowest PFF grade since 2009, and he's just seven more turnover-worthy plays away from recording a career-worst year in that regard. One of the problems for the Falcons' defense has been their inability to get pressure off of the edge, and that continued on Sunday. Through 12 weeks, the Falcons' defensive line has pressured the opposing quarterback on just 37.4% of passing plays, 21st among teams.
Last Week: 18th
The Raiders' hype train was starting to roll after three straight wins and a favorable remaining schedule. The only problem was that the Jets were supposed to be part of that favorable schedule. They handed Oakland a 34-3 loss that magnified the deficiencies that they've had on the back end. They are owners of the sixth-worst mark in EPA allowed per pass play in the league, and they, along with the Bengals, are the only two teams to allow more than 13 yards per reception this season.
Last Week: 22nd
To say that Brandon Allen had a rough game against the Buffalo Bills this past week would be an understatement. Allen had a passing grade of 27.8 behind 10 completions on 25 attempts for 82 yards and an interception. That comes out to 3.3 yards per attempt and a passer rating of 32.4. Allen is splitting reps with Drew Lock in practice this week, but the Broncos don't have much to lose by getting a look at Lock before season's end. Allen has made it clear that he is not a long-term solution.
Last Week: 27th
Sam Darnold has had one of the easiest stretches possible over the last three weeks, with games against the Giants, Redskins and Raiders. That being said, Darnold has started to turn his season around, and the team has taken advantage with three consecutive wins. Last season, Darnold was the league's second-highest graded quarterback from Weeks 13 to 17 behind only Patrick Mahomes. Could we be seeing a repeat late-season surge in 2019?
Last Week: 24th
The Jaguars' last three performances have all been convincing losses to divisional opponents, so it comes as no surprise that they're trending down in our rankings. It doesn't seem long ago that the Jaguars were the league's best defense in terms of EPA allowed per play in 2017. They took a step back last season to sixth and have fallen all the way back to 21st this season. With uncertain play at the quarterback position still, the Jaguars are falling victim to the volatility of defense.
Last Week: 26th
The dropoff from Matthew Stafford to Jeff Driskel was significant, but now the team has to deal with the dropoff from Driskel to David Blough in Week 13. The Lions will need their defense to step if they're to keep pace with the Bears in the Thanksgiving Day matchup. So far, the defense has allowed 0.130 EPA per pass play, 25th among teams, while they've allowed a 21st-ranked -0.065 EPA per rush play. In the end, it's probably a good job the Lions take on the Bisky-led Bears this week.
Last Week: 28th
While the postseason is all but out of reach at this point, the signs are overwhelmingly positive 12 weeks into Kyler Murray's tenure with the Cards. So far, only 2.16% of his attempts as a pro have been turnover-worthy, which is currently tied with Russell Wilson (2012) for the best mark ever recorded by a rookie in the PFF era. If there's one area to improve upon going forward, it's the pass coverage — the Cards have allowed a league-high passer rating of 120.7 on throws into their coverage so far.
Last Week: 29th
Washington may have improved to 2-9 last weekend, but it wasn't off the back of a strong solo performance from their first-round signal-caller. Dwayne Haskins completed just six of his 16 pass attempts through the first three quarters against the Lions — and five of his 11 attempts from a clean pocket — totaling just 62 yards and one big-time throw while taking three sacks. Haskins' accuracy was shaky throughout, just as it has been since he took the reins in Week 8. Since then, 38 different quarterbacks have attempted at least 50 pass attempts, and among that group, Haskins ranks 37th in accurate-throw percentage and 35th in catchable, inaccurate throw rate.
Last Week: 31st
Daniel Jones was flat-out outplayed by Mitchell Trubisky in Week 12, which is certainly not the end of the QB spectrum you want to be as a franchise quarterback, no matter how long you've been in the league. The sixth overall pick completed 13 of his 20 clean-pocket attempts in the game but managed just 88 yards in such circumstances, and he added another two turnover-worthy plays and only one big-time throw to his season-long resume. On a positive note, rookie cornerback DeAndre Baker finally caught a break. Targeted twice last week, Baker forced one incompletion, didn't allow a single catch, and he came up to make a stop against pass-catching ace Tarik Cohen. Baker ended the game with a coverage grade of 85.0, the highest mark of his career to date.
Last Week: 30th
After rattling off two consecutive wins, the Dolphins have come back to earth with three-score losses to the Bills and Browns in recent weeks. That has brought with it a drop back down to 31st in the PFF ELO rankings. Over those two weeks, Jerome Baker has been picked on in coverage, allowing eight completions on eight targets for 113 yards and a touchdown. Their coverage has been an issue all season. Their 112.5 passer rating allowed on targeted passes this season ranks third-worst in the league.
Last Week: 32nd
It appears that the Ryan Finley experiment has come and gone in Cincinnati, and it has brought the return of Andy Dalton with it. Whether or not winning is the end goal, Dalton does provide a better chance of victory than Finley ever did. Across 110 dropbacks this season, Ryan Finley recorded no big-time throws and 10 turnover-worthy plays. You don't need to have a deep understanding of the metrics to realize that that ratio does not indicate the future of the quarterback position in Cincinnati.