Trevor Lawrence's rookie season did not go the way he or the Jacksonville Jaguars would have wanted it to, but can he still become the player he was supposed to be now that the team has changed course and installed a new head coach?
Lawrence is not a normal young quarterback. From almost the moment he stepped foot on campus at Clemson, Lawrence was anointed as the next great quarterback prospect.
At draft time, there was less debate around Lawrence versus the other quarterback options and more on Lawrence versus Andrew Luck, or Peyton Manning, or John Elway. How many generations of elite quarterback prospects are needed to go back to find one better than Lawrence?
The general consensus was that he was the best prospect to enter the NFL since at least Andrew Luck (2012), and the Luck comparison is an interesting one given Lawrence's inauspicious start.
We are colored by what Luck eventually became, but he was — at best — the third-best rookie quarterback in 2012. Robert Griffin III and Russell Wilson each dominated as rookies while Luck put up some big cumulative stats but had a far more up-and-down campaign.
In fact, for all the spectacular plays, Luck didn't earn a PFF grade over 90 until his fifth season in the league. He finished his career with two 90-plus PFF-graded seasons before walking away from the game and the best roster the Indianapolis Colts ever put around him.
For a player who being compared to generationally great quarterback prospects, Luck arguably underachieved. He never won a Super Bowl, lasted just seven years and six seasons of play, and was never an All-Pro. It obviously wasn't all bad — Luck won at least 10 games in a season four times, led the league in touchdown passes in 2014 and always gave the team a chance to win. However, players with his kind of billing are being graded on a far tougher curve than everybody else.
Luck had to succeed Manning in Indianapolis and so the standards are set unreasonably high. Lawrence doesn't have that pressure of a Hall of Fame predecessor in Jacksonville, but he is getting graded on the same curve because his comparisons are to those great quarterback prospects through the generations.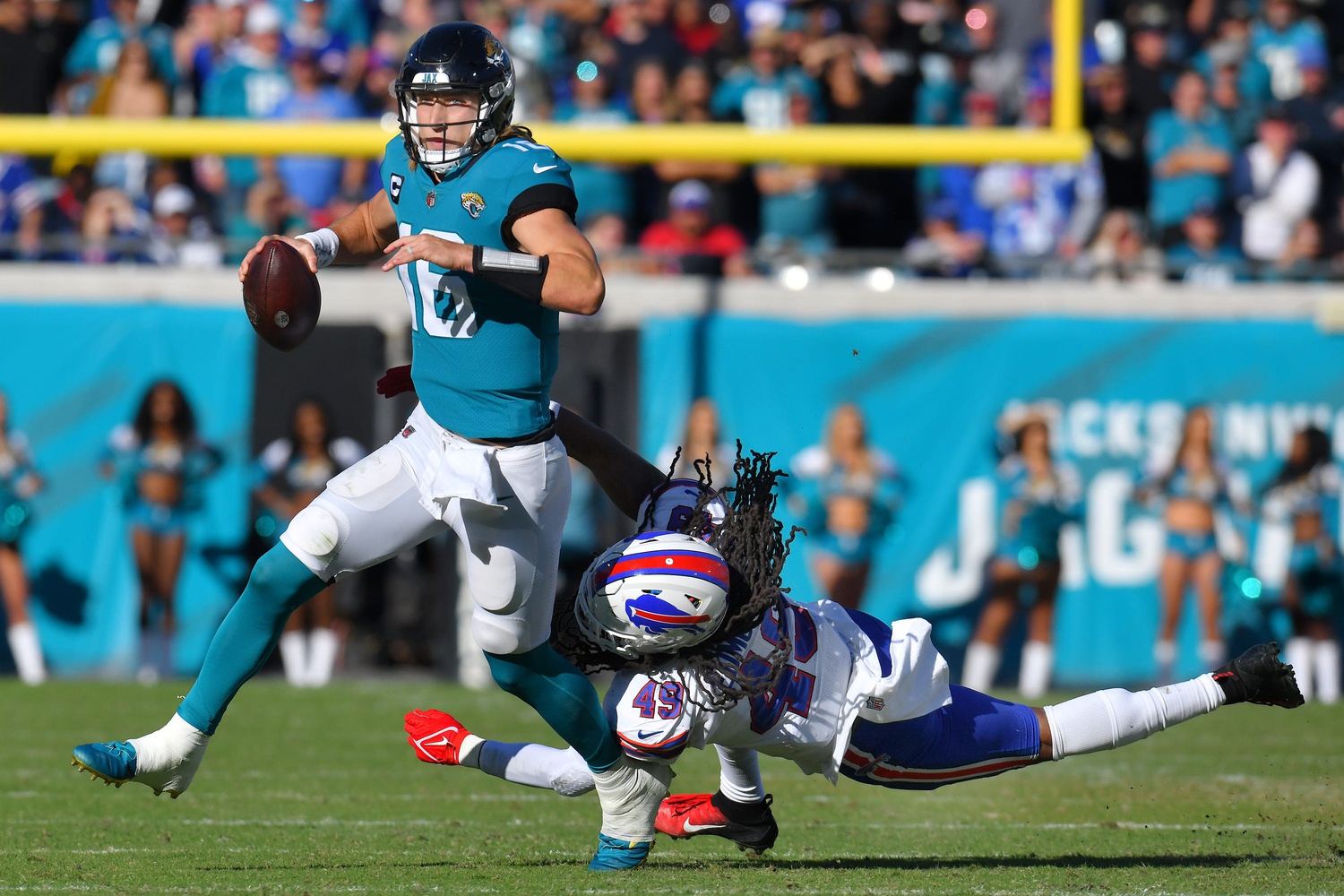 LAWRENCE IN YEAR 1
Free for 7-days. Subscribe to continue reading and unlock
All premium content with the best insights + analysis in the game
NFL Draft Guide, Big Board + Mock Draft Sim
Fantasy Draft Kit and Nathan Jahnke's award winning rankings
Bet smarter with PFF player mismatches and expert betting insights
NFL and CFB player grades and premium stats
Unlock all PFF data trusted by all 32 NFL teams
Already have a subscription? Log In