• Justin Jefferson to earn the highest receiving grade in PFF history: No receiver in the PFF era has had a better start to a career than Jefferson, who earned a 90.0-plus grade in each of his first three campaigns.
• Sauce Gardner to break the forced incompletion rate record: Gardner should see fewer targets in 2023 as one of the league's most respected cornerbacks, and that means a better shot at a higher forced incompletion rate.
• Tony Pollard to post PFF's top zone rushing grade: New Cowboys offensive coordinator Brian Schottenheimer is known for his zone-heavy approach to offense, which should play right into Pollard's strengths.
Estimated Reading Time: 7 minutes
---
We have spent the offseason researching and compiling a record of the best single-season performances in a myriad of signature stats and facet grades at every position. Click below to explore those.
---
QB | RB | WR | TE | OL
DI | EDGE | LB | CB | S
---
The 2023 NFL campaign is upon us, and players are ready to make history. While some PFF records have the legs to stand up to all challengers, other records are just barely holding on and are primed for the taking. The following are the PFF signature stat and grading records that are most likely to be broken this season.
For more potential records to be broken, check out the PFF NFL Podcast.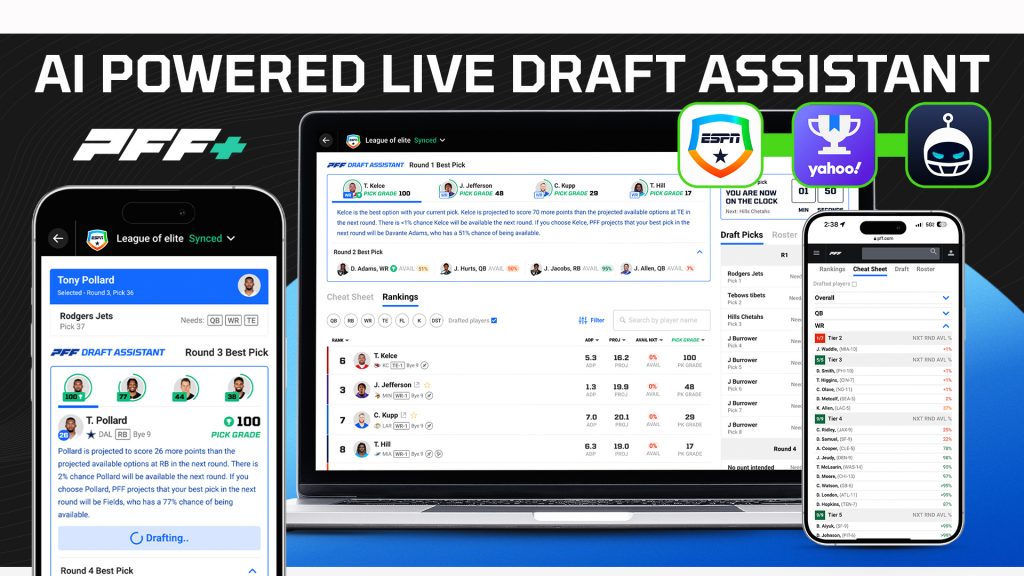 ---
Offense
PFF Receiving Grade (WR)
Current Holder: Julio Jones, Atlanta Falcons (2016) – 93.4
Record Breaker: Justin Jefferson, Minnesota Vikings
Receivers who can separate from coverage downfield are at a premium, and none have proven more difficult to cover than Jefferson. 
In the PFF era, no receiver has had a better start to a career than Jefferson, who earned a 90.0-plus grade in each of his first three campaigns. The only other receivers to ever earn three straight 90.0-plus marks at any point in their career are Julio Jones (2015-2019), Davante Adams (2020-2022) and Michael Thomas (2017-2019). That's elite company.
Since entering the league, Jefferson has handled a sizable role in the Vikings' offense. But following the departure of Adam Thielen to Carolina this offseason, that responsibility should increase. First-round rookie Jordan Addison replaces Thielen in the lineup, which should add pressure to opposing defenses, given Thielen's decreasing effectiveness across from Jefferson in recent seasons. In theory, the 2022 MVP finalist could have a lot more space to operate this season.
---
PFF Rushing Grade (QB)
Current Holder: Josh Allen, Buffalo Bills (2021) – 93.6 
Record Breaker: Lamar Jackson, Baltimore Ravens 
During the PFF NFL Podcast's "Record Breakers" show, both Trevor Sikkema and Brad Spielberger identified this record as one to watch in 2023, highlighting Anthony Richardson and Justin Fields as players poised to challenge this mark. But there may be one other name to keep an eye on in 2023.
While Josh Allen may own the two highest-graded rushing seasons, just one other quarterback has ever managed to surpass a 92.0-plus rushing grade in a season: Lamar Jackson in 2022. This past season, Jackson earned the highest rushing grade of his career (92.6), even surpassing his 2019 MVP performance (90.5). His season was cut short due to injury, but Jackson returns in 2023 to debatably the most talented offense of his NFL career.
This offseason, the Ravens bolstered their receiving corps with the talent and speed they've desperately needed for years, adding Odell Beckham Jr. in free agency and rookie Zay Flowers in the first round of the draft. That extra firepower in the passing game will put significant pressure on opposing defenses, which in turn should open up some massive running lanes. Understandably, more options in the passing game will mean a reduction in Jackson's rushing volume, which actually could improve his positively graded play rate, further helping his chances at overtaking this record.
---
PFF Run-Blocking Grade (OG)
Current Holder: Logan Mankins, New England Patriots (2008) – 94.9
Record Breaker: Chris Lindstrom, Atlanta Falcons
While Chris Lindstrom may own a share of the overall offensive PFF grade record at the guard position, he fell just short of Logan Mankins' run-blocking grade record. In 2008, Mankins set the mark for run-blocking efficiency at the position, earning a positive grade on 22.3% of his snaps and limiting his negatively graded plays to just 7.7%.
This past season, Lindstrom produced positively graded plays at an even more impressive clip, earning plus grades on more than a quarter of his run-blocking snaps. The limiting factor in his performance was a 13.8% negatively graded play rate. While Lindstrom is already among the NFL's elite blockers right now, his growth as a player may not be over, as he enters his fifth season as a pro at age 26. If Lindstrom limits mistakes in 2023, he could very well overtake this record and thrust himself into the conversation of elite blockers in NFL history.
---
Turnover-Worthy Play Rate (QB)
Current Holder: Matt Ryan, Atlanta Falcons (2017) – 0.90%
Record Breaker: Justin Herbert, Los Angeles Chargers
Protecting the football is one of the most important skills for any signal-caller. Matt Ryan set the standard for turnover-worthy plays back in 2017 when he finished with just six on more than 640 dropbacks. That stands as the only sub-1% turnover-worthy play rate in the PFF era by any passer.
As impressive as that performance was, it could still fall. Both Tom Brady and Aaron Rodgers put together multiple seasons at or below 1.6%. But let's look at the new wave of quarterback talent here. For the past two seasons, Justin Herbert has led the league in turnover-worthy play rate — 1.5% and 1.6%, respectively. He is the only quarterback not named Brady or Rodgers to do it more than once in the PFF era. If Herbert is able to stay under double-digit turnover-worthy plays, he should be joining the sub-1% club.
---
PFF Zone Rushing Grade (RB)
Current Holder: Marshawn Lynch, Seattle Seahawks (2014) / C.J. Anderson, Denver Broncos (2014) – 89.4
Record Breaker: Tony Pollard, Dallas Cowboys
Following the departure of Ezekiel Elliott this offseason, it's now the Tony Pollard show in Dallas. Pollard was already producing at an extremely high level in his limited role with the Cowboys, but now he will be the focal point of this offense moving forward. New Cowboys offensive coordinator Brian Schottenheimer is known for his zone-heavy approach to offense, which should play right into Pollard's strengths.
In Pollard's rookie season, he earned the third-highest zone rushing grade in the PFF era, falling just 0.7 grading points from this record. In his four years as a pro, Pollard has never posted a zone rushing grade below 77.0. He owns two of the 15 highest-graded zone rushing seasons, a feat that has been accomplished by only one other back — the current record holder, Marshawn Lynch. 
---
Defense
Pass-Rush Win Rate (DI)
Current Holder: Aaron Donald, Los Angeles Rams (2018) – 23.9%
Record Breaker: Jalen Carter, Philadelphia Eagles
Picking a rookie to break this record may be a bit ambitious, but the opportunity is too great to ignore. Aaron Donald has long been the gold standard on the interior, but Eagles rookie Jalen Carter looks poised to possibly compete with Donald's statistical dominance — if not this season, then in the years to come.
One of the biggest reasons behind this projection is Carter's situation. The Eagles drop Carter into debatably the best pass-rush unit in the NFL, headlined by the likes of Fletcher Cox, Josh Sweat, Brandon Graham and Haason Reddick. Having that much talent rushing the passer should open up plenty of one-on-one opportunities across the board. Coming out of Georgia, Carter has looked nearly unblockable in solo matchups, earning a 33% win rate in his very limited preseason action. 
---
Forced Incompletion Rate (CB)
Current Holder: William Jackson III, Cincinnati Bengals (2017) – 39.53%
Record Breaker: Sauce Gardner, New York Jets
It's not often a rookie comes into the league in as dominant fashion as Sauce Gardner did this past season. The 2022 first-rounder has the confidence and aggressive play style to control receivers at the catch point and the ball skills to quickly turn the tide in a game. In 2022, Gardner forced 20 incompletions on 74 coverage targets, equating to a 27%-plus rate.
With NFL passers coming to respect Gardner's game more, that volume of targets should come down, but expect his aggressive nature to remain, which will in turn put this signature stat record well in reach.
---
PFF Sacks (EDGE)
Current Holder: Jared Allen, Minnesota Vikings (2011) – 24
Record Breaker: Nick Bosa, San Francisco 49ers
The NFL classifies sacks made by more than one player as half-sacks for every defender involved; however, at PFF, sacks are recorded in full regardless of how many players reach the quarterbacks. That allows for a better representation of pass-rush production, removing the half-sack penalty for having talented teammates.
Jared Allen's record of 24 set back in 2011 has stood for over a decade, but talented pass rushers continue to move closer to it each year. This past season, on his way to winning the NFL Defensive Player of the Year award, Nick Bosa produced at an insane clip. While he racked up just 19 PFF sacks, he managed to add another 30 quarterback hits, for a total of 49 snaps in which he reached the passer — seven more than any other defender in the PFF era. If Bosa were to be able to convert just a few of those hits into sacks, this could be another long-standing record falling in 2023.