• Falcons guard Chris Lindstrom sets position record: Lindstrom enters 2023 with the highest single-season grade (95.0 in 2022) of any guard in PFF history in his back pocket.
•Bears quarterback Justin Fields runs wild: While he fell short of Lamar Jackson's quarterback rushing record last year, he set the PFF record in yards after contact (756) at the position.
• Seahawks are set up well at offensive tackle: Abraham Lucas and Charles Cross became the first rookie tackle teammates in the PFF era to each play 800-plus snaps.
Estimated Reading Time: 18 minutes
---
Thirty-two NFL teams. Thirty-two stats to know. Storylines abound for every franchise heading into the 2023 season, and here we dive into some of those using the PFF database.
---
JUMP TO A TEAM:
ARZ | ATL | BLT | BUF | CAR | CIN | CHI | CLE | DEN | DAL | DET
GB | HOU | IND | JAX | KC | LVR | LAC | LAR | MIA | MIN | NE
NO | NYG | NYJ | PHI | PIT | SF | SEA | TB | TEN | WSH
---
Across 2020 and 2021, Kyler Murray was the NFL's premier deep passer. On throws of 20-plus yards, Murray posted a league-leading 98.8 passing grade and a 37.4% big-time throw rate. 2022 was a different story, though.
Kyler Murray posted a 48.5 passing grade on deep throws this past season, third worst among 39 quarterbacks who threw at least 20 deep balls. The Cardinals have enough speed at receiver with Marquise Brown and Rondale Moore. A healthy Murray has proven before that he can take advantage of that.
---
The Falcons are built to run the football. They led the NFL in team run-blocking grade and finished fifth in rushing grade in 2022. Right guard Chris Lindstrom was the star of the show, ending 2022 with a league-best 95.0 overall grade. Further examination reveals that to be a historic figure.
Chris Lindstrom's 95.0 overall grade is tied for the highest single-season grade by a guard in the PFF era. Only Philadelphia's Evan Mathis in 2013 matched that mark. Aaron Rodgers, Trent Williams and Hall of Famer Jonathan Ogden are the only other offensive players to play at least 200 snaps and finish a season with a 95.0-plus grade. Lindstrom may be the quietest superstar in the NFL.
---
Lost in the midst of an excellent rookie class was the outstanding performance of Kyle Hamilton. Hamilton didn't stuff the traditional stat sheet but led all safeties in overall grade. His versatility stands out as his biggest asset.
Kyle Hamilton joins Derwin James as the only rookie safeties in PFF history to grade out above 80.0 in run defense, coverage and pass rush. Hamilton got more comfortable in his strong safety/slot role as last season progressed. His emergence is a prime reason that the Ravens could field an elite defense moving forward.
---
Josh Allen possesses otherworldly ability when he breaks the pocket. His penchant for big plays under pressure often keys Buffalo victories. Performance under pressure is supposed to be unstable year-over-year, yet Allen may be breaking that rule.
Josh Allen led all NFL quarterbacks in overall grade against pressure for the second straight year, joining Tom Brady as the only other player to do so in consecutive years in the PFF era. The difference between Allen and Brady is mobility, of course. Brady sliced defenses with his precise arm, while Allen carries a PFF-record 94.4 career rushing grade against pressure.
---
The Panthers briefly found themselves in the NFC South title race last season, primarily due to their ability to run and stop the run. As a result, their linebackers now stand alone in PFF history.
Shaq Thompson and Frankie Luvu are the first pair of linebackers to post 90.0-plus run-defense grades as teammates in the same season (minimum 200 snaps played). Patrick Willis and NaVorro Bowman previously came closest to this feat in 2012, but Bowman just missed the mark with an 89.9 grade. Carolina will need Thompson and Luvu to continue their stellar performance up front while the rest of the defense jells.
---
Justin Fields finished just shy of Lamar Jackson's single-season rushing record by a quarterback in 2022. However, a closer look shows that Fields had to create for himself at an unprecedented level.
Justin Fields rushed for 756 yards after contact last season, easily the most by a quarterback in the PFF era. Jackson's 2019 total of 598 yards is a distant second. The drawback to this, of course, is that Fields is exposed to contact more often. The Bears, with their improvements up front, will hope Fields won't have to shatter this record again in 2023.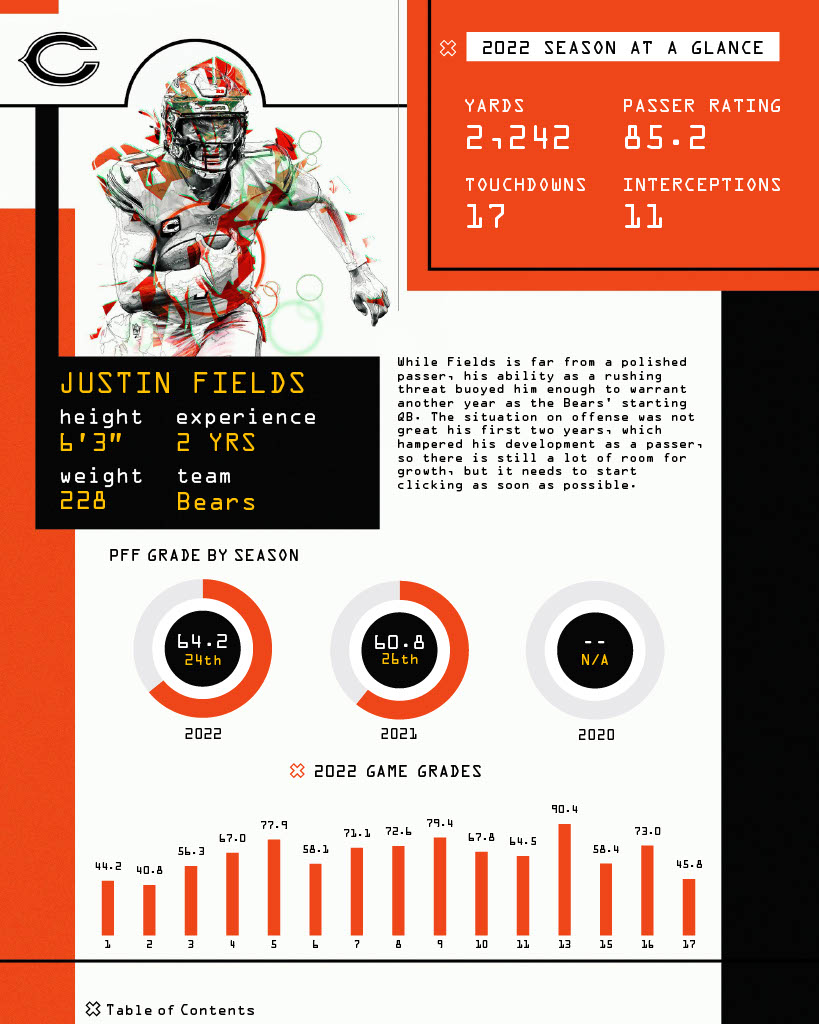 ---
For all the big-name acquisitions made in the NFL this offseason, there may be none more consequential than the Bengals landing Orlando Brown Jr. in free agency. Brown's calling card is his consistency and durability.
Orlando Brown Jr. is one of just two tackles, along with Dion Dawkins, to play at least 1,000 snaps and grade above 73.0 overall in each of the past four seasons. Brown may not be the best tackle in the NFL, but he is among the most reliable.
---
Questions surrounding the Browns' passing game may never cease, but there is no debating Nick Chubb's production on the ground. Chubb put together another elite season in 2022 with more than 1,500 yards and a 90.7 rushing grade, the latter of which puts him in a league of his own.
Nick Chubb is the first running back in PFF history to post 80.0-plus rushing grades in each of his first five seasons. Chubb also owns the highest total rushing grade (94.3) and most missed tackles forced (331) by any back in their first five years. Chubb will likely slow down as he ages, but another three years or so of similar production could put him on track for the Hall of Fame.
---
Two of the most stable measures of quarterback performance are clean-pocket passing and avoiding turnovers. Dallas has had issues with both in recent years, and they aren't isolated to Dak Prescott's 2022 struggles.
Over the past three regular seasons, Dallas quarterbacks have 44 turnover-worthy plays from a clean pocket, tied with Pittsburgh for the most in the NFL. The Cowboys have collectively posted an 87.4 clean-pocket passing grade, which ranks 19th in the NFL (regular season only). Dallas is loaded with talent, but they will continue to struggle in pursuit of a Super Bowl if they don't take better care of the football.
---
The Broncos' top priority this season is to find a way to spark Russell Wilson. One thing new head coach Sean Payton will find is that Wilson struggled on first down last season, unlike any other time in his career. From 2012 to 2021, Russell Wilson's 92.0 passing grade on first down ranked third best in the NFL, behind Tom Brady and Drew Brees.
Brees is the interesting name there, as he was Payton's protégé and the highest-graded first-down passer in PFF history (94.4). Wilson had never previously graded below 71.0 on first down yet finished 2022 with a mere 62.9 passing grade in those situations. Consequently, the Broncos ranked 28th in expected points added per pass play on first down.
---
The Lions spent a ton of resources in last year's draft to build up their defense. Starting with Aidan Hutchinson, the goal was to create a formidable pass rush. Hutchinson, with the help of a few others, had a nearly unprecedented rookie season.
The 2022 Lions got 19.5 sacks from their rookie class, the most of any team since at least 2006. They also collected 96 total pressures, which ranks second behind the 2021 Cowboys — Micah Parsons' rookie season. The primary contributors were Hutchinson, Josh Paschal and James Houston, who led all rookies in pass-rush grade. The Lions could have an excellent pass-rush group going forward.
---
Jaire Alexander, undoubtedly one of the best cornerbacks in football, brings lockdown ability to the Packers' defense. Alexander's 91.9 coverage grade since 2018 is tied with Stephon Gilmore for the best among all cornerbacks.
The Packers will need to rely on their defense to win games as their incredibly young offense rounds into form. Alexander's ability to shut down half the field is a major asset. Still just 26 years old, he has plenty more seasons of elite play ahead of him.
---
The Texans defense struggled in 2022 to the tune of a 50.6 overall grade (31st in the NFL) and a 34.1 run-defense grade (last in the NFL). Their 55.8 team coverage grade didn't rank much higher (27th), but there is a bright spot.
The Texans were the only defense in the NFL last season, excluding playoffs, with more interceptions than passing touchdowns allowed. Houston has a lot to work on, but they have a nose for the football, with nine different players picking off a pass. Rookie safety Jalen Pitre led the way with five. At the very least, new head coach DeMeco Ryans has some ballhawks to work with.
---
The Colts drafted Anthony Richardson for his athleticism, a major boon to their offense. It signals a change of direction for a franchise that has recently employed immobile quarterbacks Matt Ryan and Philip Rivers. Over the past five regular seasons, Colts quarterbacks have rushed for 763 yards (25th in NFL) and have 20 explosive runs (30th in NFL).
Richardson notched 1,189 yards and 30 explosive runs on just 115 career carries in college. His throwing accuracy may be in question, but his dynamic running will bring a new element to Indianapolis.
---
Trevor Lawrence turned a corner midway through last season and has potentially turned around the Jaguars franchise. A large part of his breakout, of course, was performing better from clean pockets and avoiding mistakes. From the start of 2021 (regular season only) through Week 8 of 2022, Lawrence earned a 72.7 clean-pocket passing grade with 17 turnover-worthy plays. Those figures ranked 30th and 34th, respectively, among 35 quarterbacks with 200 clean dropbacks.
From Week 9 of 2022 through wild-card weekend, Lawrence posted a league-best 93.2 passing grade with just one turnover-worthy play from a clean pocket. We'll need to see Lawrence sustain that performance, but if he is protected well enough, he could be an MVP candidate in 2023.
---
The Chiefs are an offensive juggernaut, but it could be argued that their defense was just as important during their most recent Super Bowl run. Chris Jones is a monster and they got a ton of production from young players in the secondary. The unsung hero of the group is linebacker Nick Bolton, who is well on his way to being a star.
Nick Bolton's 78.4 career overall grade is the second-best mark of any linebacker drafted since 2020, only behind Micah Parsons (minimum 200 snaps). The caveat to Parsons is that he's spent the majority of his time on the edge and is most productive when blitzing from a linebacker spot. Meanwhile, Bolton plays a more traditional role, leading that same group of players with an 83.5 run-defense grade. He's arguably the best young linebacker in the league.
---
It goes without saying that Josh Jacobs, the Raiders' most important player, had a spectacular 2022 season. He led the league in several rushing categories, including rushing grade.
Josh Jacobs' 91.9 rushing grade last year is the highest of any halfback over the past 10 seasons. His 90 forced missed tackles also rank as the best regular-season total in that span, surpassing Marshawn Lynch's 88 in 2014. Jacobs had a historic season in 2022, further complicating his contract situation in Las Vegas.
---
Controversial game management aside, the Chargers' biggest flaw over the past two seasons has been their run defense. In fact, their 0.048 expected points allowed per run is the worst mark of any team over any two-year stretch since 2006. Their 39.6 run-defense grade in the span ranks ahead of only the Texans and Bears.
This year, the Chargers acquired former Viking Eric Kendricks to right the ship. Kendricks is coming off a year in which he posted a 79.5 run-defense grade, the second-best mark of his career. Kendricks' arrival coupled with the improved health of Joey Bosa provides a boost for Los Angeles' defensive front.
---
The Rams lost 12 games in 2022 despite leading the league in team run-defense grade. They join the 2014 New York Jets as the only teams in PFF history to lead the NFL in run-defense grade and lose 12 games. There are a few other teams that have had losing seasons with the top run-defense mark, but generally, the team that leads in that category makes the playoffs.
Fast-forward to this year. The Rams have lost most of the pieces that led their 2022 defense. Seven of their top eight players in snaps played are gone. Aaron Donald is the only defensive player currently on their roster who played 300 snaps and finished 2022 with at least a 70.0 overall grade. The Rams are going to need their offense to carry them while their defense fills in the gaps.
---
Jaelan Phillips quietly emerged as one of the best pass rushers in football last season. In fact, his improvement was unprecedented. Jaelan Phillips improved his overall grade by 35.1 points in 2022, a PFF record for a second-year edge defender (minimum of 100 snaps played in each of a player's first two seasons).
Phillips was one of the breakout stars of 2022 after a rough rookie season in 2021. He posted an 88.8 overall grade and a 90.1 pass-rush grade while racking up the seventh-most pressures among all players in the NFL. Phillips could be a sleeper candidate to lead the league in sacks this season.
---
Kirk Cousins will likely never get the credit he deserves. Constantly underappreciated despite putting together an excellent career, Cousins has been the rare late-round quarterback who has become a viable NFL starter.
Kirk Cousins' 88.6 career passing grade is the second highest in PFF history by any quarterback drafted in the fourth round or later. The only player ahead of him? Tom Brady, of course. Cousins actually owns the 11th-highest passing grade in PFF history, with 10 signal-callers ahead of him who could all be Hall of Famers. Love him or hate him, Cousins has produced against all odds.
---
New England's offensive struggles since Tom Brady's departure have been well documented. Brady was always going to be impossible to replace, but the Patriots have struggled to find consistency in the passing game.
Over the past three regular seasons, the Patriots have picked up 540 first downs on pass plays, the fewest in the NFL. Their 55 passing touchdowns in that span ranks 29th. The Patriots don't have a ton of speed on offense and Mac Jones doesn't stretch the field much with his arm. New England has to find ways to move the chains if the offense is to keep up in an explosive AFC East.
---
Derek Carr may not have the luxury of throwing to Davante Adams anymore, but he does have a solid young group in New Orleans to work with. Chris Olave finished fourth in Offensive Rookie of the Year voting and Rashid Shaheed proved to be a dynamic weapon down the stretch last season. Both were quite efficient despite a turbulent quarterback situation.
Dating back to 2015, Rashid Shaheed (2.59) and Chris Olave (2.42) rank second and fourth, respectively, in yards per route run by a rookie wide receiver (minimum of 30 targets). Justin Jefferson and Ja'Marr Chase are the elite company joining them in the top four. With Shaheed threatening defenses deep (99.9 deep grade) and Olave's mastery in the intermediate part of the field (98.9 intermediate grade), Carr should find his new weaponry to his liking.
---
The Giants were the NFL's biggest overachievers last season. In fact, their 68.2 overall team grade in the regular season is the lowest of any team that made the postseason in the PFF era. Interestingly, the next lowest figure was 69.8, set just one year earlier by the Pittsburgh Steelers.
The Giants had several standout performers last season, and they are still a young team. Incumbents Kayvon Thibodeaux and Evan Neal will need to produce at a high level, while rookies Deonte Banks and Jalin Hyatt bring talent to weaker areas of the team.
---
How badly did the Jets need Aaron Rodgers? Well, Mark Sanchez's 72.1 passing grade in 2010 is the franchise record in the PFF era (minimum of 100 dropbacks). That mark ranked 21st in 2010 and would've ranked 18th this past season. No other Jets quarterback in the PFF era has finished with at least a 66.0 passing grade.
Rodgers had a down year, by his standards, in 2022. However, his 75.9 passing grade, 33 big-time throws and 2.9% turnover-worthy play rate are still better than any Jets quarterback has put up in a single season. Rodgers was still a top-10 passer last season. That level of play would give New York legitimate postseason hopes. Any level of improvement could make them serious contenders.
---
The Eagles have a star-studded defense, but one of the constants through the years has been Brandon Graham. He had another stellar season in 2022, posting an 89.8 overall grade that led the team. And it turns out to be a historic figure.
Brandon Graham joined Aaron Donald and Von Miller as the only defensive linemen in PFF history with an 80.0-plus overall grade in nine seasons with at least 400 snaps played. Coming off a major injury last season, Graham displayed his usual dominance despite being in a more rotational role. At 35 years old, he doesn't carry the load he used to, but he is still an excellent contributor when his time comes.
---
At this point, it feels like a given that the Steelers won't field a losing team with Mike Tomlin as their head coach. 2022 may have been his best work yet.
The 2022 Pittsburgh Steelers had a winning record despite scoring just 18.1 points per game. Since 2006, the only other team that posted a winning record while scoring that many points per game, or fewer, is the 2016 Houston Texans (17.4). Quarterback play is at the forefront of success for any team, and the Steelers are going to need a big leap in production from Kenny Pickett to contend for the postseason this year.
---
The 49ers are incredibly difficult to defend with Christian McCaffrey and Deebo Samuel serving as versatile chess pieces. If there were two guys who could make position labels irrelevant, it would be them. Christian McCaffrey owns a career 96.0 receiving grade, which is an all-time PFF record for any player. McCaffrey is a dynamic receiver, regardless of alignment. In 2022, he earned an 83.4 receiving grade when lined up as a wide receiver. That grade would have placed him 16th in the league among wideouts — in between Jaylen Waddle and Terry McLaurin.
Meanwhile, since 2019, Deebo Samuel has averaged 6.2 yards per carry, trailing only Justin Fields and Lamar Jackson among all players with 100-plus carries. Samuel also leads all players in missed tackles forced per attempt in that period. McCaffrey and Samuel are possibly the two most versatile players in the NFL. The fact that Kyle Shanahan has them both in his offense is borderline unfair.
---
Lost in the Geno Smith resurgence and the Tariq Woolen Defensive Rookie of the Year bid was the fact that Seattle made the postseason despite starting rookies at both offensive tackle spots. Charles Cross and Abraham Lucas are the first pair of rookie tackles to play at least 800 snaps for the same team in the PFF era (since 2006).
Cross (63.1 overall) and Lucas (68.4) both performed admirably during their rookie campaigns. Moving forward, they are foundational pieces for a team that accelerated its rebuild with an exceptional 2022 draft. Their development will be a big story in Seattle over the next few seasons.
---
Tristan Wirfs has been an elite player from the moment he was drafted in 2020, arguably the best right tackle in the NFL. Though aided by Tom Brady's quick release, Wirfs has excelled in pass protection in record-setting fashion.
Tristan Wirfs' six pressures allowed and 99.4% pass-blocking efficiency are both single-season records for any offensive tackle who played at least 300 pass-blocking snaps. Making the feat more impressive is that Wirfs protected for 696 snaps while several of the players behind him played fewer than 500. Wirfs moves to the left side this season looking to sustain his elite performance.
---
The Titans have had major issues in pass protection over the past three years as stalwarts Taylor Lewan and Jack Conklin have either aged or departed. Their 54.0 team pass-blocking grade since 2020 ranks dead last in the NFL. The team has still been in playoff contention despite consistently poor protection, though.
The Titans are the only team since 2020 that has not posted a team pass-blocking grade of at least 75.0 in a single game. Conversely, the Eagles hit that mark in 11 games in 2022 alone. Tennessee lost another starter, Nate Davis, this offseason, which makes life more difficult. They certainly made the right decision in drafting Peter Skoronski.
---
Washington does not have a great recent history of quarterback play. The team continues to search for a long-term solution at the game's most important position. It turns out that they haven't even been able to find someone who gives them elite performance in short spurts. In the PFF era (since 2006), Washington has only twice had a quarterback take 20 dropbacks and put up a single-game passing grade of 90.0 or better.
Two 90.0-plus grades in 17 years. Every other NFL team has at least four. Joe Burrow did it four times in 2022. For reference, the two players who accomplished the feat for Washington are Jason Campbell (Week 10, 2007) and Kirk Cousins (Week 11, 2016). That Cousins-led season in 2016 also represents the last time Washington had a winning record.