An offensive line often gets judged based on team success. How often is the quarterback getting sacked? How effective is the run game? The answers to those questions, along with several others, get used to make conjectures about the performance of the line. That shouldn't always be the case. At PFF, we're able to evaluate the performance of each member of the offensive line with our play-by-play grading. Using those offensive line grades as a guide, this is where each team's unit stacks up following the 2019 regular season.
When fully healthy, the Eagles' offensive line didn't have a single weak link, and that is invaluable in a league where weak links are quickly exposed. All five starters — Jason Peters, Isaac Seumalo, Jason Kelce, Brandon Brooks and Lane Johnson — graded among the top-10 players at their respective positions. Seumalo was the only one who graded outside the top-two players at his position. The most impressive performance on the line belongs to Brooks, who had the highest overall grade of any guard in the NFL after tearing his Achilles last postseason. His season was cut short by injury again last week, but his performance as the top player on the league's top offensive line has been one of the better stories this season.
Lamar Jackson and the Ravens exceeded all expectations on their way to the No. 1 seed in the AFC, and the offensive line has been a big part of that success. Ronnie Stanley has had perhaps the best pass-blocking season we've ever seen from an offensive tackle since PFF began tracking players in 2006, allowing just six pressures in 443 pass-blocking snaps. It hasn't just been Stanley, either. Jackson has been pressured at the ninth-lowest rate of any qualifying quarterback despite being the only passer to hold onto the ball for over three seconds on average. Whether letting Jackson work his magic or paving the way for the league's best rushing offense, the Ravens' offensive line has gotten the job done in 2019.
Continuity on an offensive line is always a good thing. That's exactly what the Colts got in 2019 with all five starters playing over 1,000 snaps on the season. A group that was much maligned when Andrew Luck was having frequent dates with the turf has quickly become one of the top groups in the NFL, led by Quenton Nelson. The Notre Dame product was the highest-graded left guard as a rookie last season when you include the postseason, and he's back on top in Year 2. He's been especially dominant in the run game — Nelson's two-year run-blocking grade leads all guards.
The Cowboys have been near the top of this conversation for years. This season was another impressive display for the group, finishing fifth in PFF pass-blocking grade and third in run-blocking grade. It's well known what Tyron Smith, Zack Martin and Travis Frederick are capable of when fully healthy, but La'el Collins' performance this year was the most promising development from the group. His 85.8 overall grade ranked third among right tackles and was easily the highest overall grade of his career. Collins and Martin on the right side of the line helped lead an offense that finished second behind only the Ravens in expected points added per run play.
Prior to this season, we listed the Saints as having the top tackle duo in the NFL between Terron Armstead and Ryan Ramczyk. Not much changed this year that would knock them down the list. Going back to 2017, Armstead and Ramczyk rank second and third, respectively, in pressure rate allowed among 86 tackles with 500 or more pass-blocking snaps. Drew Brees' quick release certainly helps in that area, but no team has allowed a lower pressure rate in 2.5 seconds or less than New Orleans (16.5%). The combination of a quick passing game with one of the NFL's best pass-blocking lines has given Brees the lowest pressure rate in the NFL (24.9%).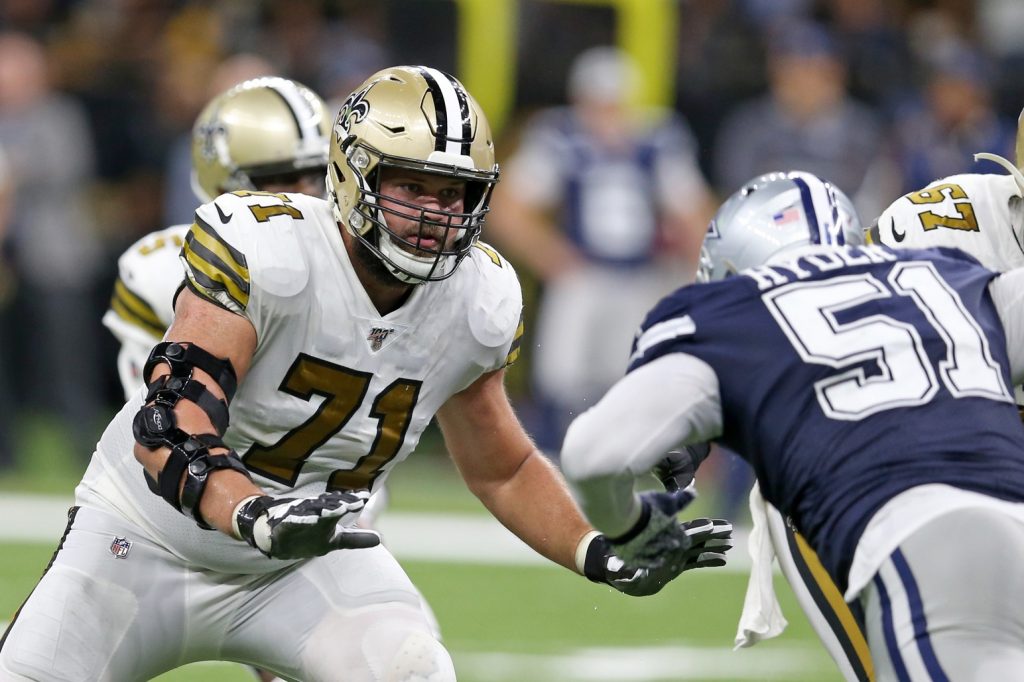 Chuck Cook/IMAGN
The perception of the Packers' offensive line doesn't always meet reality. Aaron Rodgers consistently holds onto the football with one of the longest average time to throws in the NFL. As PFF Data Scientist Timo Riske explored with offensive line survival rates, that significantly increases the chance for quarterback pressure and sacks. Their 22nd-ranked pressure rate allowed isn't all that impressive, but their average time to allow a  pressure of 2.62 seconds (best in the NFL) is much more so.
Ryan Jensen and Ali Marpet anchored the middle of this Buccaneers' offensive line and provided some of the best pass protection that we saw from any interior offensive line this season. The guard and center positions for the Bucs combined for an 80.4 pass-blocking grade this season, ranking second among all offenses around the league. Dating back to 2015, Marpet has the 12th-highest overall grade among 55 guards with 2,500-plus snaps.
Ignoring the right guard position, which was a bit of a mess this season, the Titans have had a well-rounded performance from their offensive line. Ben Jones turned in the highest overall grade of his eight-year career at 77.2 (third among qualifying centers), thanks in large part to an 86.8 pass-blocking grade. Jones was one of four centers with 250 or more pass-blocking snaps and a pressure rate allowed of below 2.0%.
Injuries to the quarterback, running back and wide receiver positions quickly turned one of the NFL's better offenses from a season ago into a unit that averaged more yards per play than only the Redskins, Bears and Jets this season. The Steelers' offensive line simply didn't play at the same level it did last year when it finished the regular season as the top unit in the NFL for us at PFF. But they were still solid up front, particularly in pass protection, where they put up an 81.6 pass-blocking grade that trailed only the Ravens and Saints this season.
Tom Brady and the Patriots have looked vulnerable toward the tail end of the season, and that's been especially true when defenses pressure Brady. Joe Thuney has played his role in making sure that doesn't happen. His pressure rate allowed of 2.5% trails only Marshal Yanda and Richie Incognito among all guards with 250 or more pass-blocking snaps this season. With Isaiah Wynn returning from injury and replacing Marshall Newhouse, this is a line that has improved as the season has progressed.
At this point last season, we were discussing how Frank Ragnow was all over the map after his rookie season at guard. Following his switch to center prior to this season, Ragnow finished 2019 as the sixth-highest graded player at the position in a much-improved sophomore campaign. Ragnow increased both his pass-blocking grade and run-blocking grade nearly 15 points from his rookie season. Taylor Decker and Graham Glasgow also enjoyed top-10 finishes at their respective positions in overall PFF grade.
The Broncos didn't have the offensive line that they initially pictured coming into the season due to an injury to free-agent acquisition Ja'Wuan James. His replacement, Elijah Wilkinson, was the weak link of the group. Wilkinson's 10 sacks allowed were the fourth most of any tackle this season. All was not lost for Denver, though, as its offensive line ranked in the top half of the league in pass-blocking and run-blocking grade under first-year coach Mike Munchak.
The Redskins' offensive line was operating without its best player all season, as Trent Williams sat out, but the group still managed to finish among the top half of the league in our rankings, led by Brandon Scherff before his season-ending injury. Scherff was a force to be reckoned with in the run game this season. His 76.3 run-blocking grade ranked fifth among all qualifying guards.
For pass-protection purposes, the 49ers will be glad to have Joe Staley back for their postseason run. Staley allowed just seven pressures in 240 pass-blocking snaps this season for a pressure rate of 2.9% that trailed only Ronnie Stanley and Taylor Lewan at left tackle. His replacement, Justin Skule, allowed a 9.2% pressure rate (fourth worst at the position) despite Jimmy Garoppolo getting rid of the ball in less than 2.5 seconds on average with Skule in the lineup.
There was no duo of interior offensive linemen in the NFL better at limiting pressure than Rodney Hudson and Richie Incognito this season. Hudson allowed just three pressures in 509 pass-blocking snaps in 2019, while Incognito allowed only nine pressures in 414 snaps. Out of those 12 combined pressures, only one was a sack and one was a quarterback hit — with the other 10 being hurries. On the outside, Kolton Miller improved significantly on his rookie season, but his overall grade of 64.9 still ranked just 23rd among 37 qualifying left tackles.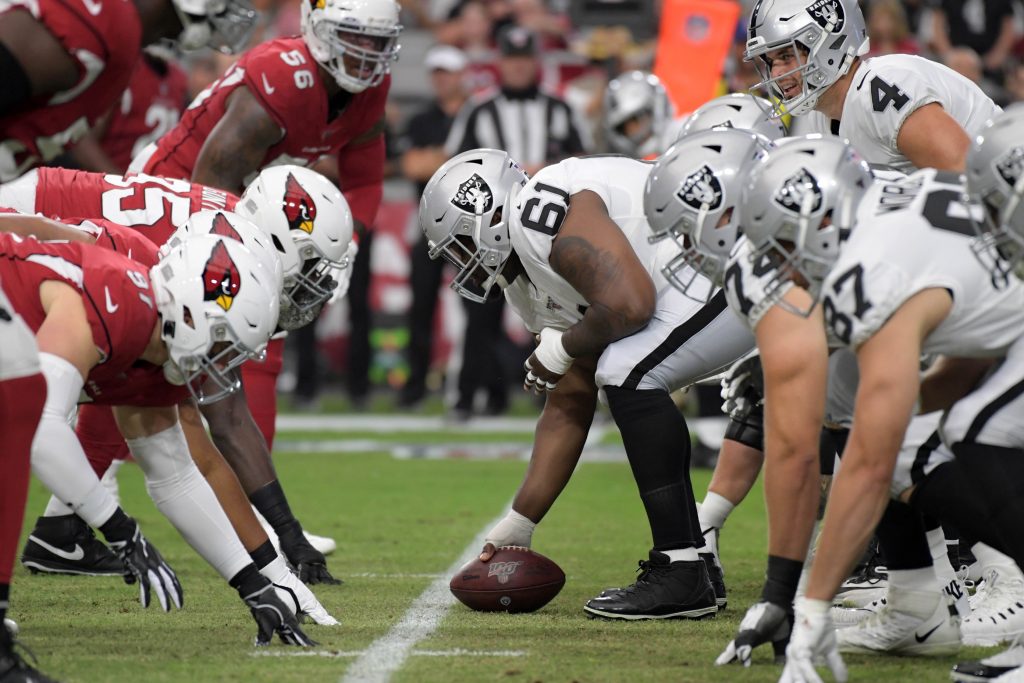 Kirby Lee/IMAGN
The Chiefs dealt with several injuries along the offensive line that limited them to an extent. Despite that, they remained one of the better pass-blocking teams in the NFL. Their pressure rate allowed in 2.5 seconds or less trailed only the Saints this season, and Mitchell Schwartz added another strong season in pass protection at right tackle. Run blocking has been a different story, with three of five starters receiving sub-60.0 grades in that department.
Kevin Zeitler provided the steady play at guard the Giants expected when they traded for him, grading above 70.0 as both a pass blocker and a run blocker this year. The tackle duo of Nate Solder and Mike Remmers hasn't provided that same steady performance, however. Solder's 57 pressures allowed this season are seven more than any other player, and the 97 combined pressures allowed for the duo is the most in the NFL.
The Panthers' offensive line suffered from several members not playing up to expectations following deals this offseason, namely Matt Paradis and Daryl Williams. The latter was one of the more impressive right tackles in the NFL in 2017, posting a 78.0 overall grade before an injury cut short his 2018 season. This year, Williams has picked up just a 56.1 overall grade across snaps at guard and tackle. Likewise, Paradis hasn't shown the play that we came to expect from him in Denver. After grading at 74.0 or higher every season from 2015 to 2018, Paradis earned a 63.5 overall grade in his first year in Carolina while allowing a position-high 47 quarterback pressures.
In his article on offensive line survival rates, PFF Data Scientist Timo Riske discussed the success that the Vikings have had in protecting Kirk Cousins due largely to scheme and how they could be in store for regression in the coming weeks given their 24th-ranked pass-blocking grade at the time. In Week 16 against the Packers, Cousins was under pressure on 47.2% of his dropbacks (fourth-highest rate that week) and has managed just 35 passing yards on his 17 pressured dropbacks. As a unit, the Vikings' offensive line now ranks just 27th, and their spot at 19th on this list is being buoyed by success in the run game.
It's safe to say that the Texans' offensive line has exceeded expectations this season. Coming into this season, they were 31st on this list prior to the trade for Laremy Tunsil, but the significant improvement that we've seen from them in pass protection has them up to 20th heading into the playoffs. Tunsil stepped in and admirably filled a gaping hole at left tackle. Across the 2017 and 2018 seasons, Texans' left tackles allowed a pressure once every 10 pass-blocking snaps, the worst mark in the NFL. Tunsil allowed a pressure only once every 28 snaps this season, fourth among qualifying left tackles.
The Bills invested in their offensive line this offseason between free agency and the draft, and we've seen improvement from the unit over last season. Those additions along the line, combined with an emphasis on the short passing game and a resulting quicker release from Josh Allen, has lowered the signal-caller's pressure rate roughly seven percentage points from where it was last season. The Bills' top pass blocker has been Dion Dawkins with a 76.4 pass-blocking grade.
Considering the state of the Arizona offensive line just a season ago, this ranking of 22nd doesn't look too bad. Were it not for a run-blocking grade as a line that ranked fourth worst in the NFL — ahead of just the Dolphins, Bengals and Rams — they would have finished even higher. The Cardinals were much improved in pass protection for Kyler Murray, allowing quick pressure on just 18.2% of their dropbacks, which was good for the sixth-best rate in the league. No quarterback was charged as at fault for more of their own sacks than Murray this season (23).
Nearly a year ago to the day, the Browns finished the 2018 regular season with our second-ranked offensive line. It's been a long year for Cleveland. The team's 2018 success stemmed largely from an interior group that was a wall in pass protection with Joel Bitonio, J.C. Tretter and Kevin Zeitler. Bitonio and Tretter had similar success in the passing game, but the combination of Wyatt Teller (56.8 overall grade) and Eric Kush (45.4 overall grade) had significantly less success than what Zeitler accomplished. That dip in pass protection, in addition to a bottom-10 run-blocking grade from the line, pushes them down the list in 2019.
The Falcons made the offensive line a point of emphasis this past offseason, drafting two first-round players to fill in on the right side and signing free agent James Carpenter to a four-year deal. Things did not go according to plan at those three positions, though. Carpenter picked up a 45.3 overall grade before being placed on IR. Chris Lindstrom missed a significant portion of the season before returning in Week 14 with several weeks of solid play. And lastly, Kaleb McGary graded out at 34th among 38 qualifying right tackles. Solid play at the center and left tackle positions wasn't enough to overcome those deficiencies.
The Bears took an expected step backward this season, spearheaded by regression in volatile areas from Mitchell Trubisky. Part of that decline, though, was worse play from the offensive line. When the Bears allowed pressure this season, they allowed it fast. Their average time to pressure allowed of 2.37 seconds was 29th in the league, ahead of only the Dolphins, Chargers and Falcons. A silver lining for the group came from James Daniels after he switched over to left guard. Daniels' 73.9 overall grade at left guard ranked fifth among all qualifiers at the position.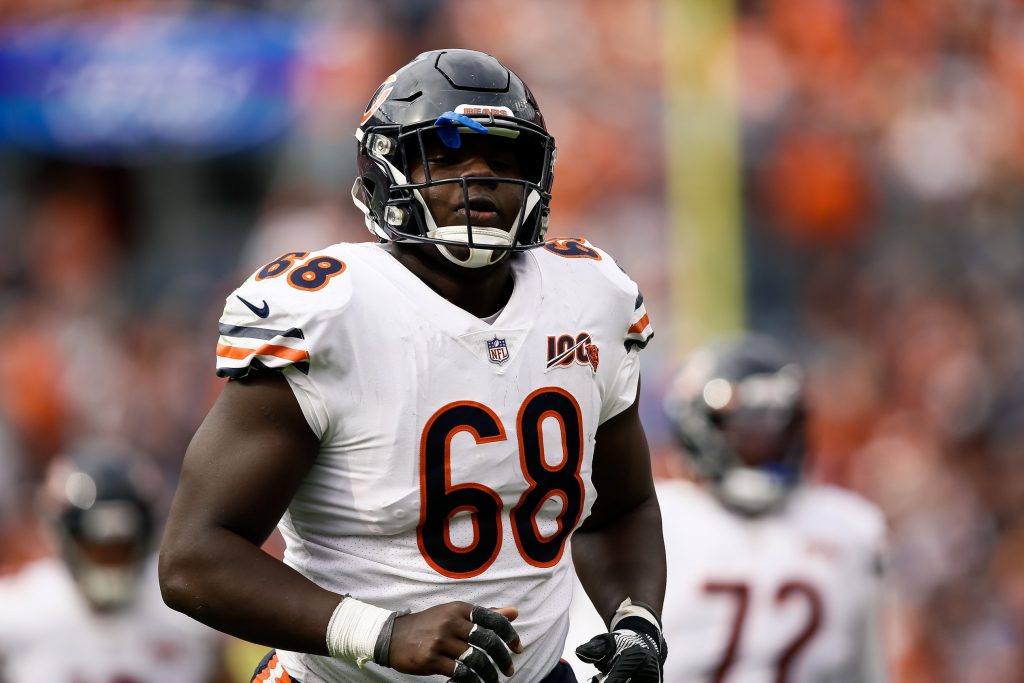 Isaiah J. Downing/IMAGN
After returning from an injury-shortened second season, left tackle Cam Robinson showed more of the form that we saw from him as a rookie when he posted one of the worst pressure rates allowed in the NFL (9.0%). This season, Robinson allowed 45 pressures at left tackle in 552 pass-blocking snaps for a slightly improved — yet, still concerning — rate of 8.2%. As this ranking would suggest, Robinson wasn't the only player along the line who struggled. Outside of Brandon Linder, there wasn't a whole lot to get excited about for Jacksonville up front.
Since entering the league, there has been no quarterback that has been more accustomed to pressure than Russell Wilson. He has faced pressure on 42% of his dropbacks since entering the NFL, and he is the only qualifying quarterback since 2012 with a rate over 40%. Wilson has been able to succeed despite the pass protection from his line, but that doesn't change the fact that it has often been an issue — and it was a problem again this season. The Seahawks' pressure rate allowed in 2.5 seconds or less of 26.7% this year was third worst in the league, ahead of only the Jets and Dolphins.
The premier acquisition of the offseason for the Jets, Le'Veon Bell, failed to make the impact that New York had hoped for when it signed him to a big-time contract. The offensive line, paired with scheme, was a big part of that problem. The Jets averaged just 0.7 rushing yards before contact per attempt, the lowest mark of any team in the NFL. Add in that they allowed pressure in 2.5 seconds or less on 27.5% of their dropbacks (second-highest mark in the NFL), and it's not hard to see why they find themselves at 28th on this list.
The Chargers' offensive line has been their roster's biggest weakness for several seasons now. To put it in perspective, the last time they had a team pass-blocking grade ranked above 26th was 2014. With Russell Okung out for much of the season, the tackle position manned by Trent Scott and Sam Tevi was an issue, consistently putting Philip Rivers under pressure. Tevi and Scott combined to allow 88 pressures this season. That was the second most of any tackle duo in the NFL, behind Nate Solder and Mike Remmers in New York.
The Bengals are on the clock, which is to say that they didn't have a whole lot of things that went their way this season. The offensive line was not an exception. The overall grades of the players to play 500 or more snaps on the line were: Trey Hopkins (62.8), Bobby Hart (57.7), John Miller (58.6), Michael Jordan (43.1), and Billy Price (41.8). None of those marks ranked among the top 50% of players at their respective positions. The Bengals will need Jonah Williams and whatever other reinforcements they add this offseason to step up and keep Joe Burrow safe in 2020.
The offensive line was a strength of the Los Angeles Rams' NFC champion team in 2018, but that changed in a hurry this season. Injuries, shuffling pieces and declining play from players who performed well last season — such as Rob Havenstein — resulted in a pass-blocking unit that allowed a pressure rate four percentage points higher than it did a season ago despite Jared Goff getting rid of the football significantly faster on average and running play action at one of the highest rates in the NFL. Given how much Goff relies on a clean pocket, improving the group up front will be a priority heading into 2020.
The Dolphins created a comfortable cushion for themselves at the bottom of the league in 2019 in nearly every metric you could use to evaluate offensive line play. Their average time to pressure allowed of 2.22 seconds was over one-tenth of a second faster than any other offense, and they allowed quick pressure in 2.5 seconds or less on 33% of their dropbacks. That was over five percentage points more than any other team. To top it off, they recorded the lowest team run-blocking grade of any team in the NFL. There are a lot of holes to fill on the Dolphins' roster, and plenty of them are along the offensive line.