Les Snead has built the Los Angeles Rams' roster with reckless abandon in recent seasons, actively pursuing trades and wielding a generous wallet in contract negotiations at the expense of future flexibility. There is a certain allure to pushing all your chips into the center of the table and aggressively chasing wins right now. That approach to roster building nearly brought a Lombardi Trophy home to Los Angeles in Super Bowl LIII against the New England Patriots. The approach is not nearly as attractive when the losses begin to build, though. After being officially eliminated from the postseason with a Week 16 loss to the San Francisco 49ers, the Rams are finding that out firsthand.
A season ending outside of postseason contention is shining a light on any and all deficiencies that Los Angeles has shown this season, including the fact that…
Jared Goff is paid like an elite quarterback, but he's been far from it with this offensive line
It's hard to talk about what is at the root of the Rams' offensive struggles this season and not begin with the offensive line. That unit went from fifth in PFF pass-blocking grade in 2018 to 31st in 2019, ahead of only the makeshift group that protects Ryan Fitzpatrick in Miami. Every quarterback is affected by pressure. Some are affected more than others, and Goff can safely consider himself part of that "some."
Throwing out his disastrous 2016 rookie season, Goff ranks sixth in PFF overall grade from a clean pocket (92.7) since 2017. Over that same stretch, his 45.9 grade under pressure ranks 20th. That is the second-highest rank difference of any quarterback in the sample, trailing only Matthew Stafford (fourth from clean pocket and 22nd when under pressure). The traditional numbers under pressure are even uglier. Goff's completion rate on those throws of just 42.4% ranks 30th among 32 qualifiers. Those aren't the types of numbers that you're hoping for from your $134 million man at quarterback.
When Goff has time to stand tall and let it rip without defenders around his feet, it's not hard to see why the Rams were willing to make him one of the highest-paid quarterbacks in the NFL. He'll have some lapses, but he'll also make some of the best throws that you'll see at the NFL level in those situations, which was the case for much of last year. Not only was he getting clean pockets, but he was getting extended clean pockets. That extra time was crucial for the brand of passing offense that Sean McVay and the Rams want to run.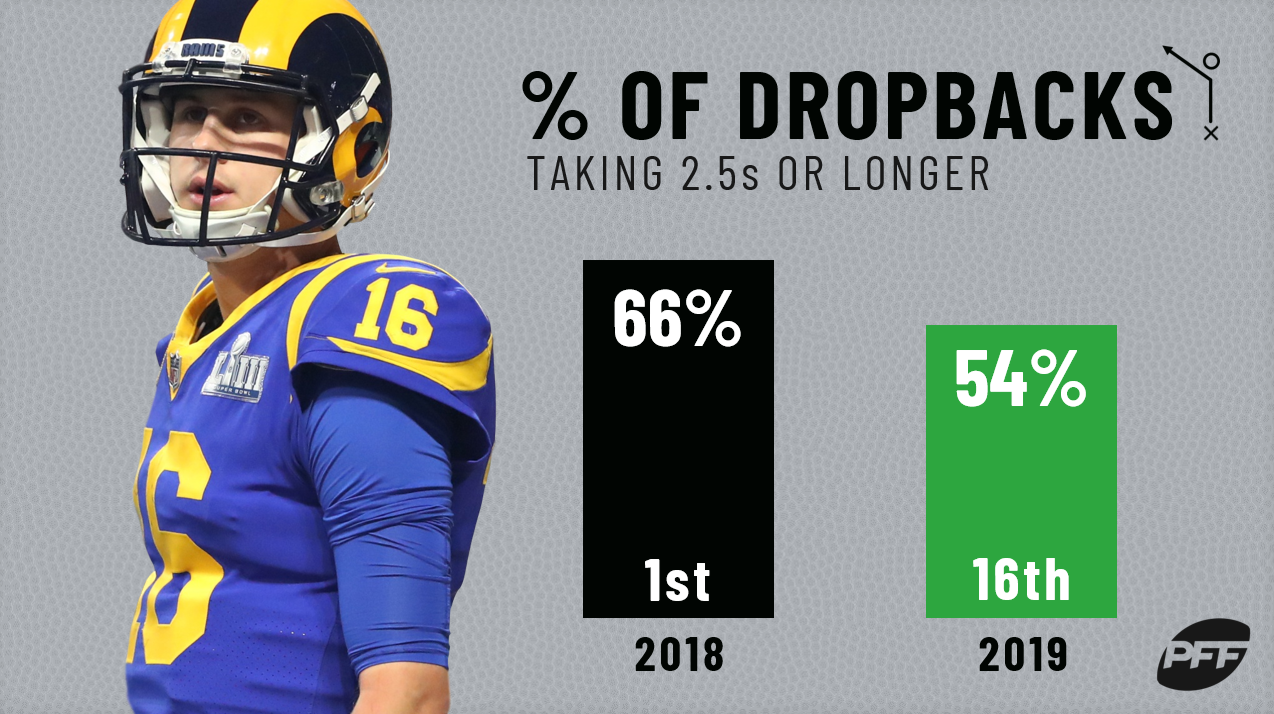 In 2018, 66% of Goff's dropbacks lasted 2.5 seconds or longer, the highest rate of any quarterback in the league. The Rams were able to hold up in protection for Goff and let the crossing and long-developing routes that they like to utilize, particularly off play action, develop. This season, that number is down to 54% (16th among quarterbacks). The poor pass protection up front has sped up Goff and hurt what the Rams did so well on offense a season ago.
It's no coincidence that his career season in 2018 came when the Rams' offensive line was a top-five pass-blocking unit. The Rams have paid Goff like one of the top quarterbacks in the league, and in order for that to be a reality right now, the Rams simply have to be better up front. Goff has not proven that he can overcome adverse conditions like other elite quarterbacks around the league (*cough* Russell Wilson *cough*). Since he's who the Rams have hitched their wagons to, they'll either have to work this offseason to ensure the conditions are closer to what he saw in 2018 or hope for improvement in Year 5. Either way, it's not an ideal start for the Rams' nine-figure investment.
The Rams are paying big-time money at suboptimal positions
It's a shame that the running back position isn't more valuable in the NFL. The players at the position are some of the most exciting and dynamic players in the game, and they take perhaps the most physical punishment of any position. The truth is that the skillset is largely replaceable, though, and their primary task – running the football – is driven by a host of other factors that are more important than the talent level of the running backs themselves, primarily game situation and run blocking.
The most valuable aspect of a running back's game is the ability to make an impact in the passing game. Todd Gurley was outstanding in that regard in 2017, posting a receiving grade of 91.1 and 12.3 yards per reception (highest of any running back in the last three seasons with 50 or more receptions).
Since then, with the injury issues that he has dealt with, Gurley's role as a receiver has taken a massive hit to the point that he has the lowest receiving grade of any running back in the NFL this season (32.4). Gurley is averaging just 0.51 receiving yards per route run (fourth-worst among running backs) and has dropped six passes (tied for second-most at the position). He has actually been pretty strong as a runner this season, but his complete lack of impact in the passing game makes his contract an albatross for the Rams moving forward.
To an extent, the same argument can be made for Aaron Donald's contract. It's hard to fault the Rams' for locking up Donald long-term. The guy is an absolute monster and has been the best player in the NFL, regardless of position, for several seasons now. His 268 pressures since the start of the 2017 season are 44 more than the next closest defender (Cameron Jordan) and 70 more than the next-closest interior defender (Fletcher Cox). He is a force that can-not be stopped.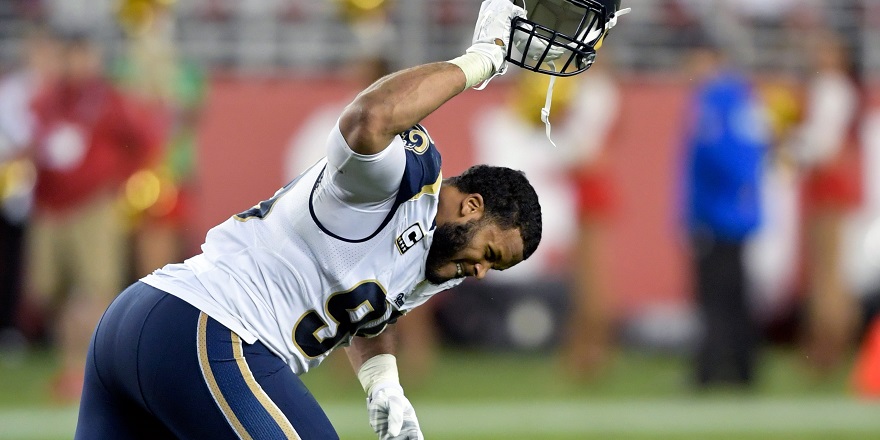 © Kirby Lee-USA TODAY Sports
He also wasn't even the most valuable non-QB in his own division over the past three years heading into the 2019 season, because he doesn't directly impact the most important aspect of defense: coverage.
It's great to have great players, and Donald is undeniably great, just as Gurley was great before being slowed by injuries. He makes the Rams' defense significantly better by commanding (and beating) double teams at a high rate. As great as it is to have players like Donald, this season for the Rams goes to show – just as the Chicago Bears' and Khalil Mack's season does – that elite pass-rushers just aren't going to move the needle if their offense and passing game can't get the job done on the other side of the football.
Three first-round picks for two players with career-worst seasons in 2019
The Rams have been no stranger to trading draft picks for proven NFL commodities, shipping multiple first-rounders out for Brandin Cooks and Jalen Ramsey in recent seasons while also working smaller deals for Aqib Talib, Marcus Peters, Dante Fowler Jr., etc. Focusing on the Cooks and Ramsey trades, three first-rounders in that short of a span is a lot of draft capital to give up for a non-quarterback, especially given the deficiencies we've seen from Goff that were touched on earlier. Both Cooks and Ramsey looked to be immediate high-impact players at high-impact positions, though.
Including last season with the Rams, Cooks earned a passer rating of 112.2 on his targets from 2014 to 2018, ranking fourth among wide receivers with 400 or more targets in that time frame. He was one of the premier field-stretchers in the NFL with speed to burn, and he had the best season of his career with Goff in 2018. He was one of the top-25 wide receivers in terms of PFF receiving grade in the NFL. Early returns were good.
2019 has been a different story for Cooks. He has posted career-lows in PFF overall grade, receiving yards per route run, passer rating when targeted, and nearly every receiving metric in the book. Cooks, along with the Rams' offense as a whole, has failed to be impactful.
Meanwhile, their midseason acquisition –Ramsey – had been one of the top shutdown cornerbacks in the NFL since entering the league in 2016. From 2016 to 2018, Ramsey's coverage grade of 90.4 ranked sixth among cornerbacks over that period, and he also ranked in the top six in completion rate allowed (52.9%) and passer rating allowed (71.6) among cornerbacks with 150 or more targets.
Like Cooks, the success of prior seasons for Ramsey didn't carry over to this season. He has recorded career-lows in 2019 in PFF grade, completion percentage allowed, and passer rating allowed. His results with the Rams were better than his early-season results with the Jaguars, but Ramsey has still been outperformed by the man he replaced, Marcus Peters (for a considerably larger draft pick investment).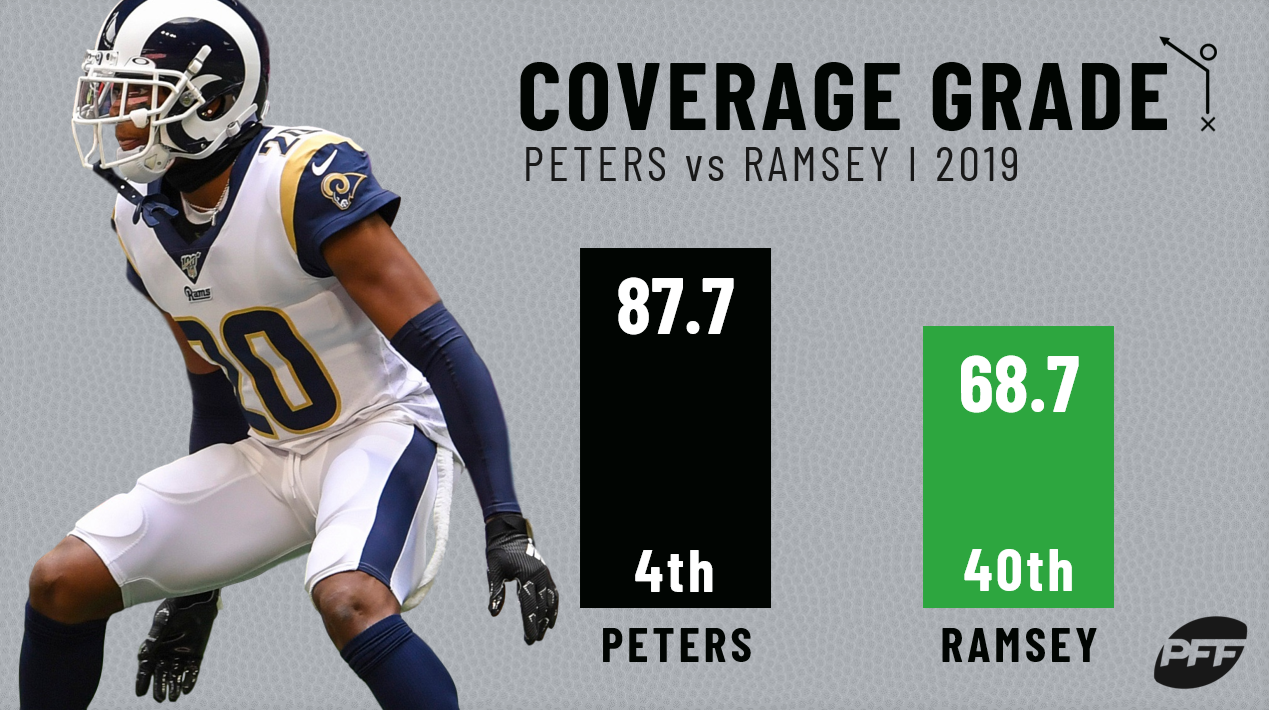 Both Peters and Ramsey began playing with their new teams in Week 7, and since that point, Peters has the fourth-highest coverage grade among cornerbacks while Ramsey sits at 26th. On the season as a whole, their ranks are fourth and 40th, respectively. When you trade two first-round draft picks for a player, you expect that to result in an immediate upgrade, and at least to this point, that hasn't been the case for the Rams.
What options do the Rams have moving forward?
The lack of early return from the Ramsey trade is part of the larger issue that has made this season for the Rams so disappointing. The aggressiveness they showed in roster building demands immediate results, and those results didn't come in 2019. Now, the Rams are limited in the ways that they can improve on this 8-7 team thanks to limited cap room (including an impending massive contract that they will owe to Ramsey) to go along with a barren stock of high draft selections.
They made their bed with the guys on the roster, and now they must lie in it. The talent is there for a Super Bowl run – we saw it less than a year ago – but the Rams have put themselves in a situation where they can no longer go big-game hunting with cap space or draft capital to improve the roster. They're in a situation where they're relying on improvement from their investments like Goff, Gurley, Cooks, Ramsey, and Rob Havenstein to consistently perform at the level they've shown they were capable of in the past. If that doesn't happen, things aren't going to get any better for the Rams in 2020, and there isn't a whole lot of light at the end of the tunnel.