ORCHARD PARK, Calif. — Los Angeles Rams head coach Sean McVay was not an overly happy camper after his team wrapped up Wednesday's joint practice with the Las Vegas Raiders.
Seemingly frustrated with on-field dust-ups and "unnecessary stuff," McVay termed the practice "sloppy."
Rams quarterback Matthew Stafford threw three interceptions and star cornerback Jalen Ramsey had trouble corralling Raiders wide receiver Hunter Renfrow while working out of the slot, so the skirmishes between the teams weren't the only things that needed to be cleaned up after Wednesday's session.
McVay defended his quarterback, coining one pick "a good aggressive decision." The other two interceptions were tipped.
Click here for more PFF tools:
PFF Greenline | PFF Fantasy Rankings | PFF Fantasy projections | NFL Premium Stats | Win totals tracker  | 
Stafford already mastering Rams' complex offense
As a whole, the day gets chalked up as a big "yeesh" for the Rams, but it hasn't dampened the team's overall spirit and expectations for the 2021 season.
Stafford, despite Wednesday's errors, has wowed the team with his smarts and overall play. He's seen as a major upgrade over what Los Angeles previously had at the position, and he better be. The Rams gave up two first-round picks, a third-round pick and quarterback Jared Goff to get him from the Detroit Lions.
McVay's offense isn't an easy one to learn, and it's far more complex than what Stafford ran in Detroit, but assimilation has not been a problem so far for the veteran quarterback.
Rams position groups taking shape
The Rams go four deep at the top of their wide receiver depth chart with Cooper Kupp in the slot and Robert Woods, Desean Jackson and Van Jefferson working on the outside. Kupp and Woods will play nearly every snap for L.A. this season, but it appears a rotation is in order between Jefferson, who was heavily involved Wednesday, and Jackson, who still has speed to burn at 34 years old but will likely be on a pitch count this season. Jefferson briefly left Wednesday's practice with trainers but was back to finish practice with the first-team offense.
The running back position is a little more suspect. Darrell Henderson is clearly the lead back after Cam Akers tore his Achilles over the summer, and it appears Xavier Jones has a firm edge over Jake Funk for what should be an extremely important No. 2 role. Henderson has nursed ankle injuries in his first two NFL seasons and should probably have his touches monitored to keep him healthy and on the field in 2021. It's not ideal to have Jones, a 2020 undrafted free agent out of SMU, serve as insurance, but he has impressed so far in camp.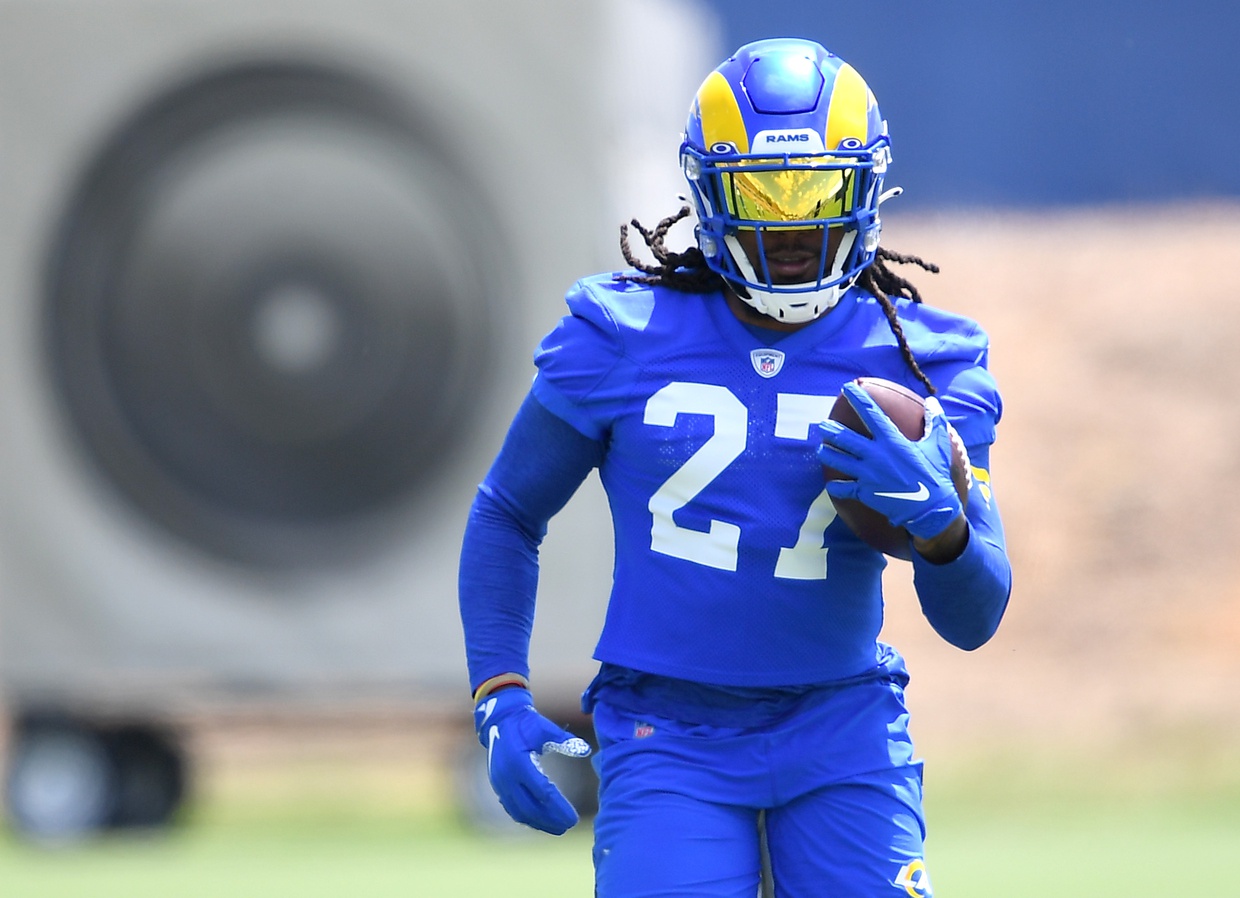 Jones is slightly undersized at 5-foot-11 and 208 pounds, but he had a prolific career with the Mustangs, registering 732 career touches for 3,922 yards with 48 touchdowns over five seasons. As a senior, Jones carried the ball 244 times for 1,276 yards with 23 rushing touchdowns and had a 78.7 PFF rushing grade. He also caught 72 passes for 488 yards with three touchdowns in his college career.
Still, it would be unsurprising if the Rams scoured the waiver wire for a veteran running back during this summer's cutdown period. Henderson, in only his third season, is the veteran of the group. They could use some more experienced leadership in the room.
---
PFF Premium Stats offers grades, signature stats, snap counts, alignment data and much, much more!
Click here to subscribe…
---
Ramsey vs. Renfrow in the slot
Ramsey's work out of the slot comes as a bit of a surprise given his price tag. Slot cornerbacks typically aren't viewed as being as valuable as outside options, and Ramsey inked a five-year, $105 million extension last September. He's the highest-paid cornerback in the NFL, but he played 76% of his snaps out wide in 2020 and could see less time there in 2021. The Rams' other top cornerbacks are Darious Williams and David Long, both of whom are better playing outside the numbers.
Terrell Burgess also could see time in the slot while sharing the safety position with Jordan Fuller, a full-time starter and defensive play-caller, and Taylor Rapp.
Ramsey did have issues covering Renfrow on Wednesday, however, and smaller, quicker wide receivers like Renfrow could give the 6-foot-1, 208-pound cornerback problems moving forward. Ramsey had an 81.8 coverage grade working out of the slot last season vs. a 77.5 coverage grade at wide cornerback, however, so perhaps Wednesday's struggles were nothing more than training camp growing pains. Renfrow beat Ramsey deep and on a high catch ball during the session.
"If I can beat Jalen Ramsey, I can beat anybody in the NFL," Renfrow told reporters after practice. "Because he's one of the best. He beat me a couple of times today, too."
We'll have more on the Raiders' side of practice in Thursday's practice notes.