What happens when you put Josh Allen's sudden development in his third year as a starter in Russell Wilson's body?
You get 2021 Kyler Murray.
On Sunday, the Arizona Cardinals improved to 4-0 by beating the previously undefeated Los Angeles Rams by 17 points. You could be forgiven for not paying attention to the Cardinals up to this point, as the talking points surrounding the NFC West have been primarily focused on "Does Sean McVay finally have his quarterback?" and the yearly "What's wrong with the Seattle Seahawks?"
However, the is time now to talk about the Cardinals, who are first in the NFC West and the NFL's only remaining undefeated team.
---
Click here for more PFF tools:
Rankings & Projections | WR/CB Matchup Chart | NFL & NCAA Betting Dashboards | NFL Player Props tool | NFL & NCAA Power Rankings
---
Before getting into Murray, there must be some ink spilled on the Cardinals defense, as it has improved in every season under defensive coordinator Vance Joseph. The Cardinals finished 30th in overall defensive efficiency — expected points added per play — in the 2019 regular season but improved to 17th last year and now rank fourth this year. The defense is a big reason for Arizona's 4-0 start to the 2021 season.
However, Murray deserves most of the praise, as he has established himself as a top MVP candidate at this early juncture in the season. Murray is the third-highest-graded NFL quarterback (87.6) right now.
The big question after two years in Kliff Kingsbury's offense — which ranked about league average in offensive efficiency over those two seasons — was who was to blame for its struggles in previous seasons. Was Kingsbury's offense outdated? Or was Murray just not good enough to be a top-end quarterback?
To answer the first question: Yes, Kingsbury's air raid offense is outdated. The "spread" era of football has come and gone, as defenses have figured out how to defend the spread schematically while defensive body types have evolved to chase down ball carriers who were made to run horizontally.
Lining up in "open" formations — trips, doubles and empty — doesn't give the offense the advantage it once did. The air raid offense and spread era existed because teams in the late-1990s and early 2000s didn't spend enough time defending formations with four receivers on the field, which presented defenses with a problem that they weren't prepared to face.
Related content for you: NFL Week 4 Team of the Week & Awards via Anthony Treash
However, in the 20 years since, these offenses are proliferating every level of football. So now there's been a shift back to slightly heavier personnel groupings and formations to mitigate the defense's speed that's been accumulated over the past two decades.
Kingsbury stayed true to his air-raid roots over the first two seasons in Arizona. The Cardinals played with four receivers on the field on over 25% of their snaps over the last two regular seasons while the league average over that span was 2.5%. The Cardinals had the third-highest empty formation rate over that time as well. Their receivers line up in the same spots and don't shift or motion often. The offense doesn't huddle often, and Murray never goes under center. This was how Kingsbury was brought up in the football world, as they are the tenets of spread football.
This ideology has been on its deathbed for a few years because of how much weight it can put on the quarterback's shoulders. This is partly why we've seen certain offenses gain popularity once again, as they make life simple on the quarterback by asking him to just hand the ball off or bootleg off play-action to create offense. Condensed formations and heavier personnel groupings keep defenses and defensive players who grew up in the spread era honest enough to create explosive plays without the quarterback needing to think too much.
We can certainly point to Jimmy Garopolo and Jared Goff in recent years as good examples of this.
Without all the bells and whistles that are commonly attached to the modern NFL offense — wide zone run scheme to create horizontal movement and the play-action that can occur off of that, motion to create formational advantages and heavier personnel to force defenses to play with heavier bodies themselves — defenses can line up, know their assignments and not worry about any deception, which is tough on a quarterback.
The 2021 Cardinals — from this macro-perspective — are no different than the 2019-2020 Cardinals. They lead the league in 10 personnel (one running back, zero tight ends, four wide receivers) snaps once again while ranking 10th in empty formation rate, 30th in shift/motion rate, second in no-huddle rate and fourth in shotgun rate.
Kyler Murray | overall and passing grades by season
| | | |
| --- | --- | --- |
| Year | Passing Grade | Overall Grade |
| 2019 | 61.1 | 64.2 |
| 2020 | 77.2 | 82.8 |
| 2021 (4 games) | 86.3 | 87.6 |
The big difference between the previous iterations and the Cardinals offense in 2021 is Murray, as he's transcended the quarterback position this season. He's in the midst of a third-year breakout similar to Allen's dominant season in his third year with the Buffalo Bills.
The Bills scrapped the idea of being a heavy-personnel, play-action offense over the last two seasons, which has allowed Allen to thrive. At Wyoming, Allen played in a heavy-personnel, play-action offense where he took snaps from under center. Many believed that he needed to run that same offense in the NFL to maximize success early in his career. However, after two years, Allen appeared to be a colossal bust.
But then the Bills went full spread. Their shotgun rate and use of 10 personnel both went up, and Allen responded incredibly well. While it was a risky move on paper, as it could lead to more Allen turnovers, it turned out to be the best thing for his career.
With the Stefon Diggs addition, the Bills had enough receiving talent to have an answer for teams that used man coverage to try to best the Bills as they did in previous years. Against zone coverage, Allen used his legs to scramble before finding receivers in open pockets of space as the defense's eyes were focused on the quarterback.
We're seeing these same concepts play out in Arizona right now. The Cardinals, like the Bills, have a top-five receiver in DeAndre Hopkins, and they've replaced Larry Fitzgerald with rookie speedster Rondale Moore while adding A.J. Green's big body in free agency — good luck playing man coverage against those cats.
Allen's biggest improvement in last year's breakout 2020 season came in the intermediate area of the field. Specifically, he became lethal when throwing intermediate in-breaking routes, displaying good accuracy and anticipation. These routes are great against man coverage but are also effective at finding the spaces in between dropping linebackers and deep safeties in zone coverage. They are tough throws that also have a lot of upside.
Murray hasn't majored in the intermediate in-breaking routes that led to Allen's breakout — and this is where the comparisons with Wilson begin — because he's a shorter quarterback, because his vision over the middle of the field is limited, especially compared to the towering Allen. However, Murray has thrown a lot of intermediate curl routes instead of the in-breaking routes.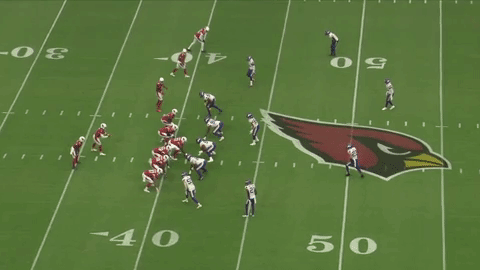 These routes are a little more static, which has helped Murray in that part of the field, especially against zone coverage. Generally, those deep curls aren't great against man coverage, but they still can find space versus zone coverage.
To continue the comparison to both Allen and Wilson, Murray has been elite throwing outside the pocket this season. After his first two seasons, the Cardinals were 20th in the league in EPA per play on these scramble plays. The Bills were also 20th after Allen's first two seasons in the league. The Bills are sixth in the same category since the beginning of the 2020 season, and the Cardinals are sixth thus far in 2021. Since the start of the 2018 season, Wilson is second in passing grade when scrambling outside the pocket.
Allen and Murray are living in the same world but in different bodies, plying their trade in tough offenses that don't work for most quarterbacks but work perfectly for what each can do.
There was no guarantee that Murray would break out like this and many begged Kingsbury to adapt his offense for the modern world. However,  Murray's development has allowed Kingsbury to continue running his version of the air raid offense — not to discredit the Moore, Green and Rodney Hudson additions, as they have certainly helped. It was a gamble but like the Bills in 2020, the results this season speak for themselves.