It should be difficult for wide receivers to stand out among the veritable who's who of Pro Bowl pass-catchers who refine their route-running technique over the offseason at Brandon White's "Receiver Factory."
Los Angeles Rams wide receiver Van Jefferson not only draws superlatives out of White, but he's also credited as an innovator by the esteemed private receiver coach.
"Our biggest move, 'slide the line,' is just that release move that you'll see a lot of the pros doing now," White said in a phone interview with PFF this week. "As soon as the ball's hiked, they're just going to slide right or left to get the (defensive back) to move with them and then beat the DB while he's moving. 
"I learned that from Van."
---
Click here for more PFF tools:
Rankings & Projections | WR/CB Matchup Chart | NFL & NCAA Betting Dashboards | NFL Player Props tool | NFL & NCAA Power Rankings
---
Jefferson, 25, first started working with White while he was attending Ole Miss. This was before Jefferson transferred to Florida and was selected in the second round of the 2020 NFL Draft by the Rams. White asked him about his release techniques at the time, and Jefferson showed him the slide.
"Now that's my number one and most popular release," White said. "It's like a game-breaker release when you use it in the league. He was like, 'I like to slide the line,' and I said, 'Well, what's that?' He showed me that, and from then on my brain went nuts with it. So, that's just how slick, savvy — and then he has the body, the feet, the agility, the quickness, the speed to do it all with that mental side of it."
How good is Jefferson as a route-runner?
"He's the best," White said. "He's literally — and I've worked with vets up close.
"Van can pretty much do anything and run any route out there. He's a really, really, really good high-level advanced route-runner and understands the game."
White coaches up Tyreek Hill, Stefon Diggs, Justin Jefferson, Jerry Jeudy and Jarvis Landry, among many others. His sessions are star-studded affairs that spark competition to see who can elicit the most oohs and ahhs from fellow wideouts.
"Van jumps off the screen," White said. "And to see all these guys, and say 'Van is always if not the best then one of the best by far,' it's just because there's nothing he really can't do, though: intermediate, deep — he has the speed to go deep. He doesn't miss the ball, he can track the ball. But as far as pressing him, there's nothing you can do to jam Van Jefferson off the line."
The Rams are high on Jefferson for good reason, and he's seen his average snaps per game nearly triple in 2021 from last season. Los Angeles is especially intrigued by Jefferson's feel for the game, his ability to win one-on-one matchups with defensive backs using his quickness and working edges on his opponents.
Jefferson's affinity for route running was drilled into him at a young age by a player who New England Patriots head coach Bill Belichick remembers as "one of the fastest, most explosive receivers that I've ever been on a team with." That summarizes Van's father, Shawn Jefferson, who enjoyed a 13-year NFL career and crossed over for 12 months with Belichick on the Super Bowl XXXI-bound Patriots. Shawn Jefferson has gone on to become one of the NFL's most respected wide receivers coaches, and some of those same lessons about route running he instilled in Landry, Calvin Johnson, Robby Anderson — and now with the Arizona Cardinals — DeAndre Hopkins and Rondale Moore were also passed on to Van at a young age.
"My dad mainly put that in me and put that as a main focus to me even since I was in high school," Jefferson said in a video interview with PFF this week. "That's always been important to me. That's something that I always want to work on every offseason. I think that's very important. My dad was always on my tail and always on me about those things, just about the technique and the little details so that was important for me. That's something that I work on all the time and try to be the best at."
One method of improving route-running skills involves working barefoot in sand. White sets up his receivers in a 60-foot by 30-foot beach volleyball court and has them cut sharply on the sand while ducking under the net, which hangs less than five feet from the ground. Since the sand moves, it forces receivers to be tighter getting in and out of their breaks. It's also easier on the joints and makes for a softer landing pad. Finally, once White brings his players out of the sand and back into cleats, everything feels easier.
"It just feels like we're cheating," White said.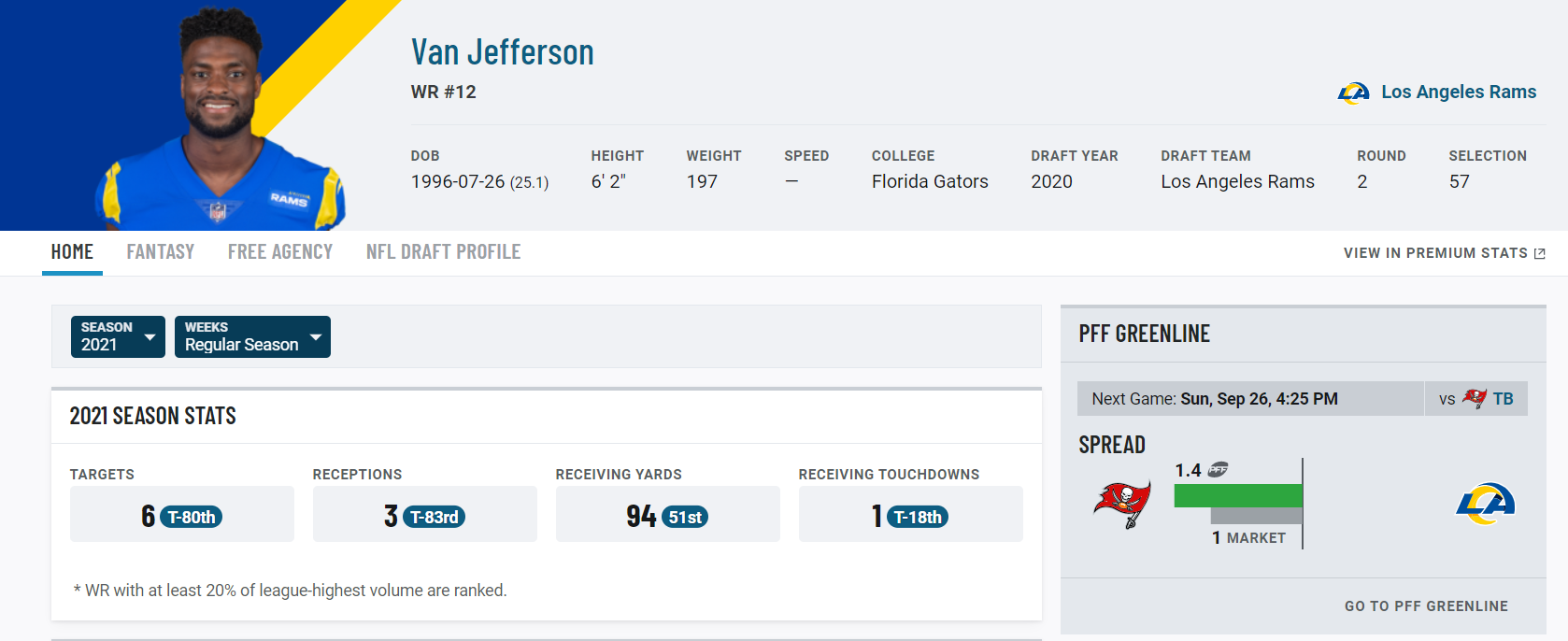 Jefferson is excited to see his dad standing on the opposing sideline twice a year now when the Rams take on the Cardinals. Their first matchup came in Week 15 of the 2020 season when Jefferson was still a rookie, playing behind Robert Woods, Cooper Kupp and Josh Reynolds and settling into what wound up being an ideal situation as a rookie swimming in new information, and his dad was coaching with the New York Jets. Jefferson figures to be on the field more when they face off this season in Weeks 4 and 14.
Rookies endured a tumultuous and unforgiving 2020 offseason, and players like Jefferson were playing catch-up with no in-person spring practices and a canceled preseason. So, Jefferson spent the season getting comfortable within the offense as a backup.
"I think it was good in a way, coming in and learning from guys — Josh Reynolds was there last year, so just learning from him and he helped me out a ton. He was always helpful and Robert Woods and Cooper Kupp, they made the transition easier."
Jefferson is now in that starting mix, and his snaps have grown exponentially this season. Kupp is on the field nearly every snap while manning the slot, and Jefferson (90 snaps), Woods (98 snaps) and veteran DeSean Jackson (17 snaps) have rotated into the other two receiver spots in the offense.
Jefferson caught quarterback Matthew Stafford's first touchdown as a Ram on a 67-yard bomb.
Welcome to the #Rams offense: Matthew Stafford with a 67-yard BOMB to Van Jefferson for the TD.

Fireworks! pic.twitter.com/qaow2aSIt2

— Ari Meirov (@MySportsUpdate) September 13, 2021
He has three receptions for 94 yards with a touchdown, but the Rams expect him to receive more opportunities in the passing game as the season progresses. Jefferson was one of just nine NFL wide receivers to run a route on 100% of his team's dropbacks in Week 2, which is an indication of future production. Jackson, Jefferson's primary competition for a top role, played three snaps, all of which came on running plays.
List of WRs to run a route on 100% of the team's dropbacks in Week 2.

Cooper Kupp
Tyler Lockett
Sterling Shepard
Terry McLaurin
Sammy Watkins
Adam Thielen
JuJu Smith-Schuster
Tyreek Hill
Van Jefferson ????

— Andrew Erickson™ (@AndrewErickson_) September 20, 2021
Before their offseason sessions, White has a tendency to get annoyed with Jefferson because the young wide receiver always badgers him about which other players are coming to work out. White knows that Jefferson is hopeful that Diggs will be on the field.
"He has a goal of, like Diggs, being big-time, leading the league, being known as one of the best," White said.
Jefferson is known by a preeminent expert as one of the league's best route-runners. Now it's about turning that expertise into consistent production in Los Angeles.