One of the marquee games on the schedule for Sunday — a late afternoon contest between the Kansas City Chiefs and New England Patriots — was pushed to Monday, but yesterday's action still provided some entertainment value, particularly with several close games in the early window. Here are a few of my biggest takeaways from what transpired yesterday. 
[Editor's Note: PFF's advanced statistics and player grades are powered by AWS machine learning capabilities.]
1. Drew Brees shows that he is still capable of throwing the ball 10-plus yards downfield
Over the first three weeks of the season, Brees threw the ball just 5.1 yards downfield on average. That average depth of target was over a full yard lower than the next closest quarterback — Sam Darnold at 6.3 yards. The lack of deep passes early on and how bad his few downfield shots looked led to a lot of talk that he was hitting a cliff. Granted, it came against a Detroit Lions defense that has had its fair share of struggles to start the 2020 season, but Brees' Week 4 performance went a long way toward squashing some of that conjecture. 
His average depth of target jumped over 4 yards against the Lions to 9.8, and he went 9-of-13 for 174 yards and a touchdown with three big-time throws on passes 10 or more yards downfield. For reference, Brees had just two big-time throws total through the first three games of the season. It was a much-needed return to normalcy for the future Hall of Famer after an uncharacteristically poor three-game stretch to start the season. 
The New Orleans Saints need this version of Brees if they are to contend with high-powered offenses, such as those of the Seattle Seahawks and Green Bay Packers in the NFC, particularly if their defense continues to give up production.
2. The Indianapolis Colts have had the best defense in the NFL through four weeks
It's not something most people expected coming into this season, but the Colts' defense has been the best in the league statistically through the first quarter of the 2020 NFL season. They rank first in both yards per play allowed (4.4) and expected points added allowed per play (-0.14) through the first four weeks.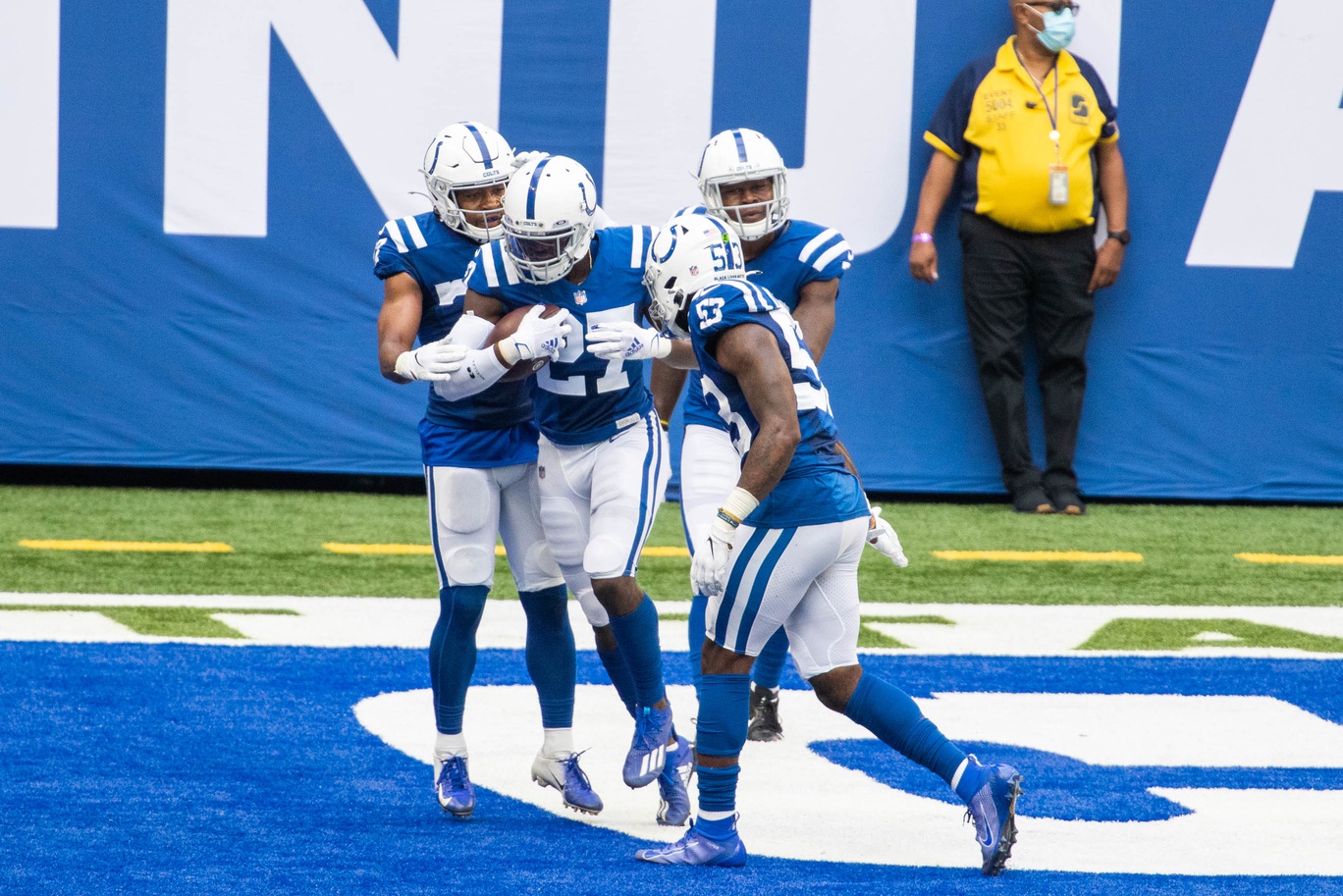 Part of that is a favorable schedule against the Jacksonville Jaguars, New York Jets, Minnesota Vikings and Chicago Bears, but the Colts' play itself shouldn't be discounted. Several offseason additions have paid dividends early. DeForest Buckner has been the team's best defensive linemen, posting a team-high 15 quarterback pressures and a 90.7 overall grade through four weeks. Success from him was to be expected, though. The bigger and more surprising development has been a resurgence of sorts from former Minnesota Vikings cornerback Xavier Rhodes. 
Rhodes ' 82.0 PFF grade ranks third among cornerbacks this season. He has combined for nearly as many interceptions and forced incompletions (five) as he has first downs allowed in coverage (six), and he has been charged with just one penalty thus far. I wrote prior to the season about how the Colts' defense was as good a spot as any for him to turn things around, and that's exactly what he's doing. 
Indianapolis will be hoping that the groin injury that took Darius Leonard out of the game Sunday is minor because he continues to fly around the field and make plays. His 81.6 PFF grade so far this season ranks third at the linebacker position. Despite their early loss to Jacksonville in Week 1, the Colts look like real challengers to the top of the AFC. The play from their defense is a big reason why. 
3. Joe Burrow continues to look like the real deal under less-than-ideal circumstances
You often hear about young quarterbacks never being given a chance after being thrown into bad situations early in their NFL career. That often traces back directly to an offensive line that allows pressures in bunches — the David Carr special. 
Burrow has a decent cast of wide receivers and running backs to support him offensively, but the offensive line that was a problem in 2019 hasn't exactly taken a step forward in 2020. The Bengals have allowed pressure on 37% of their offensive dropbacks so far this season — a bottom-five rate in the NFL. It's not as if that's because Burrow is holding on to the ball for extended stretches, either. His average time to throw of 2.64 seconds ranks 14th-fastest among 32 qualifying quarterbacks. Most of the blame should get directed to the offensive line. 
Despite that, Burrow currently ranks eighth among quarterbacks in passing grade (79.4) through the first four weeks of the season. He hasn't connected much deep, but he has picked defenses apart in the intermediate range. On passes 10-19 yards downfield, Burrow has gone 30 for 44 for 481 yards and a touchdown. He is the second-highest graded quarterback in the league in that range behind only Aaron Rodgers. The way that he has dealt with frequent pressure and hit on those NFL throws in the intermediate range has to have Bengals fans feeling excited about the future. 
It's not exactly surprising that Garrett is playing how he has to begin the 2020 season. He was a popular pick to take home Defensive Player of the Year coming into the year, and he has done nothing through the first four weeks of the season to exclude himself from that conversation. 
After another eight pressures against the Dallas Cowboys on Sunday, Garrett now sits tied for first among all defenders with Aaron Donald atop the pressure leaderboard (27). His 91.4 pass-rushing grade for the year is first among edge defenders — nearly a point higher than Khalil Mack in second place (90.7). 
Without La'el Collins, the Cowboys have had some problems at the right tackle position to start the season, and Garrett attacked that weakness without mercy in Week 4. He spent most of his time lined up over undrafted free agent rookie Terence Steele and Brandon Knight, who both saw time at right tackle. This isn't simply a case of Garrett beating up on a weak opponent, though. It's hard for anyone to hold up one-on-one against Garrett in pass protection, and early on, he looks worth every penny of the $125 million extension he signed this offseason.  
There was some discussion heading into Week 4 about how well Mullens has run the 49ers' offense and whether he should stay in the lineup moving forward, even with Garoppolo getting back to full health. Mullens' performance on Sunday Night Football against a banged-up Philadelphia Eagles secondary should put a stop to that discussion.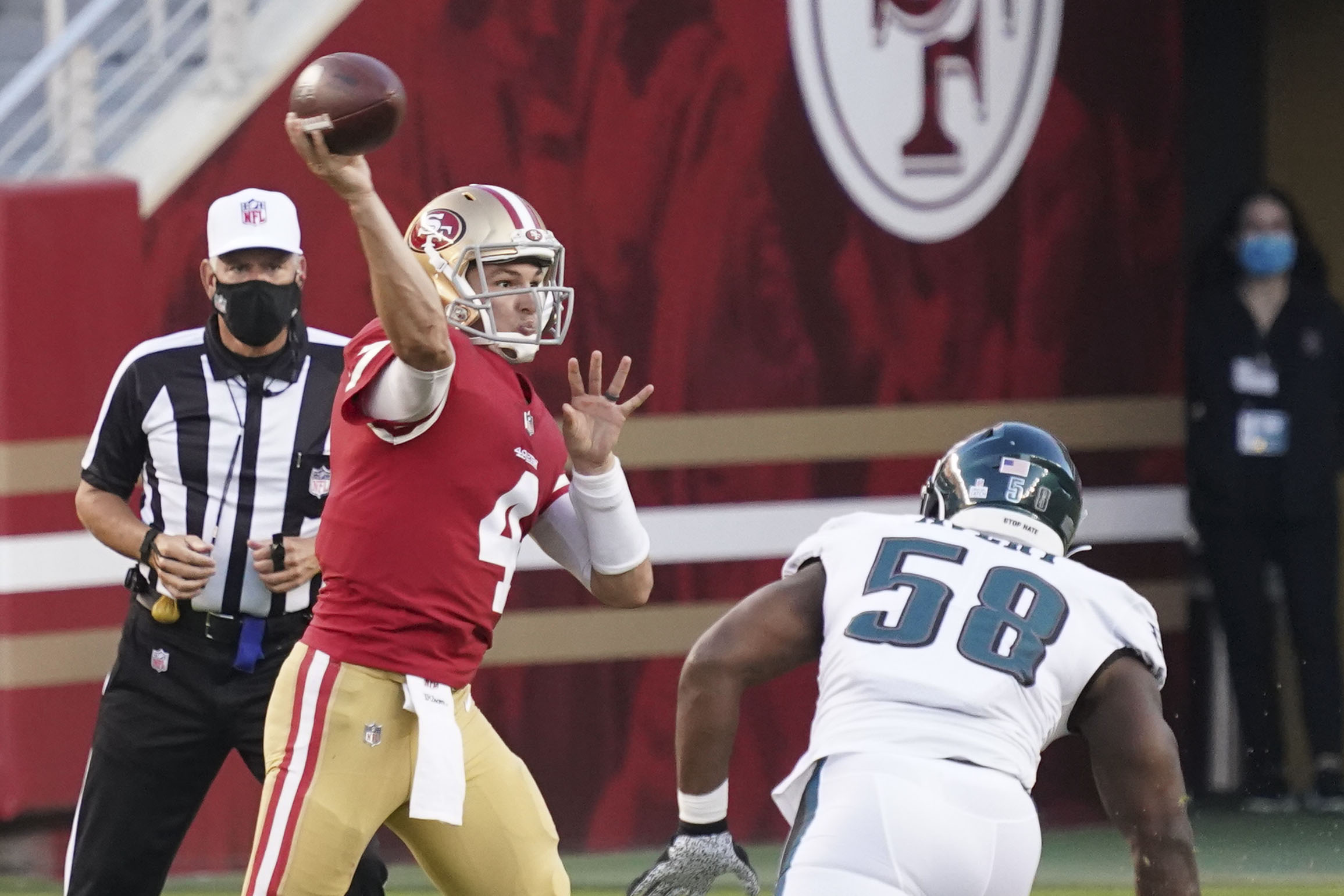 Mullens put up a 27.4 passing grade in the game on an average depth of target just 5.5 yards downfield. The interception that he threw while the 49ers were attempting to take back the lead in the fourth quarter was one of the worst picks you'll see this year, and Kyle Shanahan seemed to agree because it was C.J. Beathard, not Mullens, who finished the game. 
Mullens has had some success in his starting opportunities in place of an injured Garoppolo, but turnovers like that one have been an underlying issue. Mullens has just 29 dropbacks per interception since 2018 — second lowest among all quarterbacks with 300 or more dropbacks behind only Jameis Winston. 
Garoppolo should be back soon, and it's clear that the starting job is his if he is healthy. If the 49ers can take away something good from their loss to the Eagles, it's that George Kittle looked 100% healthy coming off his injury in a monstrous performance. He and a healthy Deebo Samuel should move the needle for San Francisco's passing offense. Improvement there is a necessity if they still have their eyes on a division title in a competitive NFC West.   
6. The Houston Texans have played their way out of playoff contention
It wasn't hard to give the Texans a pass early this season. They were expected to lose games against the Kansas City Chiefs and Baltimore Ravens, and though they could have very well won their Week 3 contest against the Pittsburgh Steelers, it still wasn't an easy matchup on the road. A loss to an 0-3 Minnesota Vikings squad that has floundered its way through the early stages of the 2020 season is more difficult to forgive. 
Now, the Texans sit at 0-4. Difficult early schedule or not, an 0-4 record in a division that isn't named the NFC East is going to be difficult to recover from, especially given that both the Tennessee Titans and Indianapolis Colts have had strong starts to the season. 
Deshaun Watson hasn't had a bad start to the season necessarily, but a 75.4 passing grade (13th in the NFL) isn't what Houston was expecting from a guy who just signed a contract that made him one of the highest earners in the NFL. The loss of his top target DeAndre Hopkins has been noticeable, particularly when pressure gets home. Across the 2018 and 2019 seasons, no receiver had more targets under pressure than Hopkins (87). As a team, the Texans ranked eighth in yards per play under pressure (4.1), and they've fallen off to 2.6 yards per play through the first four weeks of the 2020 season (26th).
Their defense isn't in a state where it's going to offer a ton of support, so Watson and the offense will have to put up points to compete. That hasn't transpired through the early stages of the 2020 season, and as a result, the Texans face a steep uphill climb to get back into contention.