Judging by the contracts that were handed out to Chris Jones and Myles Garrett on Tuesday, the NFL evidently still recognizes the value of an elite pass-rusher.
NFL Network Insider Ian Rapoport reported Tuesday that the Kansas City Chiefs and Jones had agreed to a four-year contract worth $85 million. Shortly after, Rapoport broke the news that the Cleveland Browns and Garrett were closing in on a five-year extension worth $125 million.
Chris Jones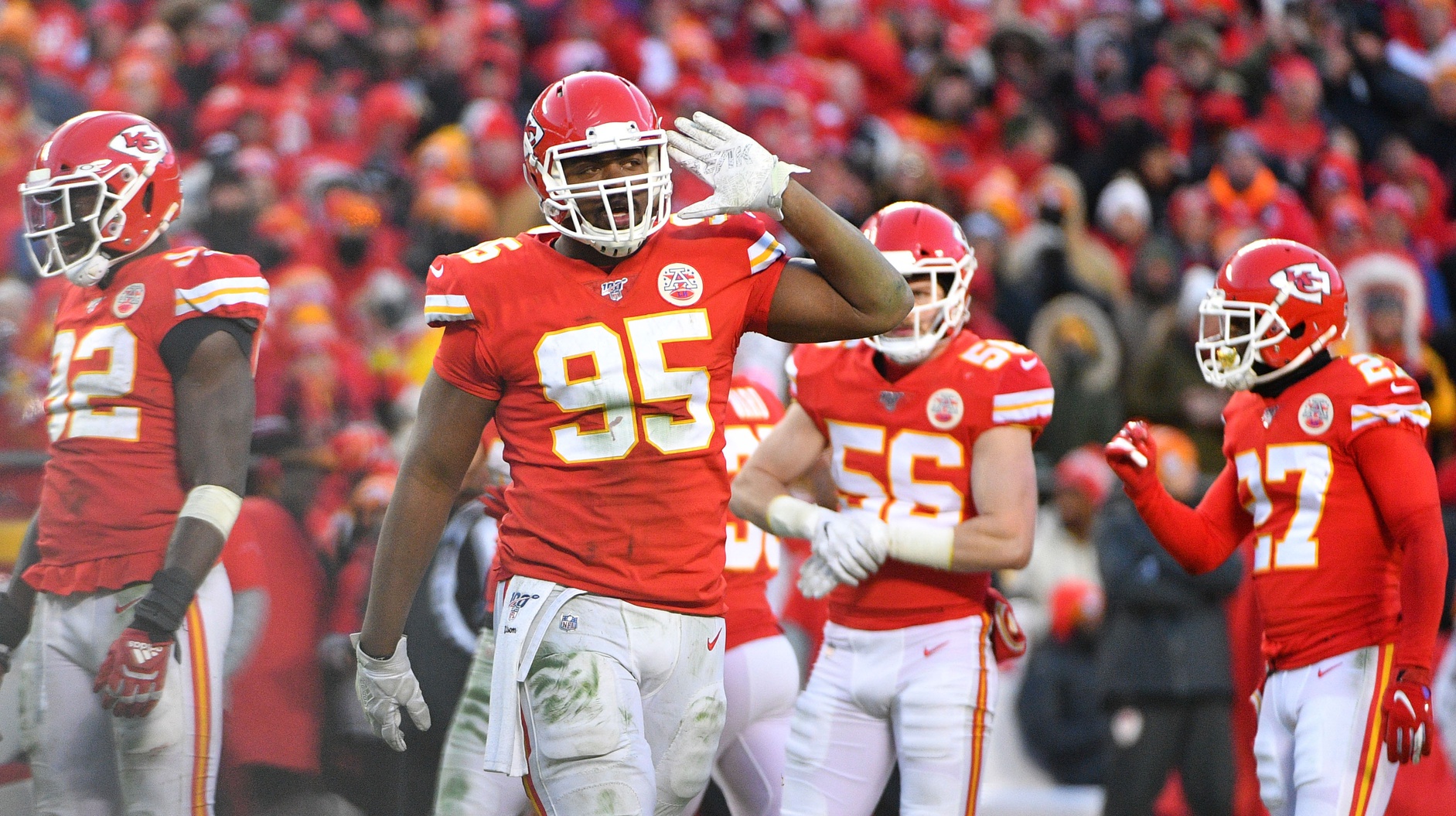 Jones' future with the team has been up in the air since the Chiefs handed Frank Clark a major contract a year ago and then broke the bank by locking down their superstar quarterback, Patrick Mahomes, for the next 12 years.
Eventually, Jones agreed to the four-year extension, which has $37 million guaranteed at signing.
You can make a strong argument that Chris Jones is the best interior pass-rusher in the NFL not named Aaron Donald. Over the past two seasons, he has the second-best pass-rushing grade (91.7) at the position to go along with the second-best pass-rush win rate (18.9%). Since Jones came into the league, only Donald and Fletcher Cox have more total pressures or a better win rate from an interior alignment, and we only recently saw the kind of effect Jones can have in games.
Chris Jones was fired out of a freaking canon here. Patriots got lucky with the recovery pic.twitter.com/E2lP9WSbky

— Sam Monson (@PFF_Sam) October 15, 2018
He was one of the best players on the field in Super Bowl 54 and made multiple key plays at critical times to help swing the game back to Kansas City and secure the team's first championship since Super Bowl 4.
If Donald is in a world all of his own as one of the greatest defensive players the game has ever seen, Chris Jones has now set the realistic standard for young interior defenders to try and emulate. He is an All-Pro-caliber player and a game-changing presence, but he is at least within touching distance of other great players in a way Donald simply is not.
Jones also represents something of a win for PFF's college grading. He was a player who had graded extremely well in college and was No. 12 overall on our final big board that year before sliding to the second round, where the Chiefs were able to select him 37th overall.
Jones has always had exceptional physical tools, and he has put them together over his career in the NFL. He's become one of the most consistently imposing players at his position.
Myles Garrett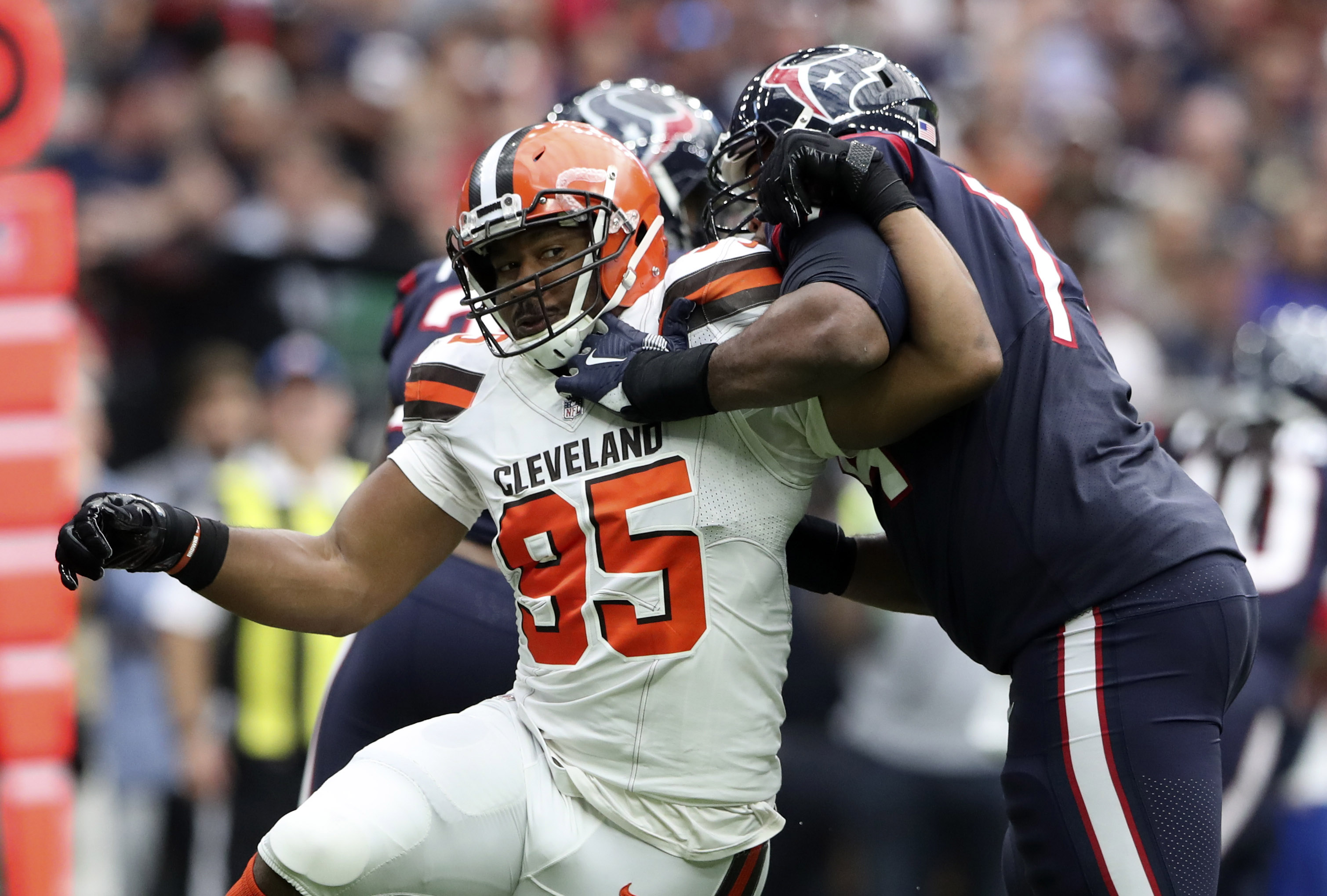 The Browns locked Myles Garrett up to an even larger deal, with his five-year extension featuring $100 million in total guarantees with $50 million fully guaranteed at signing. 
Garrett was one of the best pass-rushing prospects to hit the NFL in years, thanks in large part to his spectacular measurables and athleticism. We have seen more productive college pass-rushers, but few could rival his size, speed and physical tools. 
It took him a while for his level of play to match up with that spectacular athleticism, but he seems to be finally there now, and the Browns are locking him up just when he has a chance to go on a run of being the league's best edge rusher for several years. 
As a rookie, Garrett was good right off the bat, earning an overall PFF grade of 80.0, and showing well against both the run and pass. He had 37 total pressures from 300 rushing snaps, but that was just the beginning. His sophomore campaign saw him take a significant step forward, adding another 30 pressures and improving his overall PFF grade by almost seven grading points. But last season was the year where it all came together, at least until the ugly helmet-swinging incident that ended his season. At that point, Garrett had already racked up 49 total pressures in 10 games and had the league's best pass-rushing grade (91.6). Garrett was the best pass-rusher in football at that point and was having a Defensive Player of the Year kind of season before suspension put him on the shelf for the remainder of the campaign.
Yeah, the Myles Garrett off-season hype has not been hyperbole: pic.twitter.com/l51Zu0LhMK

— Sam Monson (@PFF_Sam) August 8, 2019
Over the last three seasons, Garrett has tallied the best pass-rush win rate of any edge rusher (25.2%) when lined up on the edge and when screens and play-action passes are removed.
He is the new gold standard at a position that was once dominated by Von Miller and then Khalil Mack. Garrett has the ability to hold the same crown as they did for a number of years, and he has more than lived up to his draft spot.
The only question with both players going forward is whether it was a smart allocation of resources. The Chiefs are going to have tough decisions to make with their salary cap for years to come because of the Mahomes deal, and PFF's data strongly suggests that coverage is more valuable to NFL teams than the pass rush. The team doesn't necessarily have that option, however, with no elite corner on the roster in need of a contract. They could have pursued a player such as Darius Slay earlier in the offseason, but instead, they chose to double down on the defensive line. It's not automatically a bad strategy, but it becomes an interesting case study to watch as the data becomes clearer.
The Browns have heavily invested in their secondary, though that investment has come through the draft, with players such as Denzel Ward still yet to emerge as a true star in need of a big new contract. The team has the most salary-cap space in the league, and so they can afford to lock down their best player and still have the money to invest in coverage so long as Baker Mayfield remains on his rookie contract, 
In a vacuum, both of these deals are fair value for elite players, even if they aren't necessarily where you would prioritize the spending in a perfect world. The Chiefs and Browns have both been able to extend their best defensive player and remove a looming question mark from their rosters.