In the modern NFL, where quarterbacks are expected to be athletes and not just statue pocket passers, fluctuations in efficiency tend to tell the story of a signal-caller's — and a team's — season. And right now, they're telling the story of Kyler Murray and the Arizona Cardinals.
Click here for more PFF tools:
Rankings & Projections | WR/CB Matchup Chart | NFL & NCAA Betting Dashboards | NFL Player Props tool | NFL & NCAA Power Rankings
Best Bets Tool
Once 7-0, the Cardinals now sit at 10-5 — losers of three straight games. They have fallen to 13th in the PFF Power Rankings and have just a 23% chance of winning the NFC West and getting a home playoff game despite already clinching at least a wild card spot.
There are certainly some consistencies with how Cardinals head coach Kliff Kingsbury's teams have fared, both in Arizona and at Texas Tech.
???????? at this graphic from @doug_clawson: pic.twitter.com/MNCBFl6wRQ

— Seth Walder (@SethWalder) December 28, 2021
Finding common themes between all years given two different levels of football and different personnel is always going to be hard. There are issues with the style of offense that Kingsbury runs. The easy answer is that the Air Raid offense — with its limited formations, motions and concepts — can be schemed up against as the season goes on and the offense does not adjust enough.
Those are questions for another day, however. The issue plaguing the Cardinals this season is one that afflicts many teams. Their quarterback, Kyler Murray, stopped playing exceptional football in unstable environments.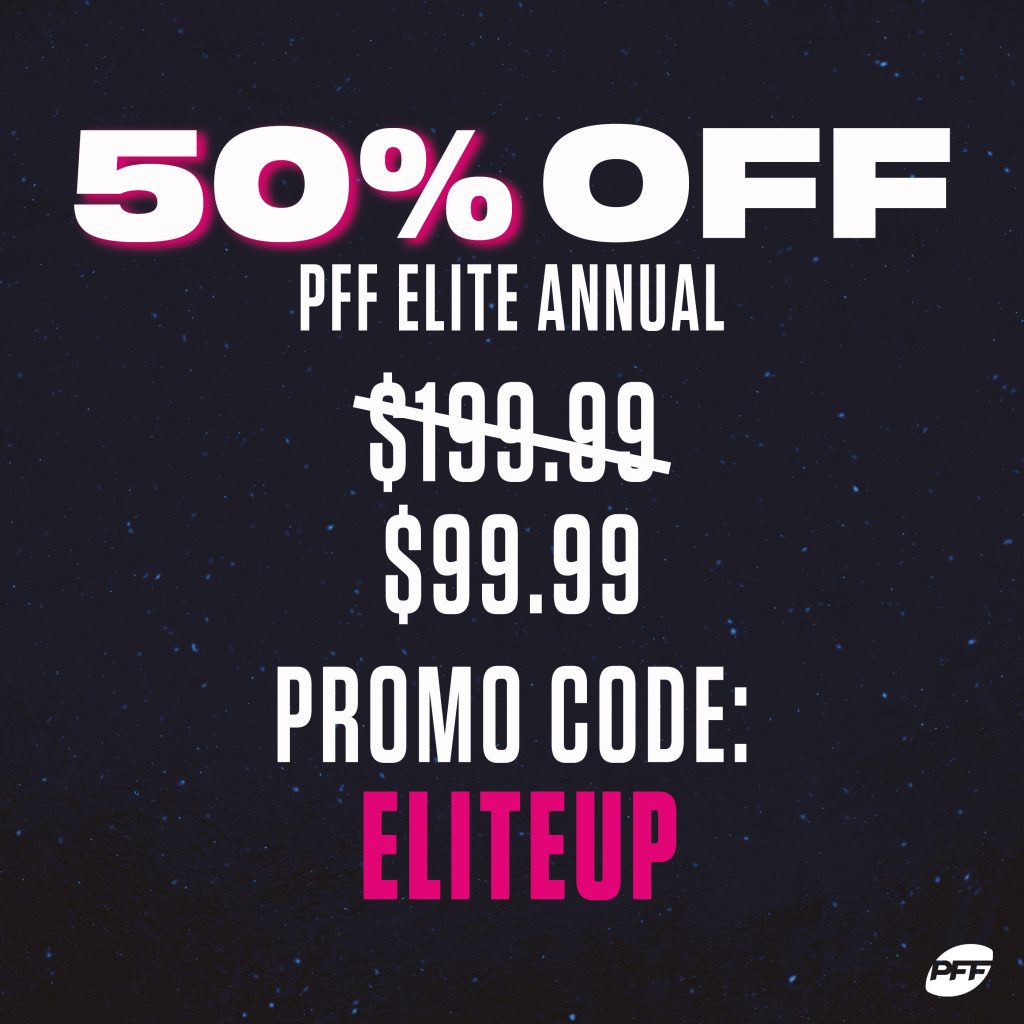 Product of His Own Environment
When I wrote, after Arizona's 4-0 start, that Murray had become transcendent and basically called him a slightly smaller Russell Wilson, I should have predicted that the same issues that have come to represent Wilson would also impact Murray.
Let's take a look at Wilson's 2020 campaign, one in which a potential MVP season flamed out into an early-round playoff loss:
"Over the first half of the season, Wilson earned a 78.4 passing grade on plays outside the pocket, the fourth-best mark in the league. That number dropped to 66.0 in the second half of the campaign," I wrote.
During Murray's scintillating first eight weeks of the 2021 season before an injury that kept him out a few weeks, he put together a 90.3 PFF grade on plays outside of structure — the highest mark in the league — while handling the fourth-most such snaps. In the four weeks since he's been back, it's been the opposite. His grade has plummeted to 61.1 in that facet.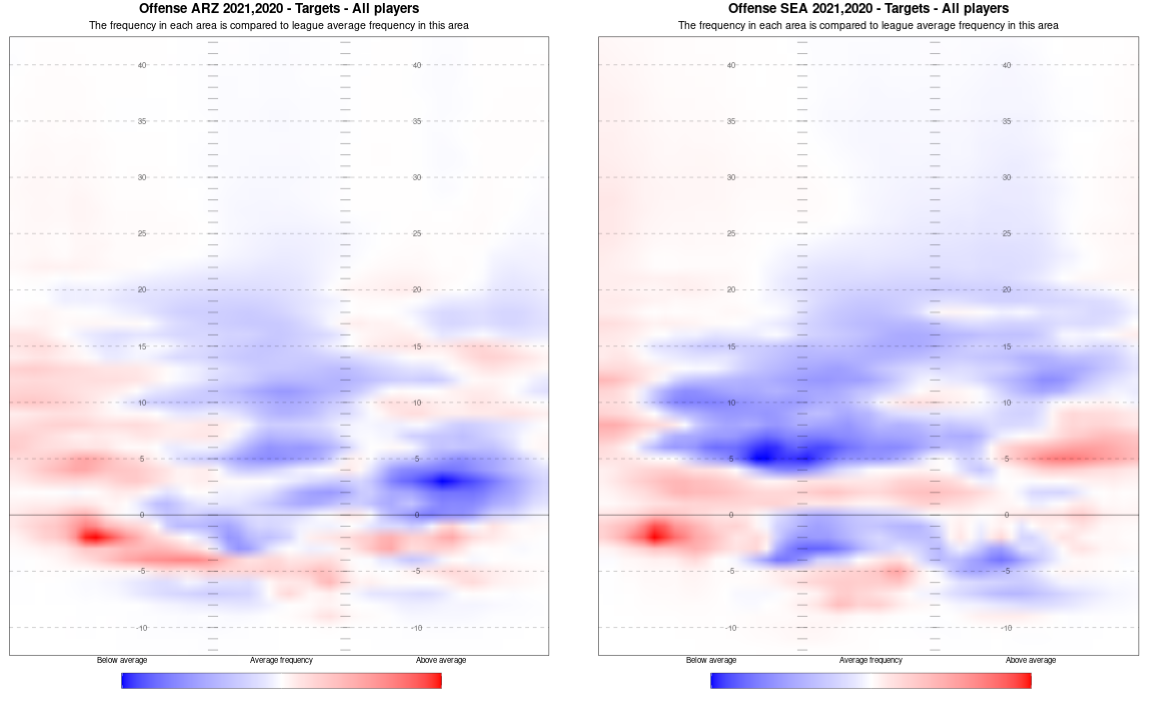 Left: Kyler Murray | 2020-21; Right: Russell Wilson | 2020-21
Blue = below average; Red = above average
The similarities between Murray and Wilson, based on their smaller statures, extend beyond their playmaking ability to where they target players on the field. Seeing over offensive linemen can be a task for both quarterbacks.
While detailing how Murray had become Wilson in certain areas, I also discussed Murray's ascent to Josh Allen levels of play:
"Allen's biggest improvement in last year's breakout 2020 season came in the intermediate area of the field. Specifically, he became lethal when throwing intermediate in-breaking routes, displaying good accuracy and anticipation. … Murray has thrown a lot of intermediate curl routes instead of the in-breaking routes."
The Cardinals quarterback ranked second in the league in passing grade (94.3) when throwing from the pocket between 10-19 yards downfield during the first eight weeks of the season. That has dropped to a 59.8 mark and a 22nd ranking.
Where Murray has stayed consistent is with his deep ball. He posted a 95.9 passing grade on throws over 20 yards during the first part of the season and is at 92.2 during the second split; the issue is that the Cardinals' yards per attempt figure on those throws has dropped by seven yards. Murray seems to be still putting deep balls on the money, but the playmakers aren't there for the Cardinals (hint: no DeAndre Hopkins).
The New NFL
Young quarterbacks come into the NFL needing an ability to make plays outside of structure as they learn the details of playing the position and finding open receivers in structure. Those plays tend to be unstable. We look at Patrick Mahomes' incredible performances outside of the pocket on his way to winning the Super Bowl and all the accolades he's been awarded, but Mahomes ranked seventh in passing grade from inside the pocket in his first year starting in 2018. He then ranked fourth and 10th in 2019 and 2020, respectively.
Mahomes does make special plays outside the pocket, but his understanding from the pocket is underrated.
Most young quarterbacks don't have this uncanny ability to make plays from the pocket like Mahomes does. That means they are going to rely on unstable plays.
As Murray's play declines outside of structure and the team struggles on offense — they rank 15th in offensive efficiency since his return — the Cincinnati Bengals and their young quarterback are enjoying the opposite situation.
Joe Burrow's play out of structure has earned him a 77.8 PFF grade since Week 8 this season compared to a 64.7 PFF grade from his rookie year to Week 7 this year. The Bengals now lead the AFC North with two weeks remaining.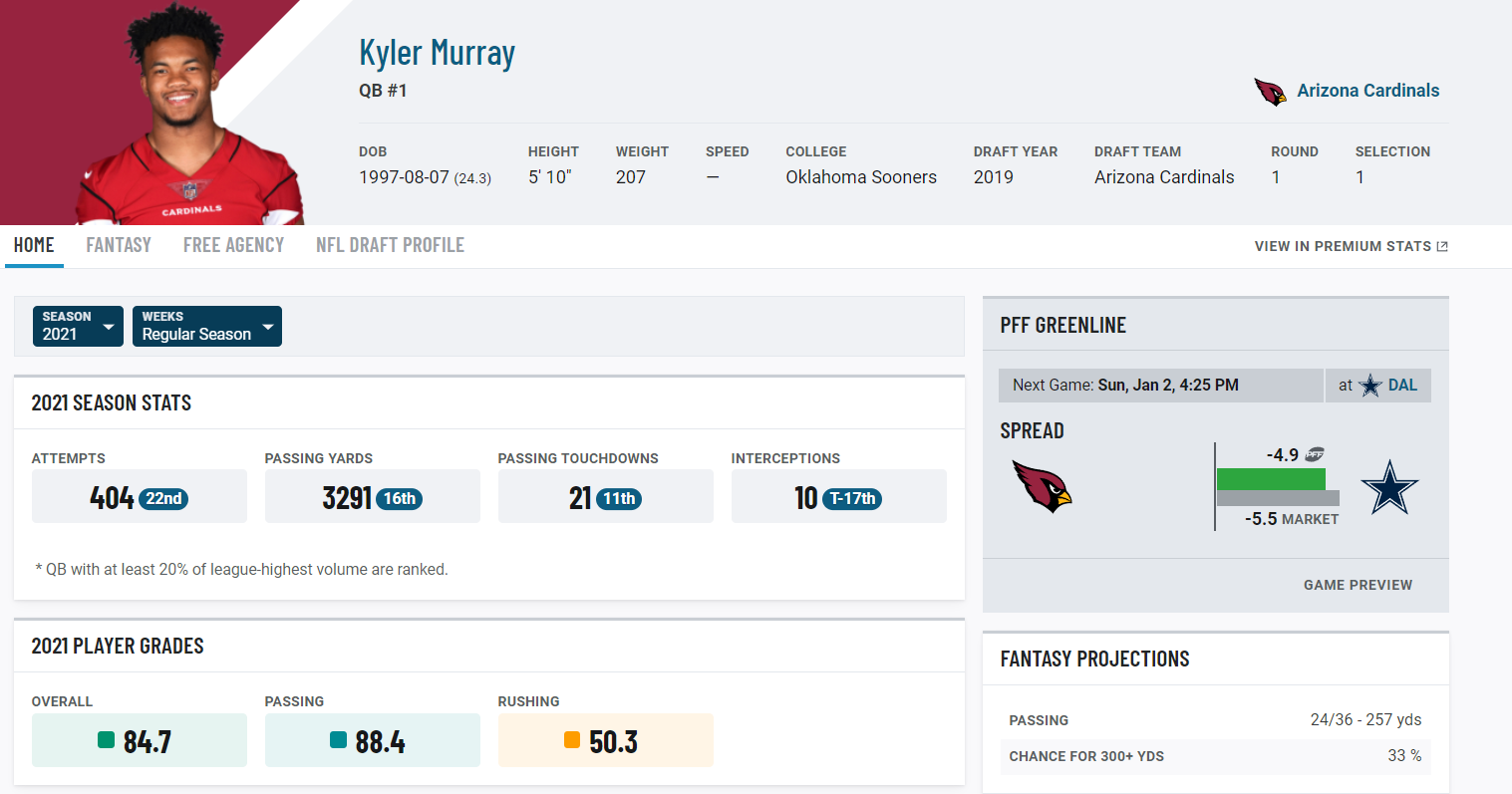 Clipped Wings
As teams figure out the Kliff Kingsbury offense for the ninth year in a row and Murray's explosive plays move into "unstable" territory, the Cardinals find themselves in a mess. Not having DeAndre Hopkins makes matters worse. The way Arizona's offense is set up, with hyper-specific position alignments for receivers, it can only replace Hopkins with Antoine Wesley to man the "left outside receiver" position and run, to a certain degree, the same plays with a lesser receiver. With Murray generally throwing outside the numbers, those outside receivers prove very important in this offense. Most teams can shuffle players around and find new formations in the case of injury or absence. The Cardinals will not or cannot. 
Kyler Murray is as important to the success of the Cardinals as anyone else, and if he's hitting those "unsustainable" plays at a high rate and Hopkins is on the field being one of the best one-on-one players in the league, the team is still going to be one of the toughest outs in the playoffs.