Patrick Mahomes is a liar. Just ask any defensive player he's played against. They'll all tell you. The star quarterback and Super Bowl winner lies with his eyes. If he looks right, he's probably throwing left. If he looks left, he's probably throwing right. The most overlooked part of Mahomes' supremely confident game is how he uses his eyes to move defenders to get them to do what he wants them to do. The escapability, the big arm and the accuracy are what gets edited into the highlight reels, but his pathological lying is the subtle trait that will keep him at the top of this league for a long time.
[Editor's note: Subscribe to PFF ELITE today to gain access to PFF's Premium Stats and new Player Grades experience in addition to the 2020 NFL Draft Guide, 2020 Fantasy Rookie Scouting Report, PFF Greenline, all of PFF's premium article content and more.]
Before we begin, let us marvel at his gaudy statistics. Over the past two seasons, Mahomes grades in the top five of all quarterbacks in:
Overall Grade
Passing Grade
*True Passing Grade
Plays we chart as "first read"
Plays we chart as "next read"
Plays where the QB scrambled
Plays where the QB is in rhythm
Plays where the QB is out of rhythm
Throws charted as "horizontal leads"
*All pass plays minus screens, RPO's and designed rollouts
The other players who surround him in most of those categories are a distinguished bunch of surefire Hall of Famers like Drew Brees, Russell Wilson, Tom Brady and Aaron Rodgers. Mahomes, of course, has only two years of starting experience to his name. We're witnessing a bit of history, and Mahomes is doing it with a unique approach.
From a young age, quarterbacks are taught to find open receivers through a rigid structural process. The plan is to create a rhythmic pattern in the quarterback's mind based on the timing of the receivers' routes becoming open. It's a series of yes/no statements designed to lead the quarterback in the right direction. When we think about quarterbacks "looking off" defenders, this is usually what is actually happening.
Let's use as our baseline subject Brees, whose strict adherence to this structure is a hallmark of his distinguished career.
structure pic.twitter.com/vk5EBgIatk

— Seth Galina's Burner (@burner_seth) May 5, 2020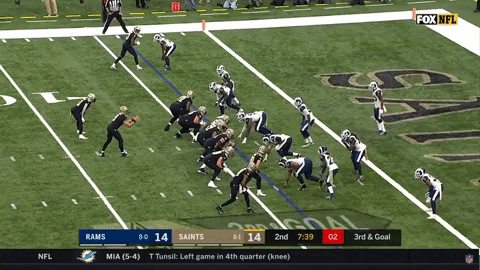 Ah, yes, the sweet smell of rigidity and structure — the quarterback equivalent of crossing off things on your to-do list. His eyes start left and work back all the way to the second-to-last receiver on the right.
To be clear, Mahomes does play in this structure, but his tape is also littered with clips of his eyes darting around much more than other quarterbacks'. This makes him a fascinating case study.
We start against the Lions, where Mahomes delivers a beauty to Sammy Watkins on this deep over route.