Jordan Love Era begins in Green Bay: Star QB

Aaron Rodgers

was traded to the New York Jets Monday, paving the way for Love to become the

Green Bay Packers'

 new starting QB.
Largely unproved:

Love is the only first-round quarterback since 2006 (the first year that PFF began collecting NFL data) to log fewer than 100 regular-season and postseason dropbacks across his first three seasons.

Flashes of promise:

Love did show some promise in spot action for an injured

Aaron Rodgers

. Love went 6-of-9 for 113 yards and a touchdown against the Eagles' defense in Week 12 last season
Estimated reading time: 6 minutes
---
A talented but flawed NFL prospect has spent the past three years developing behind one of the best quarterbacks in league history, offering peeks into that development in fleeting glimpses: a lone start in 2021, a few passes in a blowout here and there, preseason action and one 2022 quarter in place of the injured starter. 
Jordan Love remains a mystery box. And for better or worse, that box will finally be opened in 2023.
The Green Bay Packers didn't trade up in the first round of the 2020 NFL Draft expecting to have Love sit on the sideline for three seasons, through the majority of his cost-controlled rookie contract. But consecutive MVP seasons in 2020 and 2021 from Aaron Rodgers — the man Love was slated to replace — changed the timeline.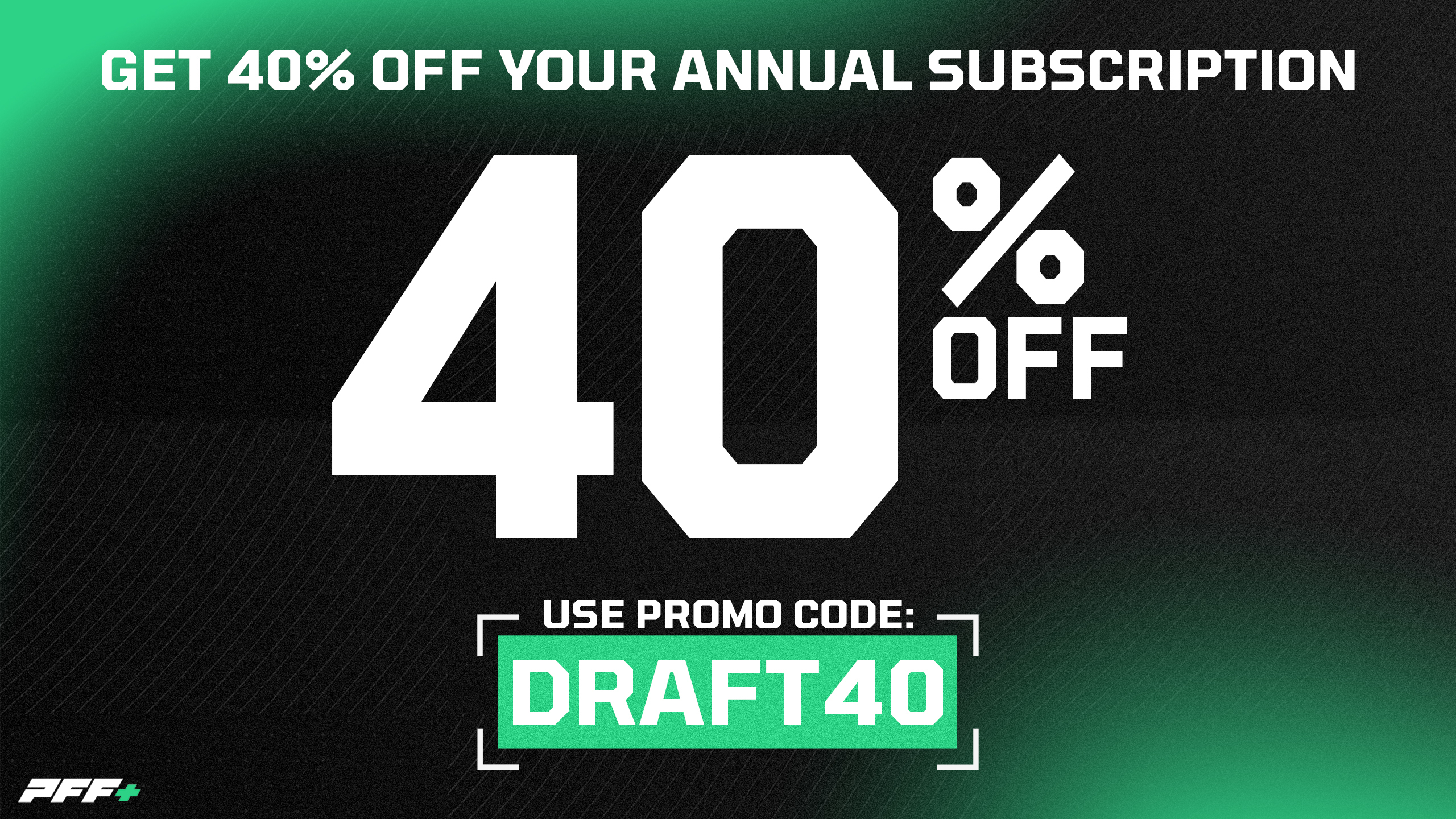 Love's current situation is unprecedented in this generation of NFL quarterbacks. Maybe you sit your hopeful franchise cornerstone for one season behind a stable veteran presence while he learns the ropes — the Patrick Mahomes blueprint, if you will. But that seasoning rarely stretches into two seasons, let alone three. 
First-round QBs since 2006: Fewest dropbacks over their first three seasons
*First two years
Love is the only first-round quarterback since 2006 (the first year that PFF began collecting NFL data) to log fewer than 100 regular-season and postseason dropbacks across his first three seasons. The last first-round quarterback to fall below that 100-dropback threshold in his first three seasons was Rodgers, while he sat behind Brett Favre. 
The common threads between the other quarterbacks in the table above are injuries, poor play keeping them down the depth chart or both. 
Lance still has a year to add to that dropback total in 2023 after an injury cut his expected 2022 starting campaign short. Lynch mustered just a 43.8 PFF passing grade in five regular-season appearances across the 2016-17 seasons, never managing to seize the starting job from Trevor Siemian in Denver. And Manziel and Quinn both added their name to the Cleveland Browns' lengthy quarterback list.
Love doesn't cleanly fit into either of those buckets. His lack of playing time can't be tied to a major injury, nor is it fair to say with any sort of confidence that his inability to find the field is evidence he can't be "the guy" in Green Bay. 
The truth is, we don't have the kind of evidence needed to make any kind of declarations on who Love will or won't be for the Packers in 2023. 
It would be one thing if Love was on a team that had set up residence in quarterback purgatory, but as previously stated, his name was listed on the depth chart below a back-to-back MVP and future first-ballot Hall of Famer showing few signs of decline. It's difficult to fault him for a lack of meaningful reps in that situation. 
But the Packers' offense was much closer to pedestrian in 2022 than the breakneck pace they had set in 2020-21. Green Bay missed the postseason for the first time since 2018 and finished with a passing offense that sat in 17th place between the New Orleans Saints and Pittsburgh Steelers in expected points added (EPA) per play. 
Expected points added per pass play | 2022 regular season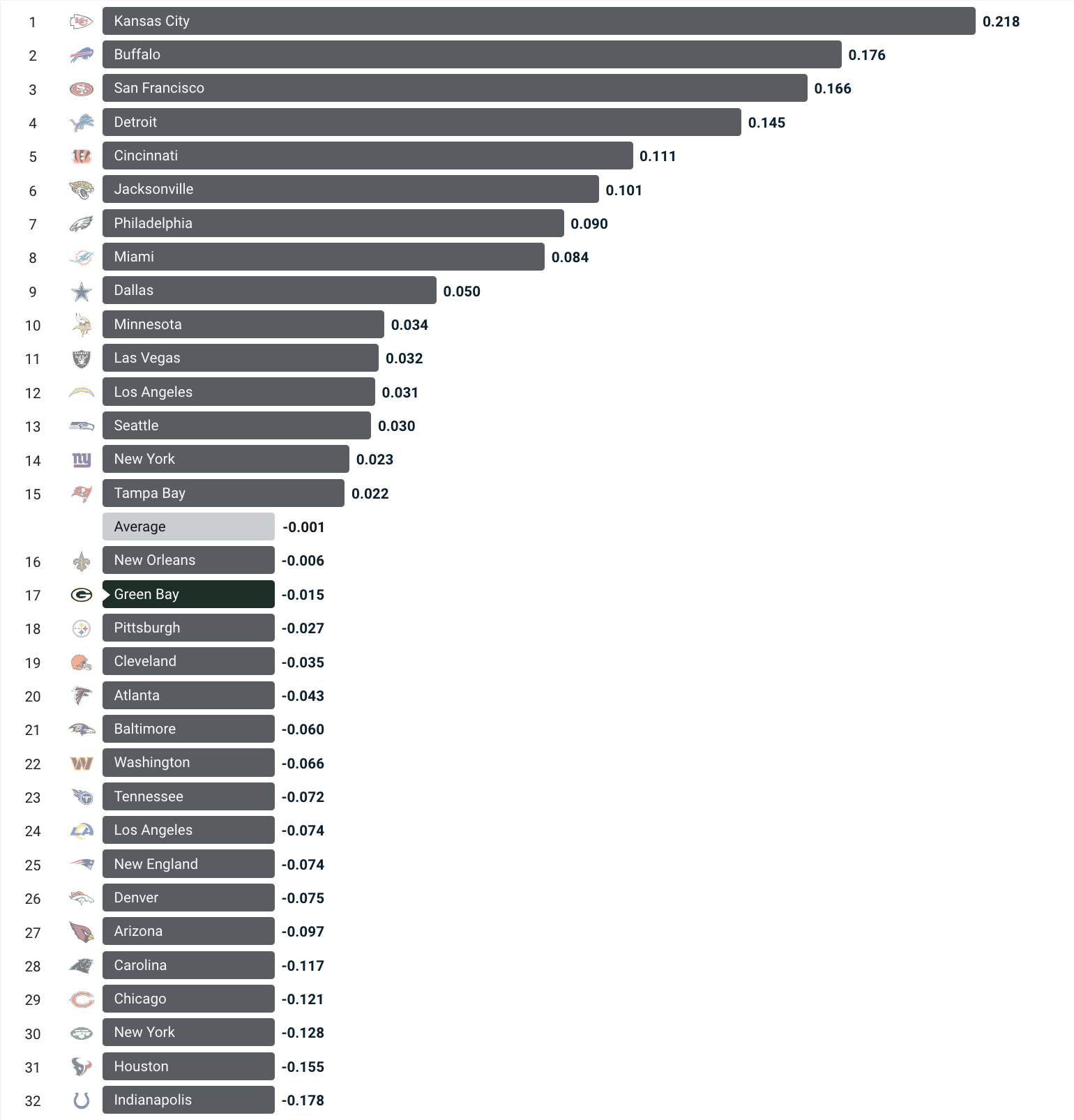 If there was a time to make a change, this is it with Love entering the fourth and potentially final year of his rookie contract. It's a risk for the Packers, but as is often the case, there's also a potential reward at stake: the "boom" that was scattered throughout Love's scouting reports coming out of Utah State. 
"Love personifies the boom-or-bust prospect," the 2020 PFF Draft Guide's bottom line on Love reads. The last line of Lance Zierlein's overview on the quarterback put it similarly: "His size, mobility and arm talent combined with his 2018 flashes could be a winning hand that leads a team into the future or a siren's song of erratic play and unfulfilled potential."
The story has been much the same in limited NFL action. 
The lows have been low. Very low. 
Love has the unfortunate distinction of being one of just 10 quarterbacks to earn a sub-30.0 PFF passing grade in a single game since 2020, doing so in his lone NFL start against the Kansas City Chiefs in 2021. 
Lowest single-game PFF passing grades since 2020 | Min. 25 dropbacks
The biggest concerns surrounding Love coming out of Utah State — decision-making and accuracy — reared their ugly head. Love was charted as accurate on fewer than 40% of his passes, per PFF's ball-charting data, and while he threw just one interception, he had another couple of throws that could have been picked (three turnover-worthy throws in all). 
Chiefs defensive coordinator Steve Spagnuolo brought pressure to speed up Love's process and force him into mistakes. And it worked. Love passed for just 40 yards on 21 blitzed dropbacks in the game. 
That inability to consistently stay composed under pressure and make sound decisions has plagued Love dating back to his time at Utah State, where his 43.0 PFF passing grade when pressured across his college career ranked 73rd among 99 FBS quarterbacks with at least 250 pressured dropbacks over that four-year span. 
While that disappointing performance against Kansas City has been his only start to date, Love did show some promise in spot action for an injured Aaron Rodgers. Love went 6-of-9 for 113 yards and a touchdown against the Eagles' defense in Week 12 last season without the benefit of his best throw of the day — a back shoulder hole shot to Aaron Jones — being caught.
Jordan Love threading this hole shot pass over the corner and in front of the safety on the cover-2 side of the Eagles sub cover-8 coverage. Jones couldn't hang on but wow what a throw. pic.twitter.com/0jt5OStHej

— Rich (@richjmadrid) November 30, 2022
He delivered balls with anticipation over the middle of the field, including on the Christian Watson touchdown, and showed the natural arm talent that made him a first-round pick three years ago. It was enough for cornerback Darius Slay to say "Green Bay got a bright, bright future, like a bright one because buddy was slinging it" about Love after the game.
The Packers are about to see just how bright that future is. It's rare to see a fourth-year breakout, but then again, it's rare to see a seven-year backup step into a starting role and earn a contract totaling over $100 million like Geno Smith did last year. Every situation is different, and the Rodgers-to-Love transition certainly qualifies as such.
Green Bay will be hoping that Love's time spent behind Rodgers has served him well. Otherwise, they'll be left searching for answers at the quarterback position for the first time in 30 years.