In this week's PFF rookie rankings, there are three fresh players to crack the list and an undrafted free agent in the top five. Using PFF's unique grades and advanced database, we give you the 10 rookies who have performed the best through Week 11 of 2019, in descending order.

The 36th overall pick had high expectations to fulfill coming into his rookie season, but he hadn't met them until as of late. After an 84.4-graded performance against the Cardinals in Week 11 that resulted in PFF Team of the Week honors, Samuel lands himself a spot on the PFF highest-graded rookies list. Samuel has been unreal after the catch, breaking an NFL-high 12 tackles and averaging the third-most yards after catch per attempt, at 7.2. With eight explosive plays generated over the past couple weeks — tied with Michael Thomas for the most in that timespan — Samuel's stock is only trending up.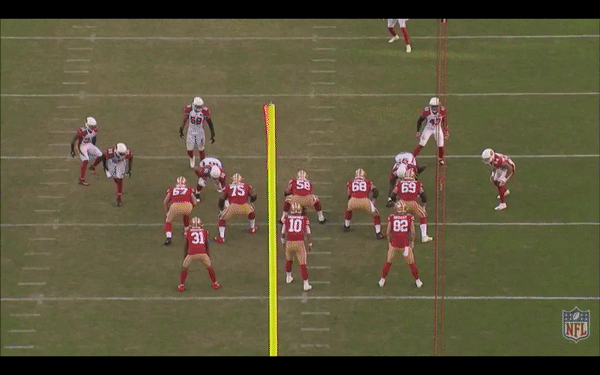 Kyler Murray is getting better and better each week and is paving his way to Rookie of the Year by ranking ninth in PFF grade since Week 5. Murray's deep passing has been nothing short of impressive, as he is tied for third in PFF grade with Aaron Rodgers on throws of 20-plus yards. For perspective, the only other quarterbacks to rank higher on these passes are Deshaun Watson and Russell Wilson — not bad company. Moreover, Murray's poise on longer-developing plays is better than most veterans — on throws when he is free from pressure and his time-to-throw eclipses 3.1 seconds, Murray ranks third in PFF grade, fifth in yards per attempt and third in passer rating.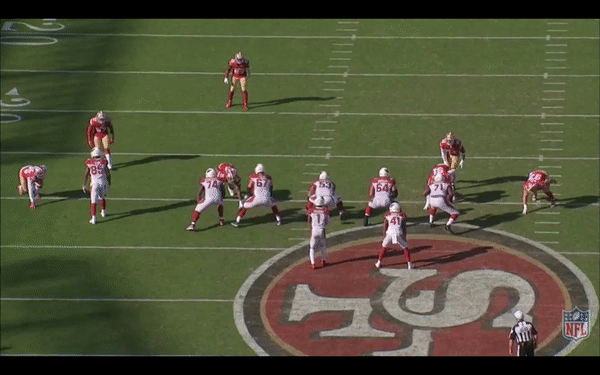 The longtime Clemson Tiger and now Oakland Raider Hunter Renfrow has been heating up over the last few weeks, ranking second in PFF grade for a wide receiver since Week 9. Playing in Gruden's west coast offense that lives and dies by horizontal passing, Renfrow is a critical component and has really helped the offense as a whole. On slant and crossing routes specifically, Renfrow is tied for seventh in PFF receiving grade.
In addition to having the best pick announcement of the 2019 NFL Draft with the PFF punt grade record holder Pat McAfee announcing his pick, Bobby Okereke has been the best rookie linebacker thus far through Week 11, with a PFF grade of 74.9 that ranks 10th among all at his position. Okereke has been wrapping up the offense with regularity, posting just three missed tackles on 35 attempts. In Week 11 against Jacksonville, Okereke stood out on a late two-point attempt where he read Nick Foles like a book and secured an interception and two more points for the Colts: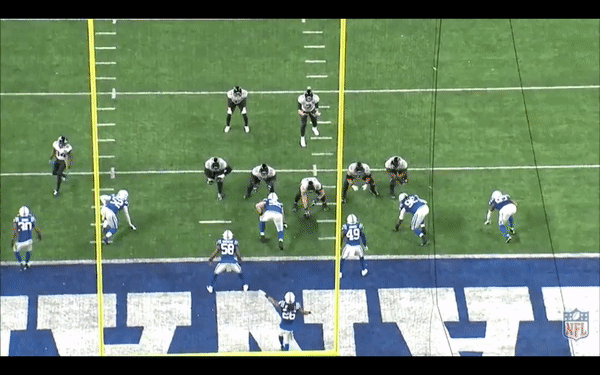 If we see more plays like this, Okereke is going to become an every-down guy for Indy and extend his spot on the PFF rookie rankings.
Hollywood Brown has been Lamar Jackson's best friend when he has been on the field, generating a passer rating of 128.6 on his targets — the seventh highest at his position. As a first-round rookie, Brown's production has been everything you could possibly ask for with the sixth-most yards per route run, at 2.47. Brown has been at his best on targets in the middle of the field, ranking 10th in PFF grade, first in yards after the catch per reception (11.4) and third in passer rating generated (149.3).
As a member of a team that will likely overhaul every position this offseason, undrafted free agent Nik Needham is making a strong case to stay in Miami long-term. Since he was signed prior to Week 6, Needham has been PFF's fourth highest-graded cornerback, at 80.2. Opposing offenses recognize he is a rookie and have tried to pick on Needham on coverage with 35 targets in his six games — but it's Needham who's getting the last laugh by allowing a catch rate of just 51.4% and a passer rating of 78.2. Needham has played a significant amount of his time out wide for the Dolphins, and when filtering to just his snaps at that alignment, he has been one of the best in the NFL — his 86.5 PFF grade out wide ranks second to only Richard Sherman.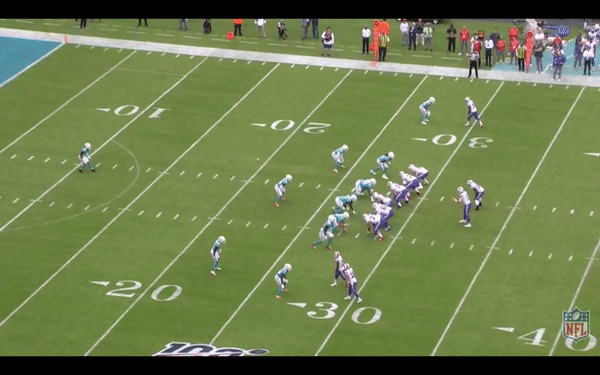 It's beginning to become more and more clear that third-round pick Terry McLaurin was the most undervalued rookie in the 2019 draft process. In his 11 weeks in Washington, McLaurin has put together an 83.6 receiving grade, ranking ninth among all wide receivers. Washington has always struggled in their deep passing game, and the fault falls on both parties (quarterback and receiver). While the quarterback half is still up in the air, the receiver one has been filled with McLaurin, who is PFF's highest-graded wide receiver on targets of 10-plus yards. It should be a business decision for any defense to not play this man in press coverage and give him the opportunity to run a vertical route, as he will throw the cornerback into a toaster and burn him — McLaurin's grade on longer throws is unsurprisingly the best in the NFL.
The 340-pound unit Dexter Lawrence has been feasting in his rookie season with the Giants, ranking ninth at his position in overall grade at 82.8 and fifth in run-defense grade, at 88.0. Not to mention, he's also bringing guys down with ease, with just one missed tackle on his 25 attempts. Coming off a bye, Lawrence will go up against a Chicago Bears offensive line that recently underwent a swap by moving James Daniels to left guard and Cody Whitehair to center. In his two games at center, Whitehair has a 37.5 PFF grade. When lined up at nose tackle, Lawrence is third in PFF grade. This matchup may pay dividends for the rookie.
Bosa had one of his worst games as a pro overall in Week 11, but that didn't stop him from adding five more pressures to his pressure total that now sits at 49, ranking 12th at his position. Bosa also owns a league-best pressure rate of 19.6%. As a rookie, Bosa has been producing like a top-tier edge rusher, ranking sixth in PFF pass-rush grade at 87.5 and seventh in win rate at 21.5%. In Week 12, the 'Niners get the Green Bay Packers on Sunday Night Football, and Bosa will face his toughest test yet against one of the best left tackles in the NFL: David Bakhtiari (currently fourth in PFF pass-block grade).
He may have had his first career fumble in Week 11, but that doesn't mean Josh Jacobs didn't light up the winless Bengals with eight broken tackles and three runs of 10-plus yards. Jacobs has produced a broken tackle number that is now five higher than any other running back at 54. In the run game, Jacobs has run out of a zone concept more often than not, and his PFF grade of 85.5 on those runs is second to only Dalvin Cook. As of now, he is the top dog in PFF's rookie ranking, but the margin between he and Bosa is incredibly slim. In order to prevent getting dethroned, getting more involved in the receiving game is a must.